Choosing the right paint color can be a challenge, and this is particularly true if you are looking for a neutral shade; many categories in the paint world have a plethora of options to choose from.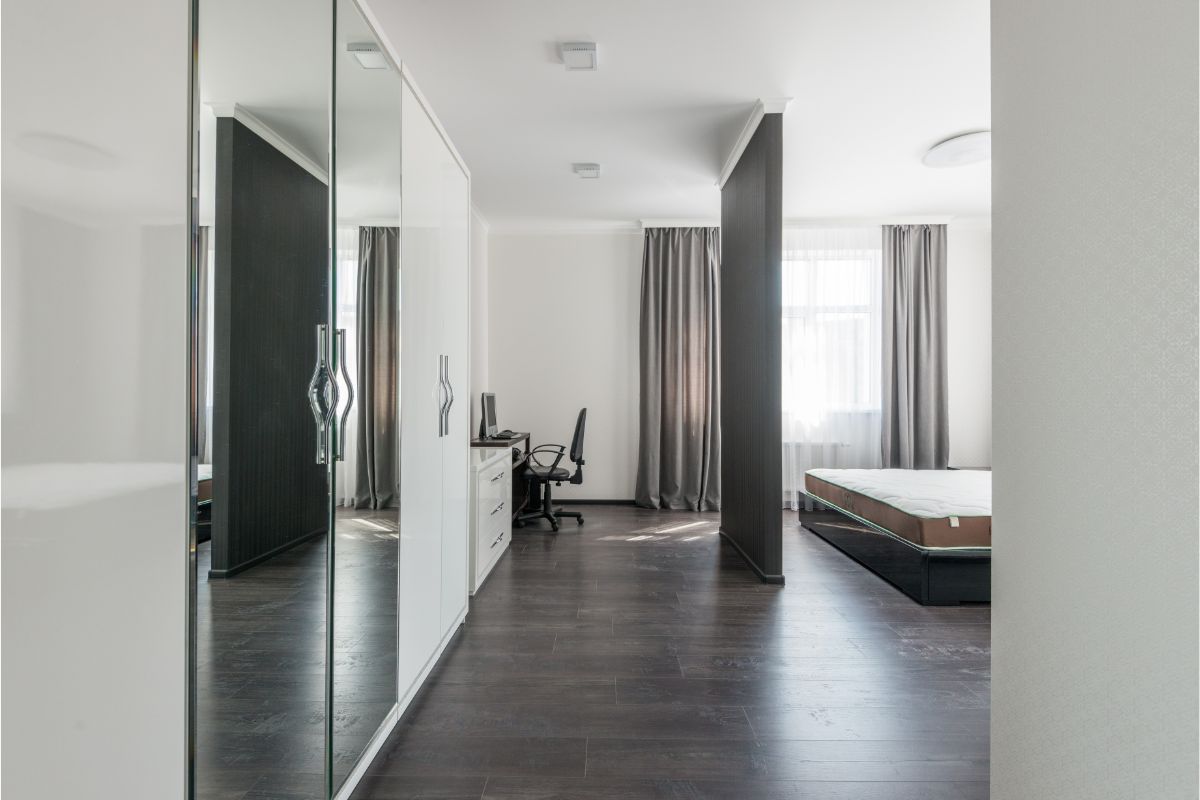 The most important thing when choosing a neutral paint color is to make sure that it works with your décor. If you are going for a more modern look, then you will want to go with a lighter tone.
On the other hand, if you are going for an older style, then you might want to consider a darker hue, as this tends to offer a more traditional vibe.
Grays can be particularly tricky, as getting the perfect shade of this color can be difficult.
You should avoid using too much gray or white in your home, as these colors tend to dominate the space. Instead, opt for a light gray, which still offers a strong presence but won't overpower the room.
To help narrow down your choices, we have put together all you need to know about one of the most popular shades of gray: Benjamin Moore Revere Pewter, one of the most popular neutral paint colors.
This shade has been gaining popularity over the past few years, so we thought it would be useful to provide some insight into why it is such a great choice.
What Is Benjamin Moore Painting?
Benjamin Moore paint is one of America's oldest and most trusted brands of paint. Founded in 1866, Benjamin Moore was originally known as the Benjamin Moore & Company, and the brand produced the first color matching chart in the industry.
Today, Benjamin Moore continues to produce quality products, offering a huge range of paint colors and types. The company is now owned by Berkshire Hathaway, who acquired it in 2000.
What Makes Benjamin Moore Different From Other Brands?
The main difference between Benjamin Moore and other brands is that Benjamin Moore produces only premium products.
All of its paints are made using the highest standards of technology and are guaranteed to meet or exceed the requirements set by the American Society of Testing Materials (ASTM).
In addition, Benjamin Moore uses only the finest pigments, and each product undergoes strict testing before being released onto the market.
What Is Revere Pewter?
Revere Pewter is a paint from the Benjamin Moore brand and is a warm gray, which helps to create a cozy, intimate feel to your home. It is also a very versatile color, meaning that it can work well in both contemporary and traditional homes.
The undertones of the shade are warm, and this helps to avoid any yellowish tints or shades of blue which can sometimes arise from gray or neutral shades.
How Do I Choose A Neutral Paint Color?
Choosing a neutral paint color is not always easy, especially if you are looking for something specific. However, there are certain things you need to consider when choosing your paint shade, and these include:
Your Home Style
The first consideration to make when choosing your paint color is the style of your current home. Are you looking for a bolder, brighter shade, or do you prefer a softer, warmer option?
There are plenty of different styles available, including classic, transitional, country, coastal, and even rustic.
Older houses tend to feature darker tones than newer properties, so if you are planning on renovating an old property, then you may want to consider a darker shade.
Alternatively, if you are looking to update your home, then you may want a lighter tone, as this will allow you to bring out the natural light and space of a room.
Color Trends
Another factor to take into account when choosing your paint color involves what trends are currently dominating the market.
If it is important to you that your home is up-to-the-moment and fashionable, then you will need to conduct plenty of research to ensure that you find the right shade.
If you are interested in a more timeless look, then you will probably want to choose a shade that is less trendy.
For example, if you are looking for a fresh, bright shade, then you could opt for a lighter gray, perhaps even closer to white, to really add a clean feel to a space.
If, however, you are after a more sophisticated, elegant look, then you may want something like Revere Pewter, which will give your home a subtle, yet classy appearance.
Your Budget
Finally, you will need to think about how much money you have available to spend on your new paint job.
If you are looking for a high-end finish, then you may want to go for a more expensive paint shade, whereas if you are on a budget, then you may want to stick with a cheaper option.
You will also need to think about whether you want to use a professional painter or DIY. While the former will cost more, this will also be an easier option, while doing it yourself will save you cash, though take a little more effort.
There are many factors to consider when choosing the best neutral paint color, but by taking some time to think about your needs and preferences, you should soon be able to narrow down your options and pick the perfect shade.
What Colors Compliment Revere Pewter?
Understanding which colors look great together is a key element of bringing your whole look together, and can really help your room to look and feel its best.
You might be wondering what colors compliment Revere Pewter, and we have the ultimate list of colors that work well:
White
White is one of the most popular colors because it looks good with almost everything – including |Revere Pewter. It works well with all types of furniture, walls, floors, etc. White is a great choice for rooms where you want to create a feeling of calmness and serenity.
Beige
Beige is another favorite color because it has a warm, earthy vibe. This makes it a great complement to any type of decor and means that it works very well with grays for a natural vibe.
Whether you're looking for a cozy cottage or a modern loft, beige is sure to work well with whatever style you're going for.
Light Gray
Lighter gray is another classic color that looks fantastic with pewter. Gray is often used in offices, bedrooms, kitchens, and living spaces. The neutral palette allows you to make changes to soft furnishings and decor without worrying about changing your whole paintwork.
Blue
Blue is another color that compliments Revere Pewter. Blue is a calming color that creates a sense of tranquility and relaxation.
It is especially effective in bedrooms, bathrooms, and other areas where you want to relax and, when combined with pewter, can offer a moody, cozy look that transforms your home into a tranquil paradise.
Yellow
Yellow is another color that goes well with Revere Pewter.
Yellow is a cheerful, sunny color that is ideal for creating a happy atmosphere, and can be the perfect complement to a darker pewter shade – both colors bring out the best in one another and can create a dramatic visual effect.
Green
Green is another color that compliments Revere Pewter.
Green is a refreshing color that brings out the outdoors inside and is a great choice for people who like to keep their homes bright and cheery, as green is a great way to add life to any space.
Red
Red is yet another color that compliments pewter and is a bold shade that can transform a dull space into something exciting and lively.
It is a great addition to any room and can be particularly useful in bedrooms, living rooms, and dining rooms.
Purple
Purple is a rich, deep color that is a great complement to Revere Pewter. Purple is a powerful color that can give a room an air of mystery and sophistication, and acts as a perfect counter to a dark pewter shade.
How Can I Create The Best Results When Painting A Room?
There are a number of tips and tricks that you can use to ensure that you get the very best results when painting your home, and these include: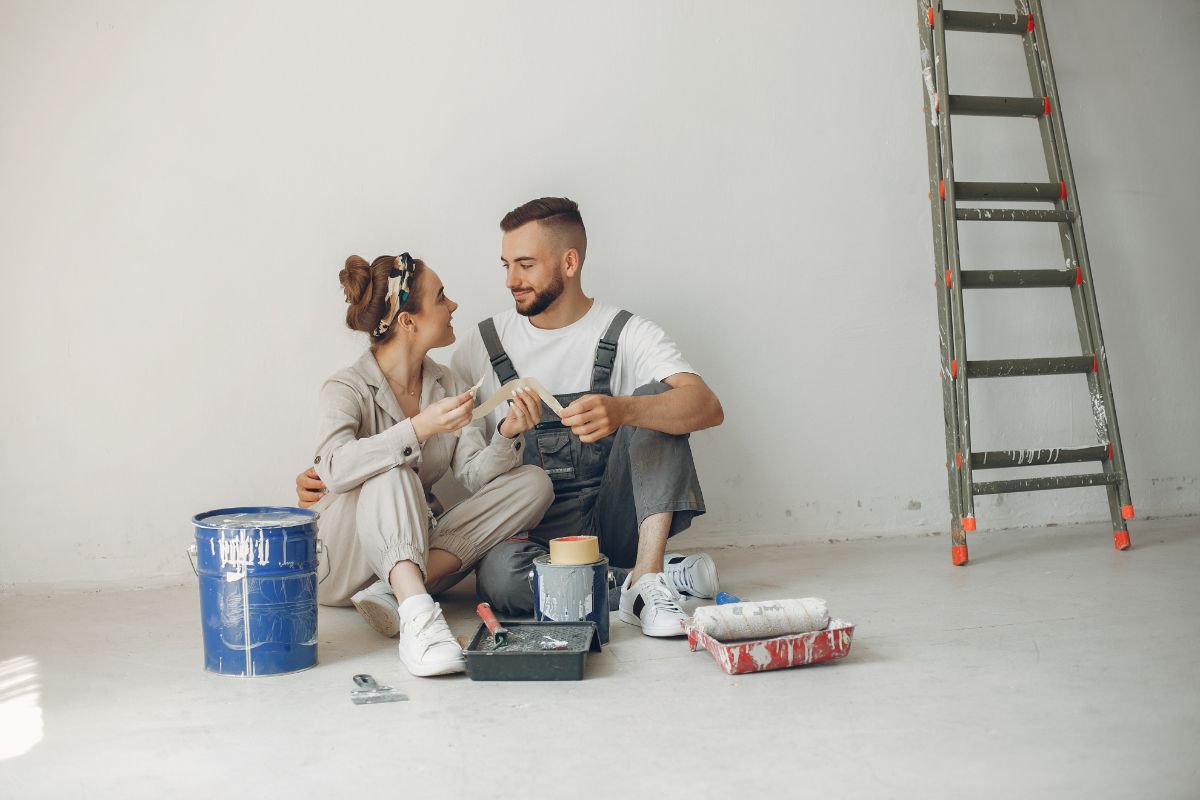 Prepare Your Surface
The first thing you need to do before you start painting is to prepare your surface. If you don't, then you could end up having to repaint more than once.
To avoid this, you should always clean your surfaces thoroughly before you begin.
Prepare a wall for painting by removing any wallpaper, tape, posters, pictures, and other items from the wall.
You should also remove any loose plaster or caulk from around windows and doors, and sand the wall down so that it is smooth and easier for the paint to adhere.
Protect Other Surfaces
You should protect all other surfaces in your house, including furniture, carpets, curtains (Also check out The Perfect Mid-Century Modern Curtains), and rugs.
You should cover them with plastic sheeting or drop cloths, as this will prevent them from getting covered with paint, and will reduce the amount of clean-up required at the end of the project!
Use Primers
When painting walls, it can be a good idea to apply primer first – this will help prevent the paint from peeling off the wall.
There are different types of primers available on the market, including acrylics, latexes, alkyds, oil-based primers, and water-based primers.
Use High-Quality Paint
You should also choose high-quality paints if you want to achieve the best results. There are many different kinds of paint available, ranging from matte to gloss finishes, and they all have their own benefits.
For example, glossy paints tend to be more durable and last longer, while matte paints are less expensive but may not be as long-lasting.
As we have mentioned, Revere Pewter is a paint by Benjamin Moore and is a high-quality paint that offers great results. This paint has been designed to provide excellent coverage and durability and is easy to work with.
It's also low maintenance, meaning that it won't require much attention after application.
Apply Enough Coats Of Paint
It is important to apply at least two coats of paint to your walls – this is a minimum.
This ensures that there is enough paint to cover the entire surface area, which helps to protect against fading and peeling, and ensures that your results are even all the way across the wall.
For best results, allow at least 24 hours between applications after applying the second coat of paint.
This gives the paint time to dry properly, and prevents any staining or discoloration, as well as reducing the risk of peeling or uneven paintwork.
Final Thoughts
If you're looking for a new paint job, why not try out Revere Pewter? This is a beautiful, versatile paint that can be used throughout the house, and is sure to make a big impact on your home!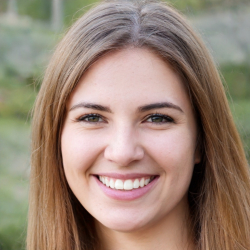 Latest posts by Maisie Park
(see all)