If you do a lot of DIY, you might have found yourself wondering what the most useful tool is, or what tool has the best functionality. This article is here to give some evidence for why the painter's tool could be the answer.
If you do not own at least one painter's tool, you are likely missing out. Unlike most multi-tools, the painter's tool is useful for being good at all of the roles it advertises it is capable of doing.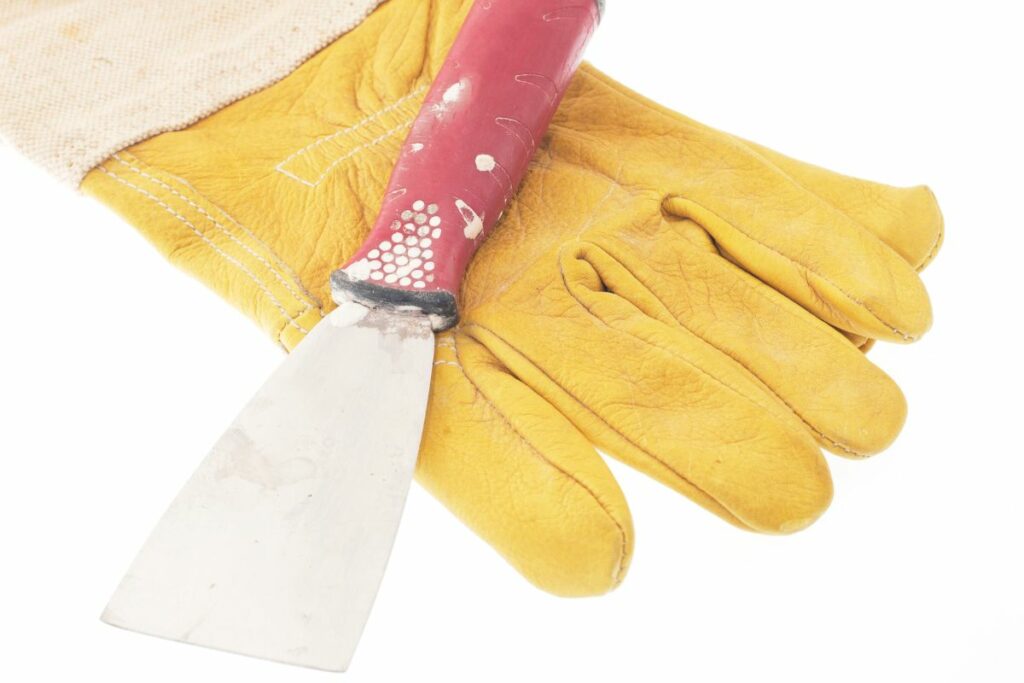 As the name suggests, this tool is going to be the most useful if you are doing a lot of painting. But even if this is not the case you will find plenty of uses for the painter's tool which will make your life significantly easier and more efficient.
So if you want to know exactly what a painter's tool is, or you just want to know exactly what all of its purposes are, this guide should be able to help you out! If you want to know more about painter's tools, keep reading!
What Is A Painter's Tool?
It is quite common that you will hear people refer to a painter's tool as a 5 in 1 or maybe a 6 in 1, but most commonly they will just be called a painter's tool.
The first names are in reference to the multi-functionality of the tool and how much you are able to do with it. 
While some people are understandably apprehensive about a multi-functional tool since they can often be much less useful than they sound not being that useful at all their functions, and sometimes it is more effective to get an individual tool, but painter's tools are the exception to this and are well-worth investing in.
Before we get into the exact functions of the painter's tool, you are probably wondering if the uses of the painter's tool will be useful to you.
While you can go through the list and see how many of the functions will be good for you, we think that if you do much DIY, this tool will be useful for you.
If you are a trades person as well, this relatively inexpensive tool is definitely worth getting with just how much value you will be able to get out of it.
If you want to buy your own painter's tool, head down to the FAQ where we have listed some of the best painter's tools for you to invest in!
So, what are the uses of a painter's tool which make them so indispensable for so many people?
Different Uses Of The Painter's Tool
Let's go over some of the most common uses for a painter's tool!
Used For Cleaning Paint Rollers
One of the most common ways to use a paint roller, is to squeeze out the paint from a paint roller, and it does this with maximum efficiency. These rollers can carry a massive amount of paint, so it is worth getting everything out!
Used For Opening Difficult Cans
The flat head of your painter's tool can be used for prying the lids of paint cans open, these can often be tricky to open, so having this tool is hands.
Used For Hammering Paint Cans Closed
The metal butt on the end of a painter's tool can be used quite effectively to hammer down the lids of a paint can. The hammering force is not as good as a hammer, but it works for lids like this.
Used For Scraping
With the thin edge of the painter's tool you are able to scrape up flaky surface sand paint chips. It does this very well and with enough pressure you should be able to remove quite a lot.
Used For Loosening Caulk
The edge of the painter's tool can also be very useful at scraping up caulk which can sometimes be very stubborn, make sure not to push too hard though.
Used For Spreading Putty
Painter's tools usually have a beveled face which makes it useful to use as a putty knife, further adding to its multi-functionality.
Carpenters Use For A Painter's Tool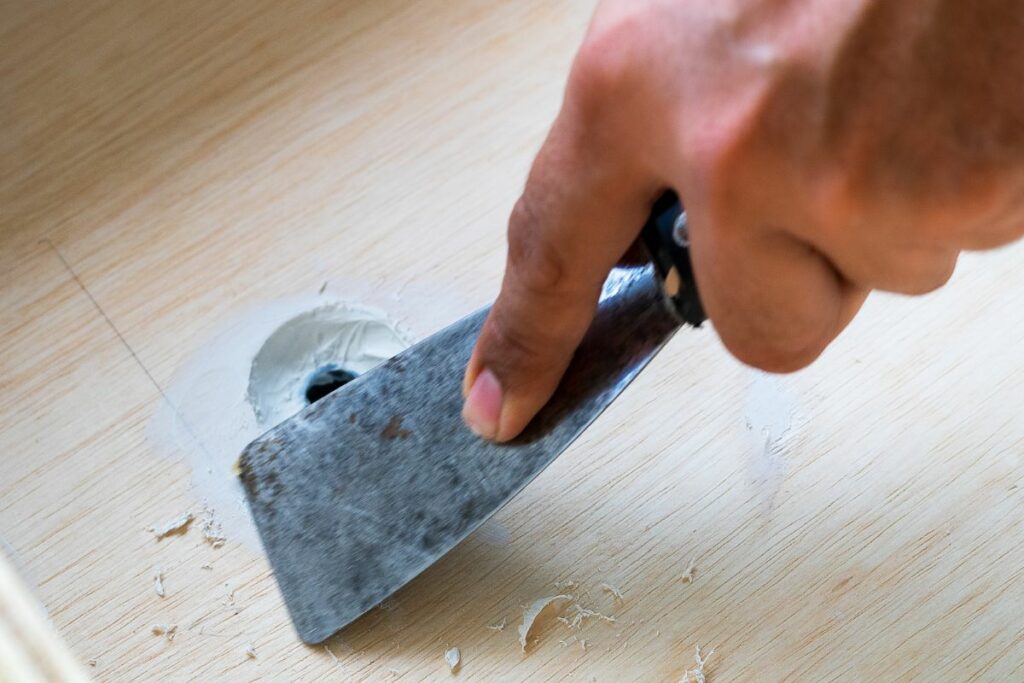 The painter's tool can also be used quite extensively for carpentry, these are just a few of the main roles it can do!
Used For Pulling Up Small Nails
While this will not work for all nails, especially if they are pretty tough, but most painter's tools will be able to pull up nails with their teardrop design.
Used For Surface Protection
Since hammers are often used for removing nails, they can sometimes damage the surface underneath by being pushed down too hard.
This is why using a painter's tool can be useful as you can put it under the handle's top and protect your surface.
Used For Lighter Chiseling
While the painter's tool will not be appropriate for heavier chiseling tasks, if your painter's tool is good enough quality, you can use it for chiseling. For example, it works quire well for either splitting wood or tearing softer materials apart.
Used For Prying Materials Apart
Finally, you can use your painter's tool for helping you with prying different materials apart from each other. Its sharper thinner edge is good at getting into surfaces and they are usually built well enough to be able to put up with this strain.
Frequently Asked Questions
What Is The Most Common Use For A Painter's Tool?
Since painter's tools are primarily designed for use by painters, they are best for doing tasks relating to painting.
Some of the most common tasks it will be expected to do are; cleaning paint rollers to get all of the paint off, being used to pry open awkward paint cans, and being used to close them again after. 
While this is what the tool is most commonly used for by painters, the tool is useful for loads of other tasks, so make sure to check the list to see if any of the other uses are good for you!
The Best Painter's Tool To Buy?
So, if this list has convinced you that you want to invest in a painter's tool for yourself, you are probably wondering which is the best choice for you?
Our first choice is the LEVEL5 9-in-1 Multi-tool which is great at all of the nine uses it advertises. This includes; a compound scraper, a roller cleaner, a screwdriver, and even for opening bottles.
This tool delivers very well with all of the uses which it advertises. It also stands out for having a larger than average hang hole, so if you like this storage option, this is a great choice for this.
The only complaint some users of Amazon have had is that it could be a little more stiff, but overall the feedback from every user is overwhelmingly positive.
Another choice is the Bates Classic 10-in-1 and is just as good as the previous choice with some thinking that it actually beats it out in lots of different ways.
For example, this tool can also be used as a can opener, and it is also definitely worth noting that, depending on where you buy it, this tool is about the half the price of our previous option at around $7.
It is made from rustproof steel and is great for everything you would need a painter's tool for.
Now for a final option we have included the Red Devil 19-in-1 6295 EZ Grip which is another great option with an ergonomic design which is made to lower hand fatigue while using.
It is made a very robust steel and the blade is resistant to rust making it a great investment to make.
This is much more multi-functional than our previous inclusions, and on top of that the blade is not 'full tang' meaning the blade itself does not run throughout the handle making it a bit less durable if you're giving it a battering.
Conclusion
Hopefully this guide has given you all the information you need to make an informed decision when it comes to deciding whether you want to invest in a painter's tool.
Since these tools are so multi-functional and not that expensive, generally speaking, getting a good enough one to help you with DIY projects will definitely help improve your efficiency, and can always be used for more than you expect it can.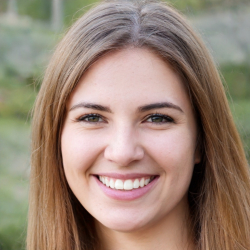 Latest posts by Maisie Park
(see all)