Kitchen renovations.
Dread them. Run from them. Love them, and can't wait for them. They're an essential part of making a place feel like it's your space, especially if you have just moved into a new house or apartment.
However, as you may have spotted in your searches already, home renovation tends to be geared towards a kitchen with a more… spacious floor plan, shall we say.
Kitchen islands are a particularly tricky item to get right in smaller kitchens.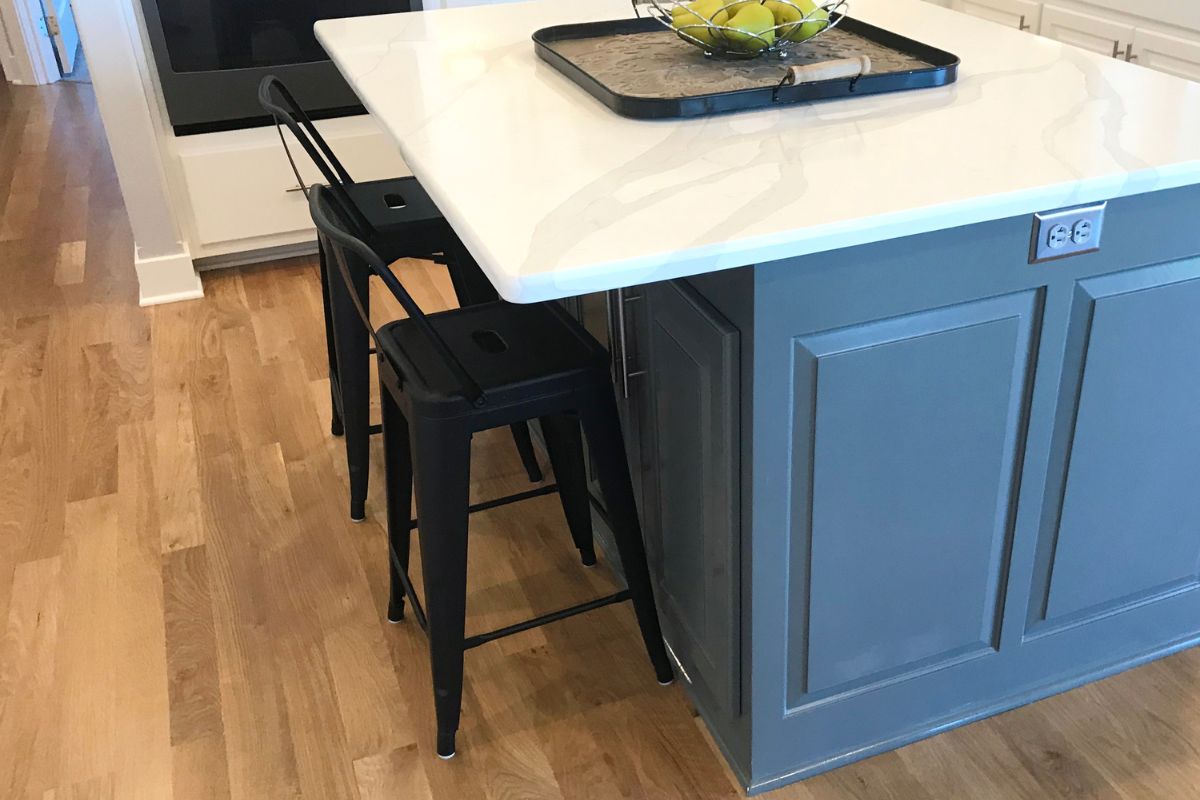 Let's be real for a second, how many ideas and Pinterest boards have you seen where the kitchen island is a work of art, but would take up two-thirds of your kitchen if you tried it in your little space?
However, that doesn't mean that kitchen islands are an impossibility for your small kitchen. Far from it.
What it will take is a lot of ingenuity, patience, and a little inspiration, to make full use of your small kitchen space, without feeling like it is taking up too much room when that is at a premium.
This is why we have come up with this guide, to give you the perfect small kitchen islands that you can use as inspiration for your dream kitchen.
So, starting this list with a basic idea that is a perfect concept to open up on, we have this super-simple concept that helps maximize the amount of storage space on your miniature island.
In such small kitchens, one of the biggest challenges that face anyone trying to renovate such a small space is storage space, whilst also making sure that your countertops are not cluttered up with virtually all your spices, cutlery, cooking implements, and other bits and pieces that you would store in a kitchen.
Fortunately, there is a pretty simple solution, thanks to this design by Woods of London.
Using simple, yet spacious woven baskets mean that there is plenty of space underneath the island's countertop for pretty much all your kitchen needs.
Plus, the woven basket gives the kitchen a slightly rustic charm to it, something that can make any kitchen feel just a little bit more homely for them.
Alternatively, moving away from the aesthetic rustic, we have a fully stainless steel design for a little island table from Brooklyn Brownstone kitchen refurbishment.
When it comes to a classic utilitarian kitchen design, you want something that maximizes the amount of space that you currently have available, whilst also looking professional at the same time.
No time for woven baskets when each panel of the island leads to a cupboard or storage area that helps declutter the countertop space that you desperately need in small kitchens.
And with the many stainless steel cupboards and draws, as well as a pristine countertop that leaves no extra frills, bells, or whistles to get in the way of space, that is exactly what this little island does for your cooking and eating space!
Alternatively, leaving out all the extra little touches and design features is not the only way for you to have a great island for your kitchen.
Some people love the aesthetics of a classic little kitchen done right, with plenty of warm tones and materials to make your kitchen feel less clinical and metal, and a little more natural and live in.
This is exactly the kind of philosophy that goes into quaint little kitchen island design like this example for the deVOL kitchen.
This take on a classic kitchen island is probably one of the cutest little designs that we've seen on this list, with the warm wooden countertop making it feel like a place that you could prepare a home meal on, and not some industrial surface that a chef would try and make a buffet with.
Plus, you're not exactly lacking in storage space either, with a few drawers hidden underneath the countertop, and plenty of open space underneath those for a basket or two, in case the drawers aren't quite enough.
Staying with the theme of simplicity as a great design language to use for your kitchen, we have this amazingly simple island table island by Designs by Gia.
If the kitchen is a place in the home where you happen to eat a lot, then this is the perfect little island for you.
When cooking, the island serves as an excellent place to have your chopping or butcher's board ready, whilst also attending to other kitchen needs.
As a miniature dining table, it is the perfect place for two people to comfortably sit and enjoy a meal together (maybe three kids at a push if you're struggling for space elsewhere in your home.
Plus, the island table doesn't affect the floor space too much, thanks to the two thin yet strong legs this feature uses.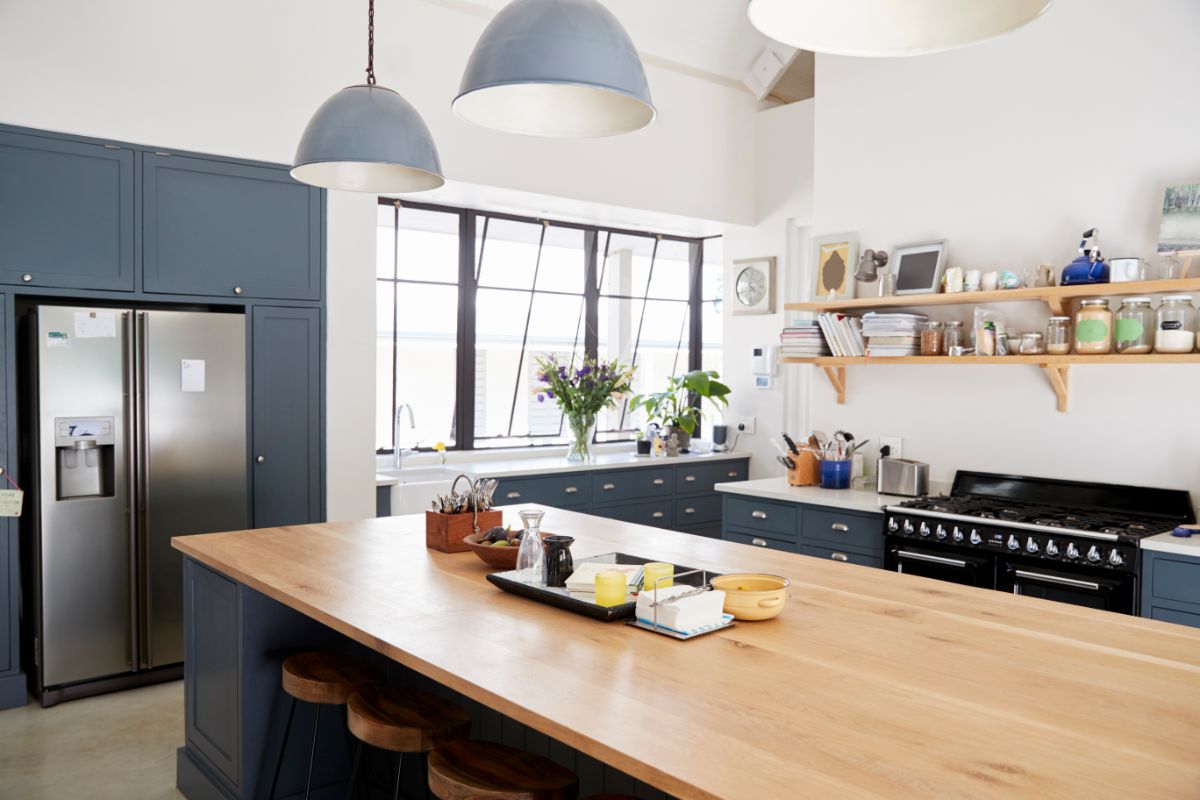 So, we've already talked briefly about how islands are often the place where cooking preparations take place, especially when it comes to using items such as butcher's blocks.
So, why not have an entire island that serves as the perfect butcher's block, too?
These table islands are perfect for cooks who are worried that they won't have enough space in their smaller kitchen to practice what they love doing.
The thick wood that these countertops are made with is perfect for slicing and dicing all kinds of ingredients, including all kinds of meat, fish, and poultry.
As we've already shown with a few of these designs, the multi-functionality of a good kitchen island is one of the big reasons that they are so popular with many kitchen refurbishments.
And, if you're getting yourself a kitchen island, then you're going to want a piece of kit that does all these things, no matter what size they are (a big struggle for smaller kitchens, no doubt).
Space Factory has designed a compact kitchen island, yet somehow manages to do it all, from storage to seating for two people.
There's even enough room in here for a burner cooktop!
Of course, one of the issues that face pretty much any kind of kitchen island, including the big ones (especially the big ones), is the fact that they usually can't be moved around the kitchen to where they may be needed.
So, this Acme Furniture island manages to solve this problem, being on wheels that can be moved around the kitchen as you please.
This is a factor where the small size of this island helps out, as it isn't clumsy or dangerous to move around your kitchen, thanks to its relatively lightweight and small size.
Plus, there's plenty of storage space here, as well as a great surface for food preparation.
Back to the point that we originally started with, one of the main things that make kitchen islands attractive is how they can function as extra storage space in a pinch.
So, this is a great way of getting that extra storage out of your home island.
The compartment and storage spaces for this model go deep into the island, meaning that not only is there plenty of space for storage, but it also even allows room for seating at the feature!
So, everything that we've covered so far is great, ranging from clean and industrial, to rustic and charming. However, one option that many people may be looking for in a kitchen island, no matter how small, is glamour!
Designed by the folks over at Michelle Gerson Interiors, this is the perfect blend of modern, and elegant design.
From the waterfall-edged countertop to the beautifully upholstered seating, everything here feels like it belongs in a 5-star hotel but still feels like it belongs in your own home. That's a difficult blend to get in a home kitchen island!
For the best effect for this island, make sure that the colors and materials that you are making this setup with match the rest of your kitchen!
10. Modern Design For Your Modern Kitchen
Of course, if we want to be discussing modern designs, we probably shouldn't be using the term 'modern' as if it was a be-all, end-all for kitchen design.
There are plenty of different takes on modern kitchen island designs that take inspiration from all forms of design and architecture, each with its spin on the concept.
So, keep that in mind when we say that the marble countertop of this island, coupled with the more rustic appearance of the stool in this concept, feels like a perfect blend of modern kitchen sensibilities, combined with a little old-fashioned style to help bring the whole island together.
Final Thoughts
So, as you can see, while there may be limited space in your kitchen for an island, the potential you have in front of you is anything but limited!
We hope this has helped inspire you in your interior design projects.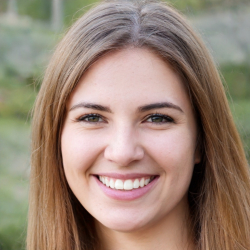 Latest posts by Maisie Park
(see all)