Rustic is becoming an increasingly popular design theme for homes around the country, and for good reason. This decorative theme blends shabby chic with country decor, focussing on attractively natural and simple furnishings and designs that create a homey and lived-in feel.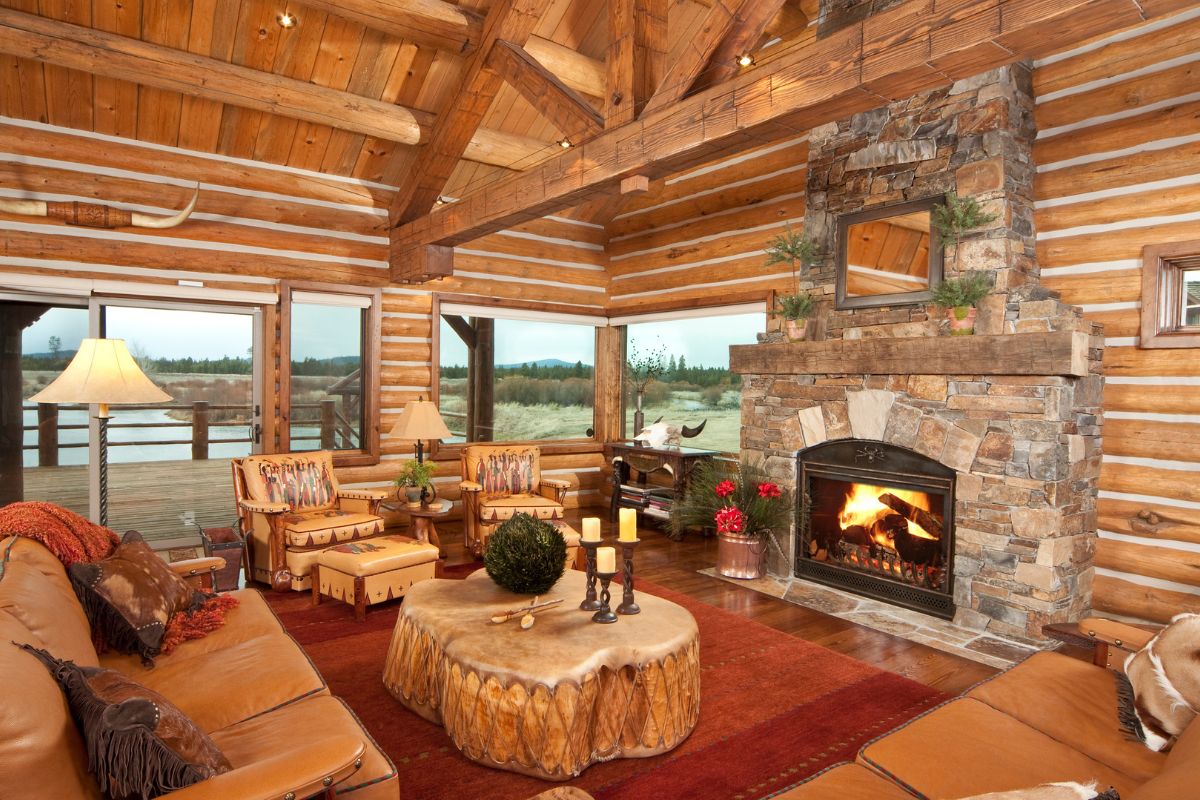 Due to the cozy nature of the rustic theme, it makes sense why people opt for this aesthetic theme when decorating their living rooms. The living room is the heart of the house, after all, and is designed to make its inhabitants feel cozy and comfortable.
What better way to do this than with warm neutrals, natural materials, and a range of textures?
If you're looking for ways to make your living room look more rustic, you've come to the right place. Here are 15 rustic living room ideas you will love!
Lots of rustic rooms appear reminiscent of barns, and one of the best ways to make your living room look like a rustic barn is to add wooden beams to the ceiling. Usually, wooden beams come with an old country house, but you can still get wooden beams installed into your home.
In true rustic fashion, it's best to get reclaimed wooden beams, as this supports the natural and sustainable aesthetic of the theme. Once installed, the room will instantly feel cozier, and you'll want to curl up with a book immediately.
It's not a rustic living room without a fireplace. A fireplace brings so much warmth, literally and in terms of light, to a living room, and they're super practical for saving electricity bills if you stick to sustainable fuel.
Plus, a fireplace looks gorgeous in a living room, and instantly sets the theme as rustic.
The best part about this is that you can install whatever fireplace you like. Not all rustic fireplaces have to be a log burner – if you already have an electric fireplace, simply renovate the surrounding area with bricks and reclaimed wood to appear more rustic.
If you've got a log burning fireplace, then you might as well show off your log piles in the living room! Piles of logs are not only practical for the fireplace, but also make the overall room look natural and rustic.
Log piles look great in wicker baskets, in a neat pile on the floor, or stacked on a shelving unit next to the fireplace.
Exposed brick is another huge factor of rustic living rooms. The key to a rustic home is to make everything look as natural and as imperfect as possible, and exposed brick achieves this perfectly.
If your house is made from brick, you can hire a professional to expose a feature wall (or even just part of a wall) in your living room.
You can also change the color of the brick by painting it, as some popular rustic walls feature white or black exposed brick. If you don't have actual bricks, you can also buy wallpaper, which is significantly cheaper.
In the same way that exposed brick walls are rustic, so is reclaimed wooden walls and flooring! Reclaimed wood is the epitome of rustic, from the muted aesthetic to the sustainable impact.
Once you've installed reclaimed wood into a living room, it instantly turns the room rustic – even if the rest of the furniture and decor is modern or another theme.
Reclaimed wood works well as a feature wall, but is most popularly used as a flooring type. You can install reclaimed wood flooring that is sealed to prevent splintering, or you can even buy laminate flooring that looks like reclaimed wood.
Wicker is a fantastic material that fits into the rustic theme, as it is believed to be the oldest material for making furniture and decor.
The notion of weaving a pliable plant-based material into a sturdy basket has been around for approximately 5,000 years, so it makes sense why wicker baskets are so popular in rustic living rooms.
Not only are they appealing to the eye, but wicker baskets are practical for holding blankets, cushions, books, plants, and more! They look great on the floor or hanging on the wall.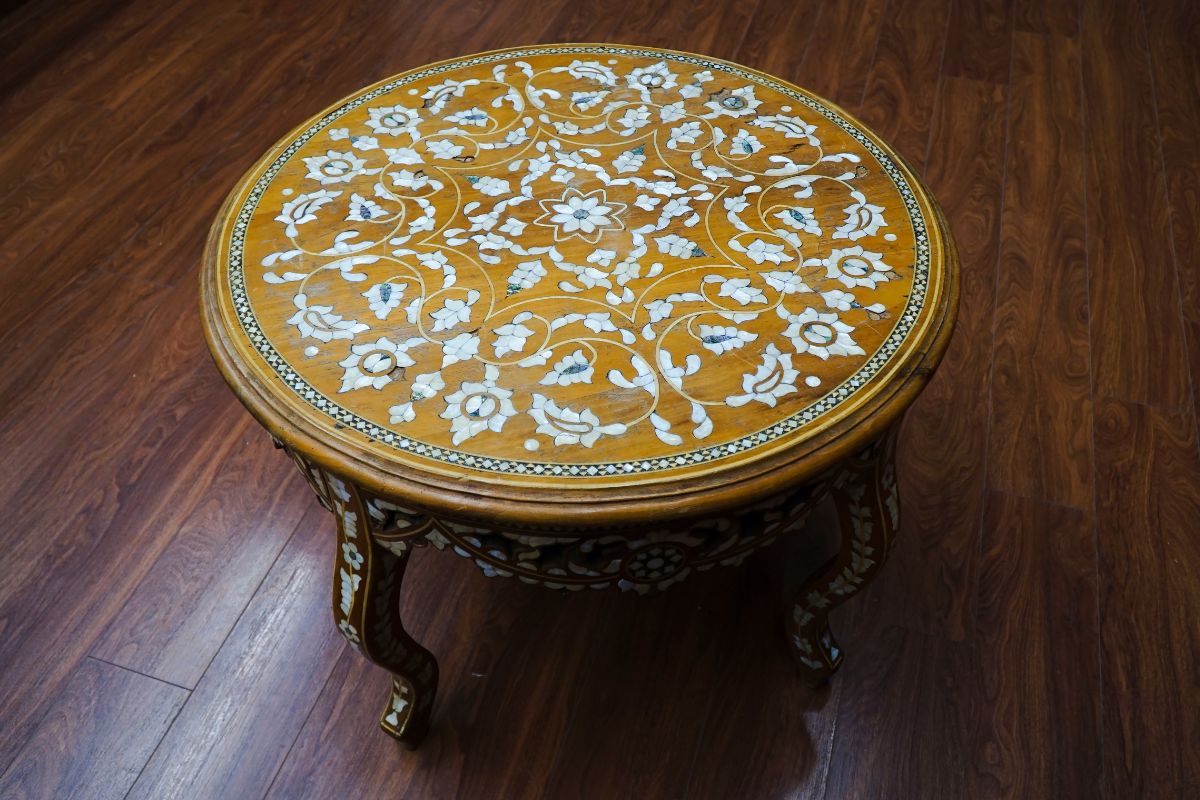 Another great way to incorporate reclaimed wood into your rustic living room is with a reclaimed coffee table. Coffee tables are fantastic for multiple reasons, including filling up an empty space and providing a surface for decorative items.
You can easily buy reclaimed coffee tables online, at a local recycling center, or you can build one yourself.
The key to a rustic reclaimed coffee table is to make the wood look weathered and old, with a muted color scheme. Then, place books, candles, and plants on top to make it look cozy and homey.
A rustic living room isn't complete without a large rustic rug. Rustic rugs look deliberately disheveled, vintage, and weathered, with a fairly muted color scheme.
Even if the rug provides a boost of colors (most notably reds and browns), the colors are slightly washed out to give the appearance of a well-loved rug.
Not only does a rustic rug tie in the theme beautifully, but they also help to make a room feel cozier by covering a large portion of the floor. You can also layer several rugs to look slightly shabby chic.
You don't have to make your living room look dark and cluttered to be rustic. If you want a more modern, minimalist rustic look, you should cover the walls with weathertight shiplap.
Shiplap is a type of white wood that is common in country and coastal homes, creating a simple yet natural backdrop to make the room lighter.
Not only this, but the white shiplap allows you to go wild with decorating the space with minimalist rustic decor. Natural materials such as reclaimed wood, wicker, and exposed brick go well with shiplap walls.
Gallery walls are a popular way to fill an empty living room wall in a variety of themes, including modern, coastal, country, and rustic.
The key to making a rustic gallery wall is the frame, so try to stick to wooden frames that look reclaimed. Driftwood frames are especially good for this, as the color is muted.
Inside the frames, you can place family photos, minimalistic art pieces, photographs of nature, or even cuttings from vintage newspapers and maps. Try to stick to a color scheme of browns.
Another huge factor of a rustic living room is to make the area as cozy as possible. The best way to do this? Cover the couch with multiple throws and cushions. You can't have too many throws and cushions, and even if you do, you can store the spare ones in a designated wicker basket.
To stick to the rustic theme, try to maintain a muted and warm-toned color scheme with the throws and cushions. Light browns, creams, and warm grays are perfect for this.
A key component to rustic living rooms is filling the room with various textures that don't necessarily go together. While you can stick to a wicker material throughout the room, you can also go wild with other textured wall hangings, including feathers, fake foliage, rope, and more.
Wall hangings and decor are a great way to fill up the space on a living room wall. This is especially true if your walls are white or bare, which will provide a minimalistic approach to the rustic theme.
Rustic isn't just about natural wood – natural stone is another fantastic way to add a rustic flare to your living room.
Sure, it's a bit colder than wood, but natural stone looks fantastic on the wall or floor, providing a muted and natural aesthetic that works beautifully to make your living room rustic.
When picking your chosen natural stone, be conscious of the color. As with any rustic design, stick to muted and warm neutral colors, such as warm grays and light browns.
If you're sticking to a country or Western rustic theme, adding animal skulls to your living room is a great way to make the place feel and look natural. Animal skulls can be hung on walls or placed on surfaces as decor, and they are surprisingly tasteful.
There's something quite beautiful about the natural appearance of the skulls.
If the real skulls freak you out, you can alternatively buy wooden deer heads, which also fit in with the rustic theme.
Weathered leather armchairs are a good way to fill the corner of a living room for both practicality and aesthetic purposes. Not only does weathered leather look good (especially for a dark rustic theme), but the armchairs also serve as extra seating space.
These armchairs look particularly great with a cream throw and surrounded by books or plants.
Conclusion
So, there you have it! There are countless ways to make your living room appear rustic, and hopefully this guide has given you some inspiration.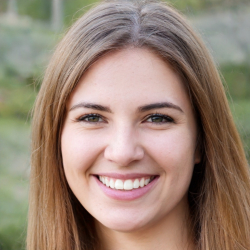 Latest posts by Maisie Park
(see all)