Whether you're single or coupled, you deserve to unwind every night in the romantic bedroom of  your dreams.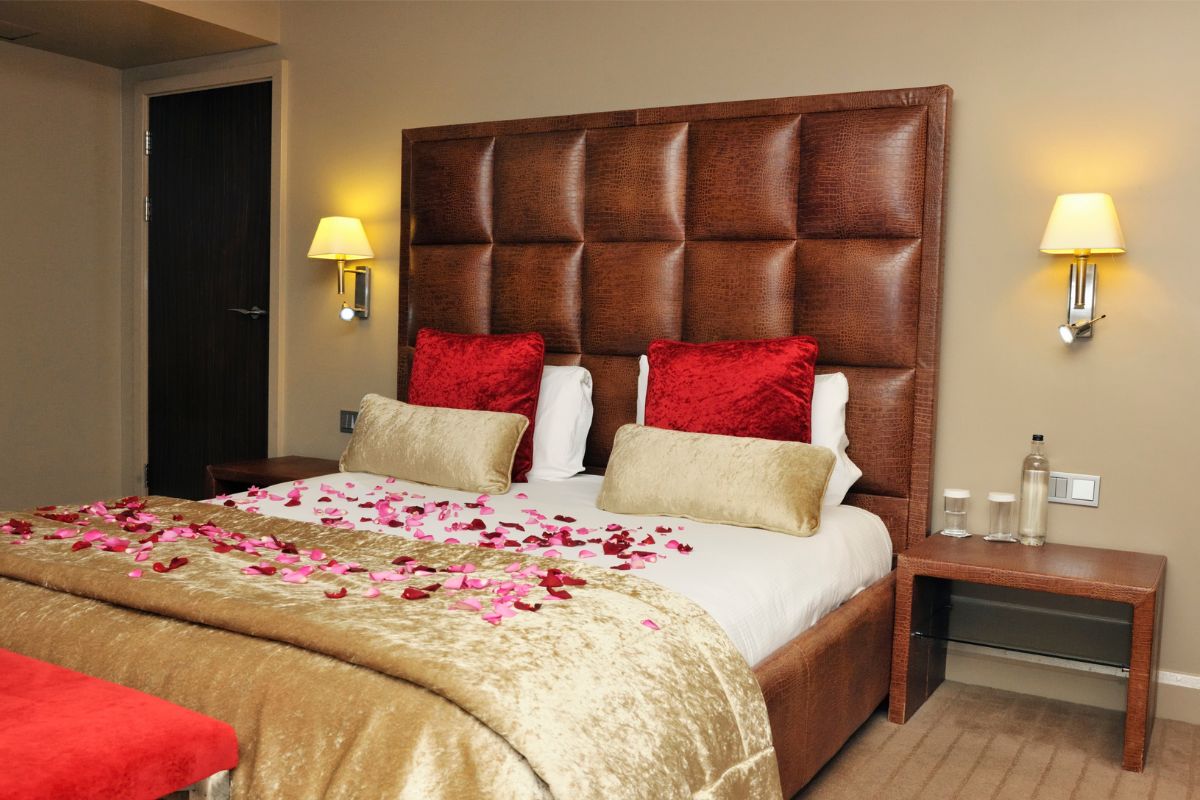 And while we've rounded up some completely different romantic ideas below, many of them share four key characteristics: a lack of clutter; thoughtful color choices; eye-catching pieces and unique touches. 
Whether with a partner, pet, or just some books and candles, there are plenty of ways to make sure your bedroom is always ready for romance.
Declutter
If you are like most people, you probably don't want to spend too much time cleaning out your room and closet. But it doesn't hurt to clear out the clutter occasionally.
Clutter creates stress which isn't at all conducive to romance and while it is nice to have things you enjoy around you, having too many possessions can make you feel crowded and doesn't contribute to a relaxing and romantic vibe. 
If the thought of decluttering sends you into a spin, try breaking it down into smaller tasks so it's not so overwhelming you'll be surprised how quickly you can transform the space with some patience and commitment.
Clean And Fresh
After decluttering it's important to keep your room clean and fresh to create a romantic space. Be sure to change bedding on a regular basis and make sure that surfaces are clear of dirt and grime as well as clutter.
Color
If you've been looking for a way to refresh your bedroom without spending a fortune, consider painting over the existing color.
While it might seem daunting, it doesn't have to be. With just a few steps, you'll transform your bedroom into something completely different creating a space you'll enjoy being romantic in. 
Moody black walls make for a great backdrop when it comes to designing a bedroom.
But if you're hesitant about incorporating such a dark color into your decor, don't worry — there are plenty of ways to brighten things up without compromising the moody vibe.
From rugs to blankets to candles, adding just the right touches to a room can turn it from drab to dreamy. Here are some ideas to help you achieve that look.
Use Candles
Candles are a go to when it comes to creating a romantic atmosphere in a bedroom.  They provide a nice warm glow, and the scent is often relaxing and soothing.
Low lighting is also a good option but there is something about candlelight that makes it seem even better. In fact, candles can actually take your bedroom experience to another level.
Whether you choose to light a few unscented candles in an attempt to create a super romantic mood.
Or you simply light one more candle for the beautiful scent and some flicker of light, candles are almost certainly a safe bet.
There is no doubt that candles are incredibly popular among couples. And why wouldn't they be?
A good night's sleep is important for our overall health, and candles help us relax, enjoy intimacy and then drift off to dreamland.
Scents
As we have seen, if you want to set the mood for intimacy, it helps to start with a clean, fresh environment. Make sure everything in your bedroom is clean and organized.
You don't want anything out of place that could distract your partner from what's really important—you.
Of course, first and foremost making sure your bedding is fresh, clean, and well taken care of will go a long way towards achieving that goal.
But once your space is clean and tidy, then you can do some small things to add a scent to the room. There are many different options for adding a feminine touch to your bedroom.
Here are some ideas to help you achieve that perfect balance of romance and comfort.
Linen Spray
Essential Oil Diffusers
Incense Burners
The above will "aromaprogramming" to promote relaxation and a loving space.
Flowers And Petals
Flowers come in many different colors, shapes and sizes, making them perfect for any occasion. They are also considered very romantic making them  perfect  for the bedroom.
They'll brighten up even the darkest room, and they won't break the bank. Adding them to the bedroom will instantly make the space feel more intimate. 
Personalized Artwork
Instead of buying expensive artwork for the room where you spend most of your time, try creating a romantic atmosphere by personalizing your wall decorations.
A few simple steps are all it takes to transform a plain space into something special.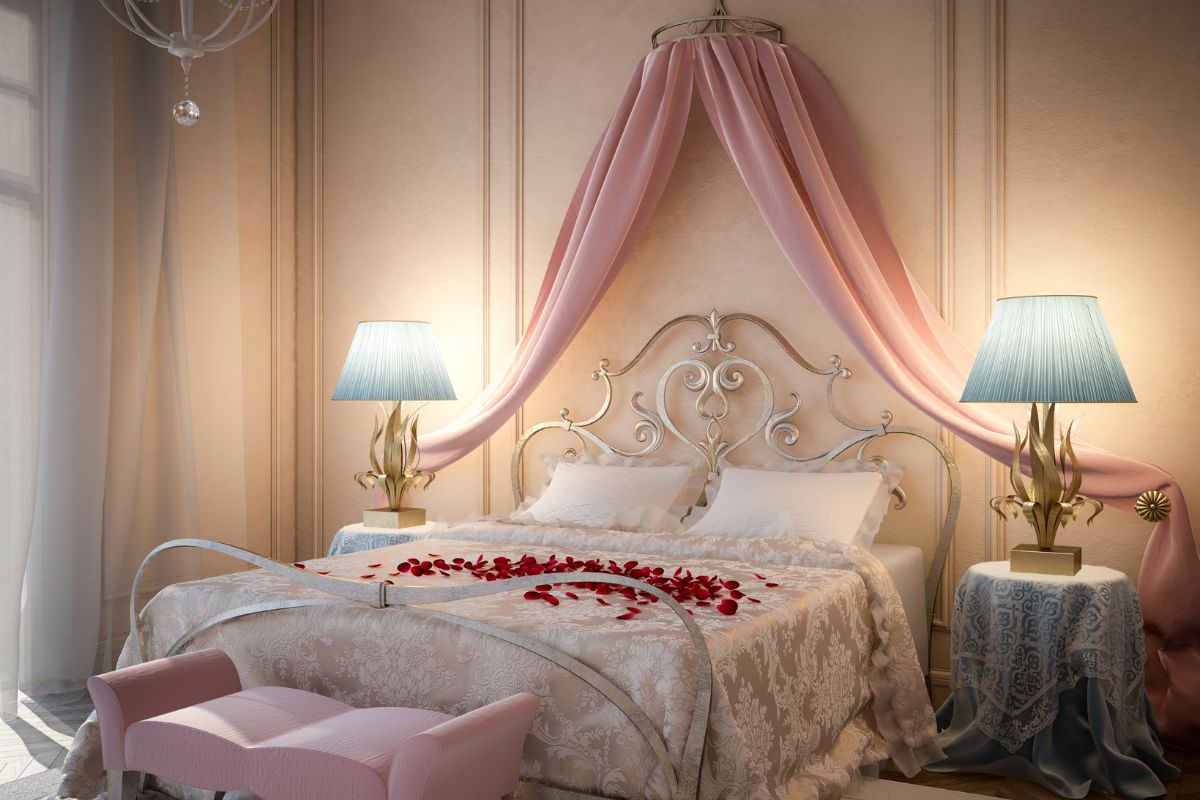 Prioritize Cozy
If you want to make a statement about your space try adding some cozy touches. They'll add warmth and personality to any room. Here are three ways to do just that:
1. Shag Rugs & Faux Fur Throw
Shag rugs and faux furs are great because they offer comfort and style. If you love animal prints, consider pairing one with a throw pillow featuring those same designs.
2. A Rug Made From Your Favorite Quotes
There are tons of rug options out there, but why not go for something custom? You could even use quotes that inspire you, such as "Live every day as though it were your last." Or maybe you'd prefer "Be yourself; everyone else is already taken."
3. Armchair
A little piece of furniture is perfect for curling up in the bedroom before bed. If you have room, consider adding a cute armchair (maybe for 2) giving you a lovely place to unwind and get you "in the mood".
Keep Warm
A fireplace adds warmth, ambiance, and romance to any room. You don't even have to go full-on log cabin chic, as modern gas fires are just as effective — especially during cold weather months.
If you're thinking about adding one to your bedroom be sure to do some research so you comply with safety protocols. 
Soft Curtains
Soft draping curtains work well for bedrooms where you want to keep things simple. They can make a room feel warm and give it a cozy feeling.
There are curtains that are easy to tie back, and they look great hanging from the ceiling along the side of the bed for the ultimate romantic vibe.
If the budget allows you could invest in a four poster bed. When you think of a four poster bed it creates an image of luxury, romance and opulence and makes for a beautiful 'statement' piece in your bedroom.
Textured Walls 
Large, undecorated wall spaces are often overlooked, especially in small bedrooms. But textured walls can add visual interest to a room while still being unobtrusive.
If you want to try out textured walls, start with a large piece of furniture like a bed frame or headboard. Then use a paintbrush or stencil to apply a pattern to the wall behind it.
You can even go outside and collect leaves or twigs to make a natural print. Bringing the outside in will always add a wonderful romantic feeling to any bedroom. 
Lantern Lighting
Lantern lighting adds a warm, natural light source to any room. They're easy to install and can be used anywhere around the house.
Lanterns come in many styles and sizes, including outdoor lanterns and wall sconces. Fixtures include a variety of options such as color choices, light bulbs, and finishes.
Natural Tones
Rustic, natural woods mix very well together and create a comfortable surrounding that you can use to make any bedroom look complete.
You can use old barn wood and even discarded pallets to give your bedroom a unique and romantic touch.
Photos Of Special Memories
A wedding album is a great way to preserve the moments from your big day. But what about those little things that make up your life together?
What about the sweetest moment of your relationship? These are the moments you want to remember forever. And there's no better way to do it than with gorgeous frames and decorative paper.
Frame and display photos from your nuptials and honeymoon, or other important events together. Frame a copy of your vows.
Decorate your bedroom walls with beautiful prints and posters of places you went together. You can even frame a photo of your kids, grandparents, or pets. You can't get more romantic than that!
Use Nice Decorations
The heart of your home lies inside the relationship between husband and woman, so the bedroom should always be a priority.
Your spouse will appreciate the extra care put into your room, since it will help enhance your romantic moments together.
Go through your whole house and look for some of your best decorations that match your bedroom's color scheme. Find a spot for each one carefully, without creating too much clutter.
Make sure that every item enhances the space rather than adding to it.
In Summary
Your bedroom is the most intimate and romantic place in your home. It's also the only place where you spend time alone with your partner.
So take the time to decorate it beautifully so you can view it as a relaxed and calming space to build connections and maintain love.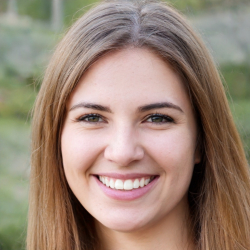 Latest posts by Maisie Park
(see all)