Your master bathroom might be an en suite or a room adjacent to your bedroom. Still, wherever it's located, it can be a nice feeling when the theme or mood of your other rooms transitions into the bathroom, and you might be surprised what is possible design-wise.
Below are fifteen design features that you can add or make as part of your bathroom design, but bear in mind that any space smaller than 100 square feet might struggle to accommodate some of these features.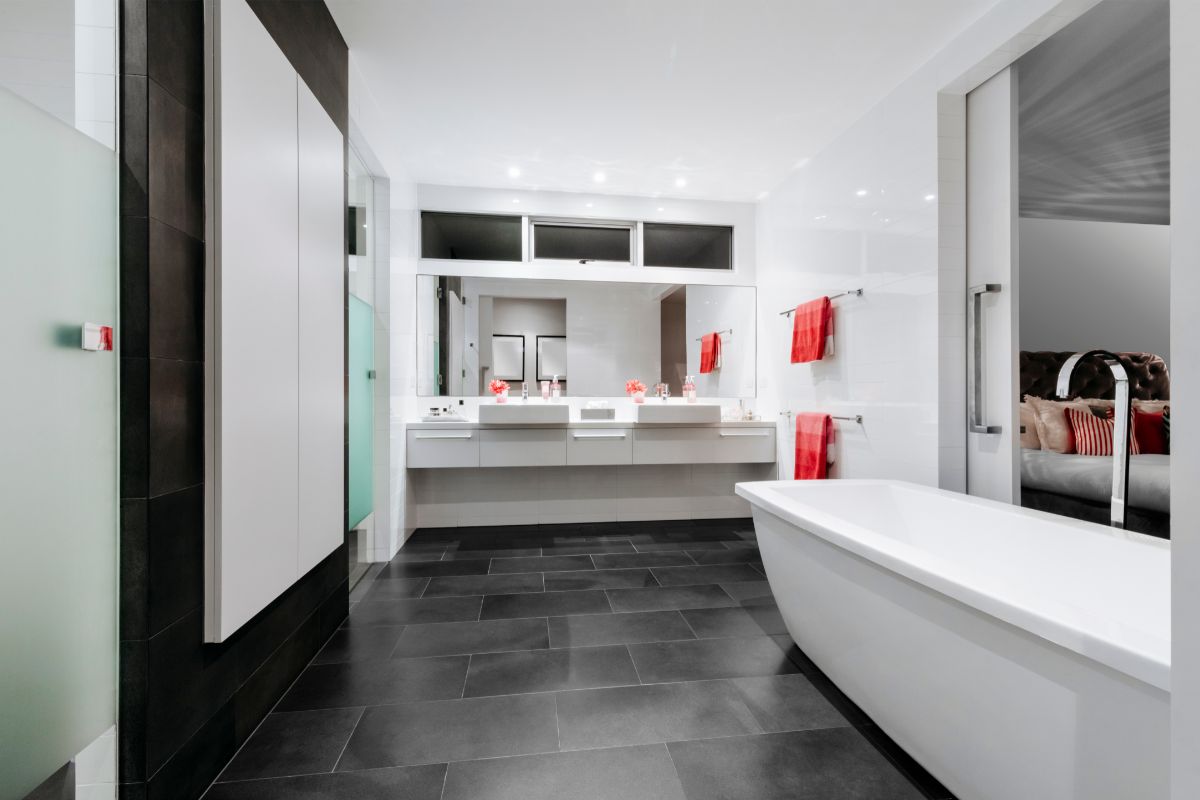 Skylights 
We start with something that might take a bit of tinkering to get exactly how you want, as you can range from a simple slit in your ceiling to something that takes up more prominence in your bathroom.
If this isn't possible for your bathroom, look at the windows in the room and see how you can modify or update them so that you can get more light into the room, which can set a relaxing and refreshed mood.
Separate Bath And Shower 
This can be a great idea to have a shower and bath combination that suits your needs and style, as you can pick from clawfoot, alcove, corner, steel, or whirlpool baths, and the free-standing ones can add a vintage or rustic feel to the room.
Be sure to get the color right, as you don't want something that could take up a lot of space to look out of place here either, so the best thing to do is to decide on a color palette and be consistent with this throughout.
Column Radiators 
An excellent way to add some practicality to the room is also an entirely customizable idea, as you can use a traditional horizontal or vertical column radiator and pick from cast iron, metallic silver, or even copper if you're going for an old-fashioned aesthetic.
You could also go down the modern design route and use a design that works as a towel rack and radiator, and you can get these as panels that will work seamlessly with the rest of the room.
Bathroom Accessory Sets
Suppose you're at least satisfied with the general layout of your bathroom and are looking for a way to tie it all together.
In that case, you can look at aspects like your toilet paper holder, your faucets, shelving, and even decorative items, which, when all arranged, can make your design choice stand out even more.
If you're struggling with this, you can buy accessories in sets so everything matches, and don't be afraid to swap out any items that you find are hard to justify using in there, giving you more confidence as well.
Vanity Area 
Suppose you don't have an exceptionally spacious bedroom.
In that case, you could incorporate a vanity table that is different from the one we associate with the typical bathroom basin and cupboard combo, so you can have one made to your liking, and it should also be practical to use when making preparations to start your day.
Walk-In Closet 
This isn't a common feature of bathrooms but can be a good idea if you happen to be limited in space around your other rooms and as long as you have somewhere between 7 to 10 feet, and you may even want to reserve more space for it especially if you want a nice transition from shower to the closet.
Scalloped Wall Lights 
We find these light holders and fixtures to add a friendly aquatic theme to any bathroom without it being too noticeable and slightly cliched, and you can get them in different colors to match, and it would even be an excellent addition to a children's bathroom design.
Spa Or Calming Space 
You want your bathroom, like a spa, to be a place of relaxation, and this can be a reality if you make some simple changes like de-cluttering the room, using calming colors, using rugs to soften your floors, and using plush bath towels, and soon your room is going to feel more like a place where you can unwind.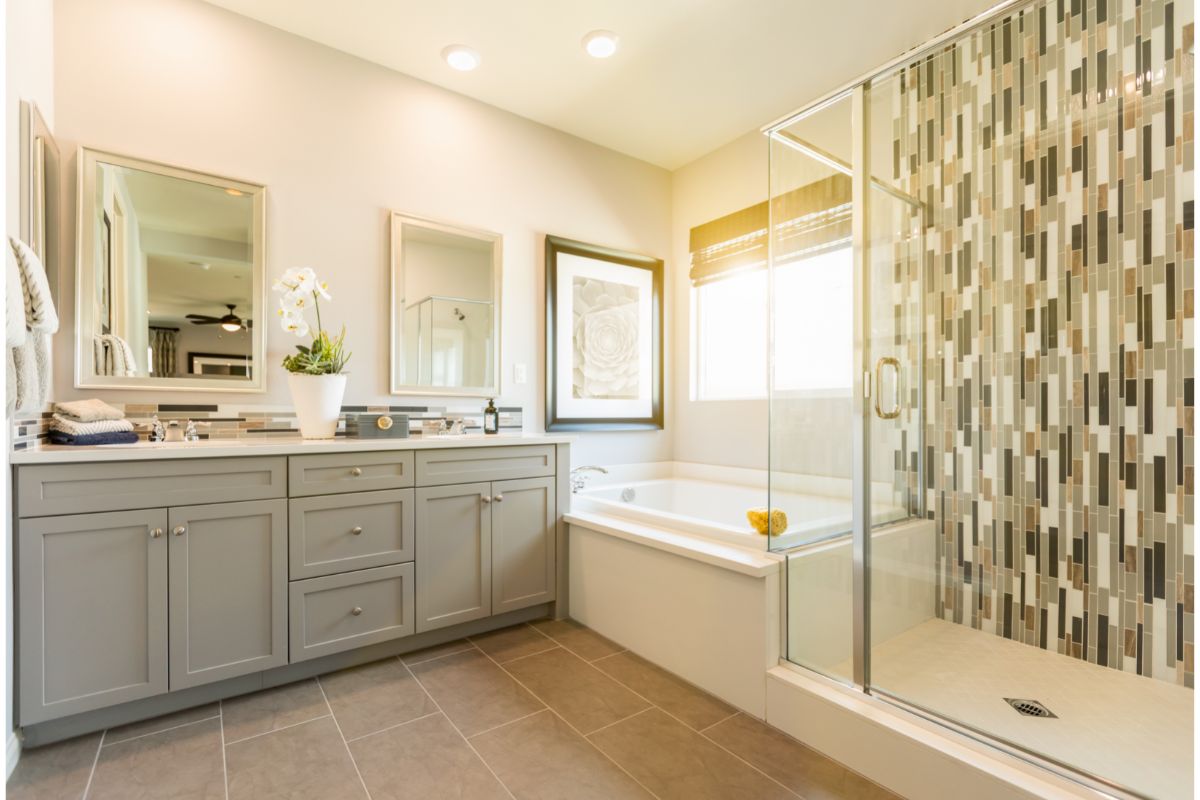 Bathroom Art 
Here you can let your creativity shine as if you have tall and empty walls you can make the room feel more lived in with some simple art that can range from prints that fit with your style, or a painting that reflects how you want to feel when you're in the room.
If you're not inspired by anything you see, there's nothing wrong with going with aquatic-themed art or prints that aren't too loud and can be something of a calm presence in your bathroom.
Add Some Patterns To Your Wall 
Like the artwork, you can get creative with this aspect of your bathroom's design, as you could go for a glossy look, a contemporary tropical design, or fish wallpaper, or you could be looking for something even more modern, and if so, you could go for marble wall panels, which give you a nice and clean look that isn't too distracting.
Vinyl Flooring 
What we love about a lovely vinyl floor is that it can have a patterned effect which can trick people into thinking that your floor is made from authentic materials, so whether you want a classical look or something that matches the rest of the room, you'll find that it is pretty easy to lay and can be cut around those tricky angles.
Walk-In Shower
These give you an excellent opportunity to have a better sense of movement as you relax in the shower, and you don't have to go overboard with the size and shape of the shower so that you can get one built to your design needs.
The only issue with this idea is that it can be expensive if you purchase the whole unit and have it fitted, as you may need to modify the room to accommodate the fixtures, so you might want to consider whether you really think the shower would improve the room or your washing routine.
On-Trend Tiles 
Tiles can be an excellent way to tie all the existing colors in your bathroom together or add spaciousness as you arrange them in alternating patterns, so tiles don't have to look stale or boring, as you can get a variety of sizes, shapes, and colors for the floor as well as the walls.
You could have a design that has matching tiles for the walls and floor, so it looks like a giant wash-room which can work really well as long as you don't use too many dark colors in the room, so you don't feel as if you stuck inside a sauna, and you get feel-good energy from it.
Hand-Made Basin Unit And Wall Mirror 
Modern versions of your typical basin unit have a clean white look to them, and they often match with the rest of the elements in the bathroom as it doesn't have to be this way, as you can get a unit that has some of your personality built into it, and with a lovely mirror that you can scale up or down makes this idea even more appealing.
You can go one step further and add some lights around the mirror, as you see on vanity tables in bedrooms, and it can be a great way to lighten your mood and be an area you really like to use.
Minimalist Theme 
This idea is a great way for you to take stock of everything you have in the room and will give you the opportunity to think about how you'd like your bathroom to look, as, for a minimalist look, you're looking for a clean design that has ample storage space and isn't filled with moveable items that may stand out when you contrast this to the rest of the room.
Doing this is very easy as you don't really need to do too much to the room if you want something simple, and it makes more sense if you happen to share this room with another person and perhaps your design ideas clash with one another.
The Bottom Line 
Some of these ideas range from very simple to ones that will involve some significant alterations to the room, and if you don't have the luxury of space, taking a few moments to have a good look around the room can be a good place to start when measuring whether things like fixtures or cabinets will work in certain areas.
If you're not sure what design would work best for you, have a look at the other rooms in your home and see if there is anything you could adapt for your bathroom, or have a look at your closet and see what colors you wear, so the room has a look you're more familiar with.
In the end, you can have a bathroom that you're proud of and want to be in.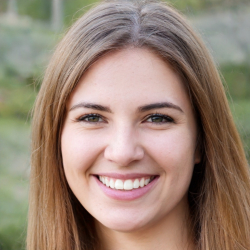 Latest posts by Maisie Park
(see all)