We all want a beautiful bathroom but creating that room that is both indulgent and also relaxing and one that makes our home healthier and can improve both our mental and physical health.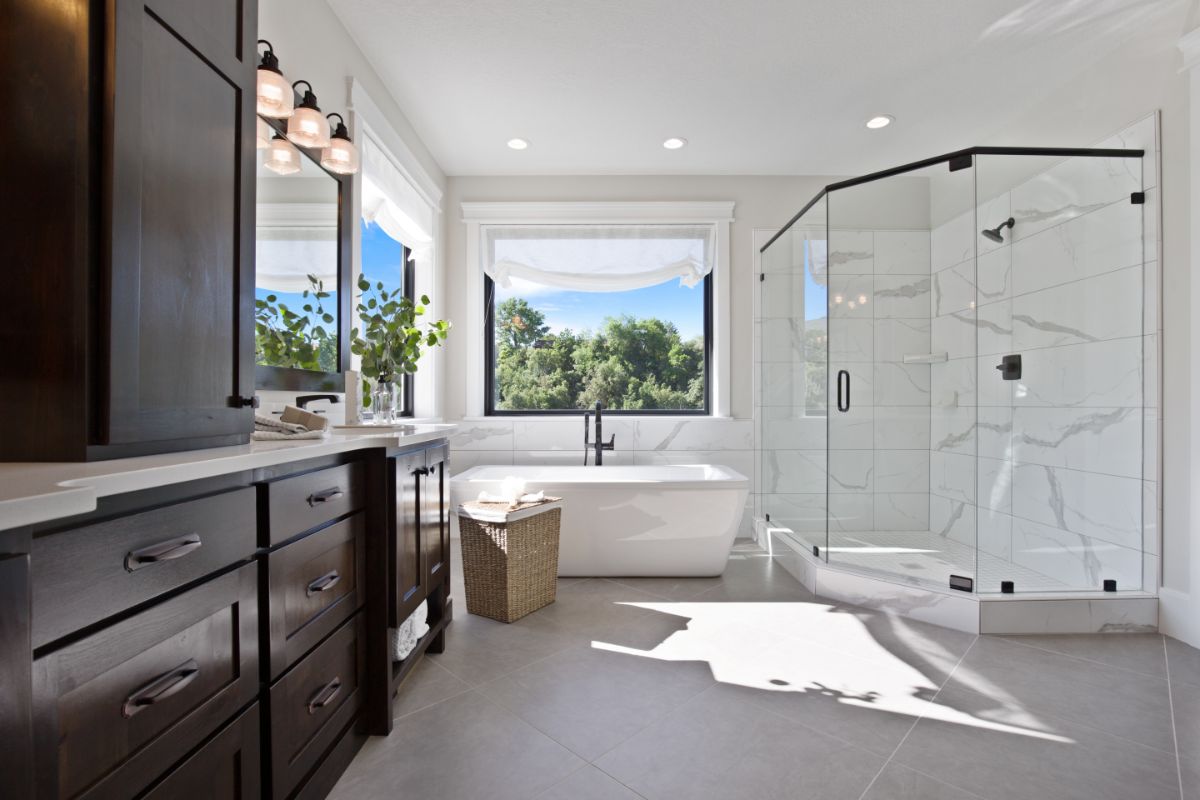 Luxury does not mean minimalist or the latest expensive state of the art technology.
Luxury just means that it's a place for you to be able to relax without a worry, whether it's mental or financial.
And of course, a luxury bathroom has to compliment your home in some way, as this is where you'll be spending a lot of your time!
Since there's so many different designs you can create, it can be hard deciding on just one.
That's where we come in, we have found you 15 of the best luxury bathroom designs that are incredibly easy to emulate.
It ranges from cheap and easy modern bathrooms to some longer scale projects that over time are going to look incredible.
There are many different styles and decor designs that you can take to style your new bathroom around.
1. Accent The Bathroom With Wallpaper
Wallpaper is something that you may not think has a place in a luxurious bathroom but if you do it correctly then it will look amazing.
Choose whatever wallpaper you like but make sure to avoid areas with a lot of moisture or humid areas where the wallpaper will be in contact with water.
If a splash of water lands on the wallpaper it won't peel so do not worry because most bathroom wallpapers are coated with vinyl to make sure they are specifically protected against water.
2. Bring In Some Plants And Mood Lights
We all love a trip to the spa but what if you could recreate the atmosphere at home.
If we can choose to have the escapism and sensory experience we all love at the spa everyday at home.
Your bathroom lights should be soft and soothing rather than bright and overwhelming, and some bring in some house plants to create a relaxing environment in your bathroom.
When looking for lights make sure that you are buying some fixtures that have a dimmable setting so that you can adjust the lighting to suit both your needs and mood.
3. Invest In A Heated Towel Rack
Heated towel racks have become somewhat of a necessity in modern bathrooms, they offer you warmth as well as a place to store your towels.
With their recent surge in popularity there are thankfully many models to choose from; some can be bronze rings all the way to a standard metallic bar.
The standard ladder style heated towel rack is rather basic, so why not go for a more extravagant looking heat rack?
4. Wall Art
An easy way to elevate any bathroom is to have some lovely art dotted around the room.
You can completely flip the room from a standard bathroom to a tropical paradise or it can be a lovely beach side resort.
We all want to have a bathroom that can be a comfort zone for us so turning it into a place where we feel like we are existing in a new world contained inside our home.
5. Underfloor Heating
One of the worst feelings is going from a lovely warm bed walking along your comfy carpet and then the shock of stepping onto your freezing cold bathroom floor.
Well, having an underfloor heater installed will change your life forever.
Investing in an underfloor heater creates warmth and makes those cold nights and the feeling of cold when you step out of the shower a thing of the past.
It's best to have one installed when remodeling your bathroom however if you are just doing some small work and do not want a complete remodel then you can have one retrofitted if it requires it.
6. Create Space For Essentials
The biggest challenge we all face is how cluttered our bathrooms can be, products of all ranges or uses scattered across the room so why not make some space for them?
Decluttering the room can make it look more stylized and luxurious whilst also creating the illusion of the room being bigger than it actually is.
So what to do with those everyday items and products designed for display that you also want to create spaces for.
First step is to convert your shower into a walk in model. This will remove the screen and case that usually surrounds a shower and takes up much more space than needed.
Within this new shower you can mount some pockets or hook bags and use them to store many of the products.
7. Chrome Finish
Luxury bathrooms are typically pictured a glamorous looking room and what is more glamorous than a chrome finish to make the whole room shine.
Chrome is a completely timeless finish and is perfect for any fittings or fixtures.
Chrome perfectly partners a marble schemed bathroom (which we will get to later,) it is perfect to boost the look of the bathroom and makes the whole room look glamorous and definitely luxurious.
8. Try Terrazzo
If you want some texture and color added to your room then terrazzo is the perfect scheme to liven up that space.
Committing to one material can be considered boring but terrazzo is different as the style of it is a very different style as the pattern is completely different.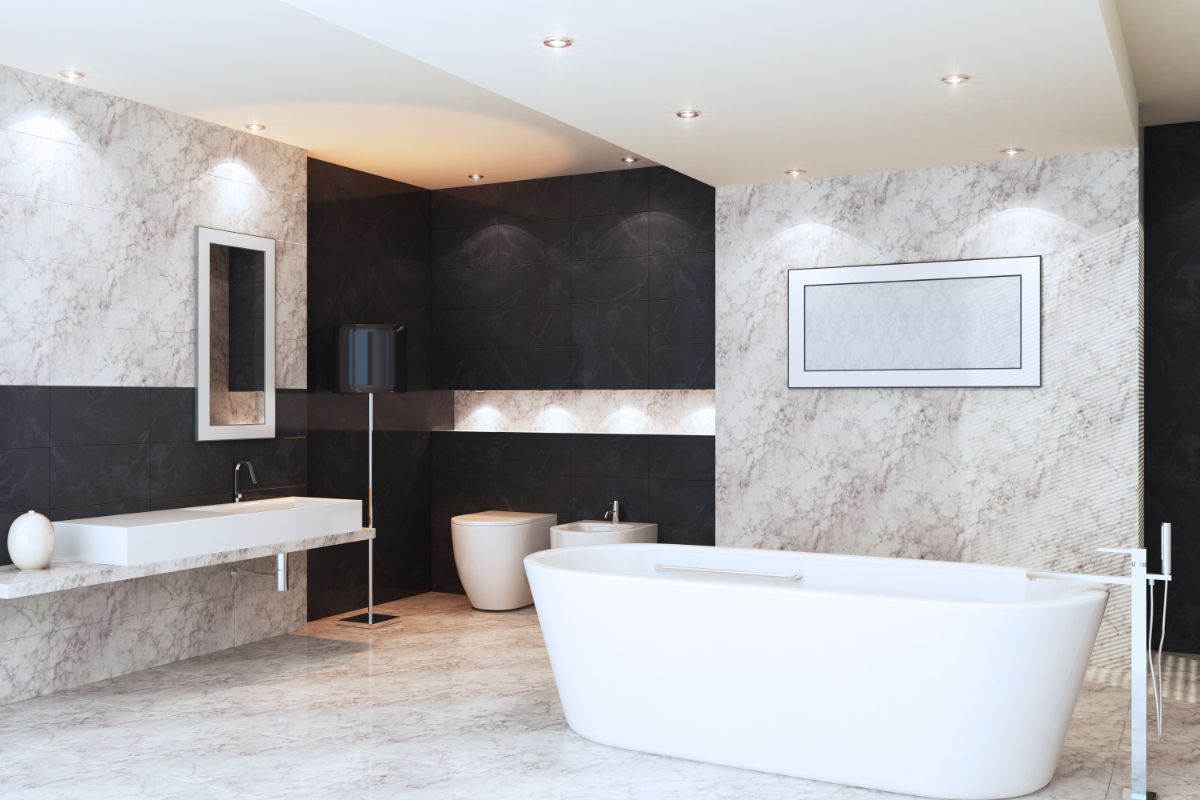 It is an Italian inspired pattern that uses chips of marble, granite, quartz and glass that combine together to make the best glow up you can see in a bathroom.
9. Minimalist Is Sometimes Better
We all would love to have an extravagant bath and shower but unfortunately not everyone has a bathroom the size of a house so sometimes we need to downsize.
Choosing the right materials is crucial as you will not be spending on a larger more expensive object so why not spend a bit more and get higher quality materials.
Hardwoods or concrete finishes will give a luxurious and also soothing feel to the room and when paired with perfect lighting can make a real statement.
10. Marble Is Luxury
Marble screams luxury and is the go to material if you are wanting a bathroom that screams luxury.
The light colored material makes the bathroom look bright and full of life as well as also making the room seem much larger than it actually is.
Using marble gives the room a classic feel that can not be beaten.
This may be the entry you were expecting to see at some point and when paired with our earlier entry having a marble bathroom with a chrome finish makes it a truly luxurious one.
11. The More Color The Better
Sticking to just on color is boring so why not just be as colorful as you want.
Luxury is not limited to one color even pink can be luxurious in the right circumstance so do not limit yourself to the standard monotone colors.
Whichever color you do choose to go with you can just go for a slightly more professional version of that color so for example if for some reason you do want a pink bathroom why not instead of baby pink go for more of a saccharine bright pink which when combined with such materials as wood or marble will prevent you from having a tribute to Barbie bathroom.
12. Patterns On The Floor And The Wall
What is better than having a matching bathroom, the aesthetic of walking into your bathroom and seeing it all looking perfectly matched and everything working together makes it a room that you will cherish for life.
Using the same patterns that you have used on your walls and matching them to the floor is a fantastic way to make the bathroom luxurious and truly unique as well as bursting with character.
The patterns can be modern or a throwback and it will work all the same.
13. Why Not A Double Sink
Sinks can be very cramped so why not use some space up and treat yourself to a double sink.
Double sinks are usually a luxury reserved for the glamorous hotels we visit on holiday so why not get that in your own home.
They are especially good for those of us with partners who hate to share a sink.
One sink per person means we can get our own personal space.
Having a double sink is a proper luxury and one that not many think to have in their home so is truly a way to make your bathroom stand out from the crowd.
14. Double-Up Even More With A Double Shower
If you're going to be doubling up on your sinks, then why not do the same for your shower?
It looks super elegant and indulgent, not to mention completely satisfying since they'll be entirely symmetrical.
Of course they have a purpose too, it means that you and your partner can both get ready at the same time if you're running late, and it just opens up the bathroom so much more.
You also have ample opportunity to make a statement with the tiles and the faucets/shower head.
Hexagonal tiles are super chic right now and paired with chrome faucets or a shower head, the bathroom will look extra elegant!
15. Add A Mural If You're Artsy
Murals are a beautiful way to express your individuality and art interests.
They provide a focal point for a bathroom, so it's always best to make sure that your color scheme at least partially matches the colors used in the mural.
Your guests will find themselves gazing upon it whilst they're using the bathroom, so you'll know why they've taken a long time in there!
Not to mention, it's also a great thing for you to look at whilst you're bathing, you'll find yourself finding little details that you might've not noticed before and find out its true meaning.
It's also an excellent talking point, as it'll get topics flowing regarding the mural and what piqued your interest to get it, so make sure it's one you actually like!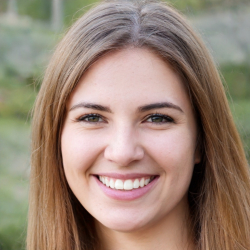 Latest posts by Maisie Park
(see all)