Accent walls are a great way to switch up the aesthetic of your house without having to redo the whole thing. You'll be surprised by how much difference they can make – adding interest and personality to a room while providing you with the creative freedom to decorate your house into a home.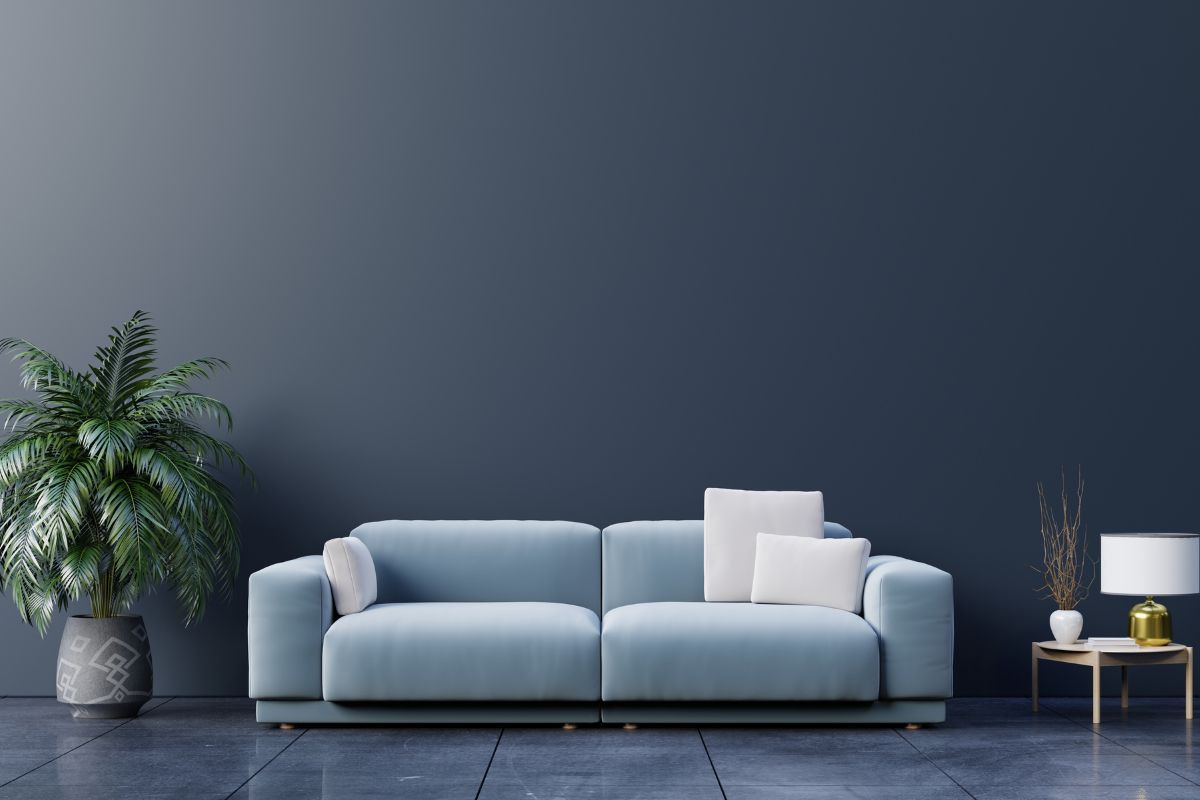 With this in mind, for some inspiration, we have created a detailed guide on some beautiful accent walls to incorporate into your home.
Whether you're looking to make a statement in one of your larger rooms or want to update a small nook, in this guide, you'll find everything you need to help you get started on transforming and updating your home.
The beauty of accent walls is that they're incredibly versatile, depending on your preferences; you can completely customize your decorating experience.
Whether you're looking for a total transformation, a simple switch-up using accessories, or a project you can complete over the weekend, then you're sure to find something that fits your needs here.
Let's get straight into 15 different living room accent wall designs that we know you'll love!
1. Dark Walls And Light-Colored Art
Looking to make a bold statement, then why not try this dark wall and light-colored art combination? One suggestion could be a dark blue wall, with neutral, bright artwork.
This is a great method if you're looking to curate an at-home art gallery by collecting paintings and prints.
If you don't already have an art collection available, you can either print or order pictures featuring similar colors or frames that match your aesthetic.
2. Rainbow Stripes
It's an undeniable fact that rainbows brighten up a room. Bursting with colors, they're sure to turn any dull room into a joyful environment filled with character.
Whether you have small children or a love for all things color, then you're going to add this design to your space as soon as possible. You can start as simply as a coat of paint on a blank wall, or even as elaborate as a rainbow mural – the choice is yours!
Whatever design you choose, anything rainbow related brings tons of life into a space. You'll find yourself smiling every time you step into the room.
3. Keep It Minimal
Sometimes the less you do; the better. This can be applied to your living rooms, as well.
By utilizing the natural features already found in your space, such as a radiator – which would otherwise be covered up – you can create an accent to seamlessly incorporate into your minimalistic space.
Moreover, monochromatic paintings, as well as black-edge furniture add a touch of warmth to a space while providing a stark industrial contrast.
By choosing a singular, neutral accent wall, you have the freedom to move and redesign your furniture and the features already in your room to suit your desires – there's no need to purchase anything new to make a room feel like yours!
4. White Interiors
Make the white accents in your room stand by painting your walls dark. For instance, white curtains will play off dark walls.
For additional visual interest, try including objects such as mirrors which, in turn, help to make the dark room feel larger, while also adding texture to a wall.
You'll be rewarded with a somewhat formal space that has a flair for intimacy – reminiscent of cold winter days, cozying up by the fireplace with your family.
5. Tone-on-Tone
Incorporating similar tones in a room can provide an extra special effect to a room.
Whether you're designing your space around the color of your accent wall, or the theme already found in your room, the combination of different tones creates a design that not only feels intentional but also upscale.
It is a quick and easy way to make your space feel modern and inviting.
6. Make it Sheer and Macrame
While floor-to-ceiling windows are a beautiful feature of a room and can be left plain for a statement accent, by adding sheet curtains, you are creating two things at the same time.
Firstly, the natural light leaking into the room from the sheer curtains demonstrates an almost blush-like, diffused coloring. Secondly, they provide an almost billowy flair to your room. This is a simple, yet effective way to make the most of your room.
The inclusion of macrame ties everything together. Not only does it echo the ripple effect caused by the curtains, but the neutral tones seamlessly integrate into the space.
7. Soft Ombre
Instead of dedicating your whole wall to texture, you can opt for a more low-key option like this soft ombre design.
Ombre adds soft touches of color to a space without committing to the whole shebang. Plus, it's an easy enough project to complete in one afternoon.
8. Two-Tones and Botanicals
For a dramatic look, why not try this two-tone wall design?
One tip for this design: rather than having the line of demarcation in the middle of the wall, try painting the colors to meet at eye level. This will allow the eye to travel up the wall, ensuring that the art takes center stage.
You can use any complementary colors to make this design. However, we recommend using a white base color and matching it with a more vibrant color; this avoids any clashes in colors.
9. Greenery Against Green
Frame your plants with ornate crown moulding to make them the focal point of your room, and go one step further by matching them to the color of your accent wall.
For instance, using pistachio-colored paint perfectly emanates and enhances the natural green foliage.
Keeping the furnishing and accessories to a minimum will allow the attention to remain where it is intended to belong: on the gorgeous plants.
10. Slightly Metallic
To turn a plain wall into an extravagant wall, simply add a whisper of gold around the moudling accents – instantly elevating the room.
Rich elements such as milkshake-colored walls and dark wood furnishings dramatically upscale any room.
This is the perfect way to make a room feel expensive without breaking the bank!
11. Go For Bricks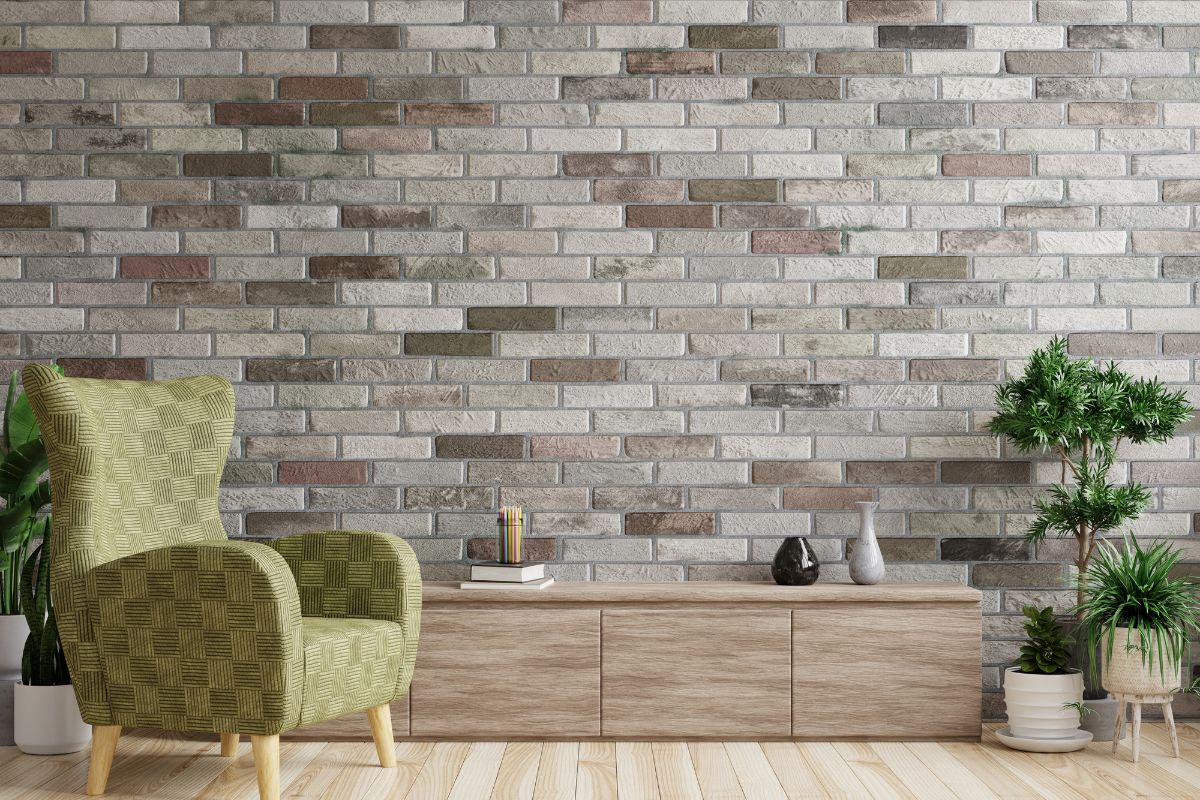 If you're ever in doubt, you can't go wrong with bricks and glass. The combination of textures adds a professional touch that doesn't feel forced.
Keep the palette neutral by keeping your plates white, alternatively, you could stack multi-colored dishes behind a glass cupboard for a colorful, yet not overpowering, pop of color.
12. Go Small in Big Spaces
The phrase 'go big or go home' definitely does not apply here. In fact, it is quite the opposite. Instead of adding large features within a large space, have you ever considered placing smaller objects and accessories to fill your space?
There's something beautiful about the minimalist look, and this design definitely highlights the beauty in it. One way of doing this would be by incorporating a latte-colored accent wall, curtained with vibrant, attention-grabbing colors, such as coral curtains.
This serves as a counterpoint to the otherwise plain and neutral backdrop of the wall. Again, without being too overpowering – it's a simple way to transform a space without requiring too much time or money.
13. Ceramics and Earth Tones
For a modern statement, consider adding an oversized ceramic art piece to stand out in front of a grayscale wall.
The right piece of art will tie the whole room together without making a space feel overpowered while adding a pop of color to the sea of gray.
14. Go Square
Let geometry be your artist by overlapping different toned shapes on your accent wall.
Whether you choose circles, triangles, or squares, make sure to keep the tones cohesive; this will allow everything to blend seamlessly together.
One way to do this would be by incorporating different shapes with the same blue tones on a wall. This adds a modern touch to a room.
15. Make It Mirrored
For the perfect accent wall, consider adding interior windows. Not only do these make a room feel brighter and bigger, but they're also a great makeshift accessory when used as a picture frame.
With interior windows, it's best to stick to one specific theme. For instance, using a color palette with shades such as green, brown, and white, will allow the accessories and textures, found in the room, to fill the space.
Final Thoughts
Accent walls are a simple yet effective way to transform the feel of a room. With so many options to choose from, you can design your room to suit your desires, perfectly.
From minimal interiors and mirrored walls to rainbow stripes and two-tone walls, there is sure to be something for everyone. 
Whether this is color, texture, or design, hopefully, this guide has provided you with some inspiration for your next accent wall project.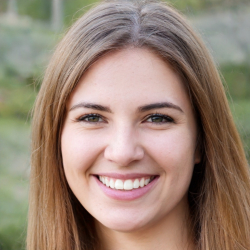 Latest posts by Maisie Park
(see all)