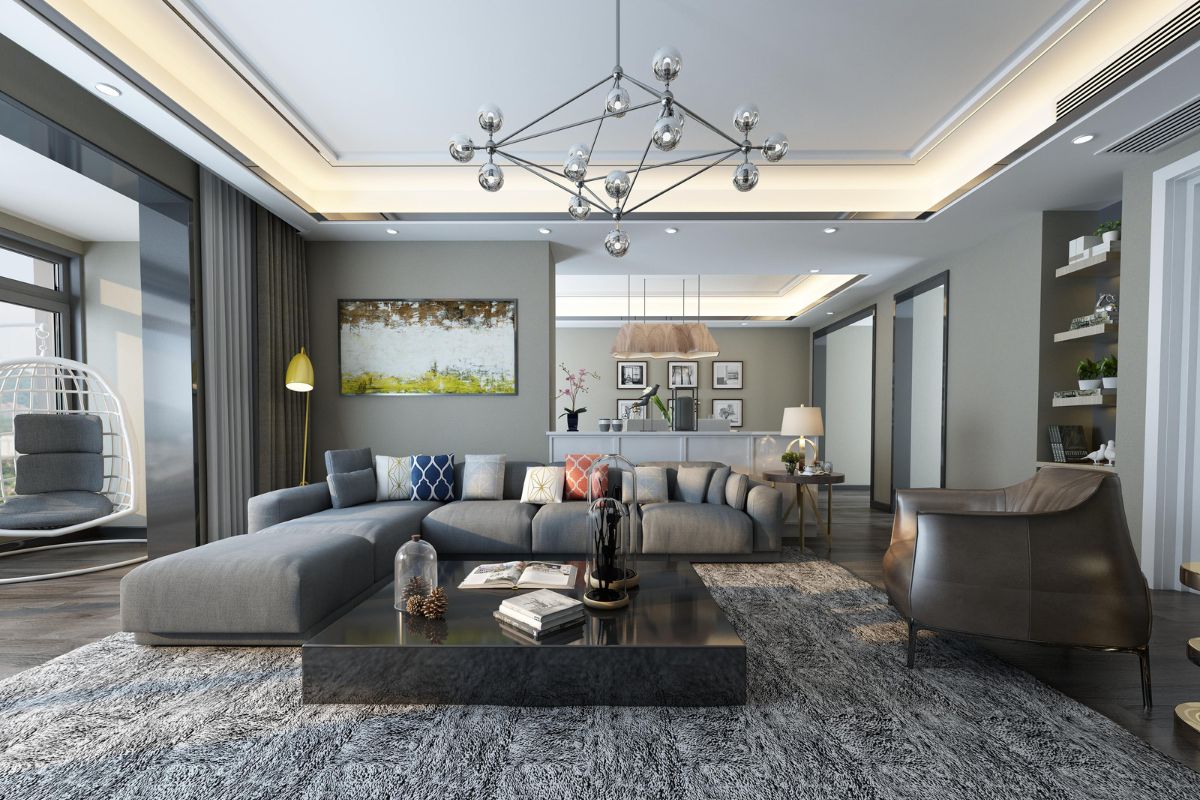 Accent chairs can make or break a room. If you need a simple way to spice up your existing scheme, or you want to redo it completely, stick with us to explore 15 living room accent chair ideas you'll love.
1: Choose A Bold Shade
Accent chairs are usually used to make a statement, and they're designed to stand out from the rest of the furniture in the room.
Although it's wise to get one that matches your existing color scheme, don't be afraid to go bold, and let a pop of color dominate your space.
If you already have a neutral color scheme, we'd recommend choosing a vibrant accent chair to add a splash of color.
Choosing a neutral chair will only wash out your room even more, but a bold shade can make the rest of the room fade out into the background and command attention.
If you're looking for a visually intriguing statement, your accent chair could be it!
2: Update An Old Chair
Your accent chair doesn't have to be brand new. In fact, some of the best purchases we've ever made have been second-hand! If you want to go a step further, you might not even need to buy a chair.
If you've got an old chair in your room that could use a little TLC, why not take the opportunity to update it, and turn it into your statement accent chair?
You'll need to decide which materials you want to use and think carefully about how durable you need your chair to be.
Is it going to be used regularly, or is it strictly for decoration? We recommend using something like velvet for either circumstance – it's luxurious, attractive, and durable, and its appearance often improves with time!
Just remember to choose a color that can stand out in your space without going completely against your existing scheme.
3: Create A Welcoming Entryway
Now, we're thinking outside of the living room for a minute – why not use an accent chair to create a welcoming entryway? Having a statement accent chair there the moment you walk in can be a decisive move, especially if you opt for a bold color or a vibrant pattern.
Layer your accent chair with cushions for extra warmth, and your guests will feel instantly at ease.
If you're giving them a taster of what your home has to offer, why not surprise them with another matching accent chair in the living room?
4: Add Different Textures
Textures are at the heart of any successful interior design, so don't be afraid to play around with them.
Accent chairs were designed to be bold, and although using a plain fabric can work, accent chairs perform best when they're a little out there.
Plating with different textures and patterns can also draw the eye away from other areas of the room, so if you've got a mark on your floor or wall, you don't want to be as visible, find a textured accent chair that can add character and divert the eye.
If you want a plain fabric for your accent chair, you can still add texture with some detailed cushions or even a chunky throw draped over the back.
5: Choose A Pair
Sure, one accent chair is enough, but why not choose two? Investing in a pair of accent chairs can help give your space a more symmetrical look by matching width and aesthetic to create a more harmonious feel.
Although your accent chairs don't have to have identical materials, it helps if their colors are as similar as possible.
Using two accent chairs is also a more exciting way to provide extra seating for your guests, rather than investing in a standard sofa (Also check out How To Build Your Own Sofa Pit).
6: Introduce Detailed Cushions
Don't underestimate the power of cushions. Adding a few detailed cushions to your accent chairs can completely change their appeal and add an extra layer of intrigue to your space.
Not only do cushions make your chair more appealing, but they can also add extra warmth. If you opt for a cushion with tassels or fringe detail, you'll create a more luxurious and unique feel.
7: Create A Reading Nook
Although accent chairs can be used just about anywhere in your living room, why not use one to create a reading nook?
If you have an empty corner of your room, make it a new home for your accent chair, and position a tall, floor-standing lamp behind it to create the ultimate reading nook.
Comfort should be your priority, so now is the time to get those throws and cushions ready and create a comfy chair that you'll never want to leave it!
8: Find A Matching Footstool
Accent chairs are often used as standalone pieces, but no hard and fast rule says this has to be the case. If you have some extra space you want to fill, why not use it to complement your chair and increase visual appeal with a matching footstool?
This bold setup will be as attractive as it is comfortable, and with the same colors or patterns carried through on the footstool, you'll get a more symmetrical and ordered look.
9: Use It As A Zoning Tool
Accent chairs are usually bold, so why not use this statement piece as a zoning tool? If you want to separate areas of your living room according to function, use an accent chair to draw the eye to a specific area.
If you have a large, open-plan living room, this is a great technique to help add some definition and separation to your area. If you use zoning in other areas of the room, you'll be able to create a more ordered space in no time.
10: Place At An Angle
One of the most important things you'll need to consider is the positioning of your chair. Simply placing your chair in the middle of the room is unlikely to work, and you'll almost always need to put your accent chair at an angle.
Angled chairs create a sense of depth and can help avoid that 'chunky,' boring look.
If you already have a sofa in your space, we'd recommend keeping your chair at a right angle (especially if it's between sofas), but if it's on its own, simply angle it towards a dominant feature in the room, such as a fireplace or TV.
11: Let Your Chair Decide The Color Scheme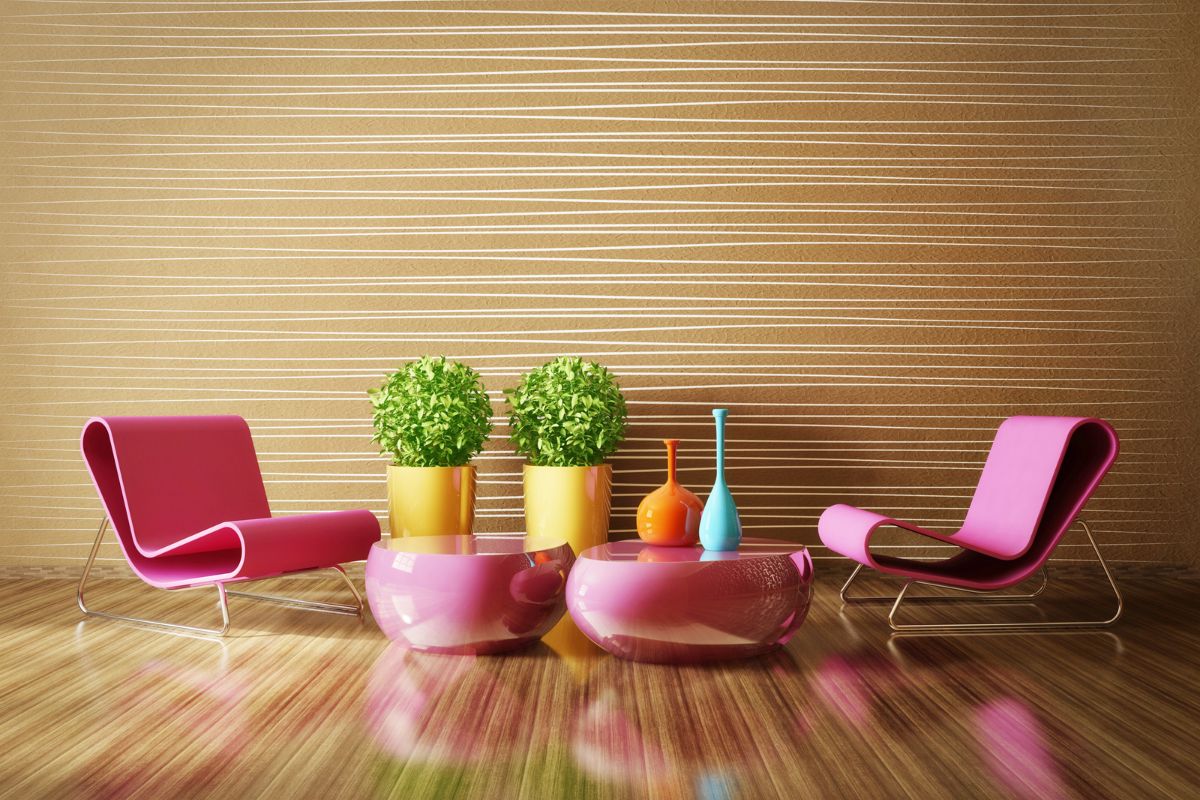 Letting your accent chair do the talking makes sense, so why not let it dictate the color scheme? If you're redecorating your whole living space, invest in the accent first, and choose a color or pattern that you want to replicate or imitate throughout your space.
Choosing fabrics first will also give you more freedom when it comes to choosing paint. It's much easier to find paints that compliment fabrics than it is to find fabrics that compliment paints.
12: … Or Compliment An Existing Scheme
If you have an existing scheme, you don't have to scrap it when you buy an accent chair.
As long as your existing scheme isn't too busy or vibrant, it should be easy to find an accent chair that compliments your existing living room without having to change too much.
For example, if you have brightly painted walls, choose a chair that's a slightly lighter tone, or vice versa. Remember to add some texture, especially if your existing furniture is neutral or smooth.
13: Don't Underestimate The Power Of Neutrals
Accent chairs are used to dominate a space, and although bold colors are usually used to demand our attention, you shouldn't overlook the power of neutrals, either.
Neutrals are often bursting with texture, which can make them just as interesting as their more vibrant counterparts.
If you want a neutral chair to take center stage, select a chair with an interesting design or fabric to add some depth and texture. 
14: Prioritize Comfort
Although your chair should be intriguing enough to stand out, you shouldn't be compromising your own comfort – especially if you're using your accent chair in a reading nook or even in an office corner of your living space.
There are plenty of ergonomic accent chairs out there, and no, they don't need to be ugly!
Ergonomic accent chairs come in all shapes and sizes, and your back will thank you – even if you have to spend a bit of extra cash.
15: Explore The Rustic Theme
Lastly, if you're redecorating your living space, don't forget about the rustic theme! Accent chairs are often bold and bright, so most of us only use them in more modern, and sometimes even industrial, living spaces.
However, a pastel or neutral accent chair (and even a leather accent chair) can complement a more rustic, country-living vibe.
If you want to create a cozy space, take a closer look at this theme and see if you can find the right accent chair for you. 
Final Thoughts
If you want a dominating feature for your living space, an accent chair has the power to make or break your design.
Thankfully, choosing the right chair doesn't have to be a headache. We hope you've enjoyed our selection, and remember, there really is something for everyone.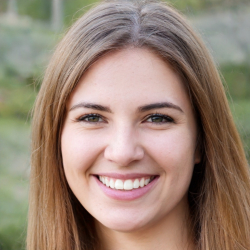 Latest posts by Maisie Park
(see all)