In a busy household, the kitchen table can often become the place where everything ends up. And lost under the piles of letters, forgotten books, and abandoned recipes is the potential to create a really beautiful home!
The kitchen table is a flexible place for design, where creative thinking can allow you to create something special to you. A beautiful kitchen table can be the star of a dinner party, as well as a welcoming space for family meals.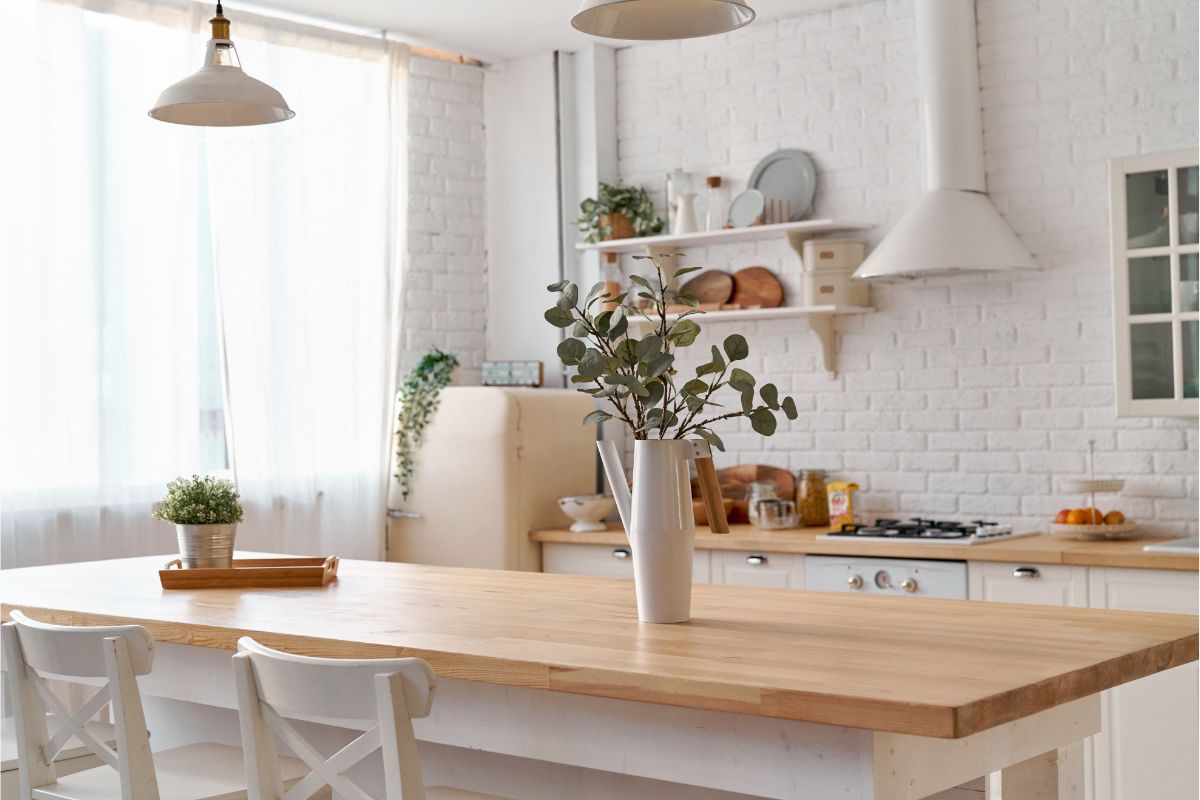 Create an attractive and personal kitchen table design with these tips and tricks.
1. Decorate With A Bold Vase
Let's start with the obvious, and classic, choice: the vase. The vase is a traditional way to decorate the kitchen table, but that doesn't mean it has to be a boring choice! Look for a brightly patterned design with sleek sides that will add life to a table.
Or try something sculptural and structured, for a modern vibe.
A vase immediately draws the eye to the table, and can either be the entire look, or a starting place for a complex design.
2. Refresh With Florals
Flowers on the table shouldn't be saved for a special occasion! Instead, bring beauty and vibrancy to every day by frequently refreshing your centerpiece with fresh flowers.
There are many ways to use flowers in your table decor, from one large bouquet to several mini vases. Mix pale blooms with plenty of greenery for a rustic, cottage charm, or add romance with brightly colored florals.
Change the style throughout the months to reflect what's currently in season, and keep your table looking refreshed.
3. Use A Tablecloth Or Runner
Don't overlook the tablecloth when it comes to creating a beautiful design. A good tablecloth can completely transform your kitchen decor, and mask an old or unappealing table.
Stick to a single color if you want to build a sophisticated design, or catch the eye with a patterned tablecloth. 
If you want something a little more subtle, use the table runner. Thinner than the tablecloth, the runner adds a small splash of visual interest, rather than dominating the design. For a new take on the tablecloth, place it sideways on the table, instead of along.
4. Try A Paired Down Color Palette
A wooden table with wooden decorations might not seem like the most exciting way to decorate a table, but this refreshingly minimal take might be just what your kitchen table needs.
Mix shades of wood to prevent the decorations from getting lost on the table, or experiment with different finishes.
Use curving lines and polished woods for a surprisingly modern take on this unusual style. Rustic natural woods can bring the outdoors in, while sculptural shapes are bold and eye-catching.
5. Or Go Bright With Color
Inject some fun into your kitchen table with bright and vibrant color choices. Take a look around the kitchen and see what colors already stand out, and emphasize these with the table decorations.
It might be an undertone to the paint, the color of your appliances, or even a theme running through your cookery books! Reflect the color choice in your centerpiece, and in your tableware.
Play around with patterns as well, particularly natural lines and forms. These colorful centerpieces can make your table more welcoming, and draw people to the kitchen.
6. Liberate Fruits And Vegetables
Fruits and vegetables aren't only for the plate! Instead, they can be used to decorate the kitchen table. We all know the traditional fruit bowl, but if you're planning a dinner party, or hoping to encourage people to eat at the table, give your fruit bowl a refresh.
Citrus fruits last a long time, and add an intense hit of color.
And it isn't all about fruits. Vegetables can also be used to create attractive table decor. Think artichokes, corn cobs, and asparagus. Bunches of herbs can add some greenery, for a new take on floral displays.
7. Inject Charm With Old Fashioned Patterns
If you have a cupboard full of inherited porcelain that never sees the light of day, it's time to rethink your table decor! Old-fashioned prints are back in fashion, and can be used to create that cottage style charm you've probably spotted all over your Instagram.
To refresh your old prints, pair them with striking colored tablecloths and napkins. Offset fussy prints with minimal metals, and instead of fresh flowers, fill vases with dried grasses. Avoid a cluttered look by picking out a color, and basing your styling around this shade.
8. Or Go Modern With Sleek Lines
The kitchen table can be a busy space, and too much decor can end up looking messy. If your kitchen table is the center of your home, keep things simple with strong lines and a minimal color palette.
Dark tones combined with metals can look incredibly elegant, and allow some freedom with the styles you use. 
Or pick a bold color and keep the shapes simple. It's all about balancing power and refinement, for a look that draws the eye but doesn't confuse it.
9. Layer Different Levels
Stand back and take a look at your kitchen table. Good decor will draw the eye to different levels, allowing you to add more without cluttering the space. This is surprisingly easy to do with the kitchen table, as kitchen decor and utensils tend to use different heights anyway.
Start with something tall that will take central focus. Then, look for smaller items that can be used around this piece. A good starting place is your traditional vase, but glassware, jugs, and even lighting can be used.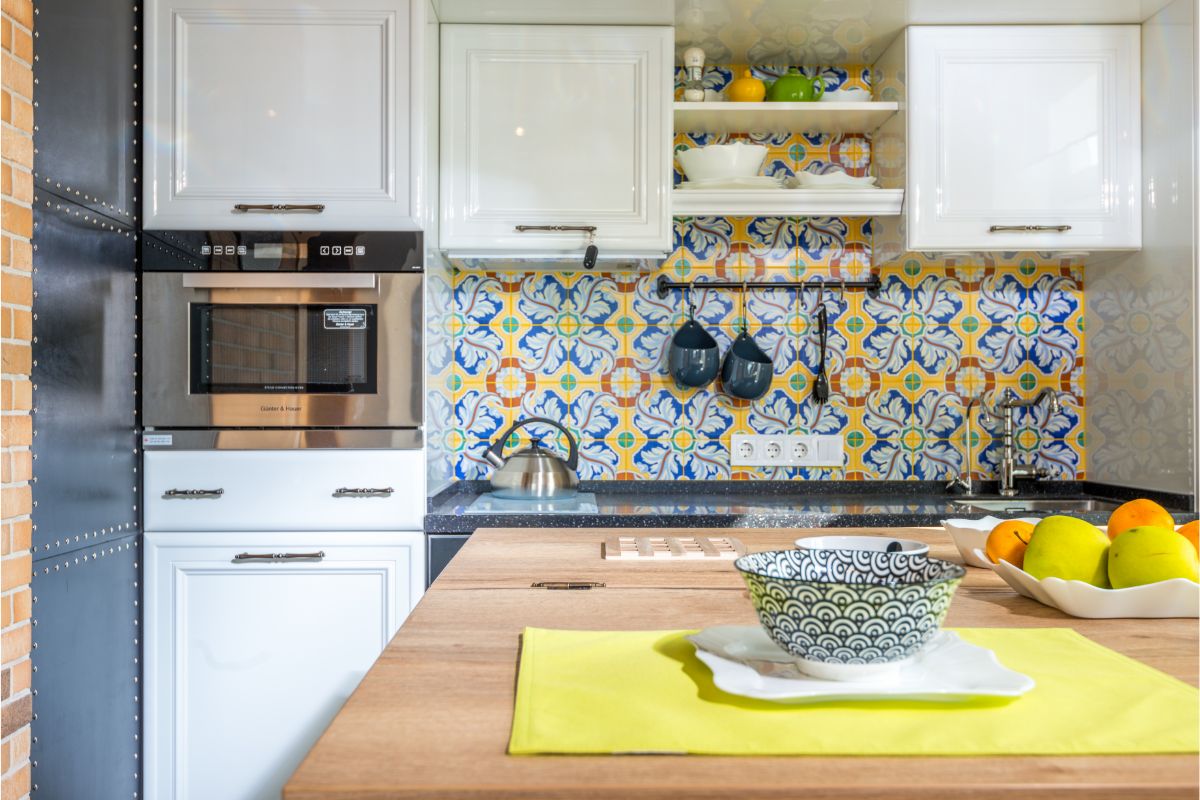 10. Mix And Match
The kitchen can be a bit of a ramshackle space, as it's a working room that sees a lot of activity. If you have a family kitchen table, you might want to reflect this approach in your decor. Instead of fixating on a single style, bring in a mixture of stylistic touches.
Many of us will find our kitchenware has been collected over the years from different sources, as pieces get broken and replaced. Emphasize this by placing mismatched pieces next to each other, and letting their individual merits play together.
11. Add Romance With Soft Lighting
Candles and candlesticks will instantly transform your kitchen table into a moody and romantic setting.
Whether you choose traditional towering candlesticks, or prefer soft tealights with a subtle glow, this gentle lighting choice can be all you need to create a gorgeous table decoration.
For particularly special occasions, pair your candles with some well-chosen florals.
12. Think Outside The Box
What are your favorite decorative items that never seem to get the chance to shine? Try transforming these into a table centerpiece, for an unusual and unique style choice that's perfectly suited to your tastes.
We tend to associate the kitchen table with a fairly standard set of decor items: vase, bowl, candles, etc. But it doesn't have to be that way! Just make sure that whatever you choose looks good from all angles. So, no photo frames!
13. Start With A Statement Light Fitting
Decorating the kitchen table doesn't actually have to mean putting things on the kitchen table! If you have limited room on your table, use a statement light fitting to add a touch of beauty without having to take up space.
Hanging above the table, a statement light fitting will add to the decor but doesn't overwhelm the room. Pair with a matching tablecloth for a complete look, or let the light do all the work.
14. Consider The Space From Floor To Ceiling
Before decorating your kitchen table, take a step back and consider the entire space, from what's on the ceiling, to what's on the floor. A rug and a light might be all you need to create attractive kitchen decor!
Then, the table is free for as many plates and dishes as you want to serve.
But if you have a big table, you might want to place your decorative pieces along the table. That way, the eye won't be drawn to just the one place.
15. Don't Forget The Chairs
The chairs are actually a big part of the decor, but they tend to get overlooked when we're decorating. Don't make this mistake! Have fun with the chairs, using unusual shapes, patterned fabrics, and new materials to create a beautiful table.
Mix and match chairs have become increasingly popular in recent years, as they add a homespun charm to the kitchen table.
If this seems a little too much, consider several matching chairs, and one bench chair. You can still play with pattern and design, but it won't seem as busy as multiple different chairs. 
Final Thoughts
The kitchen table can be the heart of the household, so it should be beautiful! Begin by really considering the area from head to toe, and then you can find a decor style that works for you and your home.
Look for a thread to tie the design together, and then decorate your table in a way that makes you smile!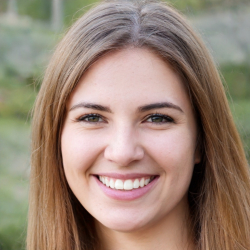 Latest posts by Maisie Park
(see all)