Peninsula Kitchens are becoming increasingly popular because they provide better flow in smaller spaces. They are ideal for homeowners who want a kitchen island without sacrificing space.
If you don't have enough room for a full island, consider adding one half of a peninsula. This allows you to maximize the amount of countertop real estate while still keeping it clean and clutter free.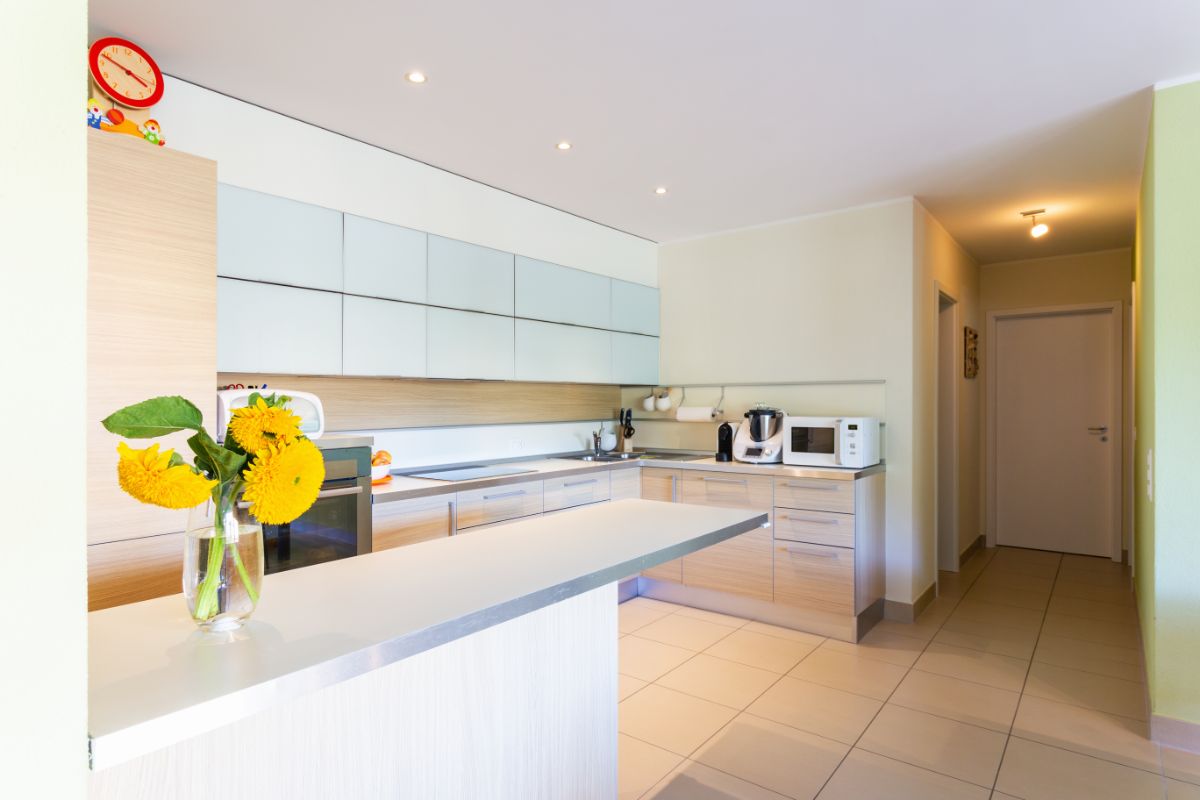 What other things can you add to a peninsula kitchen and how can you make the most of a smaller space ? Let's look in more detail.
1. The Butcher's Block 
The kitchen island is one of those spots you want to look great — but not overbearing. You need something that could stand up to your lifestyle, but still feel like home. A good solution  is to combine a beautiful marble slab with a rustic butcher block.
While marble tends to be more expensive than wood if you have the budget it is a stylish mix. 
You can choose a neutral color palette of white, ivory, and light gray. To keep things clean and modern, you can keep the hardware simple and classic.
There is an effective simplicity when you combine brushed nickel drawer pulls and knobs and you can even use the same material throughout for full effect. 
2. Wood, Distressed Style 
If you're looking to update your kitchen to a farmhouse style you should consider using a distressed wood island/peninsula. They look great with white or beige cabinets and provide a stunning contrast right in between the kitchen and dining area.
The style is reminiscent of the classic kitchens of the 1980s and 1990s, and it's perfect for those who want to bring some old school charm into their home without breaking the bank.
You'll find a variety of options to choose from depending on how much work you want to put into making the island yourself. If you're looking to do it yourself, there are plenty of tutorials online to help you along the way.
For example, you can buy a pre-made island from Ikea, Lowe's, Home Depot, etc., and paint it however you'd like. Or, if you prefer something a little more DIY, you can build your own with reclaimed wood and stain it to match your existing cabinets.
3. Style Within Budget 
The key to finding the right peninsula island  is to make sure you pick a design that fits both your style and your budget.
For instance, you might opt for a simple rectangle shape with a few legs for extra support, while others with a larger budget may go for a rounder, more elegant look.
4. Waterfall Edges 
A waterfall edge adds depth to your island, creating a visual break between the cooking area and dining area. It creates a sense of separation, making room for additional seating and serving areas. Furthermore, the waterfall edge gives your island a clean, sleek design.
The best part about adding a waterfall edge to your island is that it doesn't require a lot of work. You simply cut off the edges of your island and install a decorative edging around the perimeter.
Then, you paint the entire surface white or another light shade. Finally, you attach a glass shelf above the waterline.
You can find waterfall edge island ideas online or in home improvement stores. Some even come preassembled, ready to go.
5. Table & Island Combos 
If you have more space in your kitchen and want to maximize it consider an island/ table combo. An island allows you to cook while still having plenty of room for guests.
A table adds another surface area where food can be served. When it comes to choosing between the two styles, there are many factors to consider: your budget,
how much storage you need, whether you plan to use the island for eating or just cooking, and what type of countertop material you prefer.
The island/table combo works best for those who like to entertain in the kitchen because it allows you to easily move around the space without compromising the flow of traffic.
You can set up a buffet station on one side of the island and serve appetizers or drinks on the other. Or, you can place a dining table next to the stove for casual meals. Either way, your guests won't feel cramped or crowded.
6. Fully Open 
If storage is not an issue for you in your kitchen, you might want to consider an island/peninsula completely open beneath it. This will give you more room for decor and style in your kitchen, a place to store pretty bowls, and books, and maybe even some pretty utensils.
The island itself is completely open underneath, allowing light to pour into the space. There is no cabinet under the island, so there is plenty of room for storing items like pots and pans.
7. Adding Style 
A framed end table is one of those pieces of furniture that instantly adds character to a room. They are easy to build and look fantastic in many styles, including modern and rustic. A great option for a small kitchen.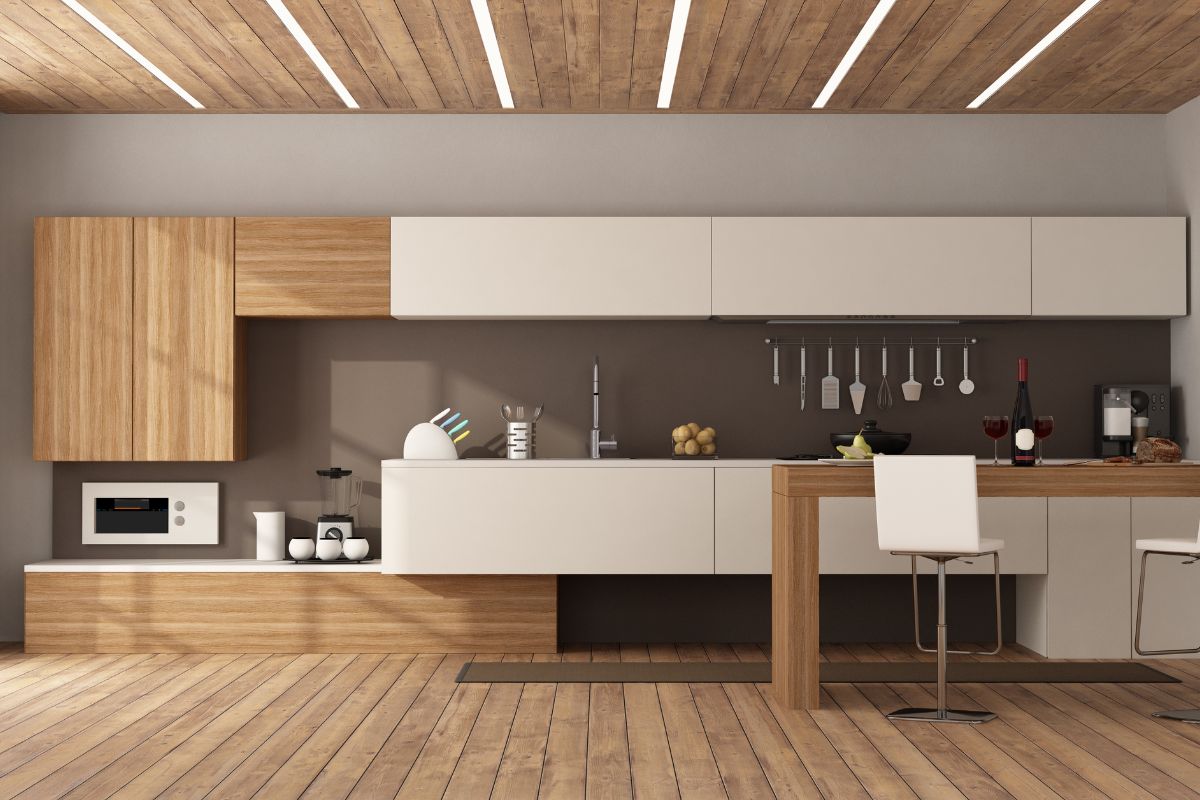 8. Step By Step Frame Guide 
A  frame can be built out of 2x4s cut 4 inches longer than the length of the tabletop. Cut the boards to size and drill pilot holes for screws. Drill three evenly spaced screw holes along each side of the tabletop.
Use wood glue to attach the sides and bottom of the frame together. Attach the top piece with four screws.
Cut the legs to size and attach them to the underside of the tabletop with wood glue and screws. Sand the edges smooth and apply a clear sealer to protect against moisture. Paint the tabletop and add some hardware for decorative flair. Easy!
9. Large Posts
There are times when you just want a little something extra to make your home stand out. Large posts are great for adding a touch of personality to your island while still keeping it clean and simple.
They add character to your kitchen and make us think of Old Victorian style in a modern, sleek, and elegant way.
10. Stylish Shelving 
If you are looking for a decorative way to add storage to your kitchen island, then why not add a shelf that looks good while still being functional.
A shelf can fit perfectly at the end of the countertop and provides plenty of room for storing small appliances, cookbooks, and even extra spices.
You could use it to hold wine glasses and stemware too.  It adds visual interest without taking up unnecessary space. And best of all, it doesn't cost much money, either.
11. Square It Up 
If you are short on space and don't have enough room for a large rectangular island you can always go with a square one. But it's important to make sure you still accommodate guests comfortably.
A square island is great for two people; however, it can be tricky to fit three or four. To avoid having too much empty space, try adding some small stools around the perimeter of the table. Or, add additional chairs to the sides of the table.
12. Mix Up Styles And Textures 
A beautiful island in a modern home usually features a combination of materials and styles that make it stand out. The island should be well constructed and you can use solid oak veneers or black marble whatever is your personal choice.
Mixing up textures and styles can add interest and depth to a room. You don't always have to stick to one type of material either; many islands use different types of wood and stone to achieve a unique look that doesn't rely solely on one element.
13. Wrap Around Seating 
Wrap around seating makes great use of all sides for seating. This simple trick allows you to make maximum use of your space while still keeping things tidy. For example, you could place a table along the side wall behind the sofa and add some chairs around it.
Or, you could put a large armchair against the wall and arrange smaller chairs around it. There are endless possibilities.
The downside is that you might find yourself having to move furniture around once you start adding guests. But, that's just part of being creative.
14. Add Contrast 
The kitchen island is one of those areas where it is important to make sure everything looks good together. This includes colors and textures. To make things look even better, use different materials like granite, marble, ceramic tile, glass, etc.
When choosing the material, keep in mind how much light it gets and what type of lighting there is in the room.
In addition to picking the best material, consider the size of the island too. A small island might work perfectly in a smaller space, while a larger island could overwhelm a large area.
15. Add Extra Features 
You can also choose to add some extra features to the island such as storage cabinets. These can help organize items and give the island a finished look.
Conclusion
The kitchen is the heart of your home, and it's also a place where you spend most of your time. It's important to make sure that this space is well-designed so that you can enjoy cooking in it for years to come.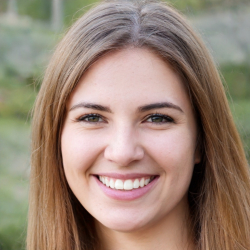 Latest posts by Maisie Park
(see all)