Other than your living room, your kitchen is probably one of the most used rooms in your home. And if you're spending all that time in there, you want it to look perfect.
And to give your kitchen a complete makeover you don't always need to spend tons of money buying new countertops, painting walls, and changing the floors.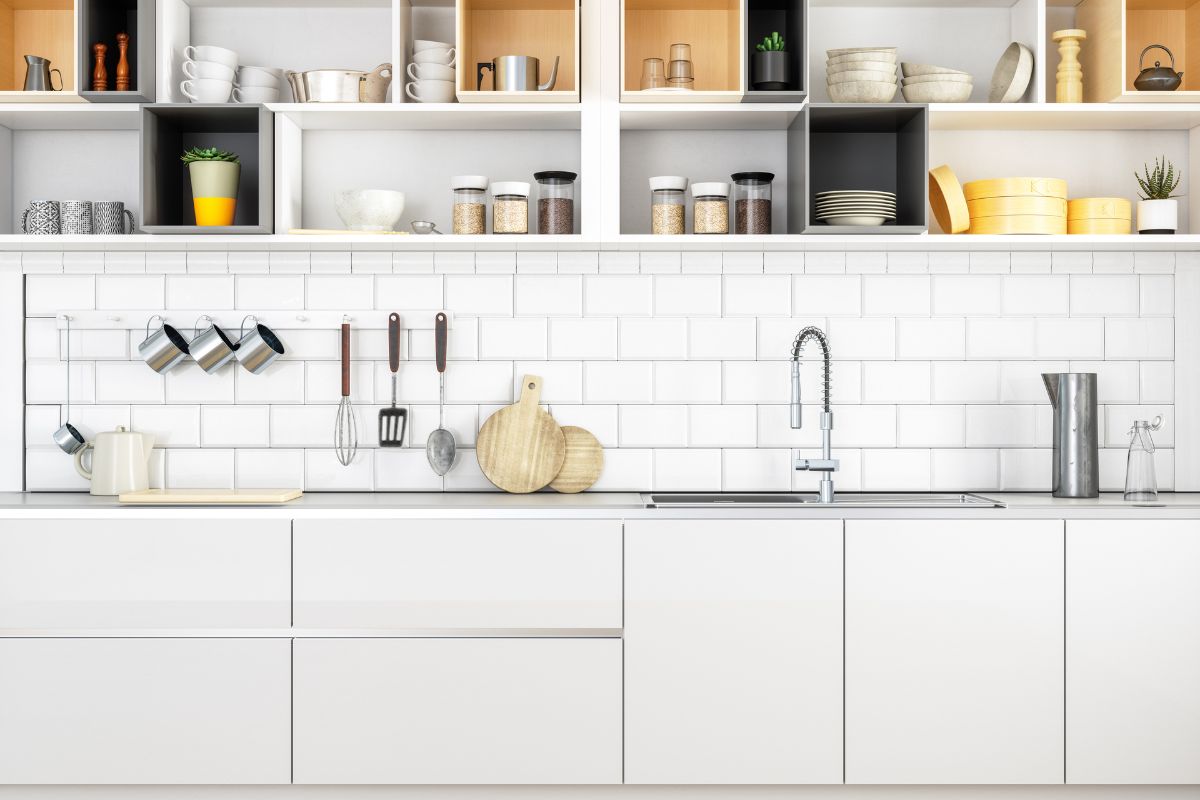 Oh no, something as simple as adding a new lick of paint to your kitchen cabinets can completely change the aesthetic of your kitchen.
Typically, we're used to very neutral colors in the kitchen, but today we're throwing out the rule book (for the most part) and looking at what colors we can add to really make your kitchen pop.
Kitchen Cabinet Colors
So, shall we jump straight into it? Let's take a look at my favorite kitchen cabinet color choices.
1. Dual Colors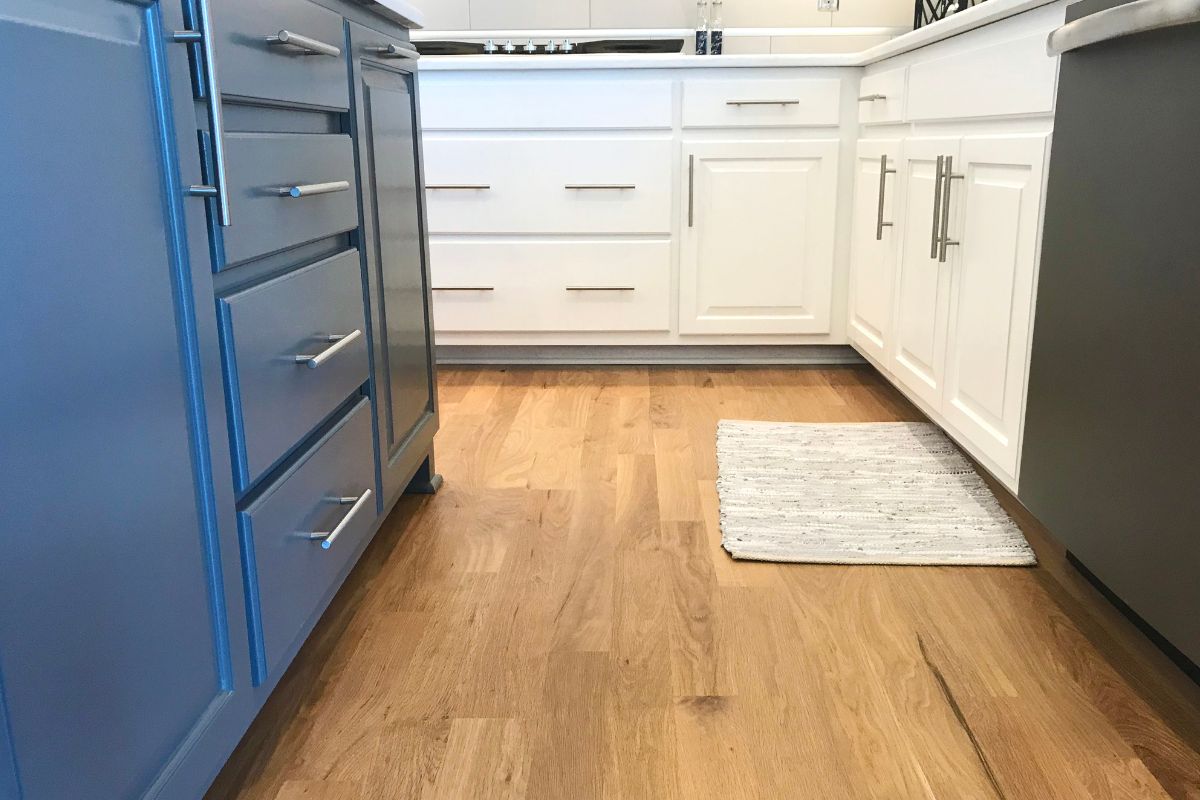 Why stick to just one color when you can have two? I must say, I am a real sucker for a bit of monochrome, it's one of those trends that won't really ever go out of fashion. It just always looks good.
And no two colors truly compliment each other in that classic way like black and white. Have the cabinets across one side of the kitchen a glossy and sleek black while on the other side you have a bright glossy white.
It creates the perfect balance between light and dark and it just looks so modern and beautiful.
2. Gray Tones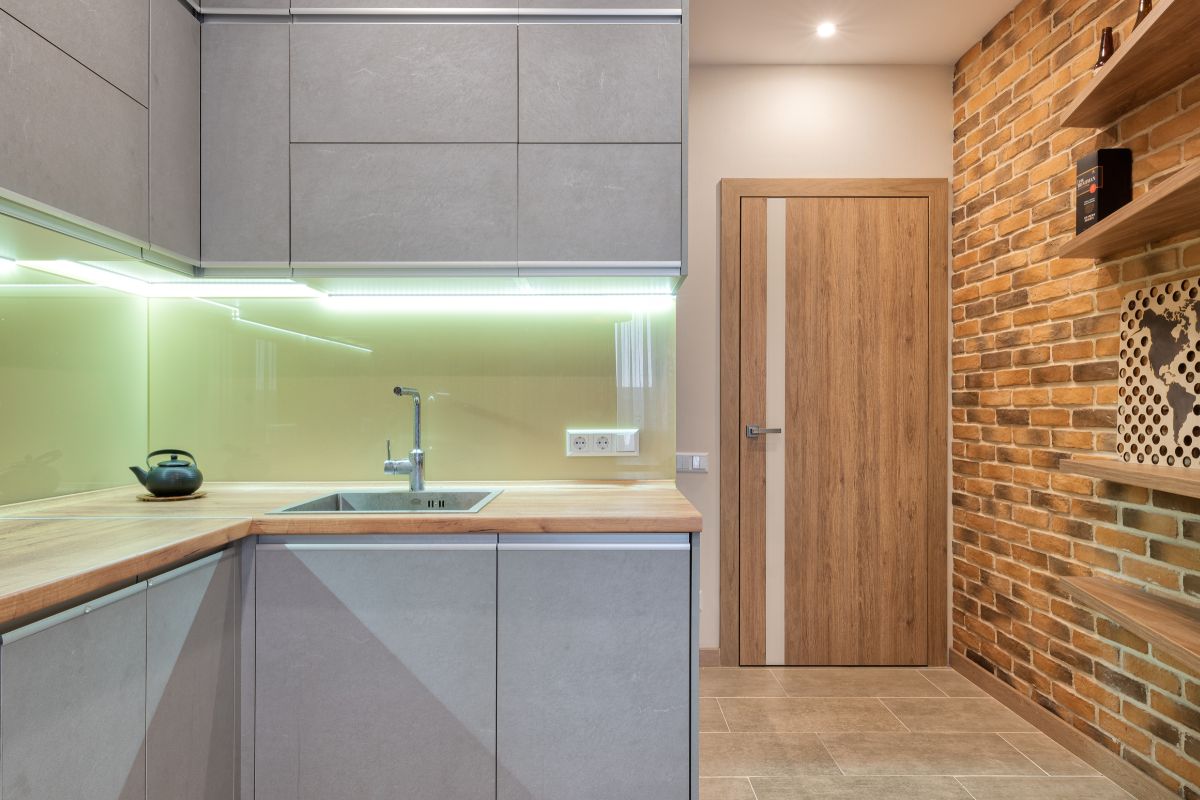 I know I promised non-neutral colors, and don't worry, we'll get there. But you simply cannot ignore the classics. They've stood the test of time for a reason. And oh my, does a blueish-gray look amazing in a kitchen.
It's pretty minimalistic but it's also just very elegant. Especially when these gray cabinets are combined with a gray and white marble countertop.
It gives a very calming effect which is perfect to slow down that very busy nature of the fast-paced life that often takes place in a kitchen.
3. Matte Black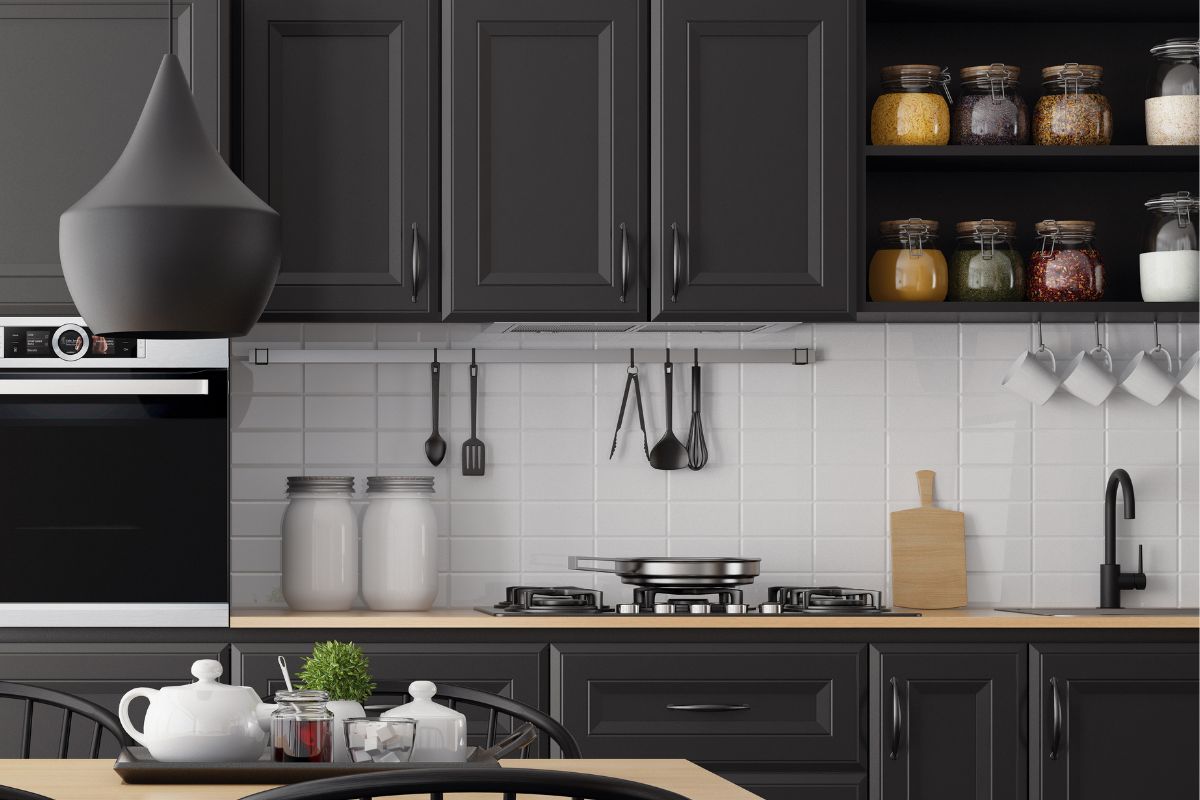 So many kitchens are essentially all-white. And while it can look nice, I'm just not really all that impressed by it. It's overdone and tired.
But do you know what isn't? Matte black. Keep with a light and neutral wall color – even white. And then transform the kitchen with matte black cabinets.
This creates a really nice contrast and will have guests' eyes bulging in amazement.
4. Pink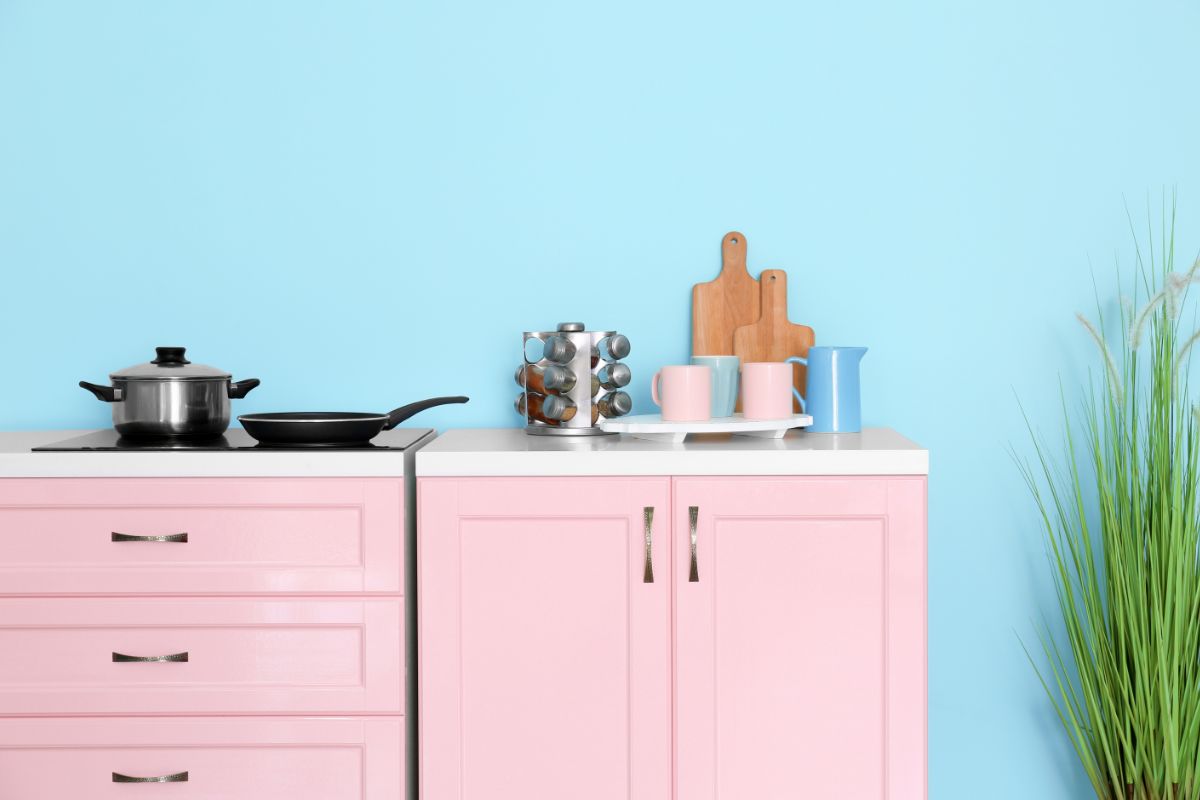 If you really want to add a splash of color to your kitchen, why not go for a pretty pink color?
It's a pretty bold and brave choice, but if you commit to it, it can be really, really, beautiful. I'd choose a soft rosy pink and contrast it against a gray-blue wall.
This can be seen as quite a feminine color, and if that's not quite the aesthetic you're going for you can pick blush or dusty shades that are closer to a peach that'll have the same effect without being quite as quintessentially feminine.
5. Green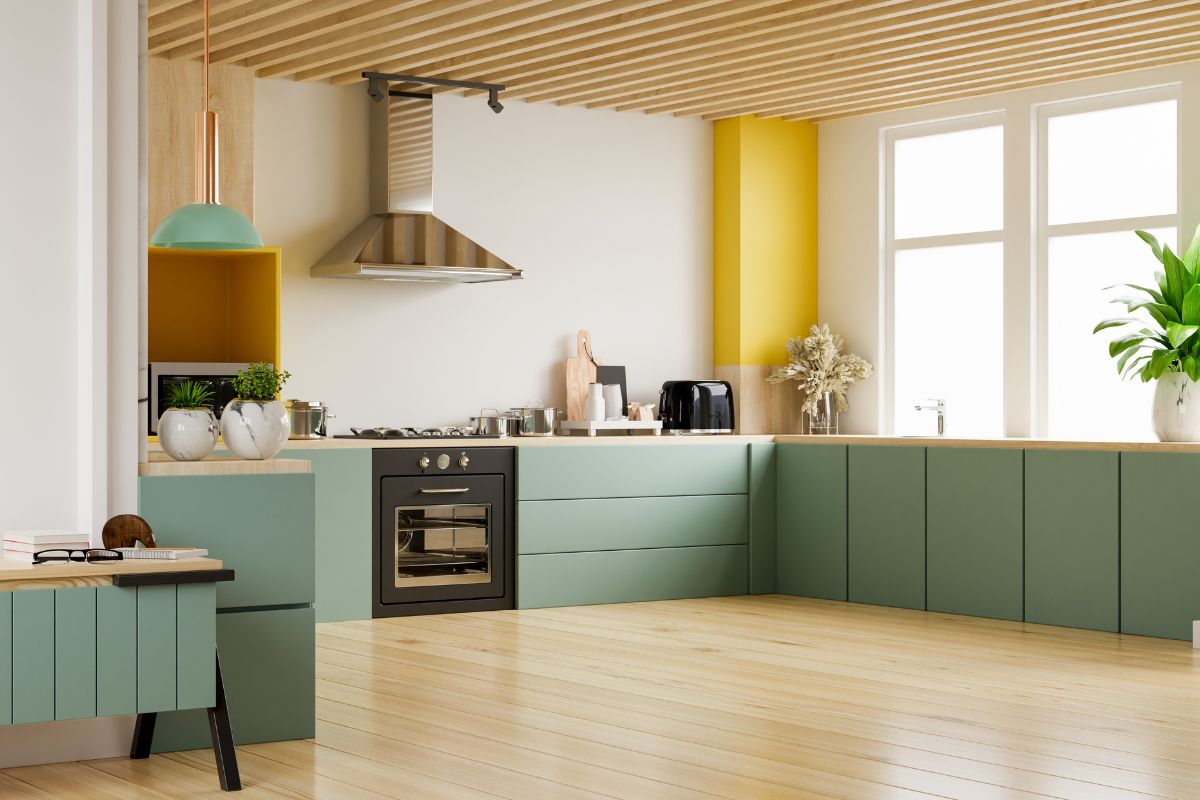 I love the idea of picking a bright and bold apple green for your kitchen. Sure this won't be for everyone but I adore it. It's a color that can't help but make you smile and will always keep you in a happy and vibrant mood.
Since this type of color choice is very bold and eye-drawing, I'd opt for a soft and neutral backsplash and wall. I think white works quite well and it also fades into the background allowing those cabinets to really steal the show.
6. Lots Of Pretty Pastels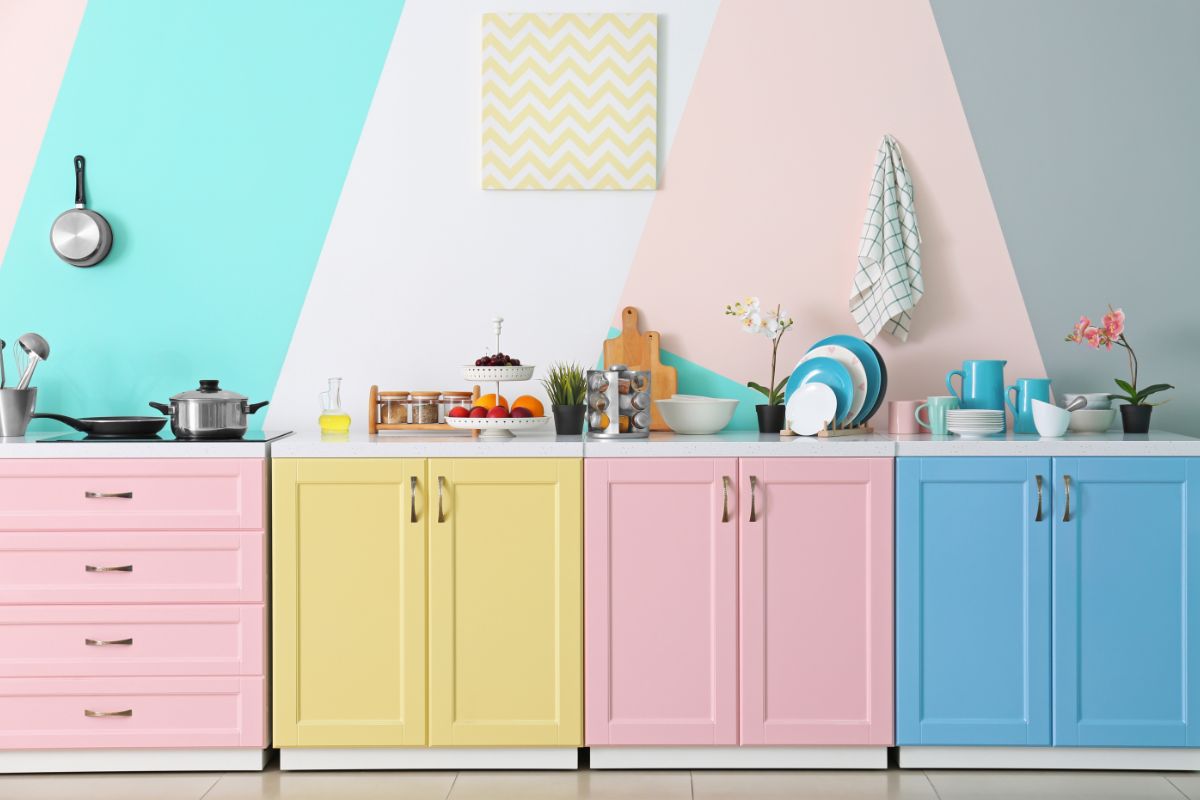 Pastel colors are great, so great in fact that I have trouble sticking to just one when paint shopping. And so I decided, hey, why not choose several? And the overall aesthetic of my kitchen was so pretty.
Each cabinet was assigned its own pastel color, and the room was so colorful and yet still coordinated. Baby blues, pinks, peaches, lavenders, and soft yellows all work really well together.
I paired this with a white wall and backsplash so that the cabinets were really the main feature of the room. And then made sure all my kitchen accessories were pastel-colored to tie it all together.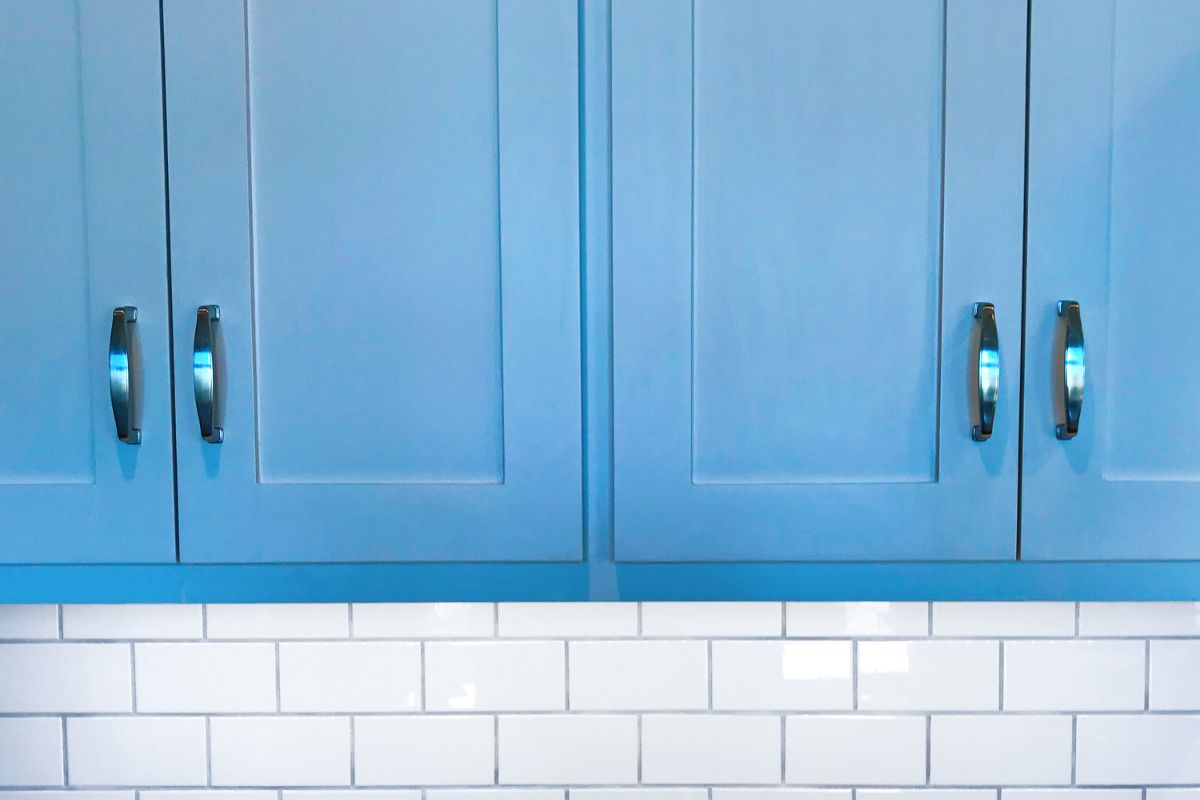 If you want to add color to your kitchen without making it too bright and harsh on your eyes, then you can always opt for a bold color that is still fairly dark. Navy is the perfect example.
When paired with a bit of silver and black, I think it can look really modern and yet really regal at the same time. It's a stunning color palette that you don't tend to find in many homes. So it's also a really nice unique option.
8. Deep Purple
If you have a fairly open and bright kitchen, then you really want to consider adding a deep purple shade to your kitchen cabinets.
The natural light does wonders for this shade and just gives a gorgeous pop of color to your kitchen.
I like to add this with a mainly white backsplash with a simplistic floral print but that choice is completely up to you.
Just ensure that you keep to a neutral color for the rest of your kitchen as it's quite easy to clash with this type of color.
9. Turquoise
One of my favorite colors is turquoise. It's just such a beautiful color that's a little bit green, a little bit blue, and a whole lot stunning.
This color really just reminds me of the sea and I can think of worse things than being reminded of being on holiday while I'm making food for the family.
I'd pair this with a white backsplash to compliment the turquoise color. I also love to use two different turquoise shades and have a lighter option for the upper cabinets and a darker shade for the lower ones.
This can help to make the room look much lighter.
10. Wood Finish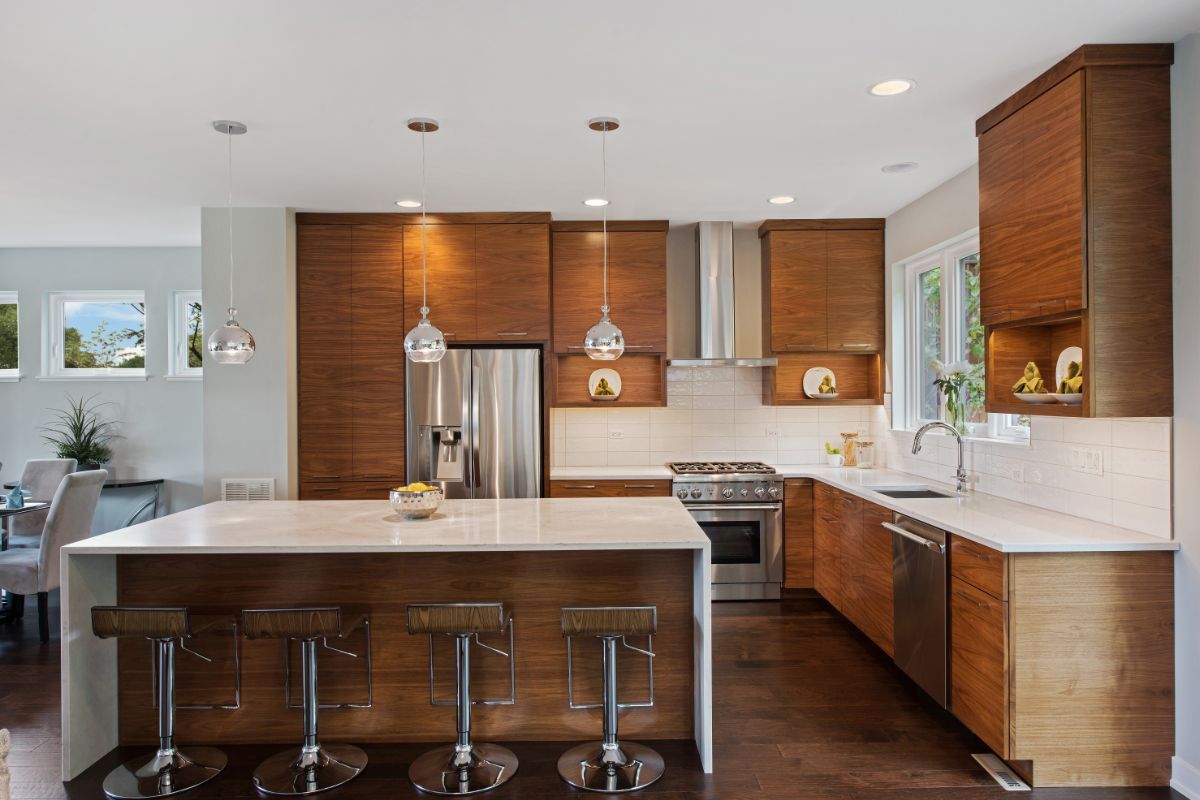 If colored cabinets are not really your thing but you still want to give your kitchen a new lease of life then choosing a wood finish is a great option.
It gives real vintage vibes and makes a difference and an impact without adding a lot of color to your kitchen.
11. White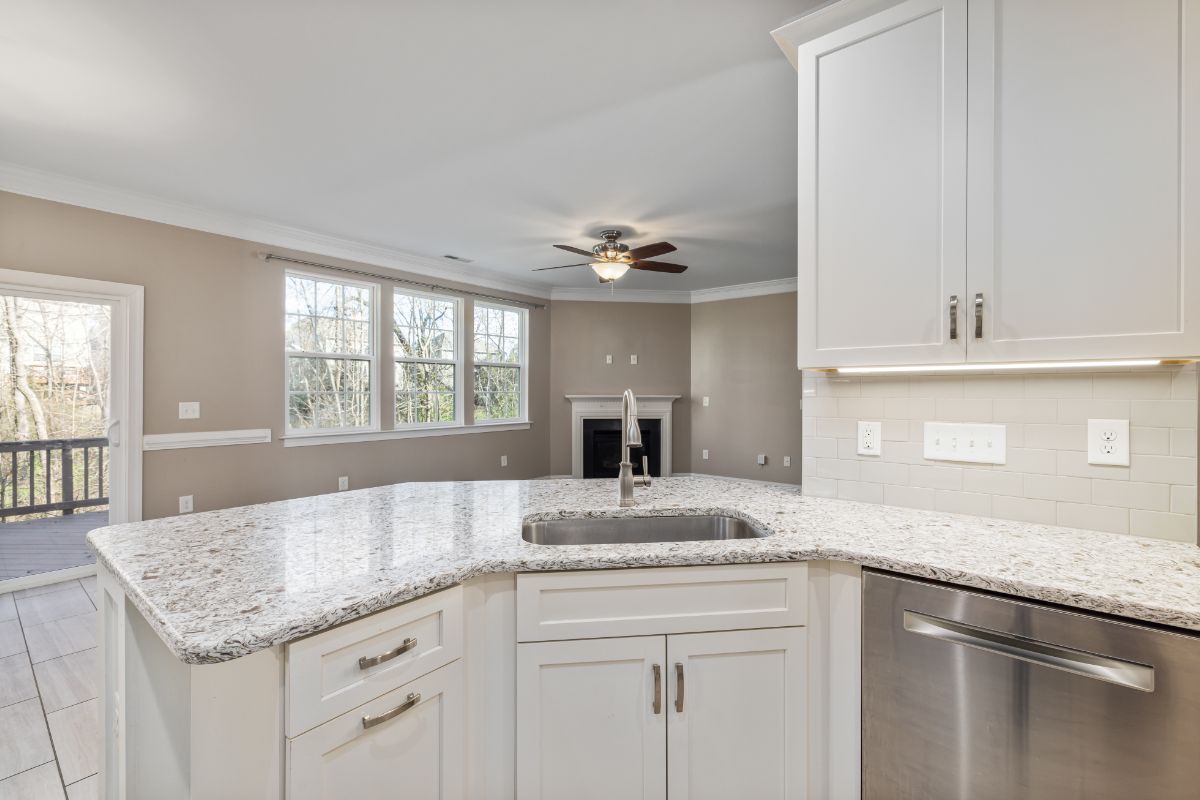 Now, I'm not the biggest fan of white kitchen cabinets, since that's pretty much the standard color choice. However, I can't really not mention it out of personal preference.
For those that find busy and loud kitchens a bit of a headache, then white is a great neutral option that does always look nice.
However, be warned that you may be spending a while wiping up dirt and grime to keep them looking clean and fresh.
12. Mint
A lot of kitchen designers love to use mint for their color choice of kitchen cabinets. And the professionals know best! This color has a really relaxing and exotic feel and I think it looks amazing.
It's not too harsh on the eyes but still adds some color to your kitchen. It's simple and it's fresh. This works best when paired with white walls and wooden accessories. A big green plant also always ties in well.
13. Cream & Gray
This will give a very simple and minimalistic look to your kitchen. But it's also sleek, timeless, warm, and inviting. The two neutral colors pair really well together and fit in with any black appliances that you may have.
And they're also easy to paint over when you come to redesigning your kitchen again in the future.
14. Mountain Pine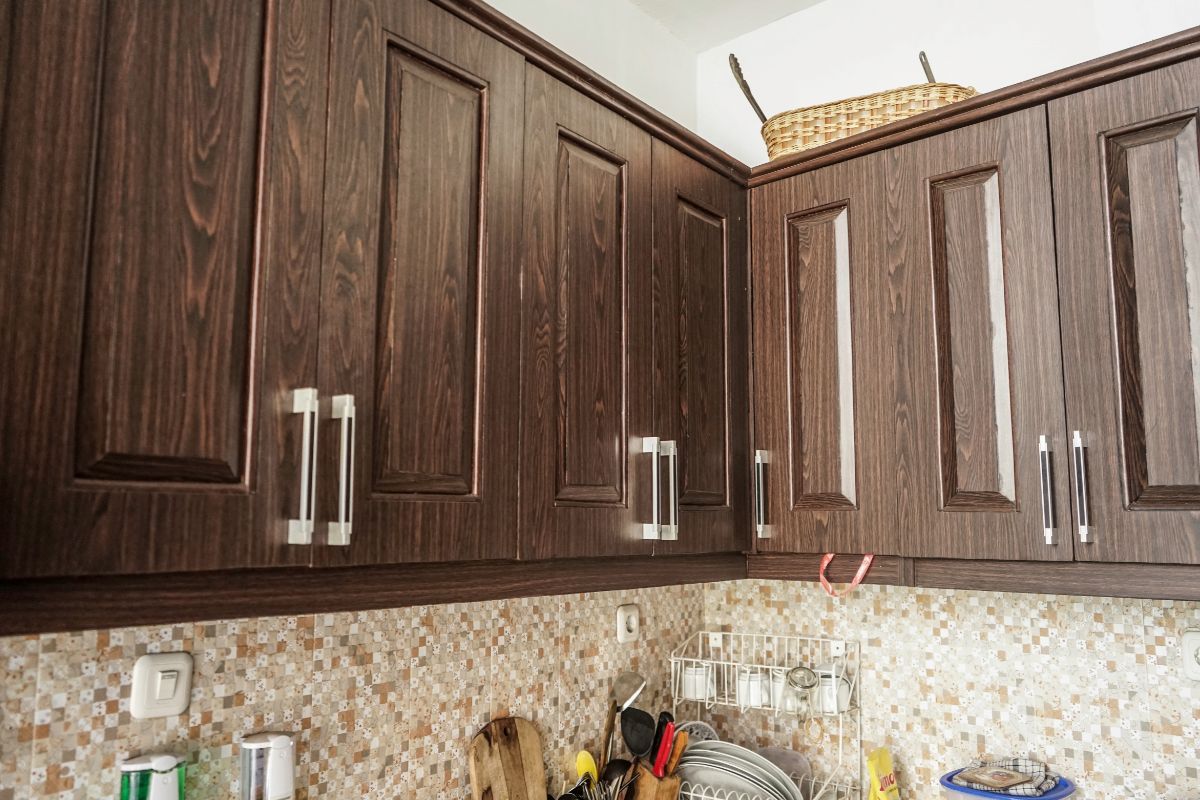 You don't always have to use a block color to add some oomph to your kitchen. A mountain pine works wonder for a kitchen. I think it gives it a real rustic feel that's cozy, warm, and inviting.
This looks great with a white wall but as these are two fairly neutral colors you may want to add a few plants to your kitchen to integrate some color.
15. Darker Hues
For a really nice modern look, you can choose a dark color. And dark colors don't always need to make your kitchen dark or dingy.
It's all about contrast! Keep the rest of your kitchen bright and open with a brilliant white wall and backsplash and let your cabinets draw in all the attention.
These darker shades give a real modern vibe to your kitchen counter. Pop a fruit bowl filled with vibrantly colored fruits on your countertop if you want to add a little extra color.
Final Thoughts
There are so many different colors to choose from when it comes to your kitchen cabinets that writing this list was super hard for me.
But hopefully, no matter what your personal preference or style, you've found some inspiration in this list to help you completely revamp your old and withered kitchen cabinets.
Now you can get to decorating your home and adding that much-needed pop to your kitchen.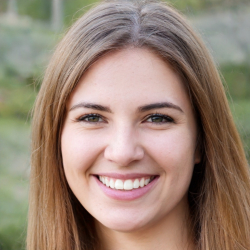 Latest posts by Maisie Park
(see all)