Has Sherwin Williams' 2021 color of the year caught your eye? I'm not surprised. It has been demanding the attention of many new home decorators and designers.
Darker and bolder paint colors are becoming all the rage, and so of course, everybody wants it in their home.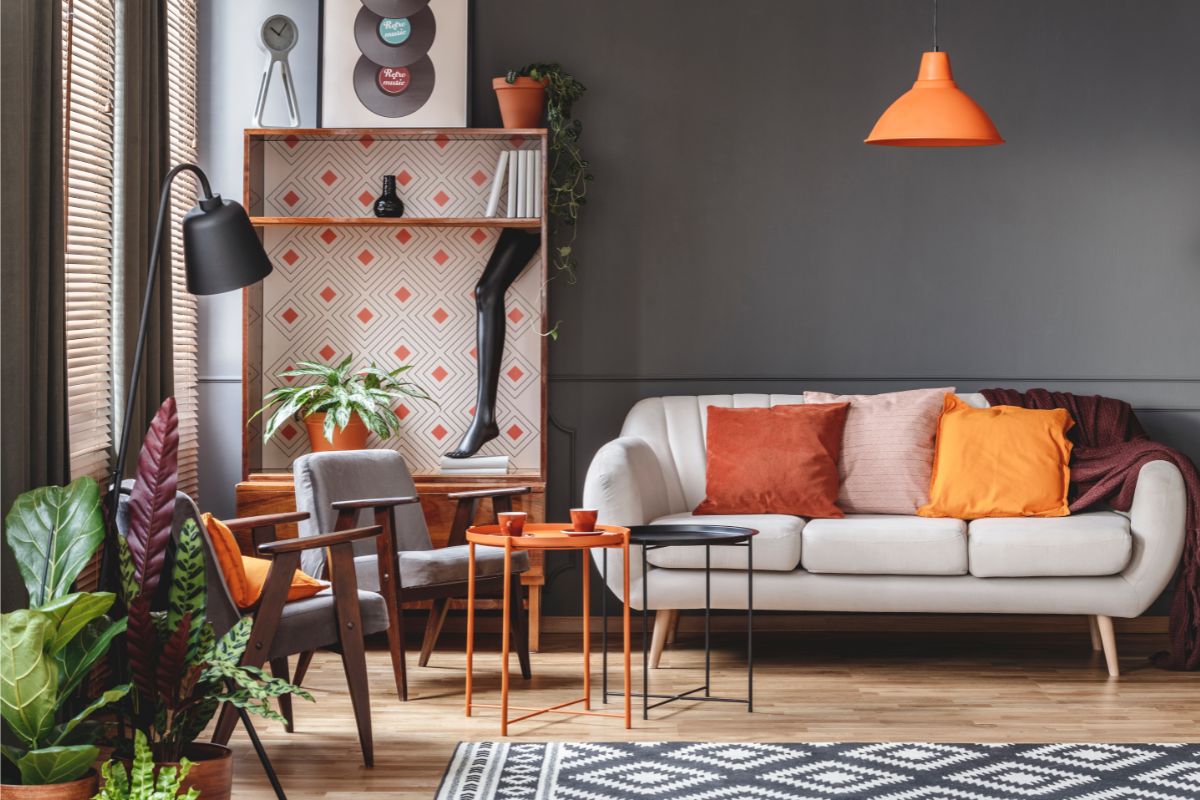 However, with bold colors can come a little apprehension. How do you incorporate it into your home in a way that looks slick and elegant and not over the top and too in your face?
We want to stay classic right? No one wants a tacky living room. 
Well, you need to worry about that no longer. Throughout this article, we'll go over ways that you can transform your home using Urbane Bronze.
What Color Is Sherwin Williams Urbane Bronze?
Though you might not think it, Urbane Bronze is actually a gray paint. Yes, I know! Gray! It is the really deep dark brown and bronze undertones in this gray color that can make it appear a pretty dark black color.
Of course, it changes a little bit depending on the lighting in the room, but for the most part, it does tend to look black and very dark. 
What Are The Undertones Of Urbane Bronze?
I would say that Urbane Bronze has a definite greige (grayish beige) base. However, it does have this slightly green undertone that you'll need to consider before you begin using it.
This color can certainly add depth and warmth to rooms when added. 
What Is The Best Way To Sample Urbane Bronze Paint?
There are many different ways that you can sample Urbane Bronze paint, and I would always recommend sampling a paint before you use it for the first time.
One way to do it is to purchase a small sample size pot of paint and paint a 12×12 poster board and place it up against the wall.
Another option is to order your color off SAMPLIZE. This option is a really great way to sample your color as they send you a peel-and-stick sample that you can easily move around the room. 
How Will It Look In Different Lighting?
In north-facing spaces where there is less natural lighting, the color can look quite gray while still holding a luscious passive warmth. However, in south-facing species with more access to natural lighting it has a much richer and warm color.
Where Can You Use Urbane Bronze?
You can really use Urbane Bronze where ever you would like to. Personally, I like the color for statement pieces such as doors, cabinets, or accent walls. However, there is also absolutely nothing stopping you from painting a whole room this color.
Though it is quite dark, it's still a fairly neutral color that can work really well with black and brown decor.
I would consider getting some white, cream, or beige accents for the room, though, if you opt to paint the walls this color, just to give the room a lighter look. 
Ways To Use Urbane Bronze In Your Home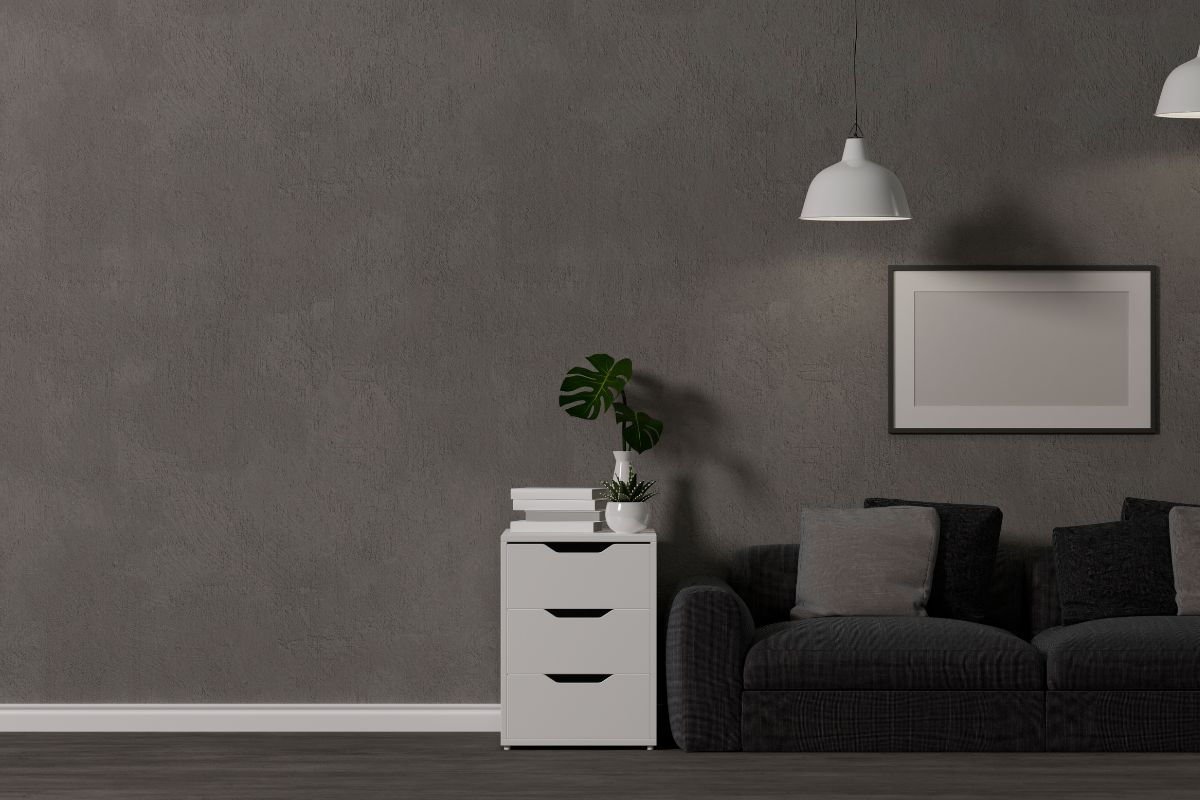 1. All Walls Of One Room
As mentioned above, you can easily use Urbane Bronze for all the walls of a room. Yes, it is dark but as long as it is paired with the right colors it can look fantastic.
Pretty much any color with a warm undertone will look great with Urbane Bronze. Since the color is fairly neutral, many different types of warm-toned colors will compliment it.
Urban Bronze itself tends to have quite a warm brown undertone which is why any warm-toned color will compliment it well.
Though cooler colors such as blues and purples can often look quite nice with a blackish color, I wouldn't recommend these types of colors against Urban Bronze as it tends to clash and look quite harsh in appearance. 
I'd opt for a color such as White Dove to pair with Urbane Bronze. Urbane Bronze walls with a White Dove trim looks absolutely stunning.
The black and white colors go great together and the warm undertones of the two really blend them together well. 
Add some warm white decor along with some browns and blacks, and you'll find that the room pairs together really nicely, in an elegant and sleek manner.
2. An Accent Wall
If you live in a relatively small home or apartment, you may not want to paint your entire room this color as it can have a slightly shrinking effect on the room.
If you want to incorporate the color without making your room seem smaller you can always opt to paint just one wall in the room as an accent or feature wall. 
Since the color is so bold and beautiful, it's a great choice for a statement wall. It can give you that edgy feel to the room that looks so good while still allowing the space to feel larger and more open.
3. Urbane Bronze Front Door
If you want to add a little color to your home without going quite as adventurous as painting an entire room, painting your front door with Urbane Bronze is a great way to go.
It's a bold statement color without being too brown or black. It is somewhere in the middle and creates a really classy look for your home. 
I would only choose to paint your front door this color providing that the exterior around the door has balanced and warm undertones.
If your home has this then perfect, paint away. If not, I may edge towards incorporating the color in a different manner as it will clash against cooler undertones and won't look quite as elegant. 
4. Urbane Bronze Cabinets
There seems to have been a jump recently, where instead of painting all the walls of your home to create a newer fresher look, we're painting our cabinets instead. And I am so here for this trend.
Not only does it give your kitchen a whole new lease of life, but it's also something different.
How many homes have you been to where the kitchen cupboards are all white? I'm sure it's pretty much every house. And I love that this is an opportunity to be a little unique. 
Another bonus? As far as colors go, Urbane Bronze could not look better. It's such a stunning color that changes things up while still keeping some neutrality in the kitchen. Again though, I wouldn't opt for this color unless it works in your kitchen.
You'll want to take into consideration the lighting in your kitchen, as well as other fixed elements such as your countertops and flooring.
If these are cooler colors such as a blueish gray then it's not going to work well.
However, if you have warm-toned colors throughout your kitchen you should definitely jump straight into your car and head to the store for this paint and a paintbrush! 
Decor That Matches Urbane Bronze
There is no denying that while still fairly neutral, this color is pretty bold. And with a color as bold as this one, if you're painting your room in it, you'll need to ensure that your decor matches it.
Some colors you can kind of get away with any old decor – not this one. 
We've already touched upon the kind of colors that will work well such as whites, browns, and blacks. But there are other options that will work too.
Any color that matches Urbane Bronze's' earthy' aesthetic will work great. For example, I'd opt for warm wood accents or warm metallic colors such as copper and gold. 
Frequently Asked Questions
What Is One Shade Lighter Than Urbane Bronze?
One shade lighter of the same color strip of Urbane Bronze is Sherwin Williams' Porpoise. This is a great option if you really like the color hue of Urbane Bronze but want something that is just a little less dark.
What Is One Shade Darker Than Urbane Bronze?
Though these colors may appear to be pretty similar, once side by side you will be able to notice that Sherwin Williams' Iron One is a much darker shade than that of Urbane Bronze.
Does Agreeable Gray Go Well With Urbane Bronze?
Absolutely. Agreeable Gray is a light greige color that has a lovely warm undertone. Urbane Bronze is a much darker gray that also has a beautifully rich warm undertone.
Since they are both similar colors with the same warm undertone, they complement each other really well. 
Does White Dove Go Well With Urbane Bronze? 
Yes. This is my favorite color combination for Kitchen Cabinets. If you're thinking of giving yours a makeover you should definitely try out this combination.
The light and darkness of the two colors contrast together well, but they still blend together really harmoniously thanks to the warm undertones that they both share. 
Does Extra White Go Well With Urbane Bronze? 
Extra white is a very bright white that has fairly neutral undertones and so it compliments Urbane Bronze really well.
I think Extra White looks best when you use Urbane Bronze for the wall color and then paint the trim of the room Extra white. It really helps to make the rich warm color of Urbane Bronze stand out. 
Final Thoughts
This unique color can be used in your home in so many different ways, so please don't feel intimidated by it. It works well in so many different scenarios.
You can create a sleek and elegant room by combining it with metallics, and warm-toned colors. You can use it as a statement piece for one wall if you want to go for an 'edgier' look.
And even if you don't want to adorn your walls with Urbane Bronze, you can also use it on your front door or kitchen cupboards. 
However, it is important to keep in mind that his color only really works with other warm-toned colors.
So if the fixed elements of your home, such as the flooring and countertops are more cool-toned then you'll want to opt for a different color as Urbane Bronze will clash quite unappealingly with them.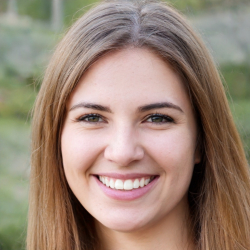 Latest posts by Maisie Park
(see all)