A half bath refers to a bathroom without a bathtub or shower, it's just a simple toilet and sink. Although the space is small, don't let it fool you, there is a lot that can be done to this bathroom to make it exciting and functional.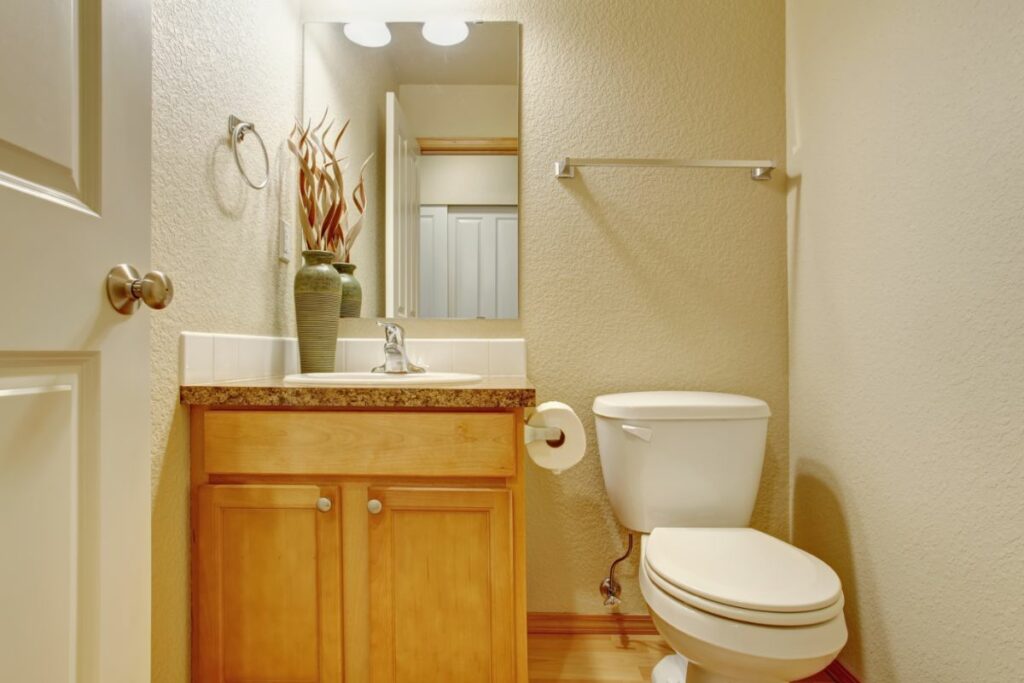 In this article, we have included 15 half-bathroom ideas that are perfect for your home.
Homes with stairs often have the perfect alcove underneath that can be used to create a half bath. As you only need to fit a toilet and a sink, it doesn't have to be a huge space but measuring the space to ensure you have enough room to move around is vital.
As the ceiling space under the stairs is sloped, you must also consider the layout of the room. Adding a half bath under the stairs is a great use of space and will add value to your home.
With smaller spaces, you need to be smart with the plumbing you install. In general, sinks tend to be rather bulky. Corner sinks are a great solution to this as they enable you to make the most of the room you have.
These types of sinks are designed to be smaller as they are usually only used in half baths. 
When decorating your half bath, why not try experimenting with decor that you might not usually go for in a bathroom? Bathroom decor tends to be simple and plain, with clean lines and metal fixtures for a modern look.
When it comes to a small half bath, floral wallpaper can be used to create a smooth style that is cute and relaxing. 
Half baths are great as they don't necessarily need to match the rest of the house, they can be tucked away and a fun surprise for visiting guests.
With a lack of space, there is also a lack of storage. Even a half bath needs somewhere to store cleaning supplies and spare toilet paper. Where possible, make the most of the height of the room and install some shelving that can be for storage, display, or both!
The shelves don't have to be large, they can be slim and simple making them easy to place in tight areas.
With a small space, you can have fun experimenting with tiles for a fraction of the cost of a full-sized bathroom. Whether you want to tile around the sink or the whole room, use the opportunity to get creative with the space and opt for more fun and eccentric pattern.
We love fish scale and scallop tiles at the moment, they add a touch of retro chic to a bathroom.
As we mentioned before, planning the proportions and layout of a half bath is essential to maximize space. Choosing smaller, less bulky items in a half bath makes it feel more spacious and doesn't have you bumping into walls as often.
Many bathroom supply stores sell specifically designed, more compact sinks for this reason. Toilets can also be purchased in a compact size to fit in tight spaces, these are designed to have a more compact bowl or tank.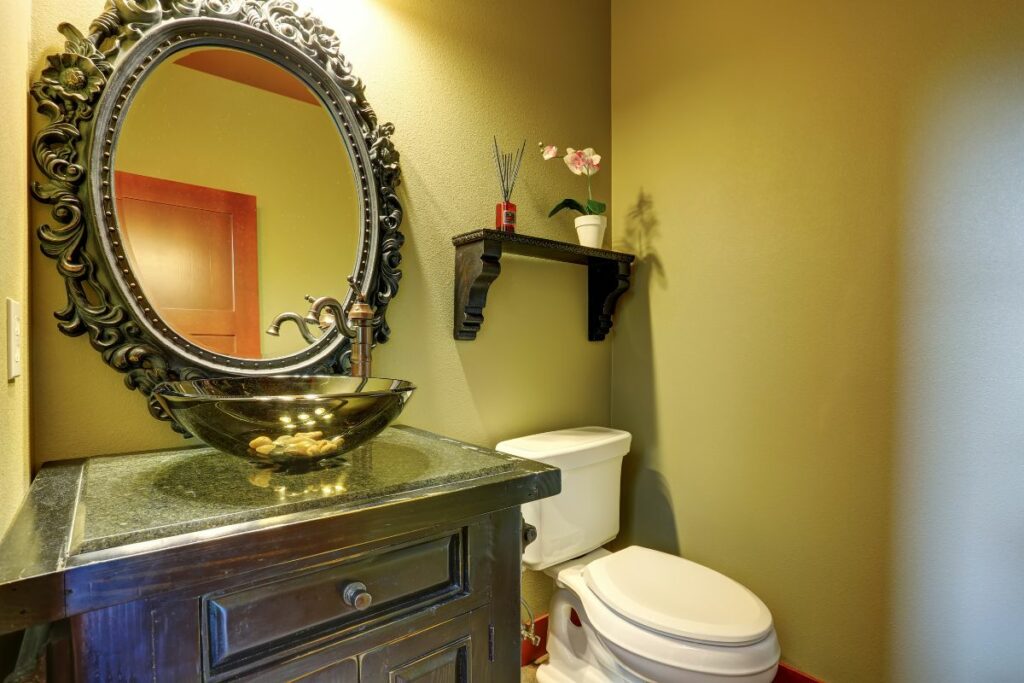 Redecorating a half bath is the perfect time to get crazy with patterns and colors. When it comes to small spaces we're usually told to stick to light colors to make the room feel more bright and airy.
But rules are made to be broken! If you've always wanted to go wild with a patterned wallpaper but thought it was too much for a larger room, then seize this chance. 
As it's a small room, you can get away with experimenting with bold patterns. The door is often closed, so you won't have to worry about breaking the continuity of the house.
An upcycle project is perfect for a half bath, whether that be a vanity unit or a wall cabinet, make it the feature of this small space. Antique furniture or shelving units can be restored to their former glory and make for an interesting and unique vanity. 
A visit to your local second-hand furniture store or antique dealer will enable you to find something to suit any size bathroom. Another great DIY project for a half bath is to install wall paneling. This is a simple way to devise a high-end look in the space.   
Clashing light and dark colors or tones can make an impact in a half bath regardless of whether these are patterns or paints. Dark vanities paired with white porcelain toilets are a clash we're here for.
Getting dark and moody can even spread to the whole bathroom. Even though it's a small space, it can handle the dark tones evoking a feeling of luxury and sophistication.
If you don't think the room can handle too much darkness, try painting half the wall or stick to some dark tiles instead. 
Decorating a small space doesn't have to be simple and fuss-free, you can make it as elaborate as you like. Gallery walls featuring photos of loved ones or even your favorite matching prints can make an incredible visual impact as you open the door.
For an eclectic vibe, mix and match your frames and position them at different levels for an effective feature wall that makes you feel like you're in a museum. Alternatively, matching frames equally spaced is more in-line with a modern and minimalist look.
Not all half baths will have a window, which can make it a harsh space when a light is turned on. Using large mirrors can help to reflect the light around the room to create the illusion of space and make the space feel more calm and natural.
No one likes harsh lighting, so breaking it down with mirrors and soft furnishings is essential in small spaces. 
Don't forget that mirrors are also a handy way to increase storage in a small space. Medicine cabinets aren't the big, bulky pieces they used to be. Many are slimline and have recessed frames which help to blend seamlessly into the wall. 
If your half bath has a ground-floor window, then you'll want to ensure you and your guests have the utmost privacy in the room. There are many ways to do this, which are all fairly inexpensive.
Vinyl window stickers are a quick and simple solution; they can create the appearance of frosted glass or more inventive patterns such as mosaics. 
Planting shrubbery outside the window is another inventive way to create more privacy for your half bath that doesn't have to cost a fortune. Invest in shrubs that are quick to grow and easy to maintain.
Installing an interesting lighting fixture helps to draw the eye up, creating the sense that the room is taller than it is. If your half bath is small in floor space but has relatively high ceilings installing a pendant light can be the finishing touch the room needs.
Pendant lights are a great way to add drama and flair to a small room.  
On the other hand, if you have regular height ceilings you can help to elongate the space using vertical sconces on either side of a mirror to create the illusion of more vertical height in the room. Plus, they are stunning features that make a room look more high-end. 
For those that are concerned about the space feeling too small, a minimalist half bath can help to make the space feel larger. With sleek modern fixtures and white porcelain, you can create clean lines and an effortless sense of being in a hotel bathroom.
Make a striking impact with matte black, or go for a vintage vibe that has a modern twist using brushed brass. 
Custom vanity units are a great addition to a half bath as they give you the ability to fit storage and sink space tailored to the size of the room. They don't have to be extensive or fancy, a simple vanity that works for your space can easily do the trick.
Awkward and unusable spaces can be turned into storage for multi-functional use with custom cabinetry. If you have the space, you can even add a shoe closet in a downstairs bathroom.
Alcoves behind doors, eaves space and vertical space can all be used to your advantage when building custom cabinets.
Final Thoughts
Get creative when it comes to designing your perfect half bath, this is your chance to experiment and step out of your comfort zone. We hope you found this article helpful and interesting, giving you some fresh new ideas on how to style your half bath.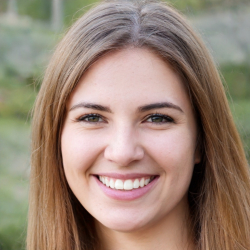 Latest posts by Maisie Park
(see all)