Guest bathrooms can often be some of the most stress-inducing parts of renovating a home.
Sure, they don't need to necessarily be as intricate ornate, or simply just big as a master bedroom's bathroom.
However, considering that it is the room that any guests in your home will be using while they are staying, it kind of turns the whole stay into a low-key judging game.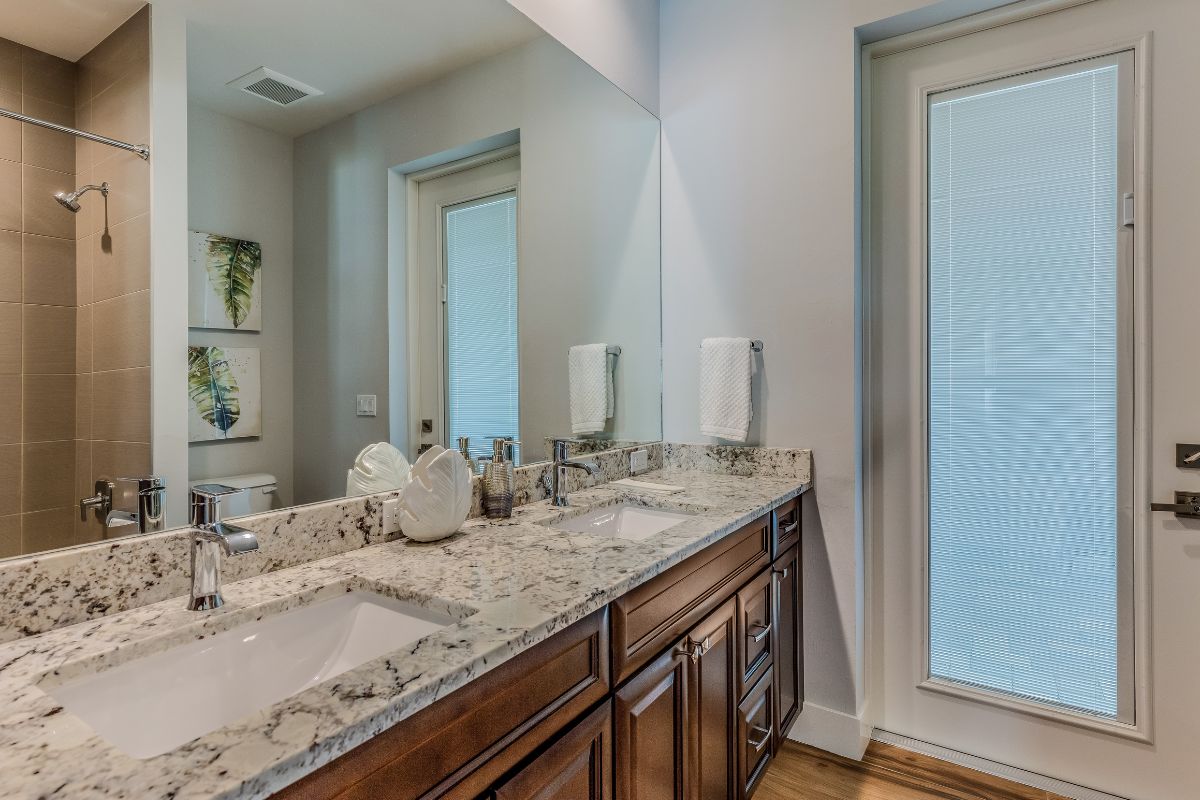 Obviously, unless they are a paying guest to your home, it's unlikely that they're going to feed it back to you in a numerical hotel-trivago style review.
However, having a good, or at least presentable, bathroom for your guests is still one of the best ways to send a signal as to how welcome a person might be in your home.
So, if you're thinking of ways to make your guest bathroom a little more amenable for any folks you may have round, then you should check out this quick list of ideas that we have gathered for you!
1. Soft Hand Towels For Your Guests
So, let's start off this list with a nice, simple idea that can do a lot to making your guests feel a little more at home in yours.
No matter what kind of bathroom it is, your towel rack is going to need some good hand towels to clean your hands with after washing them or you face.
So, do the same courtesy for your guests as you would do for yourself.
Investing in some nice, soft hand towels is such a small, little detail that can go a long way into making a guest feel like they're being taken care of.
If you want to find some good towels that you can buy for your guests, we would recommend taking a look at Brooklinen hand towels, for that extra luxurious feeling.
2. Built-In Shelves
This is a fact of pretty much any bathroom.
Storage always seems to be at a premium, no matter how much or little you actually keep in your bathroom.
Plus, if you want to accommodate your guests, they're going to need at least a few essentials covered for them, such as towels, an even a few toiletries. And they've got to be kept somewhere!
So, where better a place to keep them than in some high-quality shelves.
Having these in-built storage options for your bathroom are both good for you, as well as for your guests when they do arrive!
3. Walk-In Guest Shower
One of the best things you can do for a guest and their bathroom is to make sure that everything is as easy to use as possible. Not just for having the right toiletries and accessories, but also in terms of pure design for the utilities in there.
Take showers, for example. Getting into a bath/shower hybrid is fine for most people but can be cumbersome at the best or times, and perhaps even dangerous at worst (especially if a guest has mobility issues too).
So to make sure that everyone is accommodated, taking a walk-in shower might the best option for your guest's bathroom.
Plus, outside of accessibility, having a walk-in shower opens up so much room as well, making it look and feel a lot more spacious than it otherwise would with a bath in there.
4. Powder Room To/From Bathroom
This one is a great option if you're in the process of considering major renovations in your home.
When it comes to how you use your rooms for what purposes, the decision, provided that you have the budget for it, falls to you.
So, if you feel like one or two of the smaller rooms in your home are not being used that much, if at all, then you may want to consider turning them into something that has a little more utility.
Such as, for example, a bathroom!
5. Tiling Up Your Guest Bathroom
This is a great option for people who love adding a little extra flare to a room, including your bathroom.
Tiles and bathrooms go together like peanut butter and jelly. So, why wouldn't you want to add that classic design sensibility to your own guest's bathroom?
A well-prepared and sealed tiled wall is a great way of also keeping your guest bathroom mold-free for years to come, too!
While obviously the kind and color of tile is totally up to you, we would recommend steering away from more bland colors. You want it to be nice and colorful for your guest, so a boring beige just isn't going to cut it.
Also, have fun with your guest bathroom. This isn't a room that will likely be used regularly, so don't be afraid to experiment with the aesthetics of these kinds of rooms.
6. Good-Looking Bathroom Accessories
Alongside a fresh coat of paint or tiles, there are plenty of other ways of making your bathroom look a little more exciting.
Consider, for example, the accessories that you would normally have around your toilet and sink. The soap pump the toothbrush holder, a box of tissues, maybe.
All of these little details add up when it comes to the aesthetics of your bathroom.
So, try and avoid the boring old plastic bottles that these utilities often come in, and try getting something that looks as good as the rest of the room.
We would recommend taking a peek at these bathroom accessories by Pottery Barn, for a pristine looking set of dispensers for your bathroom.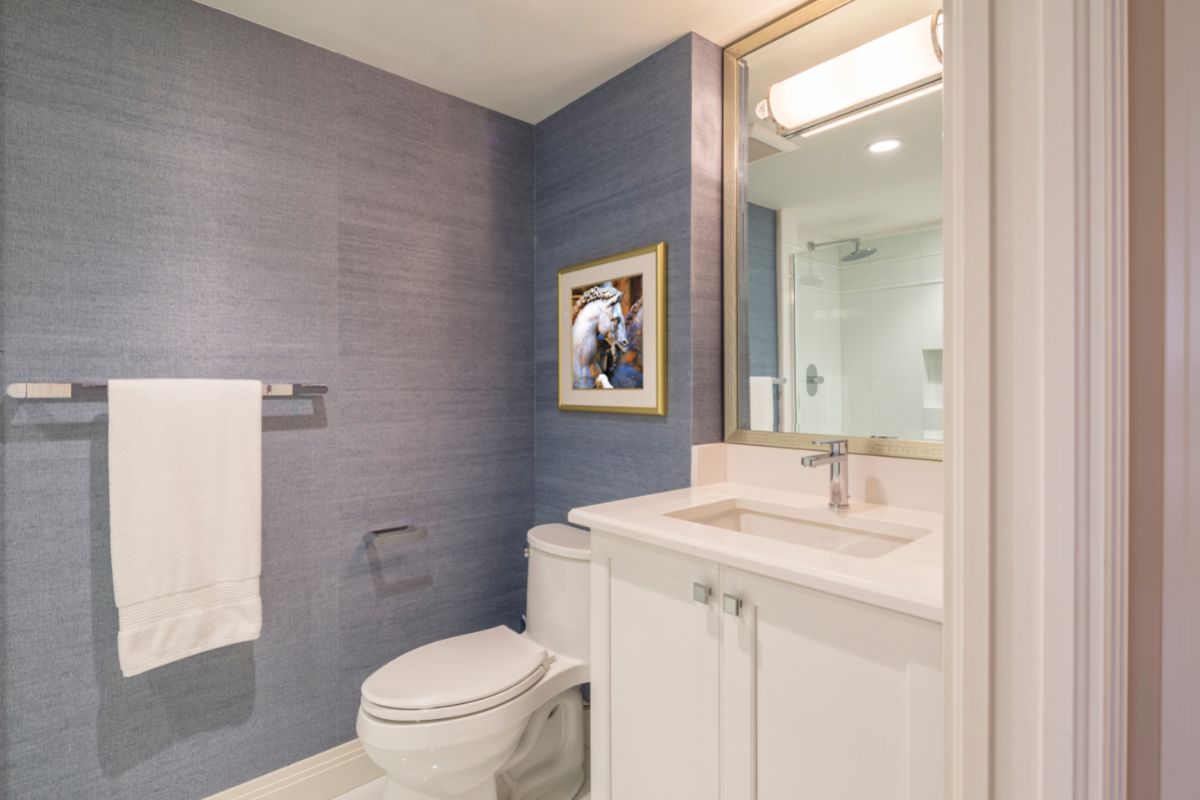 7. Statement Wall
Like having tile sin your bathroom, you want your guest bathroom to have a character of its own when people are using it.
So, you may want to invest in some unique designs, such as by using a statement wall.
Some excellent ideas, including a two-tone design like this one, allow the visuals to practically pop off of the wall, giving you a textured look to your bathroom without needing actually put in a textured material like tiling, which can be quite a hassle to get finished sometimes.
8. Bidet For Your Bathroom
One of the best ways to signify that a guest in your home is treated well is with that trusty complimentary utility, a bidet!
While this is certainly an expense that is not necessary for a decent guest bathroom, having a bidet in yours will make it clear to your guests that their comfort and hygiene is a top priority for you.
So, if you have the budget for it, and you want to go above and beyond, this may be a good idea for you and your guest restroom.
9. Choosing The Right Color Palette
Staying in the realm of decoration, we've already talked quite a lot about having the right decoration for your bathroom.
Making sure that the color is on-point ties into both of these ideas, as you want to make your bathroom feel welcoming and relaxing, while also avoiding colors that would otherwise be considered a little too dull.
We've already talked about how boring white or light beige colors on their own aren't exactly the most original ideas, but feel free to use whatever colors you think will be appealing to you or your guests
10. Fancy Soap
Time for another easy item that you can add to your guest bathroom's inventory!
Soap is a given in any bathroom (and if it's not in yours, we strongly recommend that shape up and get some)!
However, if you want your guest to feel just a little more taken care of, then having a good quality soap at the ready is exactly the right message to send to them.
While soap from a pump is perfectly fine, we feel that a bar of soap has that timeless, personal touch to a good bathroom, like this bar of soap from Sephora!
11. Black & White Bathroom Design
We've already talked about the aesthetic of your guest bathroom plenty at this point. So you're likely to already have a few ideas when it comes to how to color, paint or otherwise decorate your guest bathroom.
However, if you are really struggling, you can't go wrong with some kind of black and white color variation.
Now, did we rag on white a little earlier for being a little boring? Maybe. But so long as it has a strong contrast or compliment, it works wonders for any room's feel!
12. Give Optimal Storage Solutions
We've already discussed adding a set of shelves to your bathroom, but this principle of better storage space applies to pretty much any corner of the room!
Make sure that your guests have plenty of options so that they can store any toiletries that they bring with them, such as a toothbrush, or sanitary items.
13. Using A Plush Bath Mat
Not only are mats great for absorbing excess water after a shower, but they can also be adorable too, like this one!
Final Thoughts
So, there you have it! Our recommendations for your guest bathroom!
Try out as many of these ideas as you like, and let us know how it goes for you!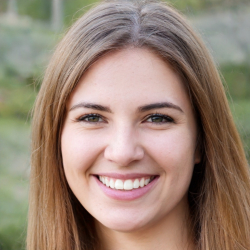 Latest posts by Maisie Park
(see all)