Your kitchen is one of the most important rooms in the house, when it comes time for you to redesign it, you want to make sure you leave a good impression when it's done.
If you want to play around with something a bit different with your kitchen, have you considered the color grey? Grey is a fabulous color to use in your kitchen.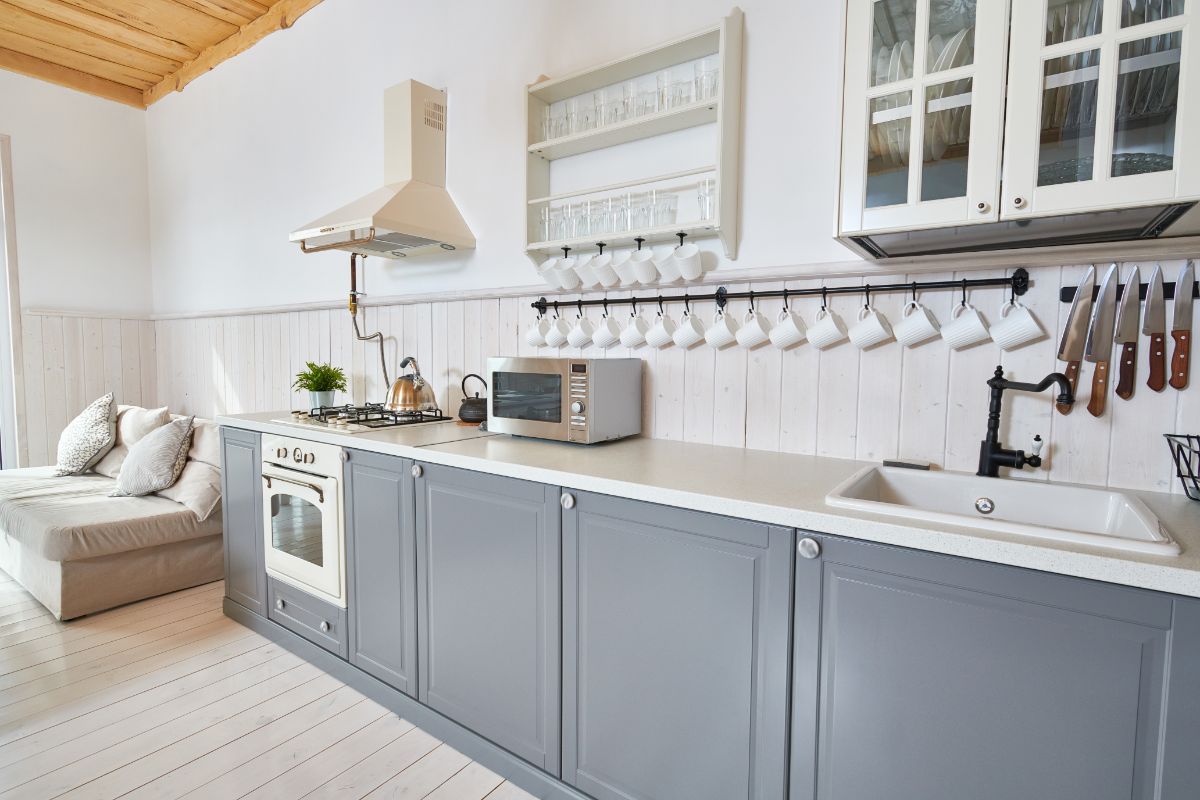 It's modern, it's sleek, and there are so many different shades of grey that you're sure to find something really suits the vibe you're trying to go for. 
We've put together a list of 15 grey kitchen ideas that will really help towards making your whole home be beautiful. So let's take a look!
1. Greys Pair Great With Wood
Because grey is quite a cool color, it can be difficult to find a way to bring a warmer atmosphere into your kitchen. However, one of the best ways you can do this is by combining the cool greys with warmer wood textures.
You could add a wooden kitchen island to the room, or you could do something small like adding a wooden shelf. You don't have to add too much wood to really change up the atmosphere of the kitchen in a fantastic way.
2. Add In Some Texture
Using grey as the main color scheme in your kitchen can be a bit risky, but that's only if you don't know what you're doing with it.
Grey can look a bit flat when it's all clumped together, and the lighting plays a huge part in that. 
A great way to combat the flatness is to add a lot of different textures to the kitchen. Having multiple textures in your kitchen can really give it the face lift that it needs and it will also give your whole kitchen a new dimension.
3. Bring Back Wood, But For Your Floors
Going back to wood, it's honestly such a good material to use when you're using grey tones.
If you don't want to change up the appliances, furniture, or accessories in your kitchen, think about maybe changing the floors to something wood based. 
This will add a small pop of color to your grey kitchen and it will really give the whole room a new dimension. This is a great way to add a bit of warmth to an otherwise cool room.
4. You Don't Know The Power Of The Dark Side! 
Grey is especially popular as a color scheme because it's as close to black as you're going to get. Lots of people don't like to use black in their designs because you run the risk of the whole space looking smaller and cramped.
If you want to use black but you're worried about this, an extremely dark shade of grey is the best way to work around this problem.
It will give your whole kitchen so much depth and it will look incredibly sleek and uniform. If you want to be bold, aim for a very deep, dark shade of grey! 
5. Break The Room Up With Tiles
If you're worried that your grey kitchen is looking a bit boring, a great way to get around this is by using kitchen tiles.
You can find plenty of tile designs that don't have any color and are made up of shades of white, grey, and black, so you'll definitely be able to find something that suits your kitchen. 
You also don't have to tile the entire room either. Even just a specific area will transform the whole kitchen.
6. Combine Shades For More Layers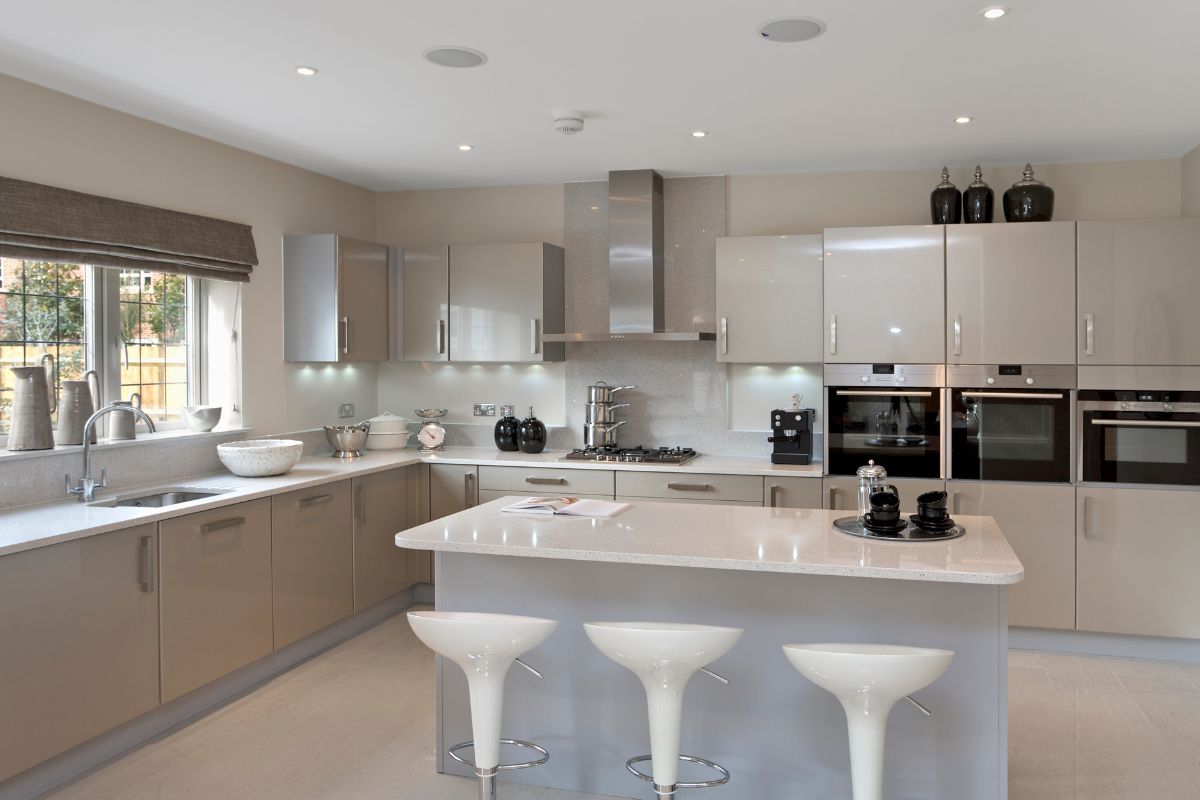 Another simple approach that can really add lots of layers to your kitchen is to play around with and combine multiple shades of grey.
There are quite a few shades of grey that exist and they all work extremely well together. This is a great idea for anyone who wants to break up the one shade of grey, but they don't want to include any other colors.
Your kitchen will look sleek and uniform if you combine the different shades of grey. 
7. Simplistic Changes By Using Marble
If there's one thing that really suits a kitchen, it's definitely marble! Grey marble is especially beautiful because it's simplistic and not in your face at all.
You can use grey marble on your walls, or even your floors, and it's sure to make a wonderful difference to your whole kitchen.
This is a great idea for anyone who's sick of just plain grey but doesn't want to take a huge risk. Marble works incredibly well as a simple and effective change.
8. Classic Combinations Of Grey & Pink
A color that really goes well with grey is actually pink! Different shades of pink will have different vibes when they are combined with different shades of grey, but near enough all of these combinations work really well!
If you want a bit of color in your grey kitchen, then adding accents of pink is a great way to go about it. You can go all out and add lots of colors, or you can just add a few subtle variations. Either way, you wont be disappointed!
9. Smaller Kitchens Love Lighter Greys
If you have a smaller kitchen, darker shades of any color are going to make the space look even smaller. You might be scratching your head trying to think of how you can incorporate grey into your kitchen without making it feel claustrophobic.
Smaller spaces call for lighter shades, and in this particular case, a lighter grey kitchen will work wonders. It will look chic and simple and will feel bigger and brighter thanks to the lighter shades.
10. Paint Just The Accent Walls
The simplest thing you can do when you want to transform a kitchen is to just paint the walls. A great thing you can do to make the whole room a bit more interesting is just paint the accent walls.
Choose your preferred shade of grey and go to town on the accent walls. They will pair beautifully with the other walls, especially if they are white or a darker color.
The shade of grey you use will depend of course on the original color, so if you have all white walls, try a darker shade of grey on the accent walls. 
Experiment with this idea, do some test patches, and see what inspires you!
11. Combine Blue With Grey
If pink doesn't quite do it for you, then another great color that works with grey is blue! If you want your whole kitchen to have more of a cooler vibe, both grey and blue are perfect for this.
There are some warmer shades of blue that you can try too, either way, the little splash of color will really transform the way the whole kitchen looks.
You can add blue to anything as well, from the floors to the walls, all the way to the kitchen accessories. 
12. Try Out Some Copper Accents
If you want to be really bold and give your kitchen space a bit of a statement, a fantastic idea you can use is copper.
It's incredibly brassy and somewhat metallic and it will add a strong new dimension to the whole kitchen space. 
Don't go overboard with cooper when you pair it with grey though. It works especially well as a subtle accent, and can really give your kitchen the flare that it was originally missing.
The copper is a great way to bring warm tones into your kitchen which balance perfectly well with the cool tones of the greys.
When you get this combination just right, it looks absolutely incredible! 
13. Bring In Bricks For A Rustic Vibe
If you want to add a new texture to your grey color scheme, a great one you can opt for is bricks. It's bold and daring, but when you get it right, it will bring in a cozy, rustic vibe that perfectly compliments the rest of your kitchen.
You can add bricks to a whole wall, or you can opt for sections. Regardless of how you do it, it will look fantastic.
14. Make Your Floor Grey
Lots of people will either go for a wooden floor design or just paint it white, but if you really want your kitchen to stand out and be a bit different, paint your whole floor grey!
You can play around with the different shades to see which one works best in your kitchen space.
15. Combine Wood & Brick
If you cant decide between wood or brick, then just add both! Both these textures work amazingly well with grey and they will give your whole kitchen the ultimate rustic vibe.
People will definitely compliment your kitchen when you combine these textures with your original grey!
Conclusion
There are so many options out there for how you can make your kitchen look good grey! Try some of these ideas out for yourself and see which ones work best for your kitchen space.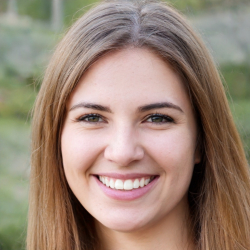 Latest posts by Maisie Park
(see all)