I feel like I often get some rather odd looks when I say that my favorite color is green, and for the life of me I just cannot understand why.
It's such a beautiful color that transforms from shade to shade.
And I must say that I'm an absolute sucker for a dark green that reminds me of being transported into the very depths of a forest surrounded by luscious greenery and budding wildlife.
But whether you, like me, enjoy a rich and deep green or are more partial to a bright and bold apple green, you should definitely consider painting your kitchen this color.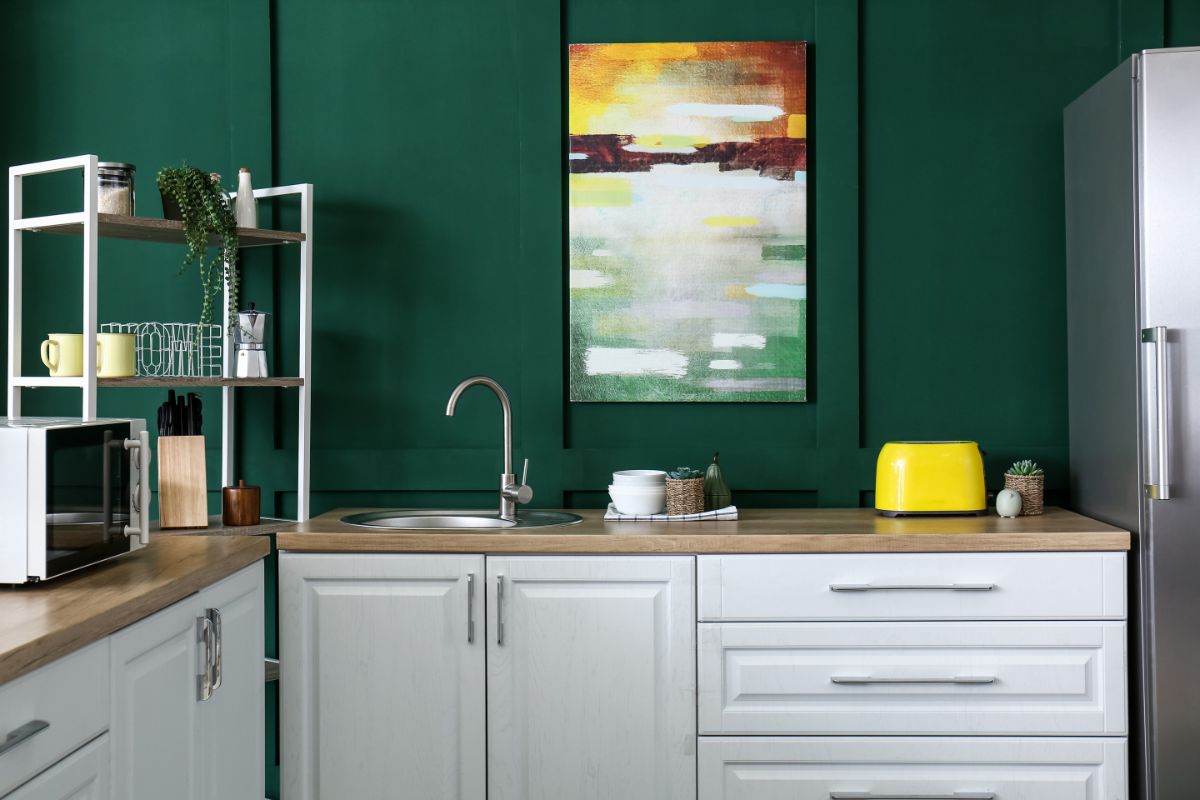 Green also symbolizes renewal, growth, and nature. It definitely is a calming and relaxing color, and I think it just gives the perfect aesthetic for any kitchen.
And it's not just me who thinks so, plenty of designers agree which is why you've probably noticed the introduction of many different green designs becoming ever-popular.
Have you recently decided that you'd like to add some green to your kitchen? Are you lacking a little inspiration to get that decorating process started?
Don't worry, I've got you. In this article, you'll find plenty of gorgeous green kitchen ideas that will look absolutely stunning in any kitchen! Excited? Me too. Let's jump right into it!
Green Kitchen Ideas
Green is in right now, but there are plenty of different shades of green. So we'll take a look at a few different ways you can style your kitchen using different shades of green.
From moodier and more traditional darker greens to bright, bold, and lively, we've got it all.
Here are my absolute favorite green kitchen ideas.
As I mentioned above, a broody and moody dark green is my favorite color ever. So of course, my first idea incorporates it – I just couldn't help myself.
The only issue with using a dark green on your walls is that it can make your room feel pretty dark. This isn't too bad if you've got a lot of natural light, but it'll definitely be a problem if you don't.
But obviously, we won't let that deter us from using it. Oh no, it's all about adapting and improving.
And I have the perfect solution. If you pair that beautiful dark green wall with a stunning white patterned marble countertop.
Not only will it make your kitchen instantly brighter, but it will also give your kitchen such a dramatic look that will have guests green too – green with envy.
Yes, pun intended. Then if you really want to dial the dramatics up a notch, you can always add a marble shelf too!
For those low-ceiling kitchens, this can be a fantastic option. The white walls add brightness to the kitchen and the neutrality of the color helps to emphasize the pop of green color which allows it to become the focal point of the room.
For this option, I'd pick a fairly vivid and bright green color. It doesn't need to be quite as vibrant as say an apple green, but you want a green that is really going to pop.
Add green to your kitchen cabinets and shelves to incorporate the color, allowing it to shine as the main aesthetic, without it taking over the whole kitchen.
I would then add rustic wood elements to the room to really tie it all together in a way that looks sleek and elegant.
I love a gorgeous olive green color. It is quite dark, so you'll definitely want to brighten up the room with some white decor.
But oh my, this is such a stunning elegant option. Just looking at a room such as this one, instantly transports me to a french chateau. Old fashioned and classic.
It gives the room this really earthy vibe which I just adore. If you're looking for a sophisticated kitchen look, you should never overlook the effect of olive green.
Sometimes, when I mention that a deep green color and a peachy pink shade work wonders, I'll get this look of almost disapproval. But don't knock it until you've tried it. Honestly, I promise it works.
Opt for blush, coral, or rose walls and add a dark green counter for a real showstopper centerpiece.
This is a much subtler option and works well for those who also like the idea of red in their kitchen but want something a little less harsh.
Love green kitchens like me? Then why not opt for not one but two beautiful shades of green? Visually, this looks amazing and creates a real balance in the room.
Pick a light shade for the door frames and trim to create a welcoming space and then add a depth to the room by using darker shades of green on the inside.
Do you have a piece of artwork that you absolutely adore? Why not use this as the base for your inspiration?
Find a piece of artwork that you want to use as your showstopper and focal point in the kitchen and then find a green that is going to work to highlight and emphasize it.
A moss green wall always looks great with any brown and green artwork. From there you can then use complimenting colors in the other elements in your kitchen.
Wooden furniture and black or brown colors will give a gorgeous forestry-like atmosphere.
Wabi-Sabi is the traditional Japanese aesthetic of acceptance of transience and imperfection. Sea green is a beautiful light almost-turquoise color. Now let's mix these ideas together.
And by that I mean, for busy kitchens with a lot going on, don't worry about everything being perfectly coordinated and instead embrace the imperfections.
Keep your cupboards a calming and beautiful sea-green color to give some tranquility to the busy mis-match aesthetic of your kitchen.
Don't you love how green can give off so many different impressions. Sometimes its peace and tranquillity, but given a good deep green it can also come across as incredibly rich and regal.
Take a pale and fairly neutral kitchen, perhaps a cream, white, or gray color, and then add a deep emerald island to the kitchen and watch your room transform into something powerful and elegant.
If you're going to go for it, why not really go for it? From wall to wall why not cocoon yourself in a stunning green shade?
I find that this works perfectly for smaller kitchens, especially when you pick a rich olive tone. Pair it with warm wood tones and don't forget to add some gorgeous green plants to the mix too.
Green can also be the height of fashion. These handleless units colored in this light green are to die for and oh so chic.
It's a great way to add a modern twist on a fairly traditional color. It also gives a calming ambience that looks great.
I audibly gasped when I saw this divine shade. It's so very beautiful.
It is certainly a green, but it has these slightly blue undertones too that just create the most amazing visuals. It's contemporary, confident, and just downright stylish.
Make it bold and striking by pairing it with dark wood tones, blacks and whites.
A great way to incorporate green, in a soft and muted way, is to pick a deep and fairly dark blue-green color.
When you combine this earthy color with natural woody tones it feels as if you have brought nature inside your own home.
If you love the elegance and regency of a good period-drama then why not recreate that look in your own home?
Pick a dark gray-green color to give that over-indulgent and regal theme. And then add brushed brass decor and ribbed glass details. And of course don't forget that statement lighting piece – a chandelier or low-hanging lights work a treat.
Aquamarine is a beautiful light shade of green that opens up even the most closed-off kitchens. It's such an inviting and happy aesthetic that will put a smile on your face each and every time you walk into the room.
Pair this with a deep moss green outline/trim and you are perfectly framing the perfect blue-green color with even more green.
Finally, if you are not quite ready to take the plunge and commit to a fully green kitchen, why not go for a small feature wall?
Opt for mainly neutral colors in your kitchen to avoid a brash color clash such as whites and blacks.
Pick a vivid printed wall-paper and then put that beside a bright and vivid green wall to add a pop of color to the room.
Final Thoughts
As you can see, there are so many different ways to add green to your kitchen in a way that is going to look great? Which option was your favorite? Let us know in the comments below!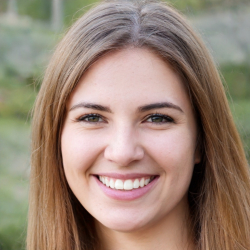 Latest posts by Maisie Park
(see all)