Trying to come up with the perfect design and decor for your bathroom can be quite stressful, especially if you don't have any inspiration.
If you are looking for some inspiration, then you've definitely come to the right place! Whether green is your first choice or you're just testing the waters, we've put together a list of 15 green bathroom ideas for your home that you definitely want to consider.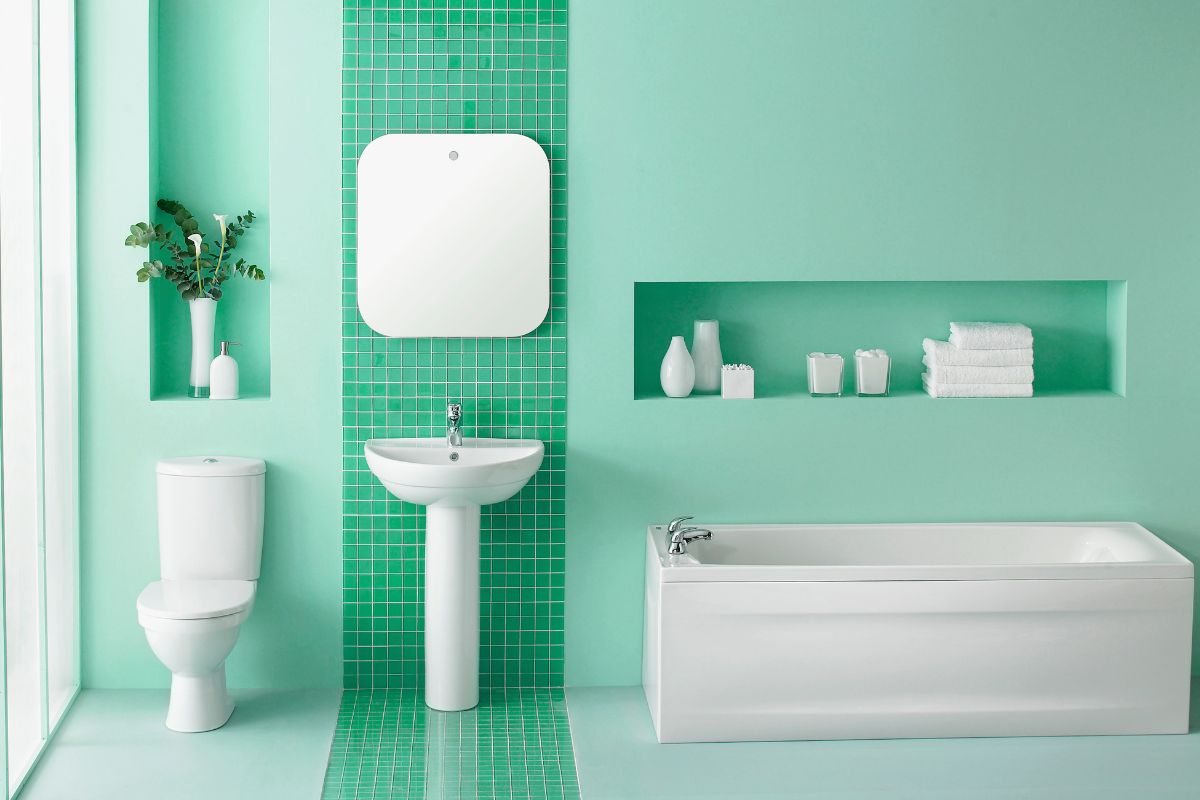 There's something for everyone on this list and once you've gotten a feel for each of them, you will definitely consider using them for your own bathroom! So let's get started.
1. Use Green As An Accent Bathroom Color
Just because you want to use green, that doesn't mean it has to cover the bathroom all over! One of the best ways you can incorporate green into your bathroom is by using it as an accent color.
Most people like to keep the vast majority of their bathrooms white, but that doesn't mean you can't add a pop of color! All shades of green work really well as an accent color to white, so try out a couple of different shades and see what works best for you!
You don't have to limit yourself to white either. Green works really well with black too!
2. Use Green On Your Floors
If you are looking for a way to brighten up your bathroom but you don't want to go too overboard on the walls and furniture, then a great way you can use green is on the floor.
Bathroom floors are usually quite boring, but if you mix them up a bit and add some color, it can really change the whole vibe of the room up. Whether you want a vibrant green or a pale green, all shades work differently depending on what you're after.
3. Have You Thought About Zig-Zags?
While it may not be everyone's first choice, a nicely designed zig-zag wall can really add a lot to the whole look of your bathroom.
You can experiment with different shades, textures, and sizes, but each will definitely be a great statement!
You don't have to use this for your whole bathroom either, sometimes just an accent wall or a specific section is all you need to really make a great impression in your bathroom. 
4. Use Green Marble To Emulate Luxury
Marble is a great and popular choice for many bathrooms and it's no surprise as to why! It emulates the feeling of being in a space that is completely luxurious and gives your bathroom the vibe of being very high-end.
Green marble works really well for this, especially when you are using a darker shade. The darker the green shade the better in this case! Remember, you want to emulate the feeling of a luxury space.
5. A Green Bath Can Make All The Difference
Adding green to your bathroom doesn't always mean the floors or the walls. Sometimes, just changing one single item to the color green can change the whole vibe of the room.
In this case, have you considered just changing the color of your bath? You don't even really need to go out and buy a new bath for this, just buy some bathroom-friendly paint and go to town!
You can experiment with the different shades of green to see what works best with your bathroom.
6. Is There Anything Better Than Floral?
If there's one color that works best with any floral design, then it's definitely green! If you want to give your bathroom a forestry feel, then playing around with green, and floral patterns are a great avenue to take.
You can play around with matt wall tiles or even stencils to truly get the design of your dreams.
7. Be Quirky With Your Wallpaper
Not everyone likes to add wallpaper into their bathroom, but that doesn't mean that you cant! There are so many different green wallpaper options out there, from single colors to quirky designs.
Whether you're going for minimal, retro, sleek, or trippy, there are plenty of green wallpaper options out there for you to choose from. Take a look online and see what designs call to you and see if they go well with the rest of your bathroom.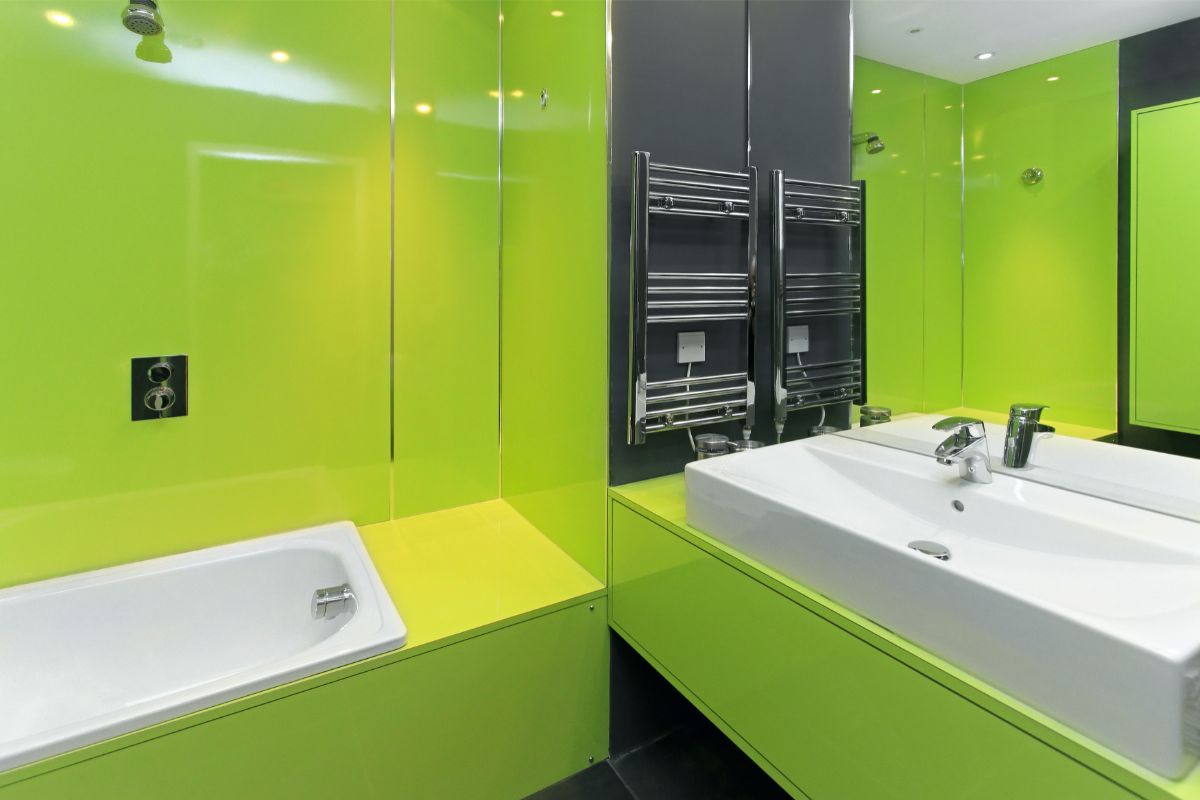 8. Add In Some Green Plants
You probably have plants around your house already, so why not add them into the bathroom too? Not only will it freshen up the air, but it will also add a fantastic pop of natural color to your bathroom.
You can get little plants or big plants, or even hanging wall plants! It really depends on your bathroom's shape and size.
Be creative in your approach and you'll soon find that having a mini forest in your bathroom really gives the room a whole new dimension you never knew you were missing! 
9. Pink Goes Great With Mint
We've mentioned black and white being great colors that go with green, but did you know that mint green actually goes incredibly well with bubblegum pink?
If you have a bubblegum pink bathroom or that's the vibe you want to go for, adding in mint green as the accent color will really give your bathroom a fantastically quirky vibe.
Your bathroom will really stand out in a really great way and you'll get lots of compliments for your creativity! 
If you really want to take it a step further, gold also works well just to add a bit of extra depth to the bubblegum pink and the mint green.
10. Experiment With The Woodwork
If you have any woodwork in your bathroom, one of the best ways to really make it pop is to paint them green.
You wont have much wood in your bathroom because moisture and wood don't usually mix, so this means you can experiment with shades of green without going overboard.
The beauty of this idea is that if you don't like it, you can just paint over it again without too much hassle. 
11. Explore All The Different Shades And Hues
As with every color, there are so many different shades that you can play with. From bright neon greens, all the way to dark, dark greens with hints of gray, you can use multiple shades and hues altogether to create the ultimate green room.
Mixing light greens with dark also means you can avoid going overboard with the greens. Too much light green can be a bit overpowering and not so pleasing on the eyes, so adding in the darker shades really tones the whole vibe down to look sleeker.
12. Small Bathrooms Are Great For Experimentation
If you have a smaller bathroom and you're worried that you won't be able to experiment, then you'll be happy to know that this isn't the case at all!
If anything, the smaller your bathroom is, the easier it will be to experiment with different shades of green.
Everything from wallpapers, to paint, to tiles, will be cheaper for a smaller space, and adding in these beautiful green designs will really make a statement for your smaller space. 
13. Experiment With The Position of Your Green Tiles
If you want to use tiles in your bathroom, then get creative with their placements! Choose the shade of green that works best for you and then swap up the positions in which the tiles go.
Tiles usually come in a square or in rows of two, so why not go for a more "checkerboard" sort of look instead of keeping them all in the same direction?
You'd be surprised by how much this simple mix can really change up the whole vibe of your bathroom and make it far more pleasing to the eye. If you do opt for this idea, you won't be disappointed because it works so well! 
14. Put Wallpaper On The Ceiling
This might seem like an outrageous idea at first, but once you try it, you'll want to put wallpaper on the ceiling in every room of your house!
As we've previously mentioned, there are so many different options for wallpaper out there, and when you find the perfect green wallpaper, just cover your entire ceiling with it! You'll be pleasantly surprised as to how well this idea works.
15. Green Candy-Stripe Tiles Are A Classic
You've probably seen a lot of candy-striped tiles in a lot of bathrooms, but how many have you seen that are green?
You might think that it wouldn't work in this color, but you'll be pleasantly surprised to know that it definitely does! Try this idea out for yourself and see how much cooler your bathroom will look.
Conclusion
There is honestly so much that you can do with green in your bathroom. It is a fantastic color that works especially well in this section of your home.
If you're really creative with your approach, you will have a really quirky and unique bathroom that will be incredibly pleasing to the eyes!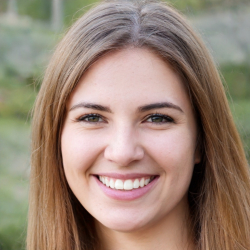 Latest posts by Maisie Park
(see all)