In some homes, combining a laundry room with a bathroom is one of the few ways to save on space.
Laundry appliances are known for their bulkiness, so it can sometimes be tricky to figure out creative and stylish ways of placing these appliances around your home.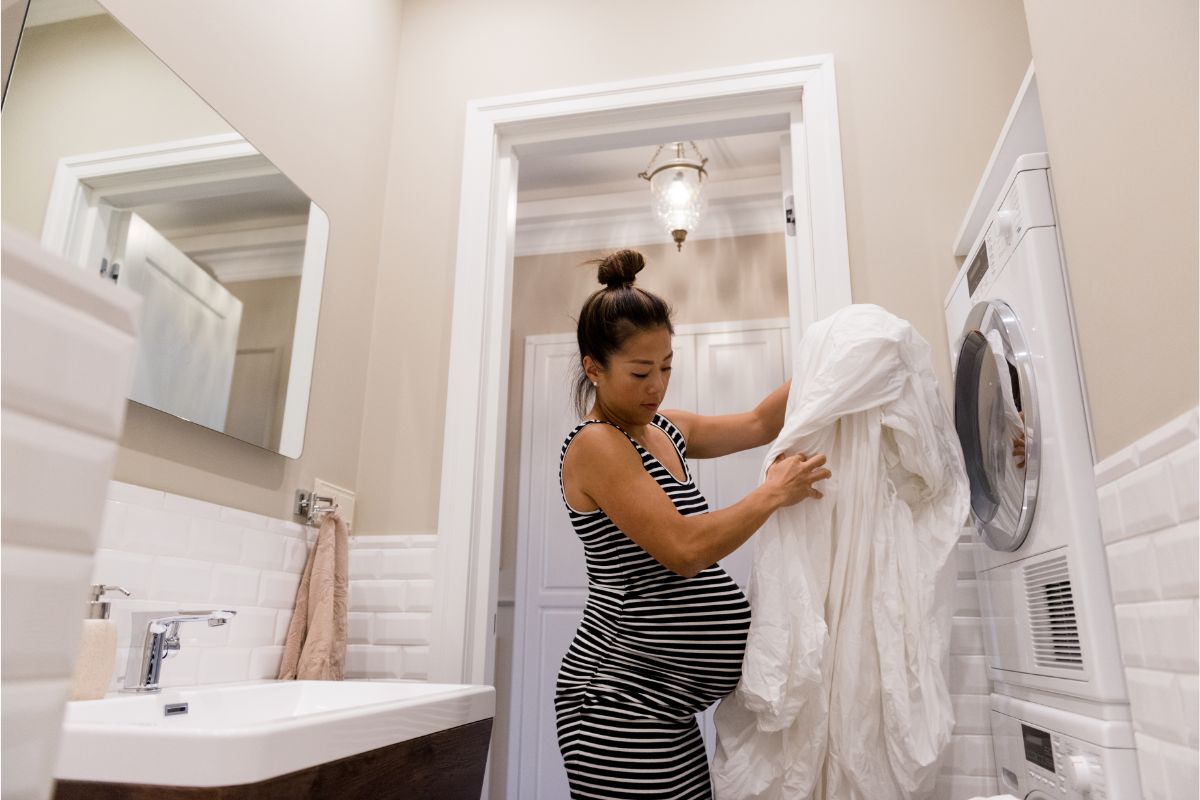 Luckily for you, this article is going to give you some wonderful ideas on how you can create your own laundry bathroom combo!
Hide It Away
Sometimes, the best way to combine your bathroom and laundry room is to simply hide your laundry appliances away! This is mainly suitable for rooms with a minimal amount of space.
This means the main focus of the room will be the bathroom, and your washer and dryer will be placed in that room behind closed doors.
There are a number of stylish and creative ways to do this. The simplest way would be to place your laundry appliances behind some bi-fold, hinged, or sliding doors.
You can make sure that the doors match any design and color of your bathroom walls, and place these appliances towards the rear of the room, leaving the bathroom facilities closer to the entry. 
This ensures that any laundry remains unseen by any guests, and allows the bathroom facilities to be the main focus of the room.
It would also be a good idea to stack your washer and dryer on top of each other. This will save even more space, and nowadays, there are many units available that you can purchase that are able to be mounted on walls.
Placing your laundry appliances behind closed doors will not only save you space and clutter, but it will also reduce the amount of noise that can be heard from them, as they will be tucked away!
Open Layout
Another option would be to ensure that your washing appliances become part of your bathroom, rather than tucking them away.
With these layouts, the washer and dryer become part of the function of the look of the room. However, when opting for this layout, you must ensure that your washing appliances do not dictate the look and style of the room, they must become a part of the overall room.
If your space allows it, you could consider installing a countertop next to the appliances, where you can store your laundry as well as any bathroom bits you need. If your space is on the smaller side, then you could install an all-in-one washer and dryer.
This will save you even more space, and add less clutter to the room as a whole. 
Based on how much room you have in your bathroom, you could install a long row of cabinets and place your washer/dryer beneath them, next to the sink. This will create a neat, sleek look and will make all your appliances look tidy and well put together.
Under this long cabinet, you could also place draws where you store all of your bathroom and laundry supplies. This allows for easy access, and for everything to be in the same place.
Create A Divide
If you don't like the idea of your washing appliances in the exact same space as your bathroom, then you can consider creating a small division between the two.
This can be done with a simple dividing wall or a sliding door. This is a great option if you don't have too much space to play with.
Depending on your preference, you can dedicate more of the room to either the laundry appliances or the bathroom facilities. Again, you can stack your laundry appliances on top of each other to allow for more space and less clutter.
This also gives you a lot more floor space. 
Even if you are creating some kind of partition, it is recommended that both parts of the divided room follow the same design and style. Having two contrasting looks will make the room appear messy and cluttered.
By following the same kind of design, it adds a cohesive look to the spaces. 
Therefore, you should have the same color schemes, handle ware, and tiles on both sides of the partition.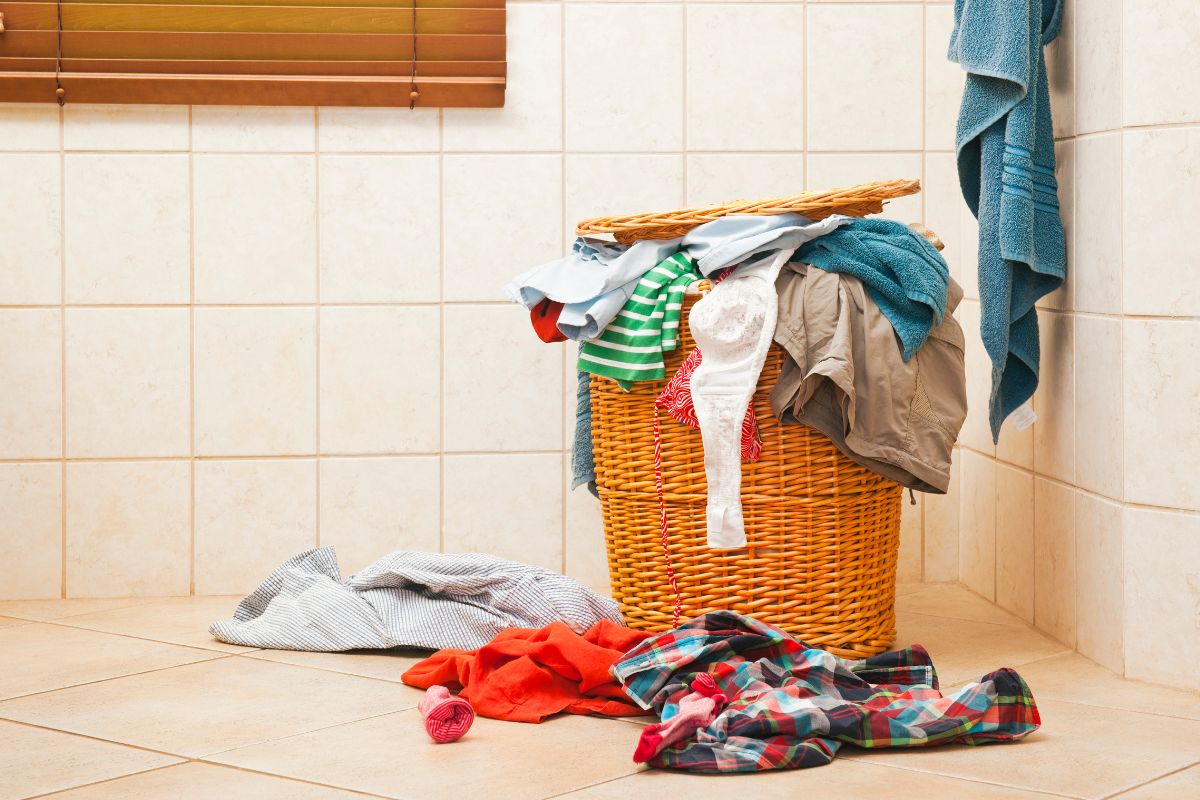 Keep It Simple
You don't need to pull out all the stops when it comes to designing your laundry bathroom combo.
Simplicity and minimalism go a long way, and also allows your space to look sleek and tidy. Try focusing on essentials, rather than adding bits of flair here and there.
You could opt for a simpler type of cabinetry, such as wood panels. You should also keep colors as light as possible, and if you'd like to include a bold color, consider having a feature wall, rather than using a strong color on several areas of the room.
It is also recommended that you make use of corner spaces by blending the countertops between these corners in order to allow for more room. You can also place some feature tiles or mosaics directly above the countertops to add some character to the space.
Keep It Smart
The main thing you need to do is keep your laundry bathroom combo space smart. Laundry rooms are notorious for becoming messy, so ensuring that you have enough cabinets and baskets to store dirty laundry neatly, is ideal.
You should always aim to keep your floors as clear as possible. You can do this by keeping any laundry baskets beneath cabinets and ensuring that there is a lot of storage space to stow away any cleaning, bathroom, or laundry facilities.
Keeping your countertops as clear as possible will also give the illusion of more space. Consider placing matching storage baskets or bottles on your countertops in order to avoid too much clutter on them.
Lighting And Mirrors
If you'd like to make the space appear larger, you can add a few mirrors. Mirrors actually make a room look bigger and appear more open.
They are also good at reflecting natural and artificial light, which makes a room appear brighter throughout the day. Consider placing a large mirror next to the window of your bathroom laundry combo room (if it has one) and it will really reflect the outside world.
You should also consider adding different kinds of light sources, such as spotlights and lamps. Having different areas of light also creates the illusion of a larger space, and also adds a cozy element!
Final Thoughts
Creating a bathroom laundry combo room is a great way to save space in your home. It is also very convenient having both facilities in the same space.
When designing your bathroom laundry combo space, you can be as creative as you like, experimenting with all kinds of designs that suit the rest of your home.
You can opt for hiding away your laundry appliances, creating a partition between both rooms, or having an open display with your laundry appliances forming part of your bathroom.
It is recommended that you try and stick to a minimalist design, especially if you are lacking space.
These kinds of designs prevent your space from looking cluttered, and you should always opt for light colors and plenty of different kinds of lighting within the room. This will make it appear larger.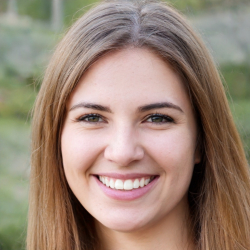 Latest posts by Maisie Park
(see all)