Coastal bedrooms are the perfect place to relax and unwind after a long day of work or play. They're also great for couples who want to create their own little private getaway.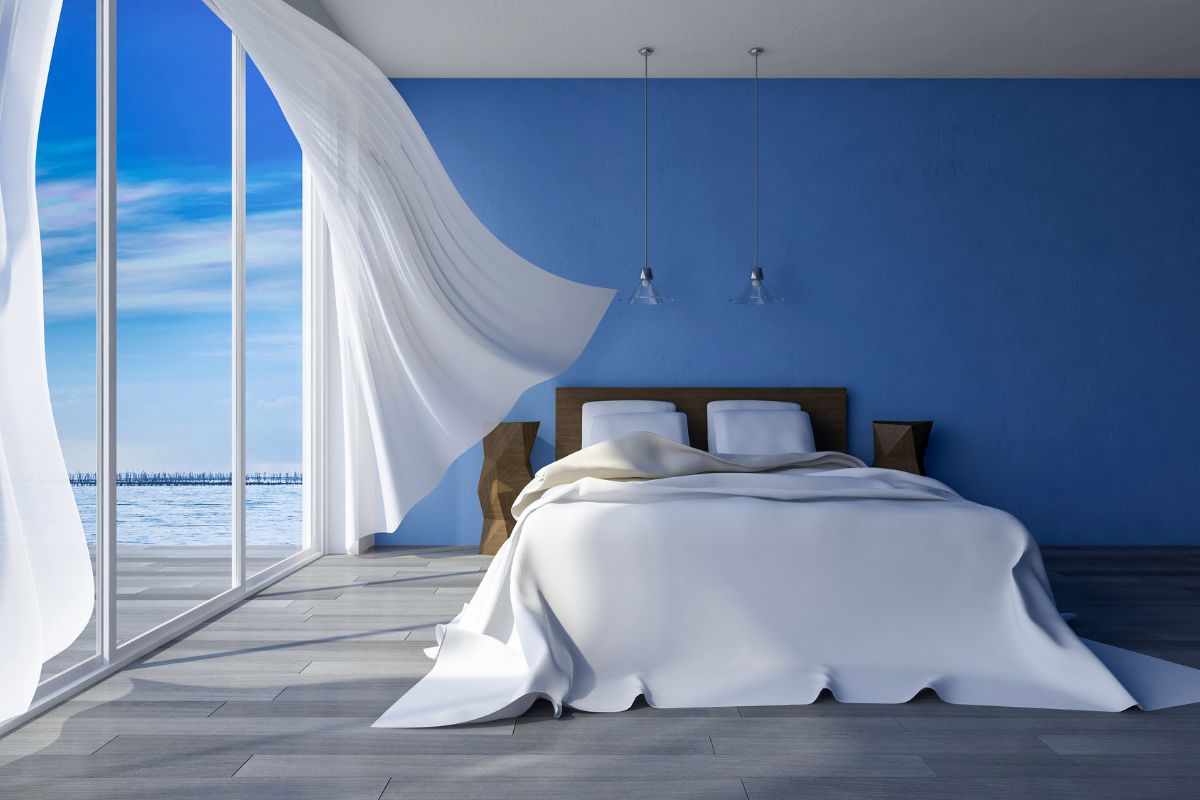 Whether you live in an apartment, condo, townhouse, or house, there's no reason why your bedroom can't be coastal-inspired.
Coastal bedrooms are popular amongst lovers of the sea. Some people feel relaxed and at peace surrounded by all things nautical.
However, it can be challenging to know where to start with your coastal bedroom so let's look at some ideas to create the perfect bedroom. 
1. Coral Shelf
A shelf of shells makes a great display piece, especially during the warmer months to remind you of happy times during the summer. 
They are beautiful pieces of art that make a statement in any room. They come in many different colors, shapes, sizes.
If you don't want to collect them directly from the beach then you can find them online at stores like Amazon, eBay, Etsy, and others.
2. Add Blue Nets
Blue nets remind you of little fishing boats and putting some hanging above the bed adds some color and style to the bedroom. They look great against the white walls and dark wood furniture.
The following  is a very simple DIY project that you can easily do yourself. All you'll need is a piece of rope, a hook, and some glue.
Start by tying one end of the rope around the middle of the net. Then tie another knot about 2 feet away from the original knot. Repeat this process multiple times. 
Once you've tied enough knots, cut the excess rope off and use the remaining pieces to hang the net up. Use the leftover rope to make a decorative wall art.
Hang the net over the bed frame and enjoy the beauty of the ocean every night.
3. Blue Anchor
Anchors are without question one of the most iconic symbols that represent the coastal theme.
They are used to mark out the shoreline and define the boundary of where the ocean begins and ends. A piece of art or ornament makes a great addition to the bedroom. 
4. Shell Candles
A seashell candle is perfect for holding candles and creating a warm nautical ambience.
It looks great sitting on a mantle or shelf in the bedroom and best of all, they are easy to make. All you'll need is a seashell and some string.
Step One: Take the shell apart. Start by cutting off the top half of the shell. Then cut along the inside edge of the bottom half. Once you're done, you'll end up with 2 halves of a shell that look similar to this.
Step Two: Next, take your string and tie it around the middle of the two halves. Make sure there's enough length to wrap around both shells.
Step Three: Now just slide the shells together and you've got yourself a shell candle holder! You could even add a little something extra. For example, you could put a small piece of driftwood inside the shell. Or maybe a small dried flower. Whatever floats your boat (excuse the pun). 
5. Paint Driftwood
The beauty of driftwoods lies in their simplicity. They are easily found in nature, and they come in a variety of colors and sizes.
They're perfect for adding character to your bedroom  space and creating a beach like environment. If you want to add some natural elements into your decor, try painting driftwoods onto plain white walls.
You'll end up with a unique piece of artwork that won't cost much money to produce.
You can find driftwood at craft stores like Michael's Arts & Crafts, Michaels, Hobby Lobby, and WalMart.
6. Stair Rail
Cleating up staircases can often prove challenging but it doesn't have to be that complicated. They are ideal if you have some steps in your bedroom.
With some creativity, you can make simple steps much easier to climb. Boat cleats are one example of how you can do just that. They're essentially wood planks cut into shapes that look like boats' hulls. 
There are many DIY projects out there that use cleats to help make a staircase a beautiful and interesting part of the room.
7. Coastal Jars
Coastal votives are perfect for adding some style to any room in the home. They look great in bathrooms, kitchens, bedrooms, living rooms, and even entryways.
You can use these pretty vases to add a touch of color and beauty to any spot in the house. They are really easy to do yourself and you can find plenty of tutorials on youtube to help you along.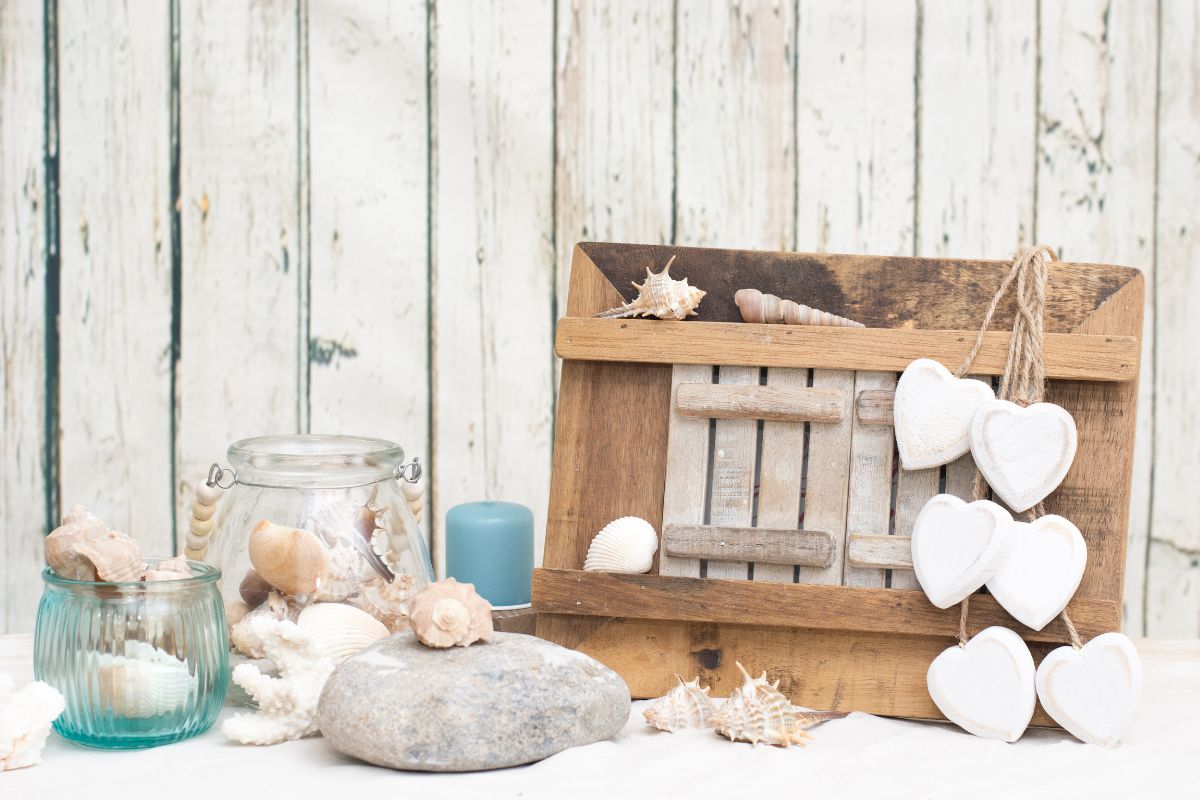 8. Sea Life Motifs
Octopus and seahorses are popular sea creatures that make great additions to your coastal bedroom décor.
They're beautiful, affordable and versatile; you'll find many different ways to incorporate them into your living spaces.
Whether you go big and bold, subtle and sophisticated, or something completely unique, there are plenty of options out there to incorporate the coastal theme. 
9. Add A Round Window
Round windows are ideal for creating a coastal theme as they are reminiscent of lighthouses. These types of windows come in many different sizes and shapes.
Some are oval shaped while others are more round. 
The best thing about round windows is that they don't take up too much room. This makes it easy to install them into smaller spaces. For example, they are ideal for small bedrooms.
10. Nautical Furniture And Decor
Blue and white stripes were originally worn by French sailors in Northern France. They are now popular in nautical decor  because of their simplicity.
You can find many different types of blue and white striped items, including:
Sofas
Rugs
Pillows
Curtains
Throw blankets
Bedding
Towels
Shower curtains
And much more!
11. Indoor Palm Tree
A great way to fill a space in your house is to purchase an indoor palm tree. This type of plant requires little maintenance and it adds beauty to any room you put it in.
The most important thing about buying an indoor palm tree is finding one that will fit into your bedroom area.
If you plan on placing it near windows, make sure you choose a model that won't block out too much light.
You'll find many different types of indoor palm trees in stores today. They come in several sizes and shapes. So you're sure to find one to add to your coastal bedroom.
If you want to add height to your ceiling, look for palm trees that stand taller than 5 feet tall. These plants usually cost less than those that are shorter.
12. Sisal Rug 
Sisal is a plant that grows naturally in tropical climates like Mexico. This hardy plant is used to make ropes, twine, cloth, paper, and even rope mats. But it's most commonly known for making beautiful rugs.
These rugs are extremely durable because they're woven from long fibers called phormium rather than shorter ones like cotton.
They're also very strong, so you don't have to worry about accidentally pulling one apart. And unlike synthetic fibers, they won't fade over time.
13. Beachscape Painting
There are very few things better than sitting on the sand and watching the waves roll in. And what could be more relaxing than enjoying the view while listening to the soothing sound of the sea?
If you want to add some color to your home decor, why not bring the beauty of the waves into your bedroom?
Painting a beach scene is a great way to add a little nature to your interior space. You don't even need to paint the whole wall; just choose a small area where you'd like to display this beautiful piece of art.
To make sure you'll enjoy this project for many years to come, use high quality paints and brushes.
14. Seagrass Basket
The perfect piece of storage for your coastal bedroom.Not only does it create extra storage but it provides a natural look and feel.
15. Rope Decor
Ropes are perfect for creating a coastal look in your home. They are durable, easy to clean, and come in many different colors and sizes.
If you want to give your bedroom a nautical feel, consider hanging rope decorations around the bed. 
You can use thick ropes to drape across the end of the bed  or hang a few thin ones around the perimeter.
Or, perhaps you'd like to try something a little different and use rope to create a unique piece of art.
Use black or white rope to make a simple sculpture or paint it to create a colorful work of art.
Conclusion
Creating a coastal bedroom is all about the details, and it's important to keep in mind that you don't have to spend a lot of money on decorating your room.
The key is to use what you already own or find at thrift stores and flea markets. Creating something is good for the soul and worth the effort for a beautiful bedroom.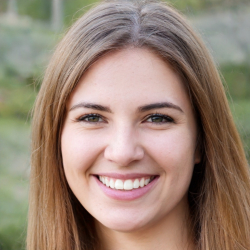 Latest posts by Maisie Park
(see all)