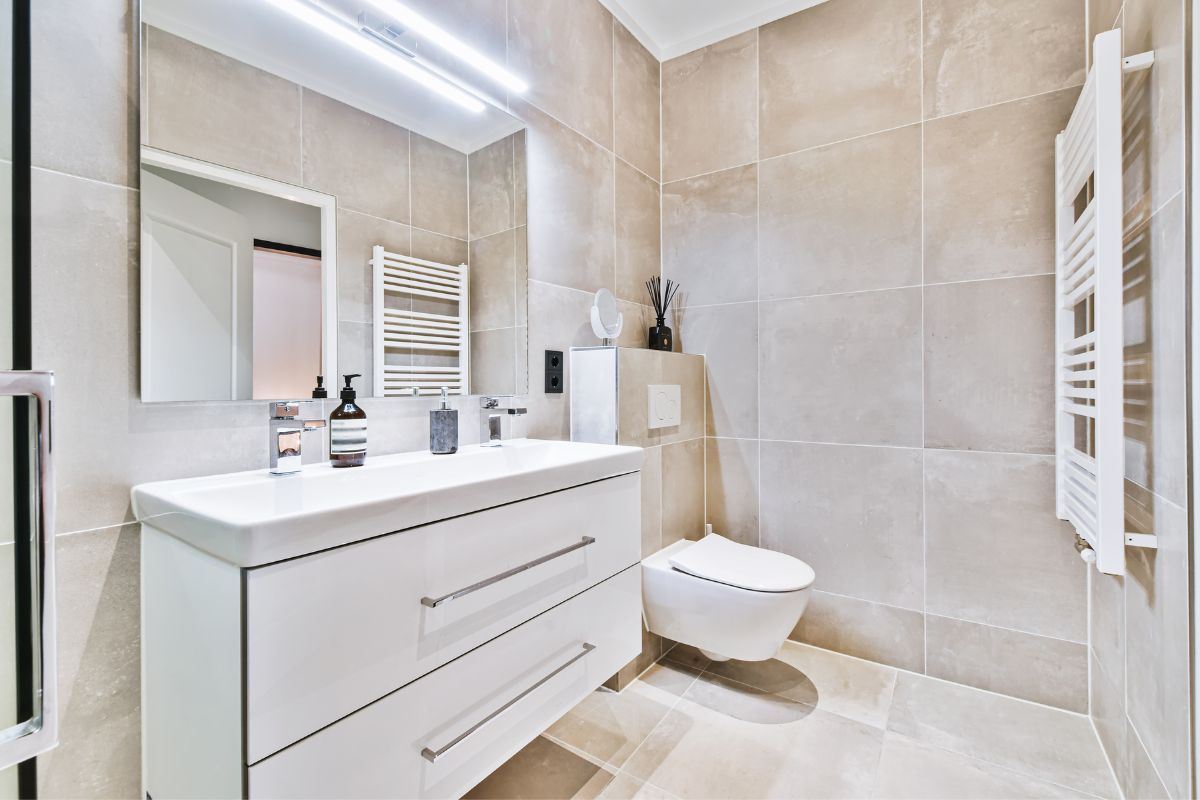 If your small bathroom needs a new lease of life, you may as well maximize your space while you're at it.
With just a few simple adjustments and design tricks, you can create the bathroom of your dreams, and we're here to show you how.
1: Contrast Materials
Whatever room you're working on, you'll hear interior designs say the same thing: texture, texture, texture! By contrasting materials, you'll create a visually appealing interior that distracts from the small space surrounding you.
This approach doesn't have to be limited to wall art, either. We'd encourage you to think bigger and see if you can change the material of your existing sink or bath, and don't neglect your shelving, either.
Whether it's a marble basin and industrial-style shelves, or a paneled ceiling against a sleek ceramic bath, the opportunities are endless.
2: Opt For Floating Shelves And Vanities
To maximize your floor space, why not add floating shelves and vanities? With a suspended vanity, you can open up some extra floor space.
Although this little nook can make for a great storage area, it can also be left completely bare to give the illusion of more space.
Floating shelves will also do the same thing and will avoid you needing to acquire floor-standing storage, which inevitably takes up more room.
3: Use The Zoning Method
If you've never heard of this trick, allow us to walk you through it. The zoning method simply involves separating areas of a room according to function.
In your bathroom, for example, your basin could be separated from the rest of the room by just painting or wallpapering the wall behind it.
Zoning is great for open-plan spaces, and it can make any small space feel instantly bigger. You could even play around with wood paneling and tiles or just separate the furniture and components in each corner by color.
4: Accessories
In small spaces, it can be tempting to dial back on unnecessary additions. Although we agree that cluttering your bathroom is NOT the way to go, adding in a few accessories can lean into some visual tricks and make your bathroom more exciting.
Your accessories could include something as simple as a houseplant to a more extravagant addition like bold wallpaper or a large mirror. When used correctly, accessories can distract from the lack of space by drawing the eye away.
5: Make Use Of Corners
Although you might find corners frustrating (especially in small spaces), they can actually be used to your advantage.
For example, if you have a small corner that's leaving you scratching your head in confusion, consider repositioning your sink.
Yes, really. Placing your sink in the corner will avoid eating into more valuable space. However, it's a pretty big job.
If you have floor-standing storage you don't want to part with, try placing that in the corner instead or ditching it for some floating or hanging shelves in the corner – simple, stylish, and space savvy.
6: Let Light In
If you want to create more space, letting more light in is the oldest trick in the book.
If you've got bulky curtains or blinds surrounding your window – ditch them! If possible, you could also try positioning a mirror right in front of your window to bounce more natural light around the room.
If you're on a larger budget, you could even look into extending your existing windows or fitting a new one. You'd be surprised how much of a difference a few extra rays of light can make to your bathroom.
7: Invest In A Good Tile Job
Tiles can be one of the most neglected areas of your bathroom. Although most of us stick to plain white and never change, investing in a good tile job can completely transform your bathroom.
Although ripping out your existing tiling is an option, remember: we're on a budget! So, we'd recommend exploring tile stickers – these can be done yourself, and they're not permanent, so you can change them at any time.
Choose bright colors like corals to help extend your walls and ceilings, all on a small budget.
8: Draw The Eye Up
How can you make your space feel bigger if you're short on height? Simply drawing the eye up with a few simple tricks can be enough.
By drawing your attention upwards, you can easily elongate a room and give the illusion of a larger space. One of the most popular ways to draw the eye is by placing a narrow, long mirror above a bathroom sink.
Although you can use wall art, mirrors naturally bring in more light, making them the most popular choice.
9: Don't Waste Wall Space
While we don't condone over-cluttering your space, we do have one important thing to say: don't waste your wall space! If you've been keeping all of your storage on the floor, it's time to shake things up a bit.
Spruce up those empty walls with some modest shelving, and you'll buy yourself an extra few feet of valuable space.
You could even reposition your towel rail to a different wall, or if you have no need for storage, use a large mirror.
You can't afford to waste space in a small bathroom, so you may as well use your walls to your advantage.
10: Use A Light Color Palette
Although darker tones can work in a small bathroom, we'd recommend keeping things light and airy with a light color palette.
Lighter colors naturally reflect more light, and this will give your bathroom that bright, open feel you need to create the illusion of more space.
So, if you're prepared to give your bathroom a lick of paint, choose neutral tones and plenty of white to bounce your light around.
11: Prioritize Glass Designs
If you're willing to invest in some new bathroom furniture, it can be easy to stick to what you know. If this is bulky, hard-looking furniture, you're not going to be doing your bathroom any favors.
Instead, try pushing yourself out of your comfort zone and focus more on glass designs. Glass is sophisticated and stylish, and it'll also create the feeling of more space.
For bigger budgets, one of the best changes you can make is to incorporate frameless glass panels into your shower for a splash of style and extra space.
12: Use A Mirrored Wall
We've already discussed the importance of mirrors, but they shouldn't be neglected.
If you have a whole wall of nothing and you're not sure what to do with it, why not introduce a mirrored wall? A simple mirrored wall can double the size of your bathroom in an instant and give the impression of more space.
It's a design trick that's been used for decades and is easy to achieve. You could simply hang a large mirror or install a sheet mirror to cover the whole wall – there's an option for every budget.
13: Use Paint to Create An Illusion Of Height
If you're feeling creative, put your creativity to work and use a variety of paint effects to give the illusion of height.
For example, rather than just painting a whole wall a new color, try painting halfway up a wall to create more distance between the upper and lower portions.
This will automatically create an illusion of height, especially if you use a darker shade of paint on the lower portion.
14: Wall Mounted Taps
When it comes to redesigning your bathroom, the opportunities are endless. So, it's understandable if your taps aren't your main focus.
However, we're talking about all things space-savvy, so even the smallest of features shouldn't be overlooked! If you have the budget and the means, try wall mounting your taps.
This space-saving design reduces the need for a bulky lower basin, and all of the pipework remains hidden in the walls. This will also free up more space below your basin to store more bathroom essentials, such as towels, toilet paper, or toiletries.
15: Tall Tier Storage
Although floating shelves can free up your floor space, you also shouldn't overlook the power of tall-tier storage.
These freestanding pieces are practical and efficient, and if you choose a wired design, you won't feel like you're crowding your bathroom with any unnecessary features.
If you need space to store your toiletries, choosing tall-tier storage can be more practical than floating shelves, and it's a great way to use up any corner space you're struggling to make the most of.
Final Thoughts
If you have a small bathroom, it can be easy to neglect its design.
After all, what's the point in investing your time and cash into sprucing it up if it's such a small space? The truth is, with just a few simple adjustments, you can create illusions of height and extra space in your bathroom, making it feel instantly more inviting and functional.
We hope we've inspired you to make the most of your small bathroom and remember, you don't have to break the bank doing so!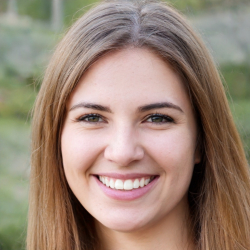 Latest posts by Maisie Park
(see all)