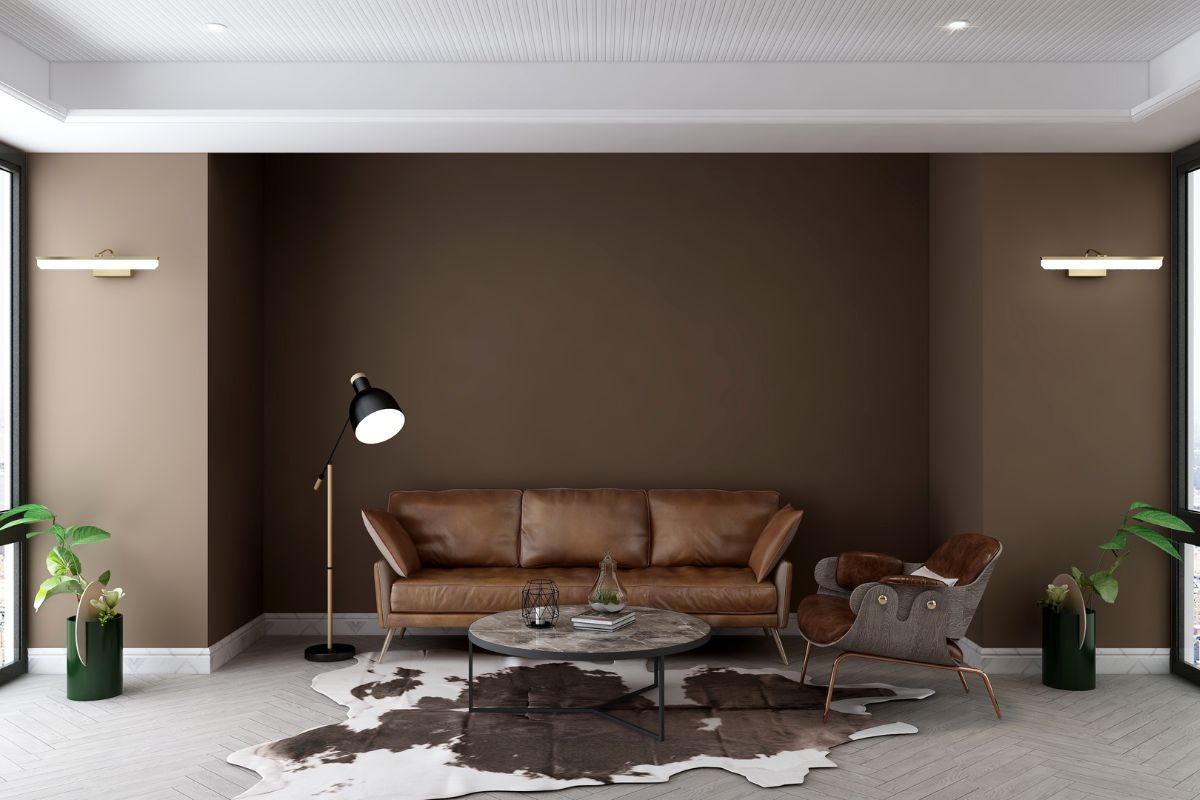 Thinking of revitalizing your living space with plenty of brown, neutral tones? Whatever theme you're looking to create, these 15 brown living room ideas can help you get the creative cogs turning.
1: Pair With Neutrals
What's better than a brown living room? A brown living room paired with neutrals. Let's be honest, brown is a bold, earthy color, and if you can't balance it out with other tones, it can be a little intimidating.
If you want to transform your brown space into a soft and earthy safe haven, cocoon it with plenty of neutrals. White, light brown, and even a light gray can help take the edge off and create an immersive, natural feeling space.
Your neutrals could be in your furnishings, such as sofas and cushions, or even in your wall art. 
2: Create A Retro Feel 
Browns may be intimidating, but they're also incredibly diverse – with so many shades to choose from, it's possible to find a color that suits almost any theme, including retro.
Brown doesn't have to be dull and imposing – simply balance it out with some bright, punchy burnt orange and gray contrasts to create a slick, modern-vintage look that's absolutely timeless.
You can enhance your retro feel with plenty of bold brown furniture and boldly colored decor. 
3: Add A Splash Of Green 
If it's that natural, at one with the palette of nature' feel you're going for, there's nothing more satisfying than adding a splash of green to your brown living room.
Whether it be a luxurious green chair to sink into or a collection of scattered houseplants, green can instantly brighten up your space.
If you're already using dark brown for your walls or main furnishings, we'd recommend choosing a minty or sage green to make things feel a little lighter. 
4: Create The Country Living Vibe
If you take a quick browse through brown decor inspo online, you'll see that all things country living are the most popular.
If you want to recreate the country living vibe in your own brown living room, introduce plenty of texture, warm lighting, neutral brown tones, and even a splash of gray to your space.
Remember: to pull off this look, texture is everything, so don't be afraid of bold, patterned designs – it's what brings the look to life! 
5: Lean into Leather
Take a look around any brown living room, and you'll notice that almost all of them share at least one commonality – leather.
Brown, dusty leather furnishings are a statement piece in their own right, but when introduced into a brown living room, you're greeted with a warm, sophisticated vibe. 
It doesn't have to be a sofa, either: you could add some leather drawers, a leather stool or chairs, or storage boxes.
When balanced out with other earthy and neutral tones (especially light brown and terracotta), you'll have a warm and inviting space in an instant. 
6: Create Rustic Window Casings
If you're trying to create a shabby-chic, vintage-style living space, steer clear of pure white window casings. Instead, opt for exposed wood, and your living room will feel like the inside of a country manor.
If you're sticking with wooden window casings, we'd recommend adding in some white or green in the area around your window, whether that be the floor or the windowsill itself, for some extra style and texture.
Even a tall house plant can be enough to do the trick! 
If your walls are painted a dark brown, remember to make your window casings a lighter tone to avoid too much darkness.
A few simple color-balancing techniques can take the edge off and prevent your space from becoming dull. 
7: Dark Brown Walls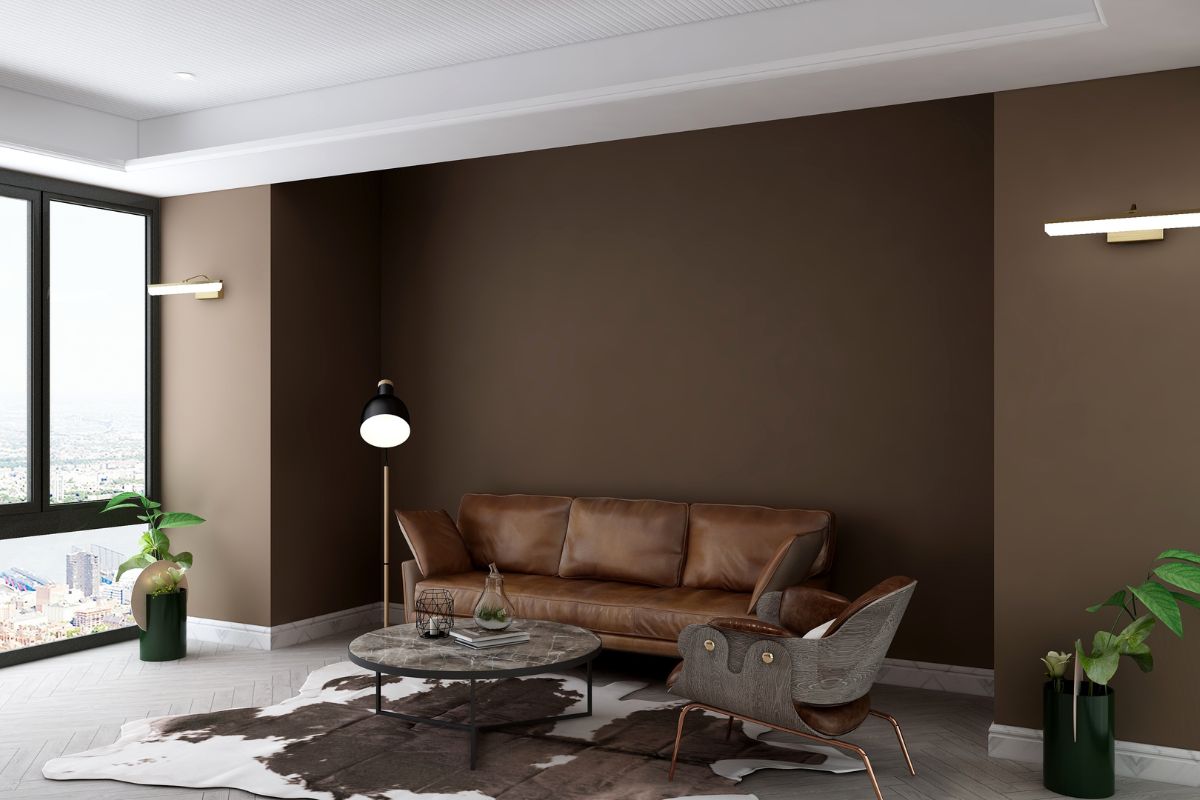 If you're ready to take the plunge into a truly brown living room, be bold and paint your walls a dark brown.
Darker shades offer an element of style and mystery that lighter shades can't provide; however, you'll need to think long and hard about your furniture if you're choosing this method. 
Pairing dark walls with dark furnishings can make your living room feel heavy and draining, so don't be afraid to introduce bolder colors into the mix – some yellows and blues do a fantastic job at smoothing out the darkness, and don't forget to throw in some neutrals too.
White or light brown wall decor is a great way of opening up your space. 
8: Add Stone For Texture 
One of the most important features of a brown living room is the texture – especially if you want to use similar tones of brown throughout.
Different textures can add depth and feeling to your room, and with so many ways to texturize your room, you'll find a way to complement almost any theme. 
Texture could be introduced in the form of wall paneling or flooring – if you have a solid wood floor, paneled walls can lend extra depth and create a simple, stylish, and unforgettable look.
9: Don't Forget The Pink 
"Pink!?"
Yes, we know what you're thinking. How would you add pink to a brown living room? Well, if you're thinking of bold, punchy pinks – scrap that. We're talking all things blush and pastel.
A light, dusty pink, especially as a blanket, cushion, or other soft furnishings, can really tone down the industrial feel that sometimes accompanies darker brown spaces. 
More neutral browns, especially when paired with an accented wallpaper, can give your pastel pink the space it needs to shine.
10: Accentuate With White
With the right shade of brown, white features can really pop – if it's a lighter and less imposing brown theme you're after, paint your walls a honey brown, and add plenty of white furnishings, including mirrors, coffee tables, wall art, and even a white rug to make your living room feel and look more open and modern.
It's simple, effective, and great for those working on a tight budget. 
11: Pair With Red Pigments
We've already discussed how well neutral tones, including white and light brown, can pair with darker shades but don't forget about red pigments! If you want a rich, deep color palette, incorporate a few dark red furnishings into your space.
You don't need many because the few that you have can provide a warming element without commanding your space. Red rugs or cushions are usually enough to do the job. 
12: Don't Neglect Your Ceiling
When you're decorating a space, especially the walls, it's easy to neglect the ceiling. You may think you don't need to pay any attention to your fifth wall, but with the right colors and texture, it can add a whole new lease of life to your room.
How you choose to decorate your ceiling is up to you, but don't think that painting it all one color is your only option. You could keep it white and add in some paneling, or even add in a more jovial shade.
If you have a white ceiling, you could even paint your paneling dark brown – however, we'd only recommend doing this if you have a high ceiling. Dark paneling on low ceilings reduces height and can make your space feel more confined. 
13: Create Warmth And Depth With Brick 
We LOVE brick, and if you haven't considered adding it to your brown living room yet, you need to.
Not only can brick add some much-needed texture to your living room, but its earthy terracotta tones are destined to pair beautifully with your existing color palette.
Although brick is often associated with more modern-industrial themes, with the right decor, it can be made to suit that infamous country living vibe or even a retro-style living room.
Accentuate your brick with plenty of warm lighting, houseplants, and white or neutral tones, and it'll add depth and warmth to any living space.
14: Use Brown Built-In Furniture
Built-in furniture isn't just a great space-saving feature, but it can also double up as an attractive display feature.
Brown built-in furniture, especially shelving, can be used to frame existing features such as fireplaces, and when decorated with ornaments of complementing colors, you can add plenty of texture and character, even if you're on a budget. 
15: Hardwood Flooring
Sure, carpet is comfortable and warm, but hardwoods can really bring your brown living space to life. If you want to keep some of the comfort and warmth of carpet, simply lay down a few neutral rugs to make your space more inviting.
Hardwood flooring often comes in several shades, and darker tones, in particular, can warm up an otherwise dull and lifeless space.
Laminate and vinyl planks are often the most popular choices, but wood plank tiles may be better for those who want to spend less money, and less time maintaining their floors. 
Final Thoughts
Varied shades of brown can be layered together to create all sorts of vibes, from country and retro to modern-industrial. We hope these brown living room ideas have given you the inspo you need to inject a new lease of life into your living room!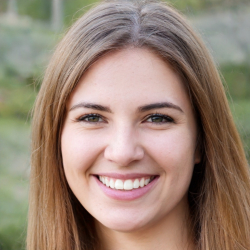 Latest posts by Maisie Park
(see all)