Anyone who has young boys will know that they are definitely not shy about what they like, and this extends right down to the coolness of their bedrooms.
Luckily, there are countless ideas online for the perfect boys bedroom set ups, all with different themes, styles, and combinations to suit any taste and preference.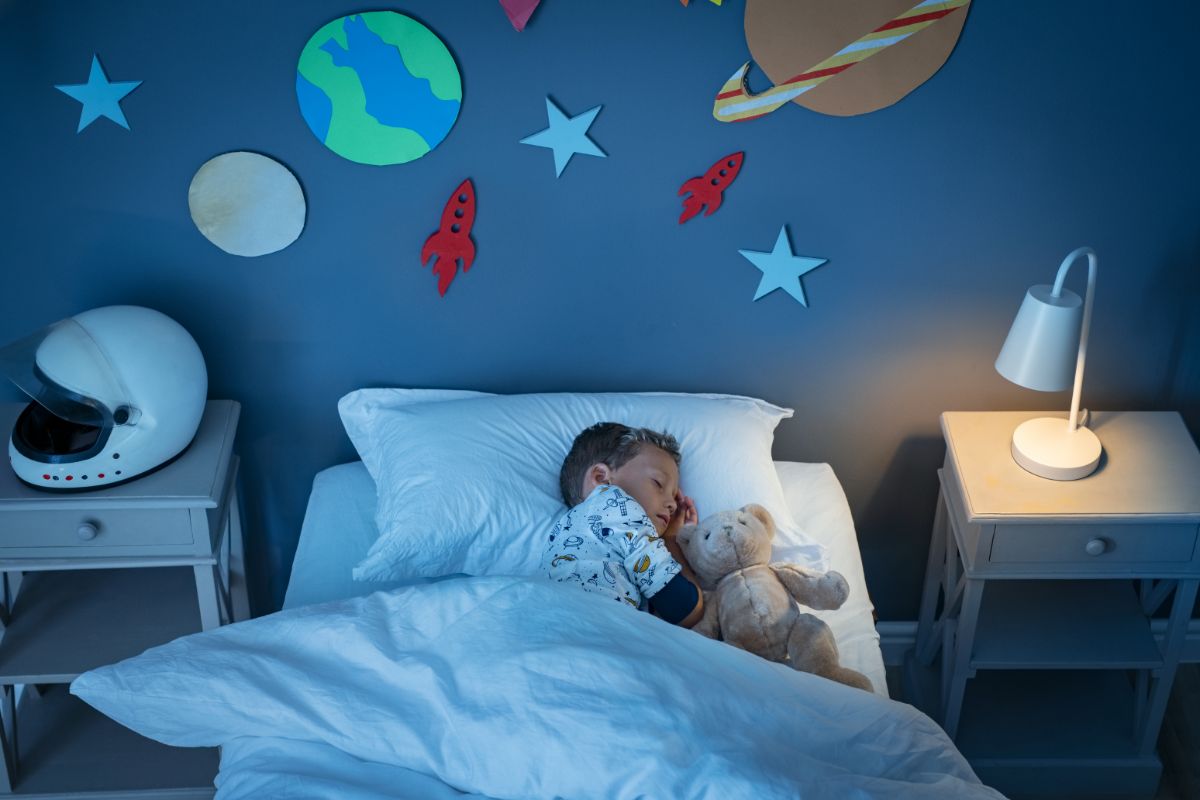 That being said, it can still be difficult to envision your children's ideas and turn them into something concrete. This is why we have compiled this list of boys' bedroom ideas to give you some inspiration, and make your boys' dreams a reality.
So, without further ado, let's get started!
1. 'Gamer's Paradise' Bedroom
If your boys are old enough to be gamers, then this might be the perfect design for them – offering an attractive, exciting neon paradise where they can kick back after school, turn on the game of their choice, and play together in a run specifically made for relaxation and focus.
Trendy and hip, this style will make them a popular sleepover choice amongst their friends, and will ensure that your house remains forever known as the coolest place on the block.
This design uses a lot of neon tubing, which can be affordably purchased in most home stores, and despite the relative simplicity, it creates a striking visual style that will leave them happy, content, and entertained for years to come.
2. Camo Army Bedroom
Of course, if your boys would rather pretend to be soldiers than play Call of Duty, then why not opt for a military theme for their bedroom?
Obviously, this should be kept light, age appropriate, and playful, focusing on the color scheme, the camouflage, and even incorporating accessories like netting to create a space where they can play pretend to their heart's content.
With this cool design, they will be begging to go to bed early, and your job as their impromptu drill sergeant will become a whole lot easier.
3. Jungle Bedroom
Kids love animals and nature, and with this jungle room, they will be able to rest, sleep, and play in their own little jungle clearing – fully immersed with their stuffed animals, a luscious green paint scheme, and all the inspiration for adventure they could hope for.
The extent you take this to is really down to your imagination, but similar jungle rooms have been known to incorporate fake palm plants for foliage, and even animal sounds to make them feel like they are in the deepest, darkest part of the Amazon rainforest.
What more could a budding adventurer ask for?
4. Dinosaur Bedroom
Similar to animals, kids LOVE dinosaurs – it's a well known fact. So what better than a dinosaur room to satisfy their curiosity and sense of adventure?
Somewhat similar to the jungle room, you could incorporate some foliage into the space, creating a prehistoric paradise for them to play, rest, and sleep.
Or go down the caveman route to give them a rustic, cozy place to relax and play.
5. Cowboy Bedroom
The wild west is a well known mystic space loved by boys and girls alike, so why not give your little ones the chance to play cowboys everyday with their own western themed room?
This is really easy to put together, and the western theme is bang on trend of late, meaning there are countless affordable accessories you can purchase to add a little flair to their space.
Think worn wood and desert colors, and add some Navajo blankets and wagon wheels to create an exciting vista where they can play at being outlaws to their heart's content, without getting themselves into any trouble.
6. Superhero Bedroom
I think it's safe to say that every child wants to be a superhero – regardless of their gender. So why not cash in on that by turning their room into a shrine to their favorite superhero characters from comic books, TV, and film?
This is really easy to achieve, and thanks to the success of the MCU and DCEU, there are countless accessories, design features, and toys that can be purchased and installed to create the perfect superhero lair.
Your boys will be begging to go to bed with this cool design scheme, and you won't have to become the bad guy to make them settle down when they're supposed to.
7. Race Car Bedroom
Kids love speed and excitement – which is why racing cars are such a popular toy for kids of all ages.
So why not turn their room into their own little Indy speedway that will have them racing off to sleep in no time?
Customize their sleeping arrangements with racing car bed frames, or cover their walls with prints and stickers of their favorite cars. 
There are countless accessories that could be incorporated for this style, ranging from vintage wall signs, to gasoline pump storage boxes, and as many checkered flags as you can find.
8. 'Under The Sea' Bedroom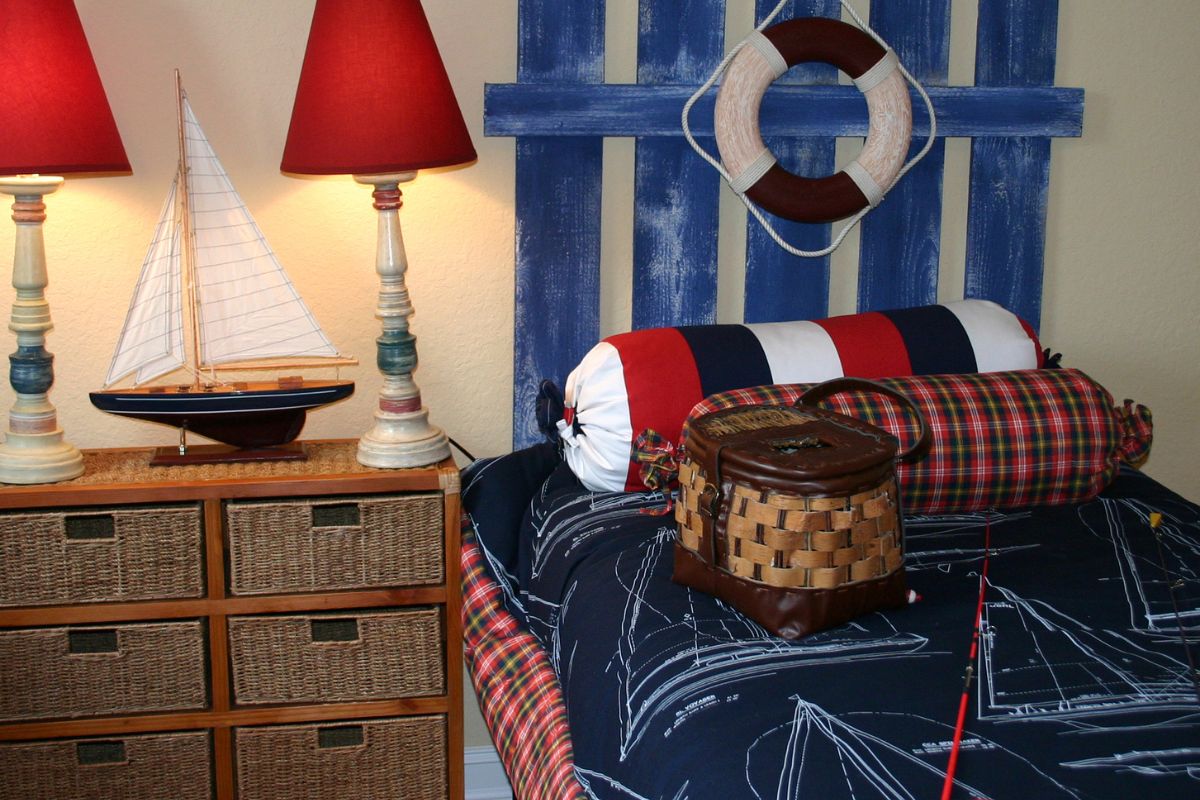 Just like animals and dinosaurs, kids love ocean life, thanks in part to films like Finding Nemo that take this fascination and really run with it.
For the perfect underwater room, you could incorporate ocean colors – rich blues and contrasting colors – to create the aquatic bedroom of their dreams, full of their favorite fish, underwater predators, and creatures.
Or you could use wood and metallic paint to create their own little submarine to take them on countless adventures. The world really is your oyster with this fantastic, wholesome theme.
9. Space Bedroom
Every kid has wanted to be an astronaut at some point in their lives – either that or a Jedi knight scouring the galaxy for scum and villainy.
This is why the space bedroom is a great theme to inject a little adventure into their lives.
Dark blues, blacks, and purples are great for this design, and you can intersperse this with as many vibrant planets and stars as you have room for. 
Or you could create them their very own starship, perfectly suited for traversing the universe in search of action and adventure.
10. 'Nerf Armory' Bedroom
Nerf guns remain widely popular, at least for those children old enough to have them, which is why this nerf theme is the perfect choice for boys with an extensive armory.
Have customizable racks on the walls, or create their own trophies and medallions that boast of their combat prowess.
There are countless ways you can go about this, and your boys could just as easily be monster slayers, zombie hunters, commandos, or alien exterminators. 
The only limits are your own imagination!
11. Monster Truck Bedroom
What kid doesn't like a monster truck? Heck, what dad doesn't like them too?
A monster truck themed room is a great way to capitalize on this fascination, creating the perfect off road space where they can pretend to drive, smash, roll, and play to their heart's content.
12. 'Wizarding World' Bedroom
What kid isn't completely spellbound with magic?
Thanks to cultural phenomena like Harry Potter, the wizarding world is more popular than ever, with boys and girls alike waiting patiently for their very own letter from Hogwarts School of Witchcraft and Wizardry. 
So why not create their own magical realm? There are so many ways you could go with this, be it a mage's lair, or a magical forest, and there are numerous accessories and design styles to help you create the mythical world of their dreams.
13. 'Camelot' Bedroom
In a similar vein, what kid doesn't want to be a knight or adventurer?
With a Camelot themed bedroom, their dreams can become a reality, turning it into King Arthur's court, where magic is around every corner, and a life of questing and adventure are only a dream away. 
What's more, this couldn't be easier to create, and their countless accessories to incorporate, and many different avenues you could go down.
14. Pirate Ship Bedroom
Pirates are another popular choice, thanks to films like Pirates of the Caribbean. And what child doesn't want to be Jack Sparrow?
With a pirate theme you can make their dreams come true, transporting them to tropical islands in search of buried treasure.
15. 'Gnarly' Skater Room
However, if your kids are a little older, or would rather play outside, then why not opt for a skater theme? This is not only cool, but a fashionable way to give them a great place to hang out with friends, kick back, and relax.
For this you could opt for a graffiti design, or laden their walls with stickers and posters to encourage their inner Tony Hawk.
Final Thoughts
And there we have it, 15 ideas to help you create the perfect bedroom for your boys!
So, if the boys' bedrooms (Also check out Men's Bedroom Ideas) need some decoration, why not try some of these themes? Something tells me your kids will thank you for it later!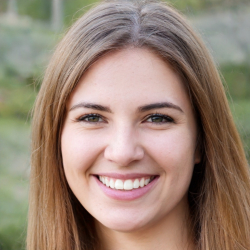 Latest posts by Maisie Park
(see all)