Blue bedrooms have been a super popular color choice for as long as I can remember. Perhaps that's because blue is so many people's favorite color, girls and boys alike.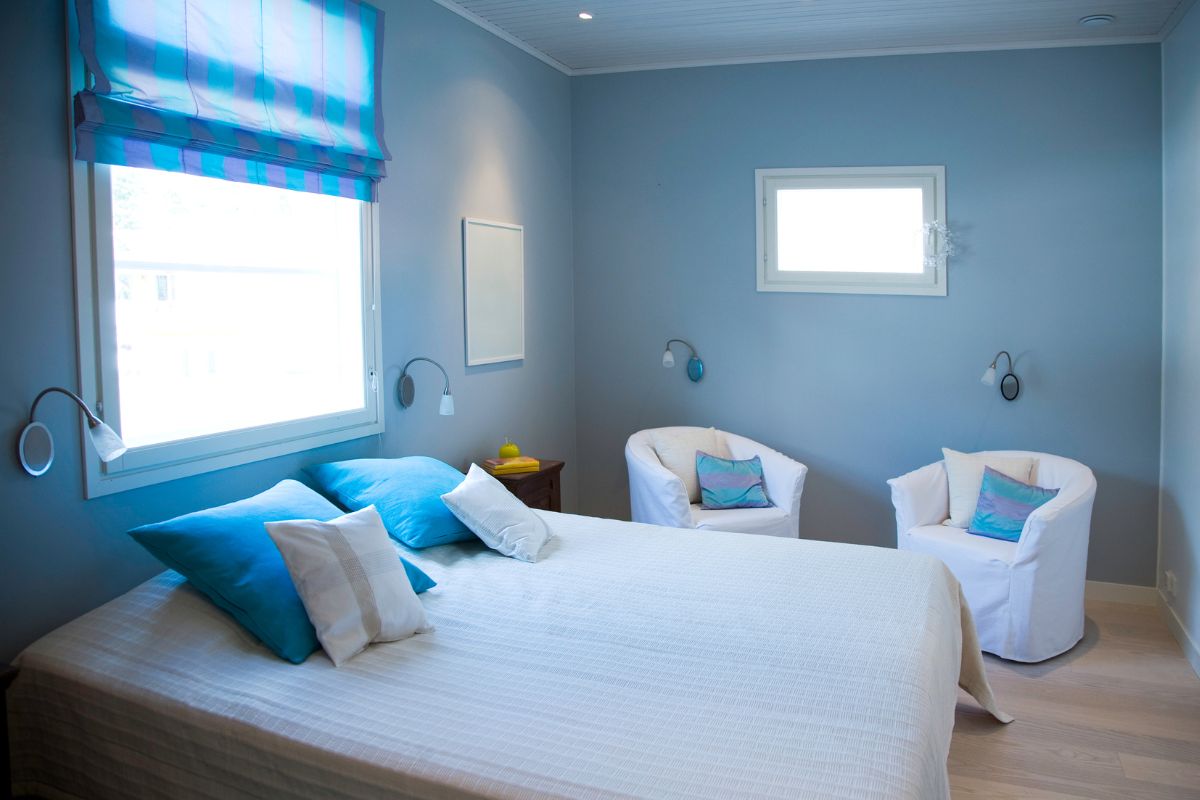 From deep and dark blues to pastel baby blues, there is a shade that everyone can adore. Or maybe it's because blue has often been famous for its tranquility and soothing presence that helps us drift off into slumber much quicker than other colors. 
Whatever the reason, it's loved by all, particularly in the bedroom. And you are no exception, or you wouldn't be here now. So let's jump into some of the best blue bedroom ideas.
My 15 Favorite Blue Bedroom Ideas
This shade of blue is the perfect example of how the color of your walls has a massive effect on the atmosphere of the room. Doesn't this room look inviting? And doesn't it make you sleepy?
The blue-gray coloring of these walls is the most relaxing color that I think you could ever pick for a bedroom. And then it is complimented with a nice neutral white color for the trim and the bedding.
Everything about this room is simple and soothing. The perfect option for those who struggle to fall asleep at night.
Blue can be soothing and sleepy, but it doesn't always have to be as this classic Chinoiserie pattern proves. This room is very french, which isn't surprising given the print is so popular there.
Obviously, this beautiful and bold wallpaper is quite busy, so you'll want to keep the rest of your room quite simplistic and neutral to avoid it becoming harsh on your eyes or clashing.
I would pair this with mainly white accessories and then add a simple splash of blue on the bed through the use of cushions. 
Blue and green should never be seen. I know, I know, I've heard the rhyme. But that dates back to sailors painting their boats these colors and then not getting noticed when they capsize. And we're not painting a boat, we're painting a bedroom. And this look can be stunning.
Both blue and green are very cool hues that are serene, relaxing, calming, and just any other peaceful synonym you can think of. And so they complement each other really well.
As you can see from this bedroom the mid-toned blue pairs amazingly well with the sage green bed. I would then decorate with wooden tones for the furniture to keep in theme with the natural color palette. 
I adore this very grand and gorgeous blue bedroom. Now it probably won't be for everybody – it's a bold choice. This is definitely for those who are bored of playing it safe. This room really plays around with color.
The blue adds a coolness to the room and the white floral print is very striking. But it is definitely the high contrasting orange color bringing some brightness and playfulness to the room that creates all the drama.
A room such as this needs to be busy and chaotic to really work well so ensure that you have plenty of furniture and accessories to play around with.
There was a time when if you told people that you were going to paint your room black, their eyes would bulge out.
However, nowadays black walls are pretty common. After all, with the right colored accessories, it can look totally chic. And it doesn't always have to make the room dark and dingy. 
If you love the idea of a black room but are a little scared to take the plunge, then a really dark blue can be a great compromise. Make sure that you add plenty of white accents to the room though, to ensure there is still some brightness to the room.
Have you ever looked up at the sky and thought I'd love to have a nap in a cloud? I did it countless times whenever I sat excitedly on the window seat of a plane. And so I recreated the look at home and it's so peaceful and serene.
First, opt for a really pretty pale blue for the walls. Add lots of white accents – especially a white headboard. Then choose a bedspread that teeters the line between white and a very, very light blue. Then, of course, you can't forget lots of poofy white pillows.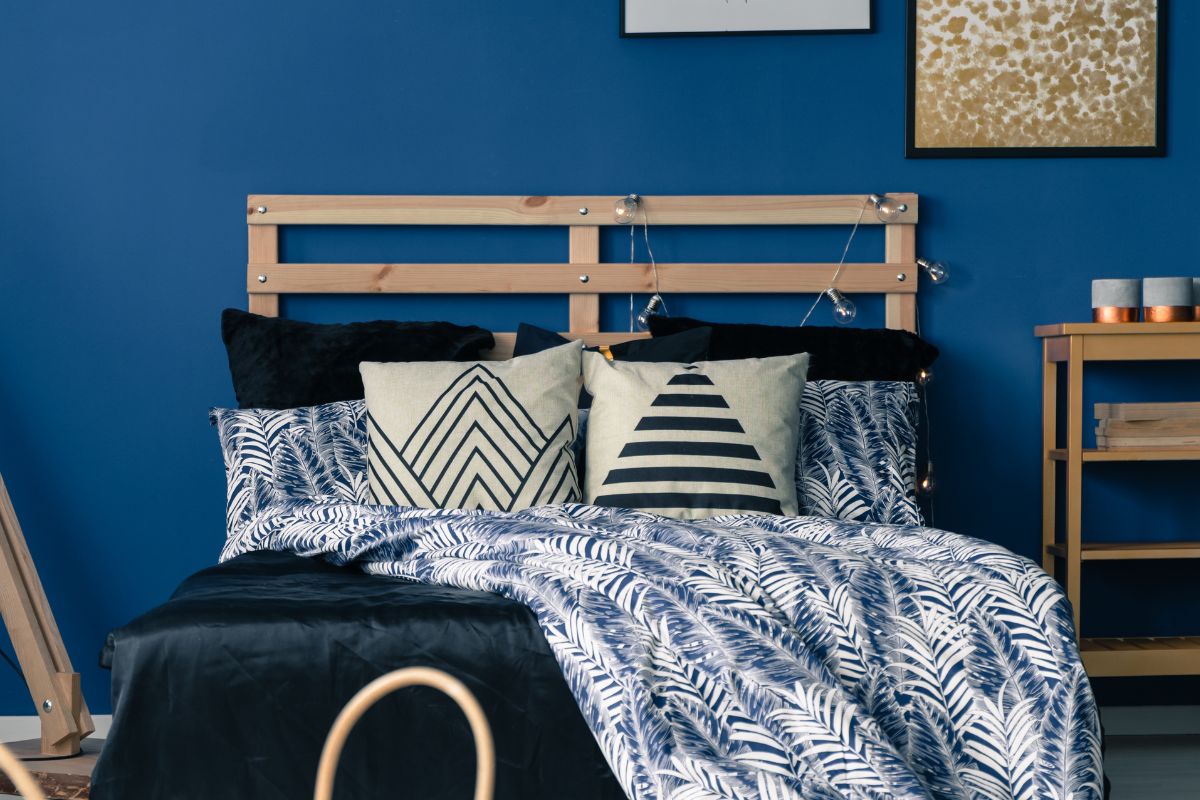 Are you more of a navy blue lover than a pastel blue lover? That's fine too. We'll swap out that light and serene vibe, for a more dramatic and moody vibe. But don't worry, that dark blue will still have you in the land of slumber in no time at all thanks to its resemblance to the night sky.
Don't forget to pair with a slightly lighter blue bedspread and some lighter neutrals for balance. And maybe even add in some artwork of stars or some fairy lights to give it that real starry-night sparkle.
While purple is probably seen as the most regal color, from looking at this bedroom it's hard to ignore the regency capabilities of blue. Blue can be used to create a really glamorous and luxurious feel when used correctly.
The large deep blue velvet headboard next to the stunning chandelier-like wallpaper is just beautiful. I love that there are a fair few different shades of blue in this room but they all tie in together like the matching lamps and decorative pillows. It's all in the little details.
Such a common color combination, and yet it never fails to impress me. The juxtaposition of the two colors creates such an open and bright space. This would be perfect for those with smaller bedrooms who want to make them appear much larger.
The deep blue head and footboard really grab your attention and the white around the room only help this bold color to shine through. I love the deep blue blinds contrasting with the white drapes.
The more you look at the room the more blue details you find, it's a real treat for the eyes. 
If you're looking for something that is a safe bet but isn't neutral – this should be your go-to color. It tends to look great in most rooms, it's cool without being cold and tends to match with most colors. I tend to find white, cream, and beige colors pair really well with this color.
Is blue your favorite color because it reminds you of the ocean? Then why not make your bedroom feel like a vacation every time you set foot inside it? That's sure to up those feelings of relaxation.
To achieve this look you'll want to select a few different hues of blues such as navy, sea glass green, and turquoise. Emphasize these gorgeous colors with white accents and then even pop your favorite beach artwork on the walls.
Want to add a little drama to your bedroom with blue? Then why not opt for a striking blue print accent wall? You can paper all four walls or go for one accent wall. I love the wallpaper that is used in this bedroom.
The deep blue color contrasting with those white pretty trees just gives the room a really sophisticated feel. 
I'd pair this with matching decorative pillows and dark furniture. Then I'd add light bedding to brighten up the room.
You'd be surprised how well a navy blue pairs with a bit of leopard print. Blue and white is a lovely pairing, but if you want to spice things up, you should definitely throw some leopard print into the mix.
It doesn't have to be a lot either, keep to the blue and white scheme of things and then add that pop of print with an interesting furniture item like shown in this bedroom. 
If you want to add some blue to your bedroom in a more subtle manner, then why not swap the black elements of a bedroom for a deep navy color. This looks stunning beside some white walls and bedding. Opt for a navy blue bedframe and furniture.
Then I think choosing navy frames instead of black for pictures and artwork just brings the room together really cohesively. 
There are tons of pastel colors out there that are absolutely stunning. And there are actually tons of blue pastel shades too. Adding these colors to your room can give it a really cottage-style feel.
I'd opt for a blue-green pastel shade for the walls and a lighter baby blue pastel color for the bedding. This is so delicate and pretty and looks perfect when paired with the perfect bouquet of flowers.
Final Thoughts
As you can see there are plenty of ways to style a blue bedroom. Hopefully this article has given you the inspiration you needed and you can now get started on the very exciting challenge of transforming your bedroom.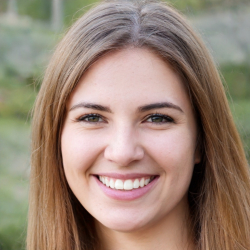 Latest posts by Maisie Park
(see all)