Although black bedroom decor may not always be to everyone's taste, maybe we can persuade the skeptics.
Black painted walls can serve as the backdrop for a lot more lively set of colored furnishings, so black bedrooms don't have to be a dark and dismal event or feel confining.
An all-black interior design set can actually provide a sleeping area a sleek appearance. This style can then be enhanced with opulent wallpaper and cool modern lighting fixtures.
A modern minimalistic aesthetic is created by alternating black and white walls or furniture, which looks great when warmed up with dark wood.
Below, we have listed 15 different ways that you can style your room by using a black-colored theme, creating the ultimate stylish statement without completely darkening the room.
Black Bedroom Do's And Don't's
If black is your favorite color, and you're looking forward to decoration your bedroom in this color, then there are plenty of tasteful ways that you can do so.
However, below, we have listed things that you should do, and things that you shouldn't do, if you want to create the best appearance for your bedroom.
DO use an accent color to break up the darkness of the black coloring, or your room will appear too dark and gloomy. This may affect your mental health overtime.
DON'T go overboard with black coloring. Black is an absorbent color, so if everything inside your room is colored black, it will get lost next to the black-colored walls, and you won't be able to see anything!
DO use lots of lighting to make up for the lack of light and color. If you have windows, make sure they are always letting some light inside, and use lamps and fairy lights to create interior lighting.
DON'T cover the windows completely… as we mentioned before, you will want natural lighting to come into the room, or else your bedroom will continuously be pitch black.
15 Ideas For A Black-Themed Bedroom
1. A Black Backdrop
Black creates the ideal backdrop for your bedroom, giving it a nearly empty feel. Black walls allow you to go crazy with colorful decorations to create a variety of patterns and moods for your space.
Additionally, black is an excellent foundation for bold furniture pieces, whether you are picking furniture that is also black, or in different colors.
2. Using Mirrors
Mirrors are a terrific method to emit sunlight into spaces with dark colors. Your room will appear much bigger and more open than it actually is, thanks to the reflections.
A glass strip running from floor to ceiling, or wall to wall, will go a long way toward diffusing more natural light across your bedroom.
3. Pairing Black And White
Black and white are at the top of the list of colors that go together beautifully. The interplay of light and dark provides the ideal clash of tones that brilliantly complement each other to produce lovely yet straightforward design.
A little bit of white will go a long way in a black bedroom. You may provide a lot more light by adding a white sofa or perhaps some white wall decorations.
4. Let There be Light!
You might want to take the number of windows in the room into account before making your bedroom completely dark and black. Your room will appear darker than it should if there aren't many.
The room will receive more light the more windows there are. Additionally, use meshy, light or pale drapes rather than dark, thick curtains so that natural light can enter the room.
5. Using Textures
Let's go back to the notion of using black walls or a backdrop. Think about making a textured feature wall if you find that a flat black wall is too overpowering.
A flat wall might be rather dull and lifeless; however, a texture will produce shadows and illumination. The wall will look really intriguing and exciting if you add some lighter colors to it through artwork.
6. Adding A Little Greenery
Green is an additional gorgeous hue to use with black. Think about it; plants make great decor, and almost all plants will have some sort of green coloring on them. Consider incorporating these deep greens into your overall theme.
Living plants will add color and life where there is darkness, softening a dark bedroom design. Use some green-colored furniture and artwork to complete the look.
7. Get In Touch With Your Artistic Side
There are techniques for using all-black furnishings and paint without giving the impression that the space is overly dim. You can dispel the gloominess of the color black by employing wall decorations to break up the dismal.
The size of these embellishments isn't really necessary. To provide some brightness and to break up the blackness, use a few tiny pieces.
8. Use One Colorful Piece
Art is a terrific source of influence for new bedroom designs. Let the colors of an especially eye-catching piece of art serve as inspiration for the room's design if you plan to show it there.
A tiny color addition can make a big difference in a dark color scheme without the need to paint an entire wall to match. Allow the art to lead the way!
9. Camouflage To Create 'More' Space
The color black can be really helpful if you want to make your bedroom appear much bigger. Try adding some black or dark-colored furniture to the space if the walls are all a dark hue.
The furniture will nearly blend in with the background because the walls and decor are the same color, giving the impression that the bedroom is bigger and more spacious.
10. Black And Gold Decor
A bedroom decorated in black and gold offers the greatest depth of decadence. Overall, they are two hues that just go together so nicely, and it gives the impression of grandeur and luxury.
With a black boiserie and a gold headboard on your bed, take your decor to the next level. It will also look amazing if you had a golden frame around a mirror or some artwork.
11. Dark Walls, Light Flooring
Lighter-colored carpeting is a terrific way to add brightness to a space with dark walls. When the floor is illuminated, a room with dark walls will appear considerably larger.
Consider a beech wood floor, or a carpet that is white or cream in color. To make the floor appear lighter, you may even use a sizable rug.
12. Wallpaper On One Wall
If you want to add a burst of color to your home, having three of the four walls the same color and one wall wallpapered can be a terrific fashion statement.
Use large-scale wallpaper prints with delicate detailing to give the walls a lighter feel without going crazy. This is a simple method for maintaining the dark tone while keeping things just slightly apparent.
13. Creating A Feature Wall
Speaking of having a wallpapered wall, why not go all in and create a feature wall?
You should take advantage of this opportunity to express yourself through this blank canvas if you have any special interests, such as fashion or music.
If you consider yourself a musician, create a stylish bedroom with a black accent wall, a bed made from repurposed pallets, and artwork with musical themes.
14. Hanging Long, Light Drapes On Windows
As we briefly discussed earlier, rather than covering your windows with heavy, black curtains that would block all natural sunshine, you might think about adopting lighter-colored drapes.
Suspend drapes that extend all the way over the window to give the appearance that narrow windows are wider. To give even more height, hang window drapes all the way up to the ceiling.
15. Hang Up Lights
Lastly, no matter whether you have hundreds of windows surrounding your bedroom, you will want to have plenty of interior lighting, too.
However, you will want to be careful with how bright your lighting is, as it may hurt the eyes if the room is too dark to begin with.
Use soft lighting, such as small lamps around the room, with soft lampshades. Additionally, fairy lights may create a lovely, aesthetically pleasing appearance without taking away too much of the darkness of your bedroom's theme.
Final Thoughts
The key things to remember when decorating a black-themed bedroom is to allow lighting to enter the room, and to already have lighting inside the room.
If you sit in a room that is too dark for a long length of time, it can actually have a detrimental effect on your mental health. It is very important to have light around you.
Natural lighting is best, but you can always add some more through lamps and decor lighting.
Take a look through some inspirations, and work out how you can make your bedroom work for you. We hope you found this article helpful.
Good luck.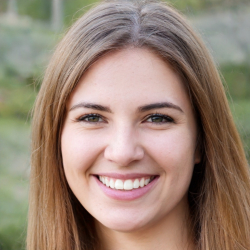 Latest posts by Maisie Park
(see all)