If you are tired of the traditional brown and beige colors in your bedroom, then black and white can be a great alternative to create a cozy sleeping atmosphere.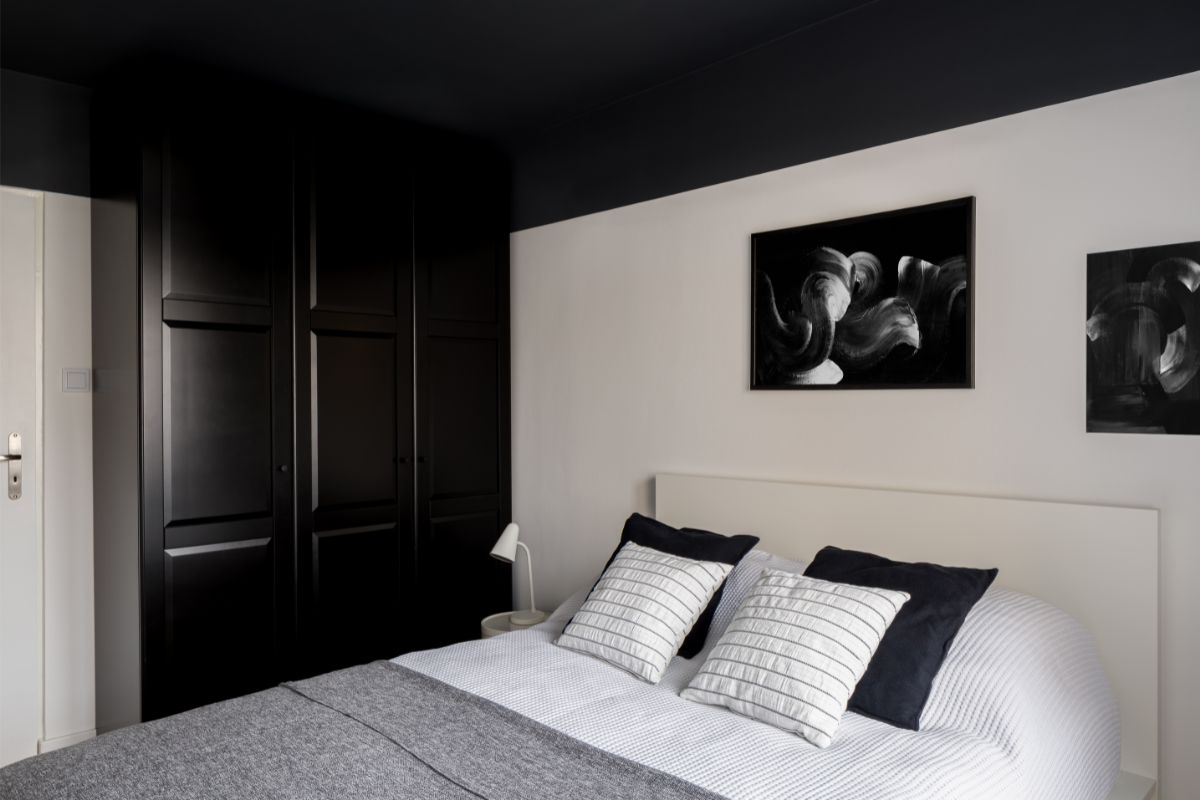 What makes black and white so special is that it's a truly classic combination which fits with any color and texture in the room.
But if you have never gone for a black and white theme in a room, then it may seem a bit daunting to change over your decor all in one go.
We put together some decorative black and white ideas for your bedroom (Also check out Anime Bedroom Ideas You Will Fall In Love With) that you can gradually integrate into your room.
Black and white has a very restricted color palette which can create a minimalist style in your bedroom.
This allows you to use space with more thought meaning you can add eye-catching accents, such as large artwork, an impressive chandelier or your favorite wallpaper.
Lighting is a great way to create accents in your bedroom, and it's not always instantly visible.
This might be a step too far, even for the black and white enthusiasts but you might find yourself surprised how effective a shiny, black floor is in a bedroom with a dark color scheme.
It's important to bear in mind that you don't want to go too dark in your bedroom.
Make sure that you include some bright accent pieces or furniture in the room to add some light.
Mirrors also reflect a lot of light, so you can use them to create a more airy feeling in your bedroom.
If you don't feel comfortable with too much black flooring, then it can be as easy as covering some of it with white rugs or some accent furniture.
This might be an obvious one but if you don't want too many dark features in your bedroom, then it's best to keep your bedroom walls white.
This allows you to create more contrast with darker furniture or accent pieces, such as black and white artwork.
You can also opt for black stencils on white walls or create a wavy wall that makes for a stunning bedroom feature wall.
When your room's main color is black, then working with lamp and mirrors is a great way to brighten up your bedroom space.
From bright chandeliers to muted feature lights, you can use almost any type of light fittings that fit the size of your bedroom.
As a rule of thumb, the bigger your room, the bigger your main light can be. But you don't have to stick to a large center light.
You can also go with just a few accent lights around the room to highlight corners and create a comfortable ambient light.
Many people shy away from dark walls because they are afraid that it might look too dark.
Saying this, you can get away with a darker atmosphere in a bedroom because it's your sleeping space.
Just add a black feature wall to your bedroom and use white decorations to make them stand out.
You can also put large artwork on the walls to emphasize the contrast between black and white.
If you prefer to keep your master bedroom (Also check out Small Master Bedroom Ideas) a little brighter with mostly white walls, then you can easily create a main white theme with black accents dotted around the room.
It's best to use some simple lines and textures for your decorations to ensure that the focal point is on the black and white contrast.
From black photo frames to black cushions, there are a range of great black colored ornaments and decorations to choose from.
Even blankets and curtains (Also check out The Perfect Mid-Century Modern Curtains) are ideal for creating a softer look which works well with your accent lighting.
The headboard is often overlooked because it is simply part of the bed.
However, a headboard can take up a lot of space in a bedroom, so it's a great idea to make your headboard a feature in your bedroom.
When you want to create a feature headboard, it's essential that you make use of the contrast, so when you have a black headboard, then place it against a white wall.
You can then decorate your bed with black accent pillows and white sheets.
This will draw more attention to the bed and the impressive headboard.
While black and white bedrooms often come to mind when we think of the typical bachelor patch, they can also be a beautifully feminine space.
With some feminine decor, such as an ornate headboard, some classy pictures or classic mirrors, you can create a space that is suitable for every woman.
If you want to create a bigger feature in your bedroom, then the headboard of your bed may not be enough.
You can also make your bed as the biggest piece of furniture in the room stand out from all the other pieces.
If you have a relatively small room, then it's a good idea to keep the bed as a feature in your bedroom.
You can highlight textures and the white or black color with cushions and blankets.
Black and white may seem like an incredibly limiting color palette. However, it allows you to look for alternative decorative pieces.
One way of adding more interest to your bedroom design is by integrating different patterns and prints.
You can include bedding with a graphic pattern or simply add a few pictures with thick frames on the wall.
Dark gray is a great shade to add a little bit of softness and variety to your black and white bedroom decor.
You can use dark gray cushions or rugs to lift the black and white theme.
Any of your gray elements also won't stand out too much, so you can just integrate these pieces without having to worry about too many designs.
Plants are often confined to the kitchen, the balcony or the lounge but we don't often consider adding a little bit of greenery to our bedrooms.
Plants don't just clean the air we breathe in our home but they also make for a nice dash of color.
When adding plants to your bedroom, then make sure that the plants are suitable for the space.
Most plants like a spot near the window where they get plenty of sunlight.
This will not only keep your plant happy but it will also make your bedroom feel fresh.
Whether you have a bed with a metal frame or you want to make use of some chrome mirrors, black and white lends itself to creating more of an industrial style.
You can add brass, gold or silver accents to your bedroom, from little brass decorations to classy gold buttons on your headboard.
Also planters and table lamps with a metal effect also work well in the minimalist style of a black and white room.
Saying this, it's important to bear in mind that you don't add too many metal accessories or too many different metal colors.
It's best to stick to one color and run this theme throughout your bedroom.
While black and white is often associated with clean and minimalist lines, you might find yourself surprised that a classic black and white floral accent wall can transform your bedroom into a cozy resting space.
This is a great alternative for everyone who doesn't want to go with too bold wallpaper or a solid black or white wall.
Floral wallpaper is also ideal when you want to create more of a farmhouse style as it works very well with some more rustic elements, including wood.
You can get a range of different black and white wallpaper but make sure that you only add wallpaper to one side of your bedroom, so it doesn't feel overwhelmingly busy.
If you are not a fan of wall paper or full black walls, then a graphic wood trim can create a wonderful accent around your bedroom.
You can add the wood trim as a feature behind your bed or just run it around the room.
The clean lines of the wood will draw the eye and create a wonderful contrast to your wall color.
As a special feature, you can also let the trim run around the headboard of your bed.
This will integrate your bed as a feature and focal point in the room.
Final Thoughts
When we think of black and white bedrooms, then we imagine clean lines and a sterile environment which does not feel comfortable for a good night's rest.
However, there are so many great black and white bedroom ideas that create a wonderfully cozy atmosphere.
From black and white flower wallpaper to textured cushions, it is not too difficult to add a bit of black and white to your master bedroom.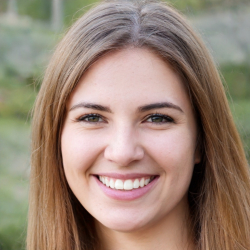 Latest posts by Maisie Park
(see all)