Lots of people completely swear off beige as a color scheme because they find it to be quite dull and boring. This is a fair comment for the most part, but these words are usually associated with beige when the color isn't being used right.
When you know how to use beige properly, it opens up a whole world of design possibilities. If you're in the process of redesigning your bathroom and you're on the fence about using beige, then you've come to the right place.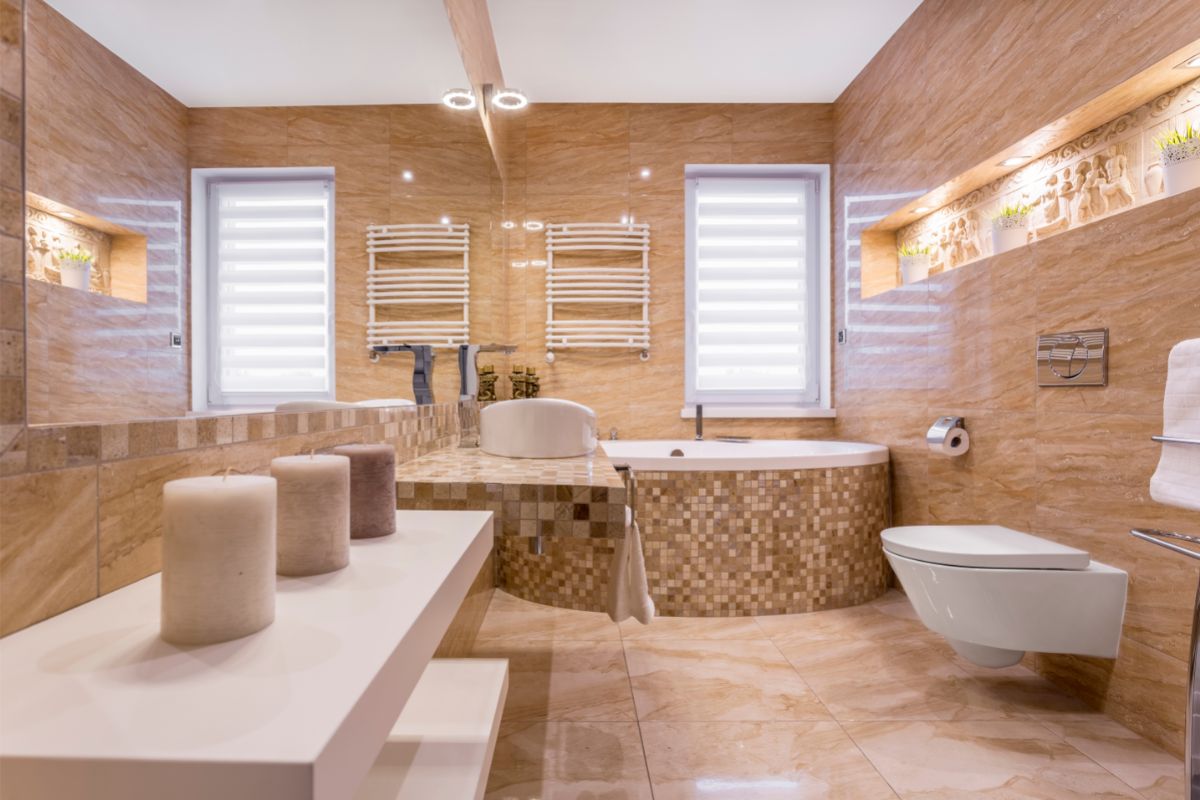 We've put together a list of 15 beige bathroom ideas that will transform your space and make you glad you chose this color scheme. So let's take a look at them.
1. Combine Beige With Gray
In a lot of cases, beige works fantastically with many tones of gray. Lighter tones of gray are going to work better when you're combining them with beige and overall, they will just make your whole bathroom look and feel more relaxing.
If beige is your main color, then use gray as its accent color. You can use it on a single wall, on different surfaces, or even on the bathtub itself!
2. Try Some Beige Colored Wallpaper
Wallpaper is such a good idea because you can find so many different colors, patterns, and even textures. Beige-colored wallpaper is absolutely no exception.
You can find lots of quirky wallpaper designs in beige colors that really make the color more exciting. This is a great way for you to incorporate beige into your bathroom without it feeling boring.
3. Make Your Bathroom Relaxing With Natural Textures
You'd be surprised at how much of an impact the textures you choose to use have on the atmosphere of a room. If you want your bathroom to feel a bit more relaxing, you should opt for natural textures.
Natural textures are very soft and calming and will overall make the space feel safe and chilled. You'll be spending more and more time in your beige bathroom if you get the textures right.
4. Get A Luxurious Look With Marble
If you really want your bathroom to look a bit more high-end but for a fraction of the price, then you should definitely consider installing some beige marble tiles onto the wall.
Beige marble will help you open up the space regardless of how big or small your bathroom actually is. If your bathroom is on the smaller side, light shades of marble can actually trick your eyes into thinking your bathroom is a lot bigger!
5. Go For A More Rustic Approach With Dark Beige
There's a huge misconception that beige always means light, but there does exist a shade of beige that is dark.
Dark beige is great if you're into darker tones, but you don't want to commit to gray or black. Because it has a woody vibe, the inclusion of dark beige in your design can make the whole bathroom feel rustic and more natural.
6. Try The Vintage Approach of Beige Tiling
Most people want their bathrooms to look more modern in this day and age, but sometimes vintage is the better approach.
Beige tiling is the perfect way for you to add a vintage vibe to your bathroom without having to go overboard. They are classic and uniform and you can rarely go wrong when you choose to use this design.
7. Brass & Beige
If you're looking for another thing that works incredibly well with beige, then look no further than brass!
The boldness of the brass pairs absolutely fantastically with the subtleness of the beige and really adds a generous pop of color to your bathroom. The inclusion of brass is almost elegant and gives your bathroom a high-end vibe that looks great.
8. Use Beige For Your Bathroom Storage
If you don't really want to use too much beige, but you're happy to include it somewhere in your bathroom, then a great way to get around this is by using it as your storage color.
There are plenty of different ways you can incorporate storage into your bathroom, so you'll have plenty of options on where you can use beige as an accent color.
Because most wooden furniture is beige, you can take advantage of this and use it in your own bathroom storage ideas.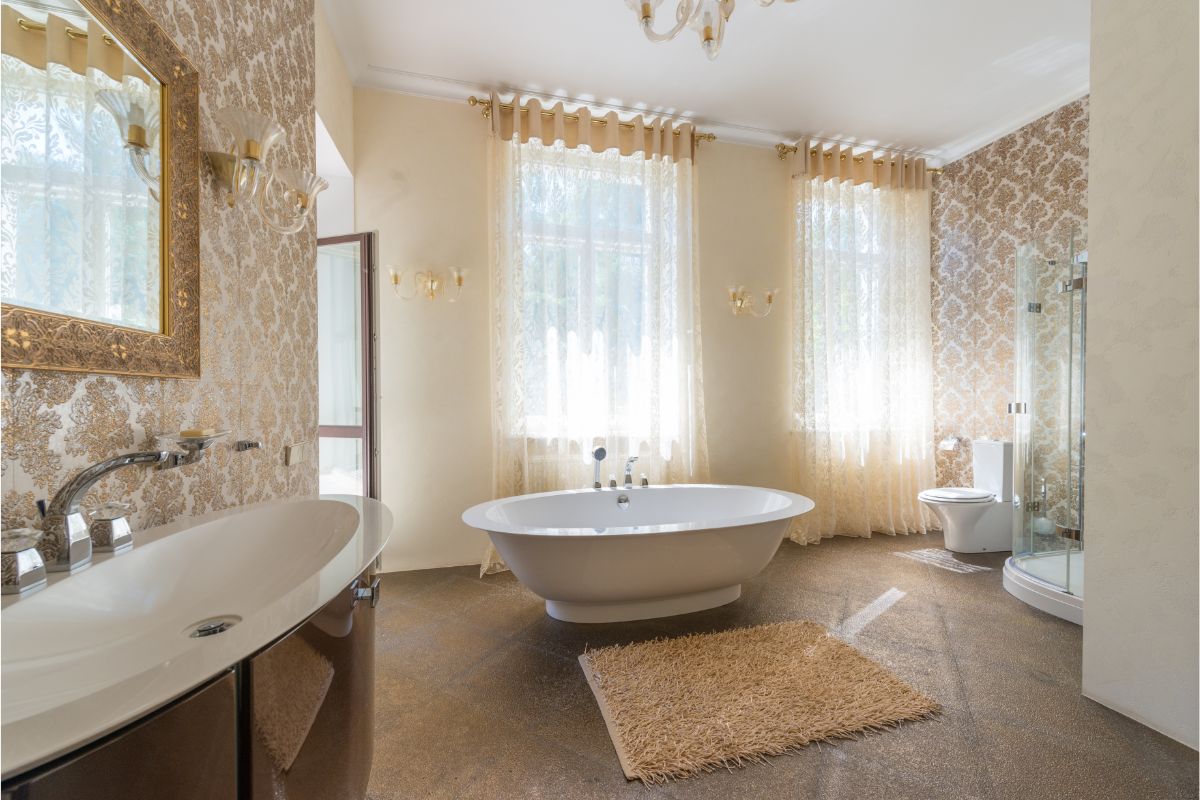 9. Add A Soft Vibe With Beige Blinds
Bathrooms are usually seriously lacking in light, so the last thing you want to do is make them even darker. This is where beige-colored blinds can really make a difference in your space.
Not only do they make your whole room look bigger and brighter, but they also keep the whole space private, so you don't have to worry about anyone seeing into your bathroom while you're in there.
10. Incorporate Terrazzo Into Your Walls & Floors
Described as a "busy" texture, Terrazzo tiles work wonderfully well in bathrooms on both the floors and the walls. This is a great pattern to incorporate into your beige color theme because it gives the whole bathroom a new lease of life.
If you do opt to use this pattern, because it's so loud and involved, it's best to pair it with a solid color rather than plastering it all over the room. Terrazzo is especially good for your floor, but it also works exceptionally well as an accent wall.
There are plenty of beige Terrazzo designs out there, so you're sure to find one that fits in with the theme of your bathroom.
11. Combine Beige With Pistachio Green
If you want to go for a style that is a bit more unique and is sure to leave a lasting impression, then go all out and mix beige with pistachio green tones.
It might seem like these two colors don't really go together, but you will be pleasantly surprised to know they go exceptionally well!
A great way to make this color pairing even better is to add some plants to your bathroom. They will perfectly compliment the pistachio green and the beige walls and/or floors and overall your bathroom will have a really impressive vibe!
12. Paint Your Bathtub Beige
Beige comes in lots of different shades, so add another by painting your whole bathtub a darker shade!
When you paint your bathtub a darker shade of beige, you not only enhance it but also transform it into a beautiful focal point that will catch the eye of anyone who steps into your bathroom.
This is a great idea for anyone who wants to draw attention away from any undesirable areas or features if you're still working on other parts of the room. If your bathroom is all spruced up though, it just adds a bold centerpiece while also staying practical and useful!
13. Get Inspired By Coffee
If you absolutely love coffee and you want to add some beige to your bathroom, then take inspiration from your favorite hot beverage and use the coffee color scheme!
Mocha-colored tones still fall within the beige category, so you can go to town with this idea. Whether you want to add in some coffee-colored inspired rugs, storage, or wallpaper, this is a great way to bring a bit of your personality into the mix of your bathroom design.
14. Ambient Lighting
Once you've decided you want to use beige in your bathroom, the next step is to find the appropriate lighting.
From skylights to LED lights, there are plenty of options that pair beautifully with all different shades of beige and you will find that they really enhance your space.
The right lighting can take the stereotypical boring beige color and suddenly, the whole room will feel elegant, mystical, and incredibly relaxing! 
Just remember that the lighter or darker the shade of beige is, the different effects the lighting you choose will have on the whole room. Before you settle on any beige design plans, do a test patch with the lighting to see what really sets the mood!
15. Focus On The Windows
Windows tend to get overlooked quite a bit in bathrooms, but they definitely shouldn't be! There are lots of things you can do to transform a bathroom from just the window area alone.
In this case, combine the use of beige with how you choose to decorate your windows. For added privacy, install some beige blinds with a quirky pattern on them. They could be stripes, zigzags, floral… whatever you want!
Conclusion
Don't fall into the trap of believing that beige is boring! All you need to make beige a bit more interesting is a bit of creativity, imagination, and of course… vision!
Each of these 15 ideas is a great starting point to get you into the flow of thinking beige! If you take the basics of these ideas and make them your own, you'll have a beautiful and unique bathroom space in absolutely no time at all.
Try some of these ideas out today and see how much your bathroom transforms!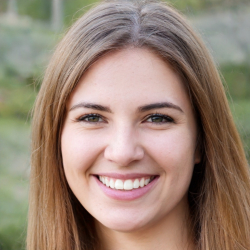 Latest posts by Maisie Park
(see all)