If we asked you to imagine a bedroom, what would spring to mind? It's probably a cozy, ambient room filled with comfy bedding, soft furnishings, and ambient lighting. Now, if you take away the ambient lighting, just how relaxed and atmospheric is your bedroom?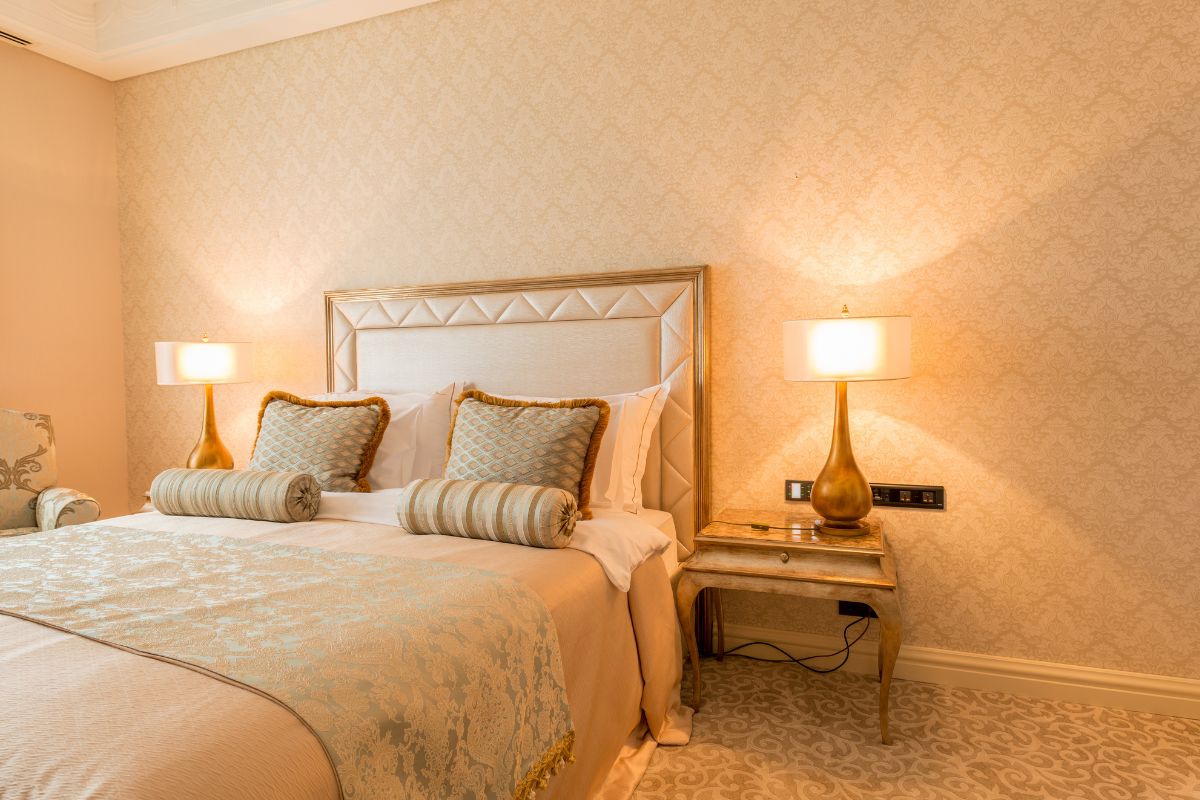 Your lighting solutions have the power to dictate and transform your atmosphere. If you're in need of a more relaxed space, take a look through these 15 bedroom lighting ideas, and create the ambient, atmospheric room of your dreams.
1. Keep It Simple With Bedside Lamps 
Although bedroom lighting goes WAY beyond the traditional bedside lamp, sometimes, this staple decorating feature is all you need to make your room pop.
Your bedside lamp can be the statement lighting you need to build your scheme around, so choose your style and proportions sensibly.
We recommend warm lighting and a large lamp to make your room look more balanced – especially if it's a larger space. 
2. Trendy Hanging Wall Lamps 
If you're ready to branch out, why not add a few hanging wall lamps to the mix? Hanging wall lamps and sleek, trendy, and often industrial – they have a true vintage feel that isn't overbearing and can still offer an element of comfort.
Hanging lights often look best when suspended over the bedside, so if you don't want bedside lamps, opt for these instead. Opt for a large bulb and a metal or wireframe for that true industrial feel. 
3. Pendant Lighting 
If you want to transform your humble bedroom into a hotel-style boudoir, go for pendant lighting. Pendant lights are arguably one of the most stylish forms of bedroom lighting out there, and there's plenty of variety to choose from.
Whether you want a large dominating shade or a smaller and more elegant touch, it's impossible not to find the right pendant light for your scheme.
These functional lights will easily become the statement feature in your room, especially if you play with scale and choose an oversized fitting. 
4. Bold Floor Lamps For A Modern Feel 
Floor lamps are bang on trend right now, and when used in conjunction with other task lighting, a tall, bold floor lamp can give your room some extra height and become a striking statement feature in your bedroom.
Tall floor lamps work best in corners, and if you've always wanted a reading nook, place one behind an accent chair for a modern, zoned-out corner you can kick back and relax in. 
5. Use Bedhead Lighting 
If the thought of walking to the other end of the room to turn your lights off exhausts you, opt for some modern and practical bedhead lighting. Bedhead lighting is often incorporated directly into the frame of your bed, making it contemporary and practical.
Your bedhead lighting can either sit on top of your bed frame or on the main panel facing outwards. It's up to you, but either way, you'll have a practical lighting solution you can't go wrong with. 
6. Choose A Unique Design 
Although neutral lighting is preferred for most rooms, don't be afraid to go against the grain and choose something a little more unique. If you've already got a bold, patterned bedroom, choose a lamp with a stylish patterned shade to compliment it.
These statement shades add a bit more personality to your room, and as our bedrooms should reflect as much of our true style as possible, it's a surefire way to put your own mark on things.
So, feel free to experiment with different designs, textures, and colors until you find the right fit. 
7. Edgy Neon Signs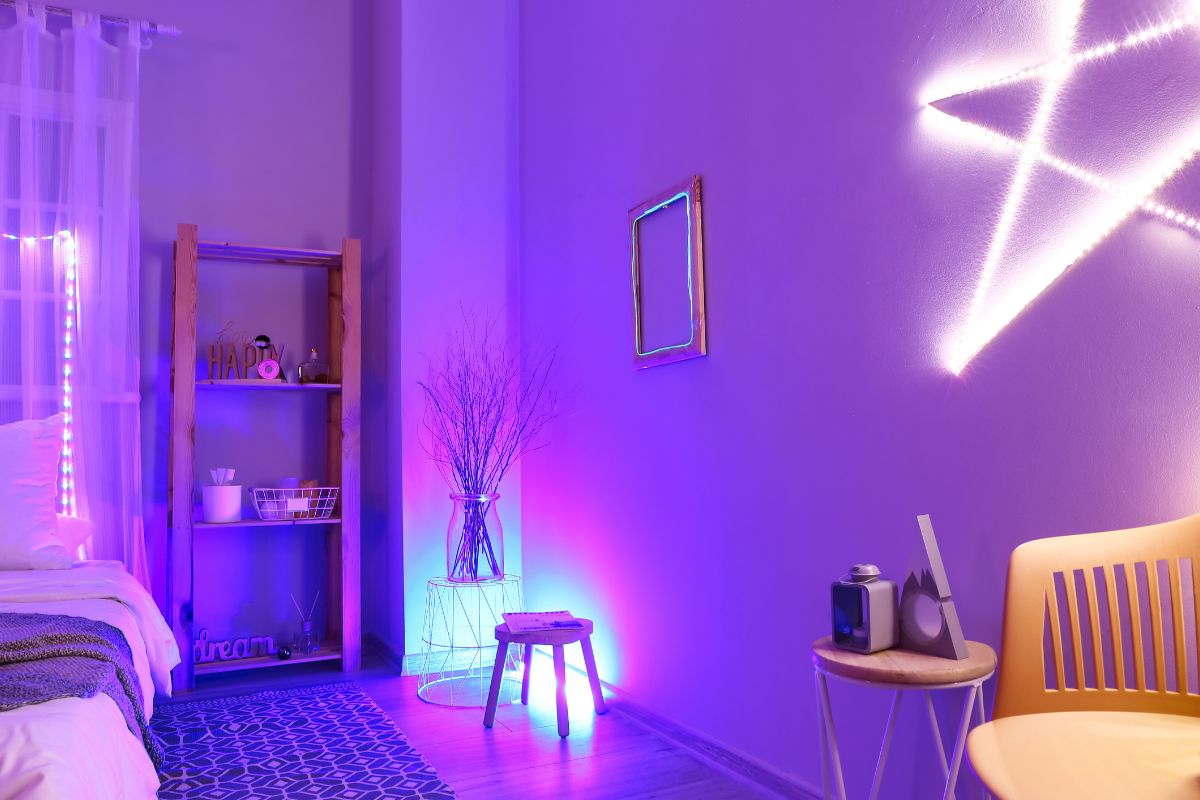 If you love all things edgy and unconventional, why not inject a bit of broadway into your bedroom with an edgy neon sign?
Neon signs are reminiscent of big cities and nightlife – while this may seem like it's defeating the point of creating a harmonious sanctuary, there are plenty of neon signs that aren't as overbearing but can still inject some glitz and glamour.
Neon signs also combine practical lighting with works of art; there's no limit to what you can do with them.  
8. Upcycle 
If you're ready for a more practical, hands-on solution, why not try upcycling an existing lamp? If you've got a plain, neutral lamp sitting on your bedside, get your DIY cap on and make it more exciting.
Upcycling is fun and rewarding, and you'll have complete creative control over your lamp – with the right skills and materials, there's not much that can't be done!
Upcycling is a fantastic way to bring a new lease of life to your old lighting solutions, whether it's a new paint job, a funky motif, or something else. 
9. Lights Outside The Bedroom 
While we're on the topic of thinking outside the box… why not think outside your bedroom? Placing lighting directly outside your room can still breathe life into your bedroom when it's ample and adequately lit.
Statement lighting that's sophistically decorated can make entering your room feel like walking into a luxury getaway, and if it's bright enough, it will illuminate your room just enough to not need any bolder lighting inside. 
10. Complement Your Walls 
If you want a more harmonious feel, keep on trend and make your lighting complement your walls. Matching your lighting with your walls will create a feeling of continuity and order while keeping on theme.
This doesn't mean your lamps have to match and be the exact color, but simply choosing designs and colors that blend in seamlessly is a must.
For example, if you have an olive green wall, try balancing it out with a textured white or beige lamp or even a luxurious sapphire for a more vintage feel.  
11. Nature-Inspired Lamps 
Our bedrooms are our sanctuaries. You'll want to feel calm, relaxed, and at peace, and what could be more calming than having a burst of nature in your bedroom? To bring the great outdoors indoors, opt for a nature-inspired lamp.
If you want to create a theme that's reminiscent of a forest in fall, choose a structure with a brass leaf aesthetic, and pair it with other natural (and environmentally conscious) furniture, such as wicker and rattan designs. 
12. Bedside Lantern 
Bedside lamps don't have to be boring. If you want a more exciting way to incorporate a bedside lamp, choose a bedside lantern. Bedside lanterns are a quick and stylish way to inject some warmer lighting into your room with some unforgettable vintage charm.
If you want to feel like you're being transported to a country manor every time you hop into bed, this rustic bedroom idea will have you there in no time. 
13. Task Lighting 
If it's more of an industrial feel that you're after, fill your room with plenty of task lighting. Task lighting is practical and contemporary, and you'll never feel like you're sacrificing a sense of style.
Task lighting is also a practical solution if you want some different lighting options to read in bed with.
Task lighting can be soft or harsh, and it can be floor standing, hanging, pendant, or other. Combine with industrial-style furniture for a practical, modern bedroom. 
What Is Task Lighting? 
Task lighting is a phrase you'll hear plenty of interior designers and stores throwing around, so let's clear up any confusion. Task lighting is usually used to illuminate an area where you're performing a specific activity, such as an office table or a bedside.
Task lamps are often made of metal or brass, and lamps with drooped, cone-like shades are the most popular – think industrial! 
14. Fairy Lights For Ambience 
Now for our personal favorite – fairy lights. In our opinion, nothing comes close to matching the warmth that fairy lights (and a good candle) provide!
So, if you really want to unwind after a stressful day, add some fairy lights. These can be draped along the top of your bed, along your ceiling, or elsewhere.
Plus, you can choose from warm LEDs to brighter LEDs, depending on the atmosphere you want to create. These lights are minimalist and creative, and if you choose a battery-powered model, they're energy-efficient, too! 
15. Spotlights In Dark Corners 
If your bedroom has a dark and moody feel, brighten your corners with spotlights. Spotlights or downlights are great for darker corners, especially storage units and even walk-in storage.
Combine your spotlights with plenty of task or pendant lighting to compliment your scheme, and you'll instantly create a brighter and more inviting space. 
Final Thoughts
You deserve to have a bedroom you can settle down and unwind in. When we're creating a cozy space, we should never just stop at bedding and cushions.
The lighting you choose has the power to completely redefine your room, and you can completely transform the atmosphere of your space with a new addition.
We hope these lighting solutions have given you the burst of artistry you need to redefine your space!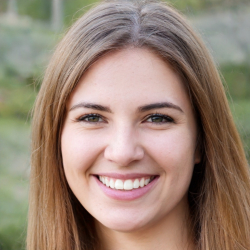 Latest posts by Maisie Park
(see all)