Since you typically spend the majority of your time in your bedroom, it is perhaps the most important space in your house and the one you need to design and decorate better than any other.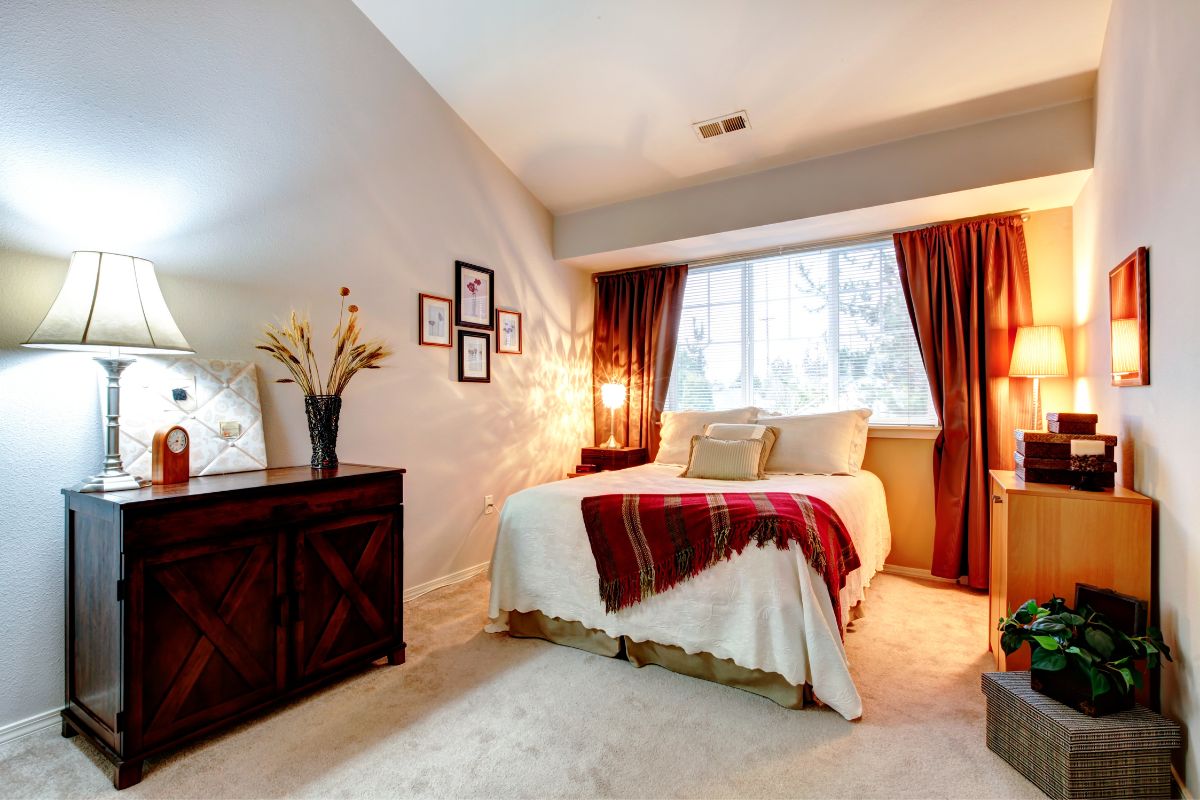 It must be your private space, and occasionally it might even serve as your haven inside your own house. That is why we have written this article to present you with 15 perfect bedroom ideas that can help women create dreamy rooms.
With a dark look, you can match your ladylike character and wear your fancy nightgown all day long.
Dark colors, like deep red on every single wall, even the one extending behind your bed, can make your room look very elegant.
Dark red is a color that can create the illusion that elaborate decors and intricate shapes are used to lavishly beautify the walls. This way, the design of the room is sophisticated without being congested or overly complicated.
The evening before a crucial business meeting, a comfortable armchair in one corner of the room with an antique wooden table to its left makes an excellent place for unwinding with your favorite novel in your hands or simply going through your clothes to decide what to wear!
Don't react to the "girls wear pink" stereotype and avoid painting your room pink. Pink is a lovely, soft color that does a great job of creating a warm and cozy environment.
It is also a very calming and relaxing color, which is exactly what you need after a long day at work. With many hues and palettes, you can look for the perfect one for you or mix your pinks up and paint each wall with a different one.
As for the furniture, you can always go with a pink headboard for your bed or decide to color match the pink on the walls with another color your furniture will have.
You can go with something intense like orange or with a simple white to keep things simple. A white desk, chair, and nightstand, as well as some minimalistic, white-based paintings, can work great.
Total white can make your bedroom look like a cloud, and who wouldn't love to sleep on one, there are two attributes to this woman's bedroom idea that will captivate you.
The first one is how the simplicity of the white color can look so elegant, and the second one is the little details added to a white room that will make it look so unique.
With fluffy footstools at the end of the bed, white nightstands, and white candles, you can make your bedroom a white haven.
If you want to add that extra elegance, some gold plant pots and some gold picture frames, or even a gold jewelry box can do the work.
Grey-colored bedrooms have an understated elegance as well as an air of mystery and finesse.
Tones of slate complement just about any interior aesthetic, from upper east side studios to cloudy Cape Cod accommodations, so any meaningful combination of colors is way more likely to catch the eye.
You shouldn't be concerned that using grey will make your bedroom's natural lighting appear darker because the richness of the color enhances and enriches both moonlight and sunlight.
Add some black and white pillows and duvet covers, get some white, minimal paintings with black frames and you have the perfect bedroom.
If you are living a boho life, have a boho style, or love boho decorations, then decorating your room the boho way is the only way.
While there are many colors you can paint your walls with, you might want to stick to white and focus on the décor.
Big and small plants, oversized blankets, and big pillows on the bed and the floor are only a few of the things you can do.
Instead of buying your furniture from IKEA (Also check out Things To Do With Your IKEA Brimnes DIY Cane Wardrobe), do some thrift and antique shopping, or get those old, unused wooden furniture from your grandma's place.
Dress the pillows and duvet with colorful covers and add some fairy lights on the wall.
If you live by the beach or simply love the sea, then an ocean-themed bedroom will make you happier every time you get back home.
Dress the wall with a beach-themed blue wallpaper or paint the walls in shades of blue and draw shells and sea animals on them.
On your next walk by the beach, collect some seashells to decorate your picture frames or leave them on your bedside table as décor pieces. If you want to go crazy, get a clamshell headboard or make one yourself!
Cute and, at the same time, elegant, rose gold is a color that is a safe bet for women looking for metallic bedroom decor.
This color combination livens up any bedroom, no matter how big or small, and leaves plenty of room for your imagination to work.
Play about with pink and gold décor if you wish to give the room a little extra lavishness. You can go from rose-gold picture frames and vases to a rose-gold bed frame.
If you are a funky soul and love anything OTT, then decorating your room with prints and patterns of all kinds is something you will enjoy doing and then seeing every day.
Incorporate a variety of vibrant prints into the bedding, walls, and items to produce a lovely framework for a woman's bedroom. Use a limited color scheme to create a thoughtful design that is gender-neutral and has a timeless appearance that will age well.
To mix and match prints and patterns, go for fabrics that aren't too cartoonish and kitsch. A statement patterned bed frame can also give the room a more sophisticated feel that everyone will love.
If you love anything vintage, retro, and antique, then start searching for some vintage bedroom furniture to decorate your room with.
Vintage drawers and a vintage lamp for your night table will work great with some kilim cushions and bring those old-day vibes to your room.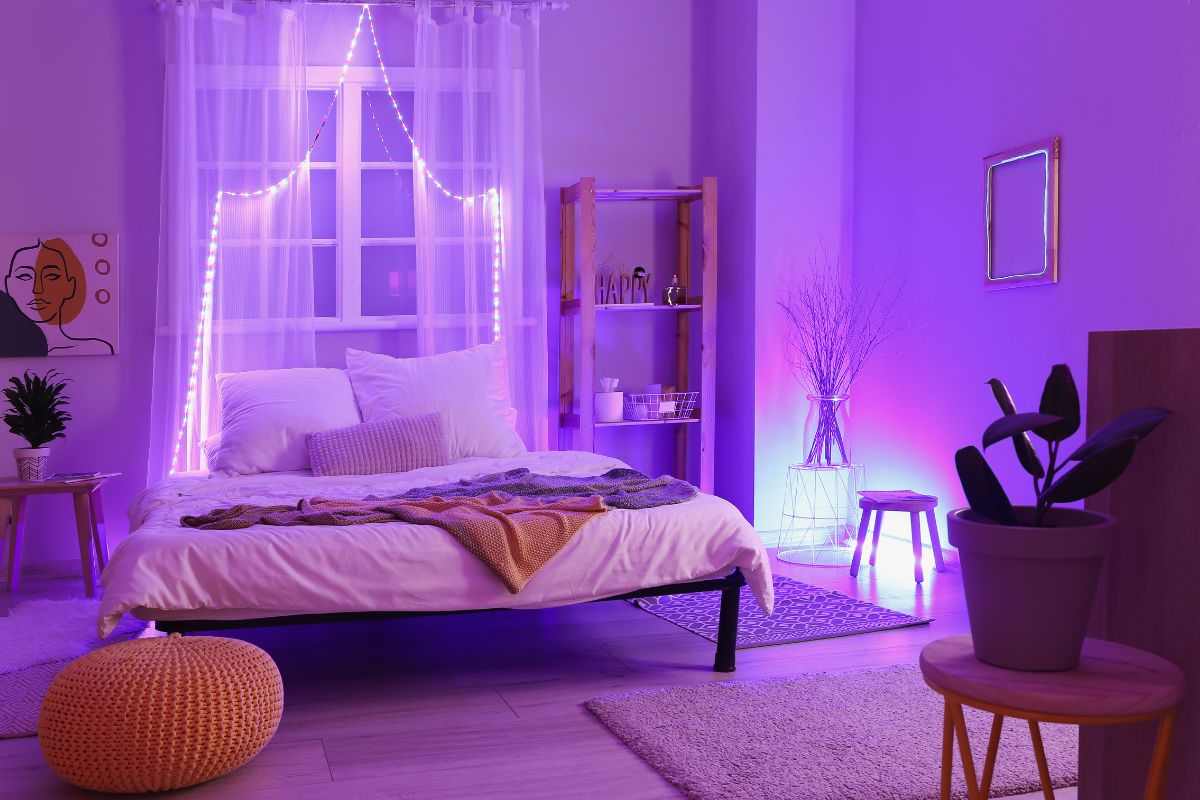 If you love visiting coffee places with neon signs or are a party animal that loves clubbing at places with neon lights, then bringing that part of you to the bedroom might sound ideal.
While you can go light with the neon lights and add one or two in your room, if you are fantasizing about a room that's only lighting up with neon lights, then go all the way.
You can get all kinds of neon signs and even a LED strip light to bring the party to your room.
Pop, abstract, postmodern, maybe a side of kitsch. Anything can go in a maximalist bedroom so long as it remains stylish in one way or another.
The opposite of minimalism, maximalism calls for anything and everything, so you can easily mix and match colors, styles, and materials in your room.
Go for rich, bold colors, like an electric blue on one wall, and then dress the other one with patterned red wallpaper. Add some Andy Warhol paintings above your bed frame and you're on point.
If you want your room to bring you joy and feel the sunshine even on a rainy day, a yellow wallpaper with a botanical print can create a cheery, sunny atmosphere.
The artful bohemian vibe created by an arch headboard, a Kilim throw blanket, and a filigree dressing table can give your room a stylish look and make every interior designer jealous of it.
Just like that seashell headboard you could get for an ocean-themed bedroom, a statement headboard can easily become the only statement décor item you need to give your bedroom its character.
From royal gold ones to floral and other patterns, there seem to be infinite options. The best part? You can always make your cover to dress up your newly-bought large headboard!
Scandinavian design is all about honoring the natural materials' raw forms and allowing them to take center stage in interior spaces. It frequently emphasizes the blending of neutral textures and is remarkably tidy and simplistic, so if you want to go simple, this is your chance to do so.
Keep the walls white to provide a clean canvas for some light grey furnishings and accessories. Add linen bedding and woolen blankets and you have a Scandi-style room set.
Make your room a hidden forest and fill it with plants, big and small!
Biophilic rooms are not simply filled with plants; they also bring out the calmness you get when you are walking out in nature.
This is thanks to the earthy colors used for the walls and furniture, as well as the bedding. So, get some wooden furniture, put some mustardy covers on your duvet and pillows, and paint the walls in sage color!
The Bottom Line
Women can use a variety of bedroom decorating ideas when remodeling or designing their bedrooms (Also check out Anime Bedroom Ideas You Will Fall In Love With). This article has some fantastic choices for your bedroom, so pick your favorite one and get to work!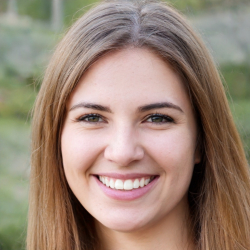 Latest posts by Maisie Park
(see all)