Windows often get overlooked when you are designing your bathroom. Some bathrooms don't have a great deal of natural lighting and some bathrooms don't have any windows at all, so it's no surprise that it does get overlooked.
If you do have windows in your bathroom though, you should definitely utilize them and spruce them up with some fun design options. If you don't know where to start when it comes to windows then don't worry, we've got you covered!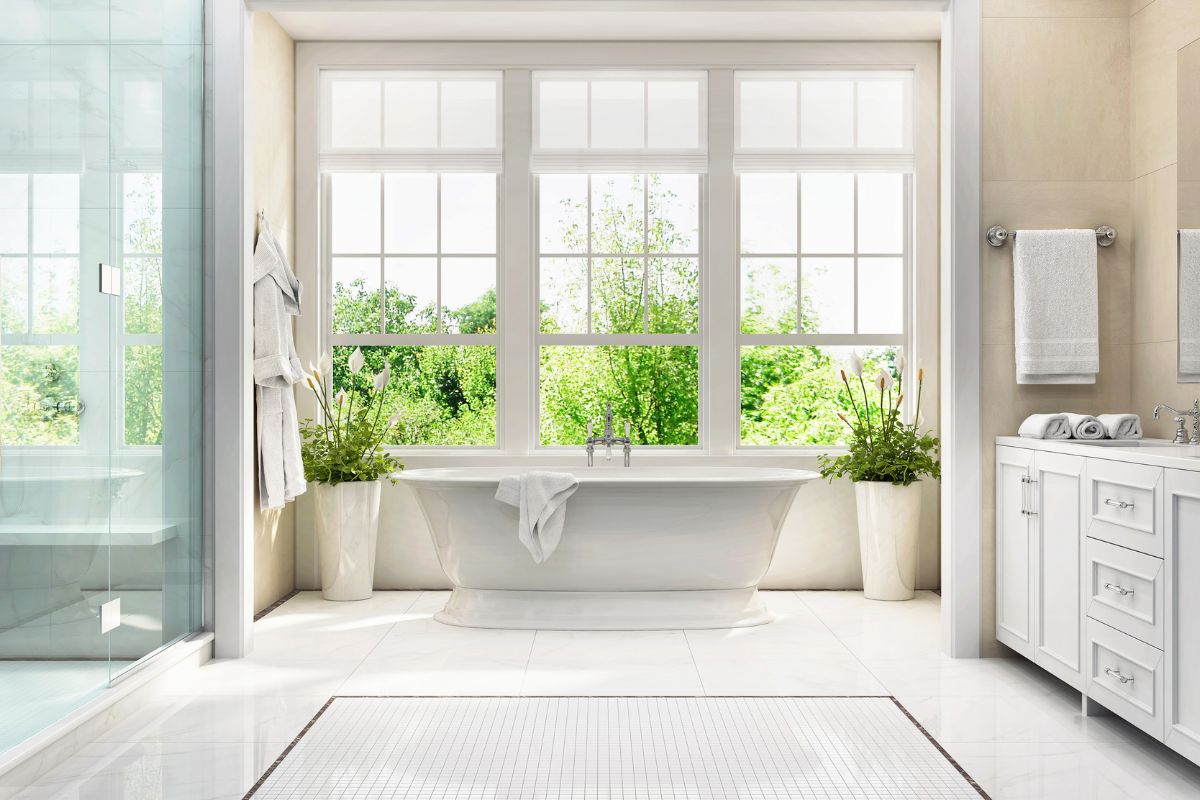 We've put together a list of 15 bathroom window ideas that will work perfectly in your home. So let's get started.
1. Sometimes All You Need Are Simple Curtains
The beauty of bathroom windows is that you don't need to do something extravagant to make them look better. Sometimes all you need is a good pair of simple curtains!
They don't need any patterns on them, they just need to match the color of the room. It really is as simple as that. Curtains can make a harsh room seem a bit softer and that might be all you are really missing!
2. Lighten Up Your Bathroom With Light Curtains
If you have a darker-colored bathroom or the lighting isn't fantastic in the first place, you can solve this problem by adding a light-colored pair of curtains to your windows.
Not only do lighter-colored curtains brighten up the whole room, but they also add a level of privacy if you have windows placed in an intimate area. It's a simple fix that can really add a whole new dimension to your bathroom.
3. Ditch The Curtains For Blinds
Not everyone wants curtains in their bathroom and that's fair enough. There are plenty of other options you can choose from that will still make your bathroom very atmospheric.
One of the best options if you don't want to use curtains is blinds. These work especially well in bathrooms that are going for a more modern look and they still over you a level of privacy so you can use your bathroom in peace.
You can find blinds in multiple colors as well, so you can be sure that they will match the color scheme of your entire bathroom.
4. Privacy In The Form of a Stained-Glass Window
If you don't want to install curtains, blinds, or anything like that but you still want a bit of privacy in your bathroom, one of the prettiest ways you can do that is by installing a stained-glass window.
Stained-glass windows offer ample amounts of privacy and they come in lots of fabulous designs so you can be sure that you'll find one that matches the rest of your bathroom.
On top of that, when the light from outside hits the glass just right, you'll see loads of beautiful light refractions that will give your whole bathroom a very ethereal vibe!
5. Go For An Elegant Vibe With Roman Shades
If you want something a little bit more elegant, then roman shades will work perfectly for your windows. They work especially well in heavily tiled bathrooms, offering a soft contract that balances the harshness of the tiles.
Roman shades are also great for anyone who wants some privacy in their bathroom but don't want the natural light completely blocked out. The fabric itself is heavy enough that no one can see in but light enough that you won't miss out on any Vitamin D!
6. Make Your Tub More Intimate With Curtains
If you have a bathtub that is right underneath your windows, this gives you the opportunity to make this whole area a bit more intimate.
Add some curtains to the windows that wrap around your bath! This creates a cozy and intimate space and also lets you have any privacy if you only have one bathroom, so others can still use the bathroom without interrupting your relaxation time.
You'll want to use heavier fabric curtains for this idea, but you should note that this means natural light will be blocked out when they are drawn.
7. Go For A Modern Approach With Woven Shades
Woven shades aren't as common in bathrooms, but you'd be surprised by how well they work in this space. They make a nice change from curtains or blinds and they can really add a whole new layer to your bathroom.
They also make the bathroom look a bit more modern, and even a bit more natural because of their woven nature. They usually pair well with any other colors too because the wood color is quite pale.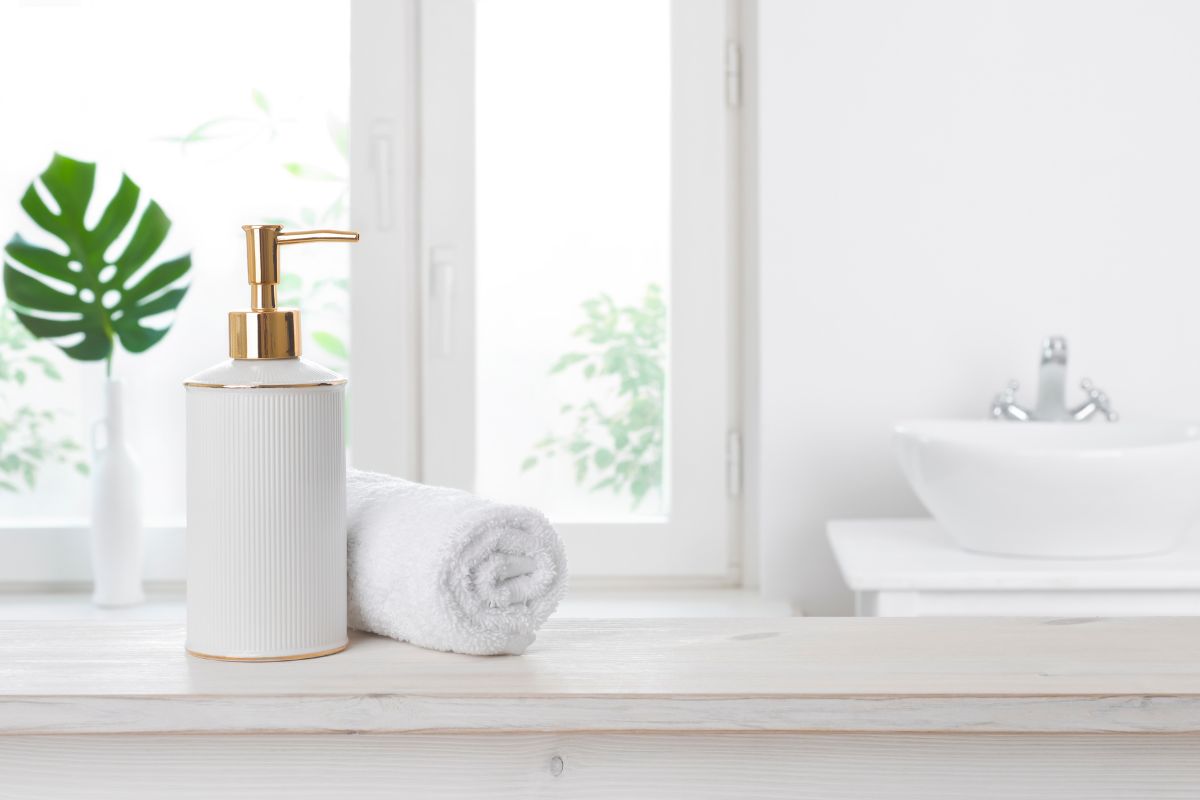 8. Try Out Some Floral Blinds
Roller blinds can work really well in a bathroom when they are done right. There are plenty of design options out there as well, so you won't be limited in your choices.
In this particular idea, you should try some floral designs to really make the overall look of your bathroom pop. You can even get made-to-measure roller blinds to make sure that they fit your window, whatever shape or size they are.
This is a very quirky way to enhance your windows and it also allows you to let natural light in when you want with little to no hassle.
9. Be Simple With Window Film
If you want a very small change that is more for practical reasons rather than aesthetic, then all you need to do is install a window film.
This is super easy to do and incredibly low maintenance. This will add a very secure level of privacy to your bathroom so you can use it in peace without worrying if anyone can see inside.
This is an especially great design choice for people who live in highly populated areas or who have a bathroom on their ground floor.
10. Stay Simple And Paint The Window Frame
Another simple design choice that is definitely more for aesthetic purposes rather than practical is painting over your window frames in bold colors.
By doing this you can make sure your windows match the rest of your bathroom's color scheme and it makes everything look far more uniform and matching.
This is a subtle change that doesn't require much effort and can really add a lot of depth to your overall design.
11. Add In Some Plants For A More Natural Look
Whether you have a bit of a green thumb or you just like the way plants look, adding them to your windowsill can really make all the difference in your bathroom.
If you love the idea of hanging or potted plants in your bathroom but you don't have time to maintain them, you can fix this by using fake plants.
You might have to look around for some fake plants that suit you, but once you find them, you'll be glad you included them in your bathroom. 
12. Swap Out Your Window For A Dramatic Skylight
This idea will require you to fork out a bit of extra cash, but if you're able to, you should definitely consider installing a skylight in your bathroom.
Not only will it dramatically open your space and let in loads of natural lighting, but it takes away the need to install curtains, blinds, or window films. This is a great option for those who have a bit of extra cash and want something a little bit more extravagant in their bathroom.
Skylights work with practically any bathroom design too, so if you are able to, you should definitely give this idea a go.
13. Add A Soft Ambience With Sheers
This is a great curtain choice for anyone who wants a layer of privacy without it being too harsh. Natural light filters through sheers wonderfully and adds an incredibly soft and relaxing aura to the whole bathroom.
Bathrooms in general can be quite harsh thanks to the materials that are used when designing them, but sometimes, the subtle inclusion of something like sheers can really add a lovely touch of softness to the space.
14. Mix & Match Your Blinds
This is an idea that is great for anyone who wants a more unique window design. You'll need some form of blinds for this idea as well as some window film.
All you need to do is cover the bottom half of your windows in the film and the top half in the blinds. This makes for a creative way to get some privacy in your bathroom but offers a more exciting design than just using window film by itself.
15. Install Frosted Windows
If privacy is your biggest concern and you don't want any curtains or window film, another great option is to install frosted windows.
You can get lots of different frosted window designs that work perfectly with the rest of the bathroom and no one will be able to see into your bathroom from the other side. 
Conclusion
There is way more you can do to your bathroom windows than you might originally think. Try some of these ideas for yourself and see which ones work best for you!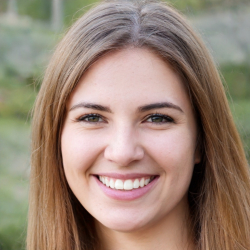 Latest posts by Maisie Park
(see all)