When decorating a bathroom, most of us focus on tiles, fittings and some bathroom furniture but we completely forget the doors.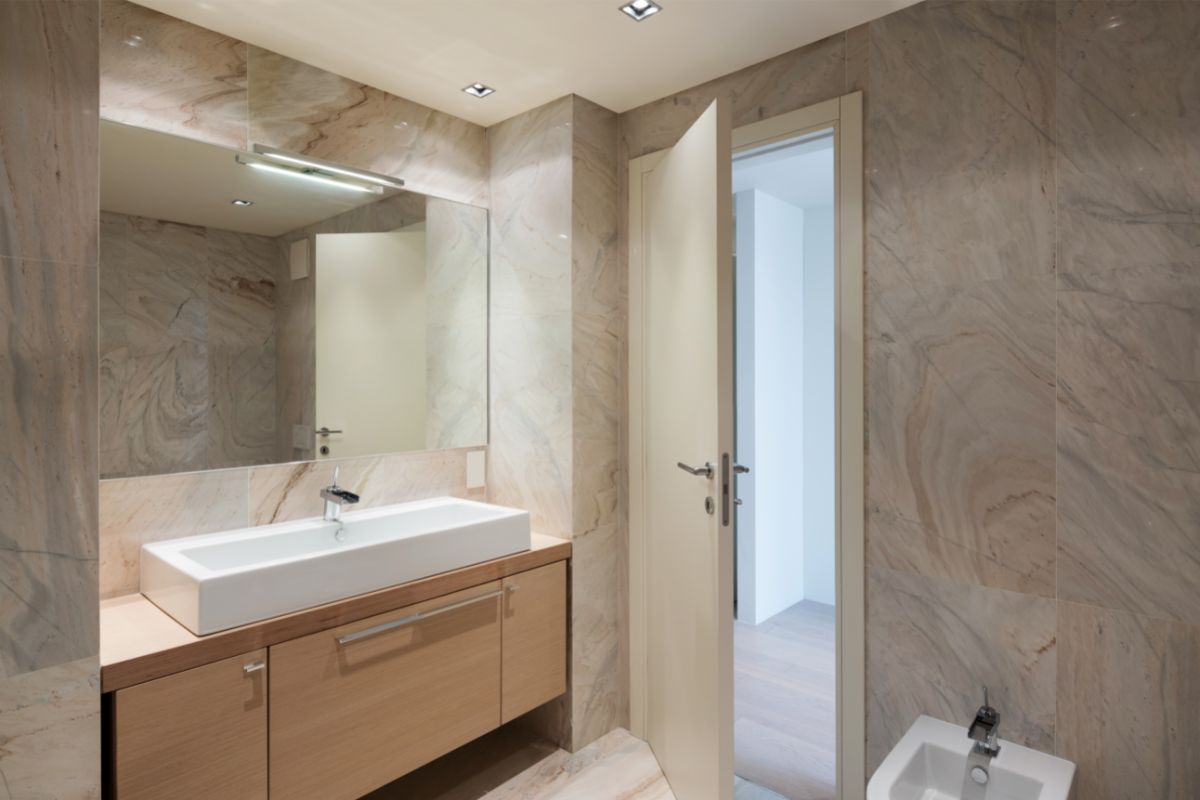 We use them to get and out of the bathroom, so it's worth giving them some attention.
You can spruce up your bathroom with some accessories or add a more space-saving bathroom door.
We take a closer look at the best 15 bathroom door ideas that can transform your bathroom and home.
Whether you don't have a lot of space for a wide opening door or you just want something different, barn doors as bathroom doors are more and more popular.
They come in a range of different sizes, styles and materials, so you can create a bathroom that fits your design.
Some of the most loved barn door styles are rustic wood which is ideal for a farmhouse decor.
The warming wood is neutral, so it can also fit in with other home designs.
There is one feature that most bathrooms have in common: they struggle with space.
The majority of bathrooms don't have a lot of room for storage.
That's why, it's a good idea to make the most of every inch of space in your bathroom, especially the space on your door.
You can simply put up a towel rack on the door.
There are different types of towel racks and it's best to measure how much space you have available for a rack behind your door.
This will save space for a towel hanger elsewhere in the bathroom, and you always know where your towel is.
If you are not keen on removing your existing bathroom door, then you can spruce it up with some great door stickers.
As most bathroom doors are white or neutral, they are the ideal canvas to put up a sticker.
This is your time to be creative and you can choose any sticker you like.
From funny stickers to the classic WC sticker, door decals give your bathroom door a personal touch.
Depending on where your bathroom is, you can save a lot of space by just hanging a simple and plain bead curtain or bead door.
Bead doors come in a range of different bead types and colors, so you just have to pick one that matches the style of your bathroom.
Bear doors provide just enough privacy, although it's worthwhile pointing out here that they are probably not suitable for family bathrooms.
However, they are a very cheap option and you can get them from almost anywhere.
Another great way of turning your bathroom door into a more interesting bathroom feature is by painting the door and the frame.
There are a few variations of this style. You can either paint the door a solid color or just paint some of the door panels.
This creates a little more interest, especially when you use a dark color for a lighter bathroom theme.
If bead doors are a little bit too light and flimsy for your bathroom, then curtains are a great door alternative.
Curtains have become more and more popular as a way to cover door openings.
They are much lighter than doors, and they can also add a dash of color to your bathroom.
They are easy to push aside for access to the bathroom and they provide enough privacy.
In addition, the installation of curtains in front of the bathroom is much easier than hanging a hinged door.
It's a good idea to use bathroom curtains that are moisture resistant.
This way, they won't gather any bacteria or mildew when they come into contact with condensation.
While the majority of bathroom doors are still made of wood, there is a new type of bathroom door that is more durable: fiberglass.
Fiberglass is typically used for main entrance doors or exterior doors as they are quite weather resistant.
But you can also get them as an internal bathroom doors.
Plus, they come in a range of different styles, so you don't have to worry that your bathroom door looks like your normal front door.
Similar to the bathroom stickers, you can also put up a sweet bathroom sign.
This could be either on your door or you can even pop it on top of the frame, depending on the type of sign
There are a huge variety of bathroom signs. Just bear in mind that you may have to put up a hook to hang your sign.
If your bathroom doesn't have any windows that allow natural light in, then having frosted glass in your bathroom door is ideal to bring more light into the room.
You can get a range of different panel doors with frosted glass or full frosted glass doors.
These doors allow light to flood the room but also provide privacy at the same time.
Japanese doors, also called Shoji doors, are the latest bathroom door trend.
They are usually made from both paper and wood. 
The main frame of these doors is wood, and the little panels are made from paper.
It's worthwhile knowing that this isn't your standard copier paper.
This paper has been designed to withstand moisture and as it is made from hard fiber rice, it is relatively durable. Depending on the quality, it can even withstand punctures.
This means that Shoji doors are a great choice for bathrooms because they provide plenty of privacy and they are even made from sustainable materials.
An additional benefit of these doors is that they have a beautifully Eastern look, so they are a true eye-catcher.
Storage is at a premium in most bathroom so creating additional storage space is always a plus, especially when you can hide it neatly behind the bathroom door.
Depending on your type of door and how much space you have behind the door, you can hang a door rack that allows you to store a range of bathroom things.
From washcloths and towels to cleaning supplies, door storage racks can also fit some baskets where you can keep all your things in.
If you have subway tiles on your bathroom walls, then the room has a truly contemporary feel and you need a bathroom door to match.
The best modern bathroom doors that fit a more contemporary style are metal doors.
This could be steel doors painted in black or another color to match with your design.
This type of bathroom doors also fit an industrial look with storage racks around the room and on the door itself.
If you aren't a fan of sliding doors and you would prefer the classic French look, then French doors are an elegant way to access your bathroom.
Thanks to the small panels in these doors, there is plenty of light coming into the bathroom which makes the room feel bright and airy.
This means you need a lot less light in the bathroom, and just allow the natural sunlight to come in.
French doors may swing out but they take up a lot less floor space than a standard bathroom door.
Plus, they look so beautifully luxurious that they fit into almost every home.
Mirrors are often found in bedrooms to create more light but you can also use them in your bathroom, especially if you don't have a lot of light fittings in the room.
Mirrored bathroom doors are ideal for smaller bathrooms as they will make your room so much bigger.
Additionally, this type of bathroom door also blends in very well with other bathroom decor.
Plus, you won't need to hang up a mirror in your bathroom because you have plenty of mirrors in the door.
Doors don't have to stand out like a sore thumb and they don't have to be a feature of your home.
In fact, sometimes hiding a door can create a much more elegant wall finish.
When hidden bathroom doors are closed, then they are fully concealed and you won't notice it until it is opened again.
Hidden doors can be installed almost anywhere in your home but they are especially useful for bookshelves, bathrooms and small storage rooms.
If you don't want your bathroom door to be visible in your bedroom, then blend it in with your bedroom decor.
You can either create an entire wooden feature wall where the door is the matching wall color, or you can simply paint your door the same color as your wall.
Final Thoughts
Bathroom doors come in all shapes and sizes. You can make your bathroom door stand out with a painted door or you can conceal it in the wall with a hidden door.
You can also use just small upgrades to make your bathroom door look more interesting and personal, such as with bathroom stickers or signs.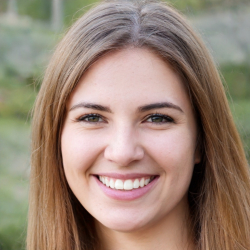 Latest posts by Maisie Park
(see all)