Bathrooms are one the most used rooms in the house, but because we don't actively spend hours and hours in there like we would a living room or bedroom, sometimes the design aspect of the bathroom suffers.
There is so much you can do to make your bathroom look better, and one of the things you can do is update the ceiling.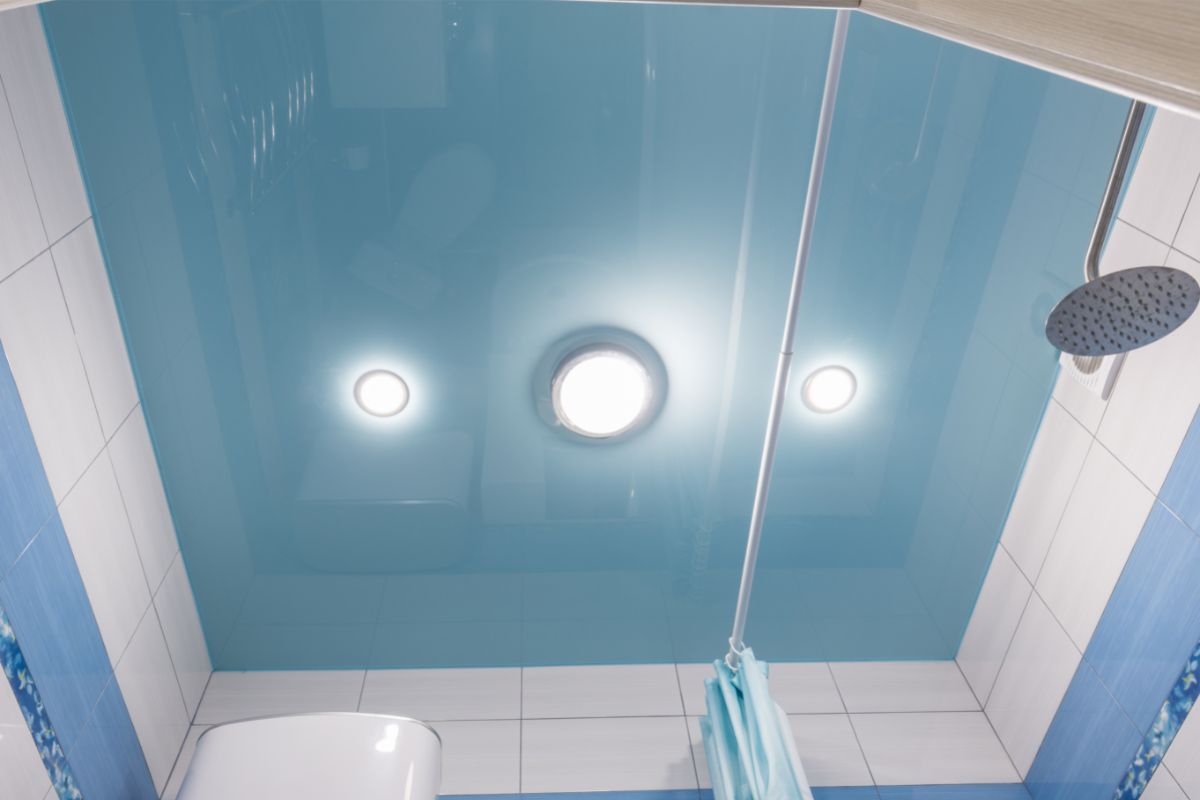 "Why would I do anything to the ceiling?!" you're probably saying to yourself. Well, you'd be surprised by how much of an impact a good ceiling design can have on the whole room.
We have put together a list of 15 bathroom ceiling ideas that you should really try out for yourself, so let's take a look! 
1. Vintage Tiles Can Make You Feel Regal
If you want to feel like royalty whenever you're in the bathroom, you should definitely think about adding vintage tiles to your bathroom ceiling.
Metallic ceiling tiles are especially great for that regal vibe and they can make your whole bathroom feel like it is the bathroom of a king!
If you do choose to go for this idea, make sure you get tiles that are moisture-resistant and durable, so they will last a long time in your bathroom without you having to replace them.
2. A Good Lick Of Paint Is All You Need
Sometimes, all you need to transform a room is a beautiful color. This goes for the ceiling as well!
Make sure whatever color you pick for your ceiling matches the rest of the bathroom and you'll have the whole room transformed in no time at all! If your whole bathroom is white, the ceiling having a pop of color can really make a whole world of difference.
If you have a darker bathroom or a bathroom with multiple colors, just make sure the color you go with matches and it can make the whole bathroom feel a bit more alive!
3. Try Hanging Plants From The Ceiling
If you have a bit of a green thumb and you love plants, then you can definitely put plants in your bathroom.
Hanging plants are especially good because they won't take up any extra space and they will give your whole bathroom a really vibrant and classy feel.
Real plants are always the best choice, but if you don't have much natural light, fake plants work just as well.
4. Add Some Warmth By Using Wood
Adding wood to your bathroom ceiling will really give the whole room a rustic and comforting feel that will emulate the feeling of being in a beautiful log cabin in the fall.
You don't have to use real wood either, you can definitely use fake wood or tiles instead if you're worried about the moisture damaging them. Either way, adding wood to the ceiling will really give your bathroom some extra depth.
5. Sometimes, All You Need Is A Skylight
If your bathroom doesn't have much lighting, then you should definitely consider installing a skylight into the ceiling.
Not only will it completely brighten up the whole space, but it will also help you feel relaxed and remove any claustrophobic feelings you have towards your bathroom. This option does require a bit more legwork, but it's totally worth it!
6. Don't Be Afraid To Use Wallpaper
It might seem a bit unconventional to use wallpaper on your ceiling, but once you try it for yourself, you'll be wondering why you've never thought of it before.
There are so many different wallpaper options out there as well, so you really won't be limited in your approach to how you decorate your ceiling. Just take a look around online for some inspiration and wallpaper ideas and see which one works best for you.
You can always buy small test patches before you commit to the full idea, so you don't have to waste any time or money in the planning stage.
7. Feel Glamorous And Add A Chandelier
Going back to lighting, have you considered installing a chandelier on your bathroom ceiling? This works especially well if you have a higher ceiling or you spend a lot of time in your bath.
Not only does it add more light to a space that usually doesn't have much, but it will also give you a real sense of glamor that your bathroom may have been missing.
The inclusion of a chandelier will really make you feel like you're living your most glamorous life, and when it matches the rest of your bathroom, it is even better!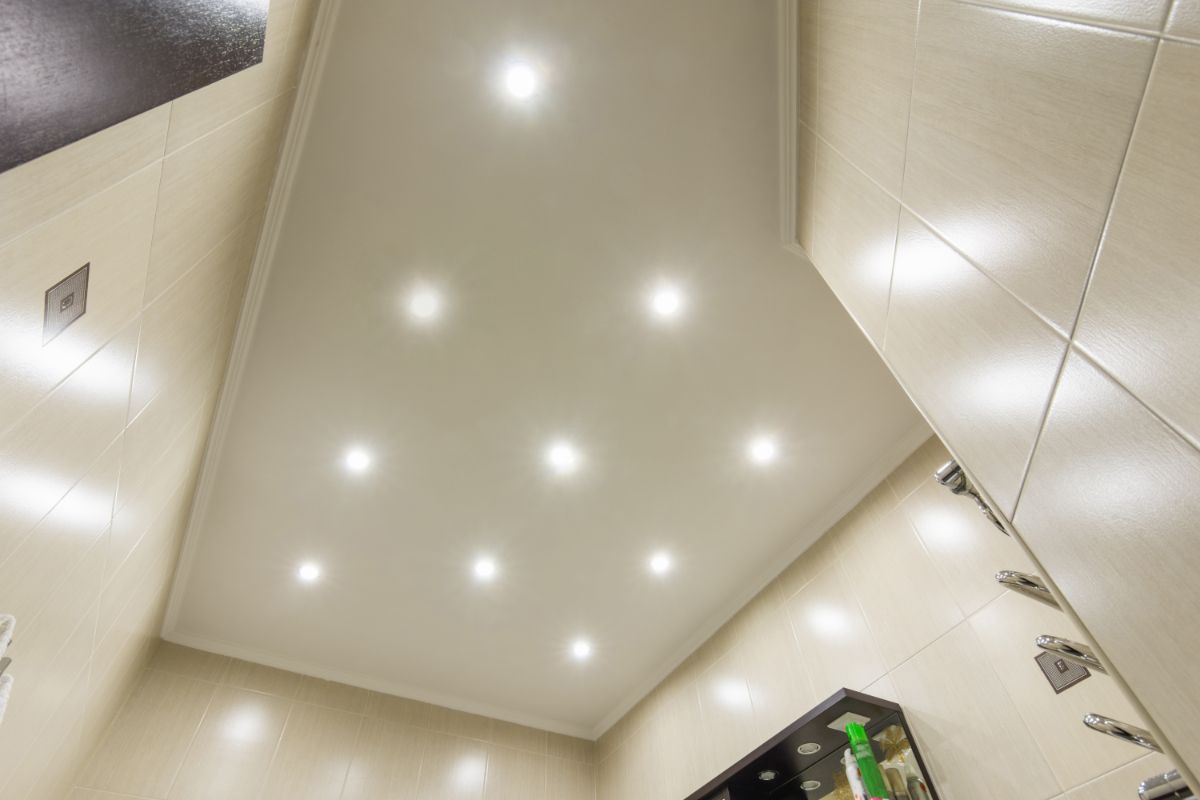 8. Have You Considered A Recessed Ceiling?
Recessed ceilings might not seem like much from the outside, but once you incorporate them into your own rooms, you'll see just how wonderful they actually are.
They add a whole new dimension and depth to your bathroom and in a lot of cases, they will make your bathroom seem a lot bigger than it actually is!
This can be one of the biggest problems with bathrooms… they just feel too small. A recessed ceiling can really fix this problem while also making your bathroom look even better. 
If you suffer from a bit of claustrophobia when you're in your bathroom, this can be all you need to do to feel like the ceiling has opened up a bit.
9. Add Your Favorite Color To Your Bathroom
Sometimes, all a bathroom really needs is a personal touch and this can definitely be achieved by changing up the color of your bathroom ceiling.
Rather than just adding a block color to your ceiling, why not make it a bit more personal and add a color that is your favorite? Regardless of how outrageous the color may seem in tandem with the rest of your bathroom, just do it!
You can always change up the rest of your bathroom to match. 
If you love pink, paint the ceiling pink! If you prefer yellow, then paint it yellow! The only thing stopping you from making your bathroom a bit more personal is you!
10. Sleek Wooden Panels Keep Things Simple
Outrageous and quirky doesn't always have to be the avenue you go down to make a statement. Sometimes, it's better to just keep things simple.
Try adding some sleek wooden panels in the Scandinavian decor style to your ceiling and watch how much it transforms your whole bathroom. 
When people say less is more they really mean it and if you try out this particular idea, you'll understand exactly what that phrase means. It's hard to mess up simple and sleek designs, so this one won't be too hard to achieve.
11. Skinny Slats Add Loads Of Depth
If you like the idea of a wooden ceiling but you don't quite have the budget for it, skinny slats also work incredibly well on your bathroom ceiling.
This option isn't hard to make by yourself and it's a lot cheaper than it looks! You can still enjoy a beautiful bathroom ceiling design without having to worry about spending your life savings. It might be cheaper, but that doesn't mean that it is any less beautiful!
12. Or Try Farmhouse Panels Instead
Another great wood option is farmhouse panels. They add a lot of beautiful depth to your entire bathroom and if you go for a darker color, it looks even better.
These farmhouse panels are usually used on the wall, but you'd be surprised by how amazing they look on the ceiling too. This idea is another great option that is more affordable but still looks absolutely fantastic.
13. Try A Darker Approach
Though lighter colors do open the space up, why not go the exact opposite way and try out a black ceiling?
Black ceilings can be a bit risky, but if you pair them with the right lighting, you won't regret your decision in the slightest! It will give your bathroom a more modern look and will also make the whole room a lot more intimate and cozy.
14. Tile The Entire Room!
You might shake your head at this concept at first, but once you find the right tile, you'll be pleasantly surprised by how well it works.
Don't limit the tiles to walls, stretch them up to the ceiling and add in some beautiful complimentary light while you're at it!
15. Have Some Fun And Create A Mural
And finally, if all the other options don't work for you, try adding a mural to your bathroom ceiling instead. The beauty of this option is that you can design your own mural or even commission a local artist to create a design just for you.
This will make your whole bathroom one of a kind and there won't be another like it anywhere!
Conclusion
There is so much you can do to make your bathroom ceiling really impact the rest of your bathroom, and these ideas are a great place to start.
Try out some of these ideas and see which one suits your bathroom best!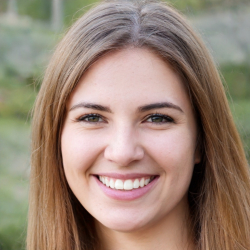 Latest posts by Maisie Park
(see all)