Are you looking to update your bathroom and you aren't sure where to start? Choosing a new bathroom backsplash could be the perfect starting point, but you might feel a little overwhelmed by the choice.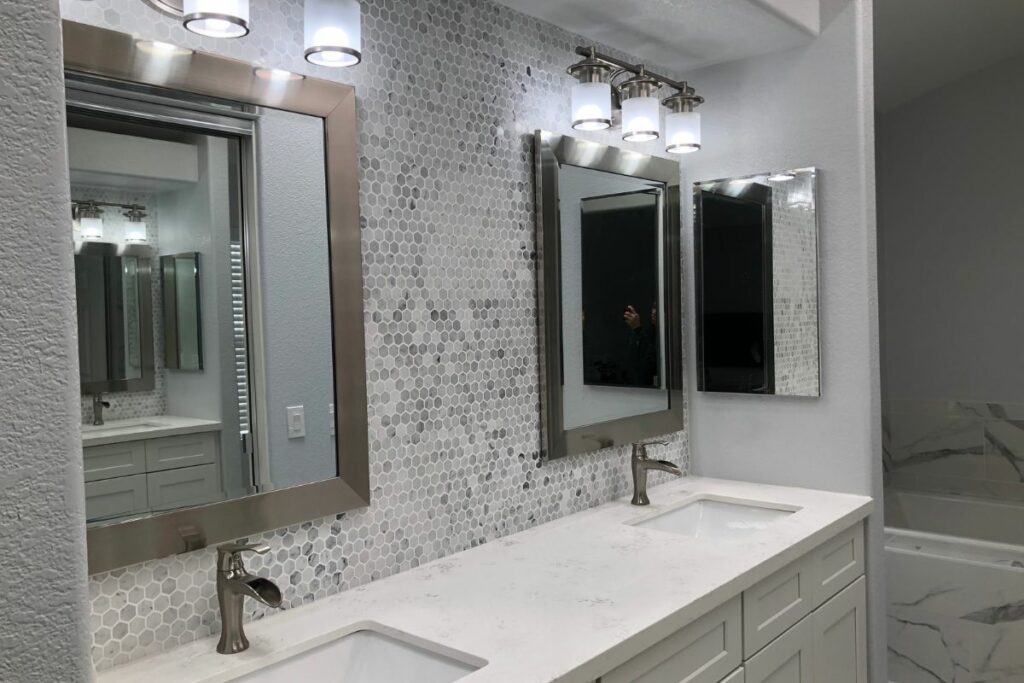 Luckily, we've put together a list of 15 different bathroom backsplash ideas that will inspire your home renovations.
Use your bathroom backsplash to create a fabulous feature wall behind your basin or vanity. Tiles don't just have to serve a purpose, they can also form unique design elements in the home.
Generally, less tile is used in bathrooms today as it is considered somewhat old-fashioned. 
With the right tile, you can create a modern and visually appealing backsplash that will bring your bathroom to life. Dare to go bold or stick with neutral tones to suit your style and bathroom and don't forget to utilize different shapes and textures.
Subway tiles have exploded back into fashion recently. They are being used in kitchens and bathrooms across the country. Don't worry, your bathroom won't look like a dirty subway station with the wide range of beautiful colors and finishes that are on the market today.
These tiles are perfect for a bathroom backsplash and work behind basins and vanities as well as in the shower. Plain white is a classic and it pairs so well with dark colored grout, but for a twist on this classic why not experiment with color?
Are you looking to make a statement in your bathroom? Incorporating a fun geometric pattern into your bathroom backsplash is a great way to introduce some color as well as create a fun and modern look.
For a less bold look, use it in a small area such as behind a basin or vanity for a cool and subtle look. 
These types of tiles are great for modern or rustic look bathrooms and allow you to accessorize accordingly.
For a feeling of luxury and indulgence, all white tiles in a bathroom can create a high-end hotel vibe in your home. Textured tiles are a great way to break up some of the white and soften the look of the room.
We love adding gold accents to a white bathroom for an incredible finishing touch. 
Another beautiful design that incorporates all white backsplashes, is a monochrome look. Matte black fixtures and fittings matched with white tiles and backsplashes create an ultra-modern looking minimalist bathroom that will be the envy of all your friends. 
Utilizing different shapes in your backsplash can offer a more sophisticated look in your bathroom. Hexagon mosaic tiles have become really popular over the past few years; they can be found in a number of colors and styles which makes them ideal for a backsplash.
They work well on small sections of walls as well as for larger scale features such as showers. For a subtle way to use these tiles, you can go for smaller scale hexagon shapes to frame your basin or larger more luxurious tiles for the shower. 
Another timeless classic that has burst back onto the scene is herringbone. This design is commonly seen in flooring and tile, making an elegant statement throughout the home.
Tailor the design to create your perfect bathroom backsplash by playing with colors and designs. With herringbone, you don't have to stick to just one color.
We love the use of herringbone to create a sleek and modern look when paired with metal fixtures such as brushed brass taps or an industrial looking light fixture.
Marble is something that will never go out of style. The classic clean lines and luxury feel of a bathroom coated in marble tiles is something that can't get old.
With a variety of different colors and finishes, everyone can create their perfect bathroom with a little marble magic. 
Any shape of tile can be created using marble, you aren't limited to large slabs. Polished marble with a brass mosaic pattern running through makes the ideal bathroom backsplash incorporating warmth and texture.
Obviously, marble comes at a cost, but there are a number of marble-effect tiles made from porcelain that are more budget-friendly. 
Even a minimalist bathroom needs a pop of color sometimes, which can be easily done with a backsplash. Using soft colors such as pastel pink or blue behind a basin creates an elegant and understated look.
Penny round tiles may be small, but they can make a visually interesting impact with their texture and positioning. 
These pops of color can contribute to a color scheme or just make the room feel a bit brighter and more inviting.
Period properties and interesting architecture doesn't always warrant a modern looking bathroom. Victorian-inspired tiles have become popular backsplashes to create a more rustic and vintage look in both bathrooms and kitchens.
These modern tiles have a charming elegance that reminds you of a classic English home. 
Putting a modern twist on these patterned tiles, many manufacturers have experimented with color and design to appeal to a more fashionable audience.
The possibilities are extraordinary! If you're looking for something to match your beautiful claw-foot tub then a mosaic patterned backsplash will fit in perfectly. 
Tiles aren't the only way to create a backsplash anymore. Shiplap has taken the interior design community by storm recently, it's a feature in so many modern homes. Although it's wood, it can be used in a bathroom to make a rustic feature wall in the place of tile.
Although you can't use it in the shower area of the bathroom, it creates a stunning visual impact behind the basin or vanity area as well as around the rest of the room. A good carpenter can advise you on how to best protect the shiplap for an extended life.
A contracting backsplash could be a bold color that's used in one area to make a dramatic effect or it could be the contrast of using two different tile patterns.
The beauty of working with tiles is that you can be as creative as you like, playing with colors and textures of the same tile to make a unique backsplash. 
If backsplashes aren't really your thing, then consider creating one big mirror! Installing a large mirror from cabinets to ceiling is ideal for busy homes with self-confessed mirror hogs.
This can be a great way to bounce more light around a smaller bathroom and draw the eye upwards making the room feel larger. 
Glass tiles are a thing, and no they won't shatter when you clean them. Contrary to what you may think, glass tiles are relatively low maintenance and are perfect in a bathroom as they can be easily cleaned with a cloth in high-traffic areas such as the shower and sink.
Glass tiles are similar to marble in the way they can be adapted to come in many different patterns such as subway or herringbone. An interesting way glass tiles are often used is to create a mosaic pattern of rectangles with different colors and textures incorporated for a contemporary look.
We're obsessed with fish scale tiles, they can sit perfectly behind a basin or even become a part of it as seen in the example here. With a wide range of colors and sizes available, they work well in a full or half bath.
The shape of these tiles creates a stunning visual effect that gives off a high-end appeal which is just what you want in a bathroom. The eye will be drawn to even a small section of the bathroom that contains these tiles as they are more unusual than standard bathroom selections.
Green is a timeless color that works effortlessly in any room. The color can be used to create something vintage or retro-inspired or leave you feeling like you're soaking away your problems in a luxury spa.
Often overlooked, this calming and centering color can be used in any size or style of bathroom for a beautiful backsplash. 
With so many styles of tile and shades of green, picking your favorite may take longer than expected. Dress the room with pot plants and a few fluffy towels and you'll never want to leave.
Final Thoughts
Backsplashes are an excellent way to make as much or as little of a statement as you please in your bathroom. With so many ideas and styles to choose from, designing your perfect bathroom couldn't be more exciting.
We hope you found this article helpful and inspiring, giving you some fresh new ideas to bring to your bathroom renovations.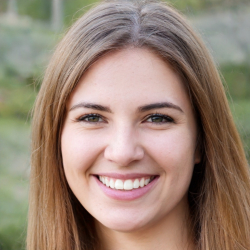 Latest posts by Maisie Park
(see all)