Turning your basement into a bedroom is a great way to maximize space, increase the value of your home, and accommodate more guests.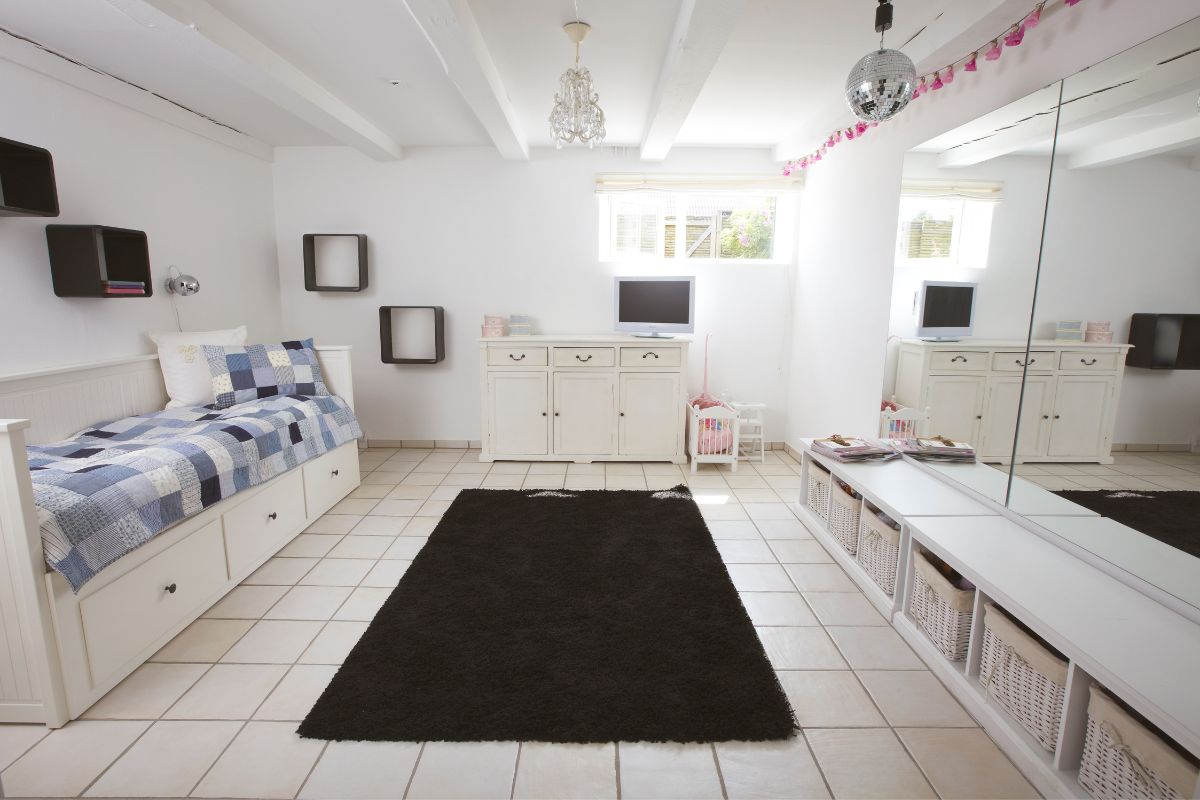 But how do you turn your cold, clinical basement into a warm, inviting space? Explore our 15 basement bedroom ideas below to learn how. 
1: Mirrors, Mirrors, Mirrors
Basements come in all shapes and sizes, but if you're short on space, you'll need to use visual tricks to your advantage. Adding extra mirrors to your space is one of the oldest tricks in the book.
You don't have to go all out and kit out every corner with a mirror; even one large mirror can make your basement bedroom feel larger. 
Mirror will bounce more light around the room, which will also make your space feel brighter – if you're low on natural light, this is a great way to make your basement bedroom feel less constrained.
Choose a mirror with a shiny, opulent finish for a more luxurious look. 
2: Prioritize Storage Space
When you're planning your basement bedroom, one of your main priorities should be your storage space.
Usually, your basement is one big open-plan storage space, so it's unlikely that you'll have extra built-in features, such as closets. 
However, if your basement is small, simply throwing in a wardrobe and drawers is going to make your space feel more cluttered and much smaller.
Instead, do some research and see if it's possible to incorporate built-in storage, such as built-in wardrobes.
These are efficient and attractive, and they won't eat into your precious floor space. 
3: Add Height
If you want to create the illusion of space, it's time to add some height to your space.
Now, we're not going to ask you to make your ceiling higher – that's a pretty monumental task! Instead, you can once again rely on visual tricks and illusions to create extra height.
Drawing the human eye upwards is a great way to do it. Simply hang a bold, intriguing fabric, painting, or strip of wallpaper on a wall (preferably behind the bed), and you'll see the difference instantly. 
4: Use The Right Lighting
Of all the things to consider, lighting is the most important. Whether your lighting is natural or artificial, you'll need to get plenty of light in your basement if you want to avoid that claustrophobic feeling.
Even if you're lucky enough to have windows in your basement, they'll probably be small, deep-set, and positioned at the top of the room (not ideal for keeping this illuminated).
So, to incorporate more light into your space, we'd recommend keeping the area surrounding any existing windows clear.
For more attractive artificial lighting, look into adding in a spotlight with a dimmer and see if dimmer ceiling lights are an option. 
5: Ensure You Have Appropriate Insulation
Basements are notoriously cold – this isn't exactly ideal if you want a warm, cozy bedroom in the winter. Before you start organizing the interior, check you have the appropriate insulation.
You'll need the right insulation to keep the cold out and the warm in.
If you have pure concrete walls, be prepared to spend a little more on insulation – you may need wood panels and extra insulation to make it warm.  
6: Use Natural Darkness To Your Advantage
With limited sources of natural light, basements are pretty dark. Although we'll want to add in enough lighting to make our space inviting, you can also use elements of this darkness to your advantage.
Darker colors can be used to create a warmer and more inviting feel. This doesn't mean you need to go all black, but using warmer tones with just a few accents of bolder colors can create a much cozier space. 
7: Choose a Warm-Toned Floor
Talking of creating a warm and inviting space, you'll need to think about your flooring. Anything that's going to make your room cold (physically and emotionally) is a no-go.
One of your best options is carpet – although it may not be particularly on trend (or appealing to some people), it does bring in automatic warmth and comfort, plus it's great for keeping the heat in! If you're adding carpet, ensure you install a thick underlay. 
If you can't stand the thought of carpet in your space, choose a darker-toned wooden floor, and place a large rug in your room. This will create a similar feel to the carpet without committing to nothing but fluff beneath your feet.
8: Keep it Light and White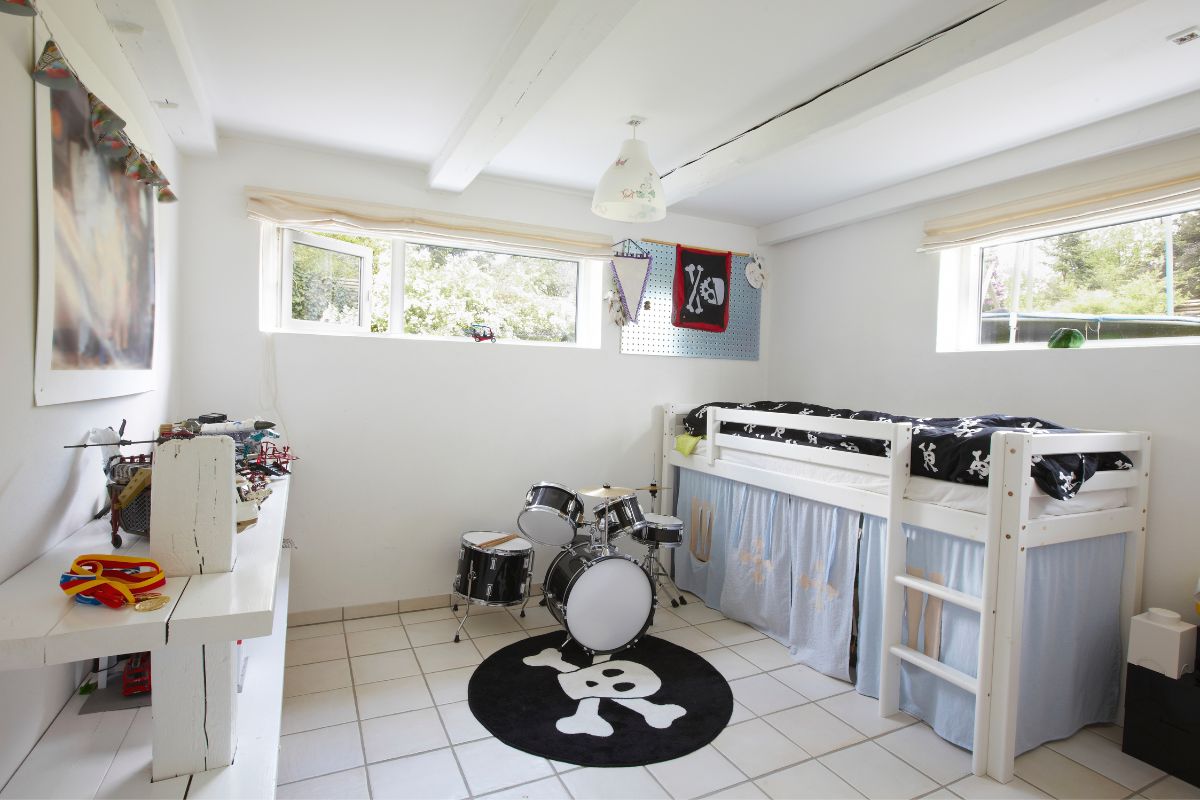 Although darker tones can (and should) be exploited to create a warmer-looking bedroom, your main tones should be light, white, and airy. Neutral tones contribute to that illusion of space, especially if you keep your ceiling and a few walls some variant of white.
These neutral tones also allow you to be more creative with your furniture – white is a blank canvas, so you can chop and change your interior theme as you please.
9: Add in Sliding Doors
Basements are usually all open plan. Although this gives you plenty of freedom, it's not for everyone. If you want a more compartmentalized feel and you want to separate different areas of your room, sliding doors can be a great addition.
If you're creating a whole studio-style space in your basement, sliding doors can separate the kitchen from the bedroom, making things feel a little larger. 
10: Stick to a Style
Without care and attention, a basement bedroom can easily become a mishmash of interior styles with no real direction.
Think about it – basements are naturally chaotic and lack order, so it's understandable if this theme spills into your bedroom!
However, to avoid this from happening, we'd recommend sticking to one style and one style only. Whether it's Aztec (Also check out How To DIY A Wooden Aztec Drinks Tray) or bold pink, find what works for you and choose your furniture and ornaments accordingly. 
11: Use Low Slung Furniture
If you're running low on space, adding super high furniture into your space is only going to make things feel more cramped. For example, if you want your basement bedroom to feel larger, we'd recommend using low-slung furniture only.
With your bed, chairs, or sofa sitting close to the floor, you and your guests won't feel so compacted, and it'll give your ceiling some extra height, too. 
12: Make it Cozy
Choosing the right colors and furniture is everything. Before your basement becomes a bedroom, it'll probably have a bit of a cold and clinical feel to it – it's safe to say that this is NOT a theme you'll want to bring into your new bedroom.
So, to help create that warm and inviting space you've been dreaming of, you'll need to pull out all the stops to make it cozy.
While this concept may feel a little subjective, there are plenty of things you can do to create that feel. 
On a practical level, adding plenty of insulation and even some underfloor heating can do the trick. However, you'll also need to think about furnishings.
Ensure you have plenty of thick blankets to hand, throw cushions on the bed, choose warm lighting, and balance out your walls and ceilings with warmer-toned furniture. 
13: Add Seating
Our bedrooms are one of the most important spaces in our homes. They're not just somewhere to sleep – our bedrooms should also be a place where we can come to unwind and appreciate some downtime after a busy day.
If you need a break from the hustle and bustle of family life or work, you'll want to relax – so adding some seating to your space is a must. 
If you really want to treat yourself, we'd recommend adding an armchair with plump, velvet upholstery to make you feel luxurious and well rested.
If you don't have the space for a chair, you could even add in a comfy ottoman and decorate it with blankets and cushions. This will also give you some extra storage space! 
14: Think About Natural Light
Although it's possible to add plenty of artificial lighting, your focus should be on getting as much natural light into your basement as possible. If you only have a small window to hand, how can you accentuate the natural light?
We'd recommend avoiding thick curtains. If your basement windows are small, having thick drapery on either side is only going to limit your light. Instead, opt for shutters or blinds, which become more compact when open.
You could also place a mirror in front of your window to bounce more of the natural light around the room – you'll be surprised how much of a difference this can make! 
15: Consider a Decorative Ceiling
Last but not least, don't neglect your ceilings, people. If you have a low ceiling, it's time to think about adding in some extra height.
A decorative ceiling can be a great way to feed into the illusion while injecting some more fun into your space. 
Your decorative ceiling doesn't have to be elaborate (unless you want it to be!). Using decorative beams can create a rustic feel (flat beams are best for small spaces), or you could choose a lightly colored wallpaper or paint to make your space brighter.
Final Thoughts
Basement bedrooms don't have to be dark, cold, and boring. Instead, take some inspiration from our roundup and create the bold basement bedroom of your dreams!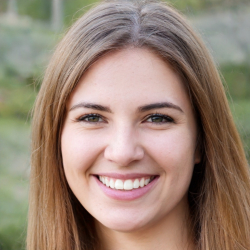 Latest posts by Maisie Park
(see all)