If you are looking for some ideas on how to style your new apartment living room then worry no more because here are 15 of the best ideas that we are sure you will love.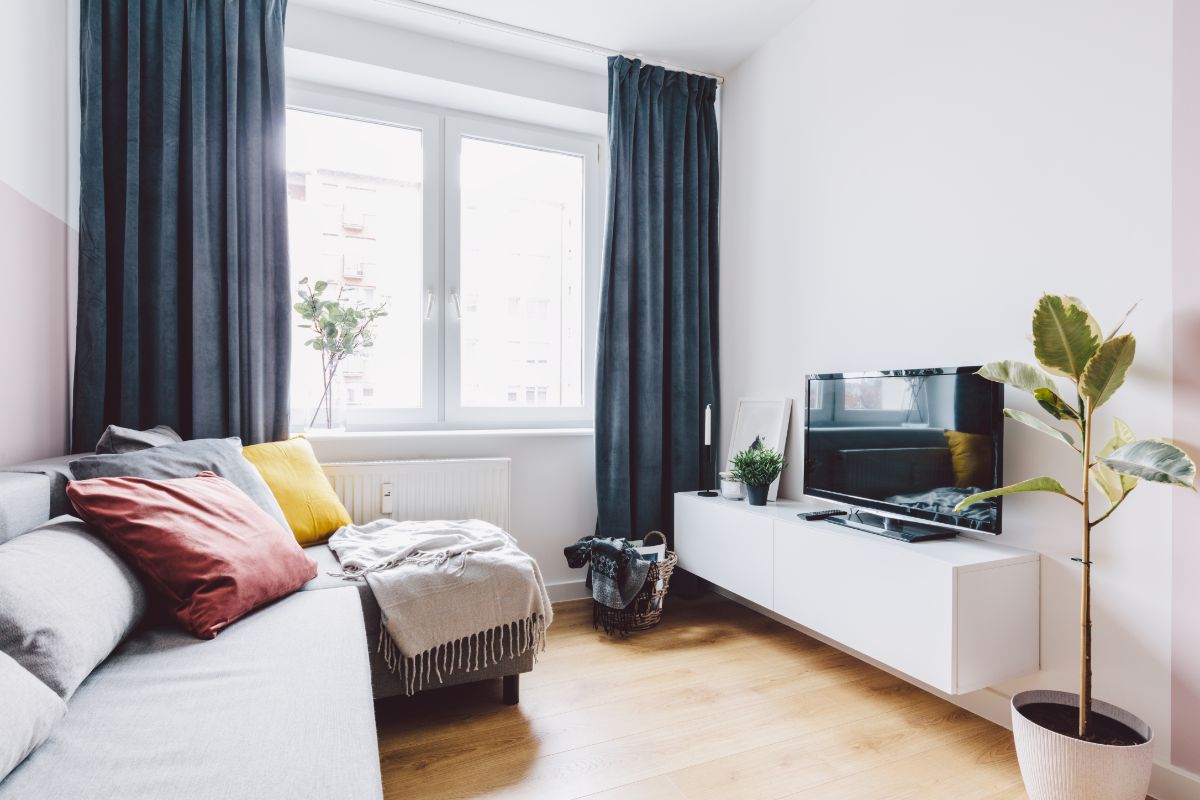 Apartment living rooms are complicated as usually they also encumber a couple of other rooms all mashed together into one space.
However no matter the size, layout or your budget there are many options available for you in this article. 
You do not need to compromise on style for functionality and we have gathered 15 ideas that will show you exactly that. So sit back and relax because we have got it sorted for you.
1. Use Art Strategically
Nobody likes a bare wall and art is the perfect way to fill your walls to make the apartment look much bigger and more full than it possibly is.
Using some well proportioned art will pair perfectly with your apartment. Having some art that compliments the color of your walls will also make the look of the apartment better. 
Having walls full of art will also allow you to buy some smaller furniture and tables so that you do not need to fill as much space.
You can opt for that cheaper stool instead of the large coffee table you would have needed to settle for to fill some space. 
2. Multi Purpose Furniture
This is a perfect way to use the space in your apartment to the absolute maximum.
You will never go wrong with buying some mutli purpose furniture.
The most obvious of this style of furniture is the sofa bed.
You can get some top of the line quality sofa beds that can rival even the best beds.
It can easily be a place for guests to stay on when they are visiting and will be the comfiest couch that you can buy. 
Another option is built in storage. It is always helpful to have some storage space and even better when you do not need to sacrifice much space to do so.
Built in storage can be expensive if not already installed. So instead of shilling out for just some storage space buy some furniture that comes with storage built in.
3. Patterned Carpet Or Rug
We all want to be comfortable in our home and having cold wooden floors can ruin that homely feel.
Having a patterned carpet can can elevate even the dullest of rooms, it will add some character and additional interest in the room.
It is important that you choose the correct carpet as the size of the room will play a big factor into how well the carpet matches. 
Rugs will make the room warmer and add not only a different texture but also come in depth when it is laid over carpet, wood flooring and also ceramic floor tiles.
It is a great chance to bring some color or a specific pattern to your apartment. 
4. Color Contrasts
Using color will drastically elevate the impact on the room's decor.
If you are able to paint the walls you absolutely should do so.
Use them as the canvas to bring in some vibrant color, this can be bright blue all the way to dark red.
Matching your walls to other aspects of the room like the curtains (Also check out The Perfect Mid-Century Modern Curtains) and having another color to contrast will make the room pop. 
The best way to contrast is through the furniture. Having a white couch with deep red walls brings an incredible contrast to the room that looks amazing.
You can also carry the wall color through the rest of the living room via the pillows on the couch, the rug and other areas. 
5. Add Some Greenery
This is vital especially if you live in a city. Living in an apartment means you are incredibly unlikely to have a garden so adding some plants and other greenery to the apartment will ensure that it gives it a natural feel.
We all love the outdoors and exploring nature so why not bring some into your living space for that daily dose of greenery.
Placing a small tree or some plants like a small flower bed on the windowsill will bring color and vibrancy to your home space. 
6. Configuring The Best Layout
So we have so far given you some good tips to use your space but here is the best way to layout the apartment to make the most of your available space.
This can be a tricky task for you especially for those of us with some open plan spaces where you are required to double up for another room.
However there are things you can do to give yourself the most space possible.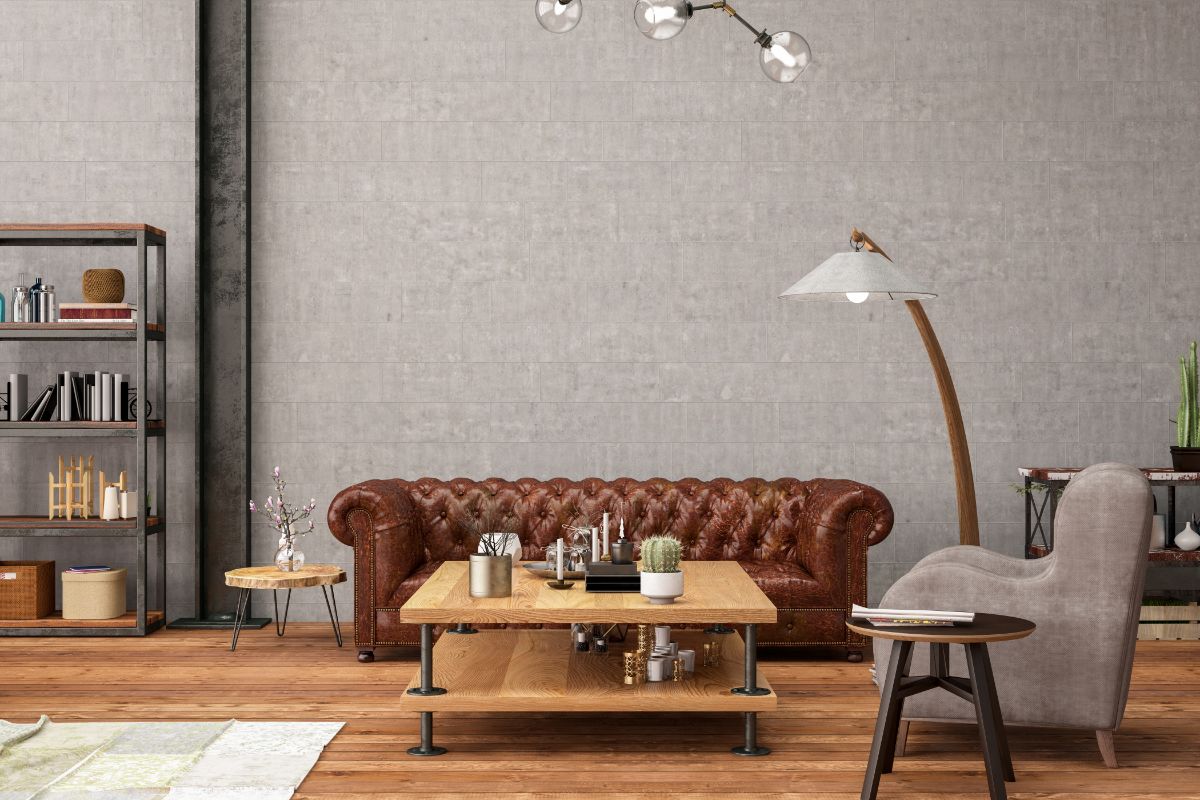 Start by drawing out a plan of your apartment and decide where you can fit in your furniture then plan around these pieces and remember you can float some objects to make the space feel a bit larger than the floors actually has to work with.
7. Small Decor
This is perhaps the best way to enlarge a smaller living room, buying some smaller scale furniture will give the illusion of the room being much larger than it is.
Having a love seat instead of a sofa will still give you the comfort of a sofa just more efficient. 
Having a more narrow table and a tall but thin shelving unit will give you storage without compromising on the space.
8. Mix In Different Patterns
Using a range of different patterns can really bring some fun from the contrasting patterns and colors.
You can elect to have some soft cushions and colorful shapes that all contrast but somehow will still all pull together to give your room a completely unique look.
9. Use Chairs In Place Of A Sofa
We all want that big fluffy sofa but there are alternatives that can be just as comfy without taking up anywhere near the same space as a sofa.
Some slipper chairs will be incredibly comfy and a leather wood frame will give the same structural integrity that comes with a couch.
Adding a glass top table to go along with the chairs will give even more of a large illusion of space.
10. Make An Illusion Of Space
There are some simple methods you can use to ensure that your apartment will come across much larger than it actually is.
Some of these are adding stripes to the room, having a big striped rug for example will give the room a visual of an expanded floor space. 
Using less furniture and adding a large sectional with a unique curved back or even a winged back chair will use little space without you having to skimp on the size.
Next is adding a small coffee table, this will break up the straight line formed by the sectional and striped rug, it will make the room look more full whilst also giving you an illusion of more space. 
Use some circular designs, using some repeated circular shapes with plant pots or topiary using round objects will break up the room dominated by squared shapes or lines adding in some circularity will do nothing but make the room more appealing to the eyes.
11. Add Some Faux Wall Panels
This is a great alternative to the option we brought up earlier of repainting the walls.
The reality is many apartment leases forbid the repainting of walls. So the perfect option in this eventuality is to add in some wall panels.
You can create any shapes and sizes that you wish for your panels, using some lightweight sheeting.
Simply attach any wallpaper of your choosing to the frame and add some decorative moldings. 
Now simply hang them on the wall the same way that you would a painting.
12. Light Up The Room With A Sofa Table
Most of the time end tables are forced in to host a lamp to add light; they are both ugly and usually are an outlier in a well designed room. You can add light to a room without compromising on the look.
A sofa table is a table placed between a wall and a sofa. The placement will provide the height needed to match the lamps to the sofa.
They can also be placed either side of a piece of art hung directly above the table. 
13. Add An Electric Fireplace
One of the biggest luxuries you will miss in an apartment is a wood burning fireplace, however this does not mean you can't have a fireplace.
An electric fireplace will add the romantic effect that comes with a fireplace and having it placed inside of a mantle elevates the design of the room.
14. Make Room For A Workplace
You can install a floating desk in the corner. This is perfect for those who work from home.
This can just be a slab of wood floating between a short gap in the wall where a window is placed. This can allow the rest of the room to be dedicated to making the perfect living space. 
15. Stay True To Yourself
Finally but most importantly you should go for what you want your apartment to look like.
Do not compromise what you want your apartment to look like because of how you think others will judge it. 
What you want is what you want and making your home to your style will make it just that.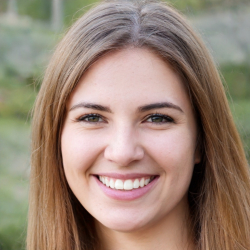 Latest posts by Maisie Park
(see all)