As far as bathrooms go, they can be pretty straightforward. You have the toilet, sink, and shower/bath which does not always leave much room for creativity and design. However, this list will really show you how you can improve your bathroom with just a few small changes.
This list will provide you with a wide range of bathroom ideas to fit your style, from colors and materials to finishes and forms, whether you are changing your master bathroom, shower room, or converting an empty area into a magnificent ensuite.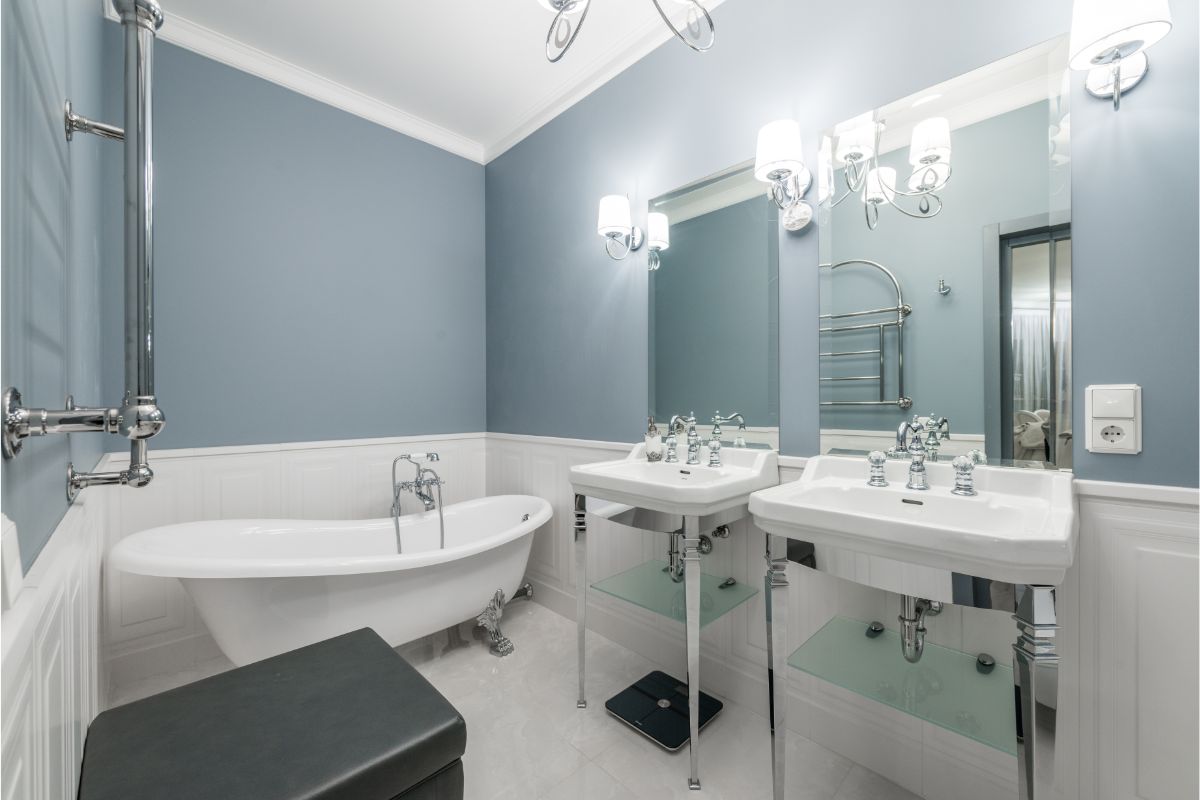 1. Add A Skylight
Natural light is essential for making a tiny place appear larger. Skylights are an excellent choice when windows are insufficient. Skylights perform especially effectively when combined with a window slightly below because they allow light to enter from all sides.
As well as letting lots of natural light in, a skylight that can be opened (not all do) which provides natural ventilation, which is always ideal in a bathroom.
Ventilation aids in odor management, but it is also critical in reducing moisture levels in your bathroom. Unventilated bathrooms are far more likely to sustain structural damage as a result of moisture and mold growth.
2. Incorporate Pops Of Color
Striking the balance between not enough color and too much color can be quite difficult to know sometimes.
If you add a few pops of color here and there on the foundation of a neutral pallete, then you will have just the right amount of drama and character that will naturally lead the eye around the room. 
You can use the help of a color wheel which you can easily see online which will show you which colors compliment one another and which ones contrast with one another.
3. Install Rods and Hooks
Installing rods and hooks in strategic locations is the simplest approach to increase usefulness in a tiny bathroom. Never underestimate the use of bathroom accessories that may be used to hang clothing or towels, whether on the walls or behind the doors.
They can assist you in decluttering your lovely bathroom.
4. Use Floating Vanities
As the name implies, these vanities offer the appearance of floating, which is done by attaching them to the wall rather than connecting them to the bathroom floor.
This provides your bathroom a streamlined, minimalistic look while also freeing up a lot of space. Even if you simply examine less expensive choices, these vanities will make your bathroom seem and feel more elegant.
Mounting the vanity to the wall and keeping the floor area beneath clutter-free will make your room feel bigger and not as cramped. Make sure to pick a vanity with enough storage for towels and toiletries, and a basin that lays neatly on top.
5. Zhuzh It up With Marble
You can use marble in lots of different ways in order to add some excitement to your bathroom. One of these methods include marble that is coordinated with one another.
This means that using marble on more than one surface such as on the wall, basin, and mirror frame will give the illusion of space. 
Because of its inherent link with cleanliness, white marble remains a popular option for a bathroom. If you're worried about it being too stark, bringing in natural marble will offer texture and a silver sheen of beauty.
6. Install Sliding Doors
The inclusion of sliding doors is one of the most valuable tiny contemporary bathroom ideas. These are genuine space savers. Furthermore, it may effectively spruce up your entire bathroom. You may either transform your standard door to a simple sliding door.
It expands the useful area that would otherwise be occupied by the inward-opening hinge door. You may also design the wall behind a sliding door to add a decorative element to the bathroom.
7. Get Mirrors Involved
The perfect mirror may create a feeling of spaciousness, boost natural light, or act as a window replacement when there isn't one, and offer a ton of design game to the walls.
Mirrors may be incorporated into your bathroom in a variety of ways, such as mounting them on the wall, hanging them, or sprinkling several little ones about the walls.
A full-length leaning mirror is by far the simplest bathroom mirror concept since all you have to do is enter the room and lean it against the wall. Nonetheless, it appears smart and polished.
8. Put Faucets On The Side Of The Sink
Do not let having a small bathroom area prevent you from achieving the desired aesthetic; simply think outside the box.
Choose a slimline sink that provides lots of volume while taking up less room thanks to its narrow width. Adding a faucet to the side will eliminate any issues that may arise due to the narrow width, as the water will run away to the longest length.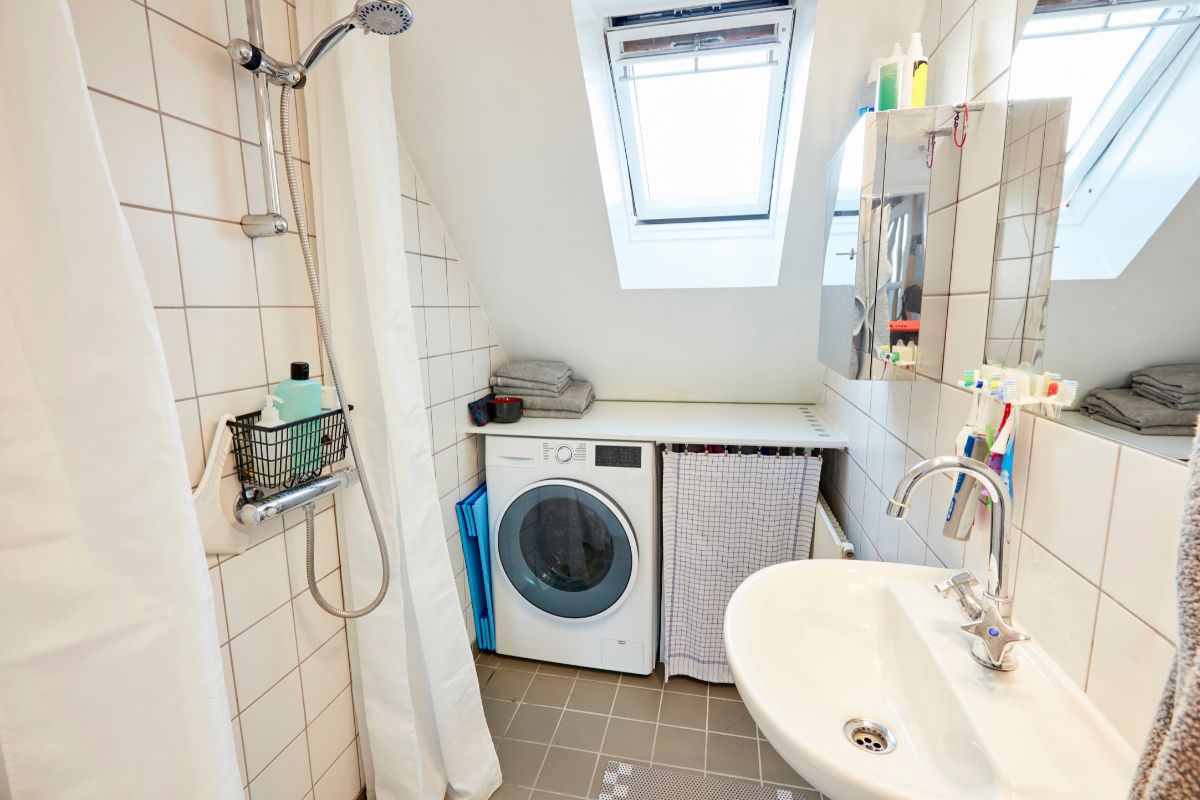 9. Mount Faucet On The Wall
If you are unable to mount your faucet on the side of the sink, you can mount the faucet onto the wall instead.
Wall-mounted mixer taps are ideal for small bathrooms because the pipes can be covered, eliminating the need for a big basin pedestal.
To maintain the space nice and tidy, you may utilize the freed-up space to store shelves or a laundry basket for smart bathroom storage ideas.
10. Use Walls For Storage
Apartment restrooms typically have limited space. However, good storage can successfully address this issue. The walls can be used to help with storage.
To maximize wall storage, add open wall cabinets and floating shelves. In this trendy bathroom storage area, you can effortlessly stack clothing, towels, and toiletries.
11. Add Plants
Nothing says peace like some greenery. Try incorporating some plants into the mix to enhance the calming ambience of your apartment washroom.
Vases filled with orchids or simple potted plants placed on the window sill may make a significant impact in the bathroom's décor. You may personalize the greenery to your liking and place it on shelves and racks.
12. Mix Materials
Make the bathroom sink a focal point by matching it to the walls. Here, the upper part of the wall is made of gorgeous, smooth marble and butts up against a lower, textured, concrete wall.
The basin is skillfully used to bring the two styles together because it rests on the same marble block. A strategically placed shelf enhances the linear appearance and gives you more room for accessories.
13. Use Interesting Wallpaper
In a small bathroom with little natural light, such as a windowless nook beneath the stairs, embrace a moodier, edgier vibe with darker tones and dim lighting.
Wallpaper is available in thousands of different colors, patterns, and designs. You may also use wallpaper to create the appearance of shiplap, stone, or brick.
Wallpaper's image in the bathroom has long been tainted with the belief that, however lovely, wallpaper is never a good option. However, with proper planning, you may utilize wallpaper in the bathroom.
Furthermore, peel-and-stick wallpaper provides all of the design without the commitment—or the price tag.
To contrast with the bold wallpaper behind, paint the ceiling white. It's a terrific way to bring personality to a small area.
14. Have A Rustic Style
If you want to give your bathroom a raw and earthy atmosphere, use some rustic features. For example, vinyl wallpaper with a wood finish and minimalist furnishings might give the bathroom a rustic atmosphere.
This method works well on blank walls that can be covered with rustic-looking components.
You can simply work with and enhance all of the lovely characteristics that make a period house so remarkable with the correct materials, colors, textures, and accessories.
Whether you're renovating a barn, cottage, or coach house, you may have a bathroom that's fresh and modern while being in tune with its environment.
15. Limit Products
If you have a small bathroom that does not have a lot of space, every little bit of storage space counts and it is usually not able to be as tucked away as bigger bathroom storage spaces.
With this in mind, it makes sense that it is important to limit the number of products that you have stored in the bathroom. You can have a perfectly designed bathroom but having a lot of products can make it look cluttered and steal the attention away.
Summary
If you're wondering how to design your bathroom, there are various factors to consider regardless of the size of the area.
The first thing you need to add is the bones of the bathroom which include the shower/bath, sink, and toilet.
The arrangement of these items, as well as their design and size, will be determined by the layout of the bathroom. Lighting should also be considered ahead of time, since you need account for both overhead and task lighting.
Once you have an idea of where everything will go, you can start to decide on the bathroom decor. This is when the real fun begins, and you can refer to this list for ideas!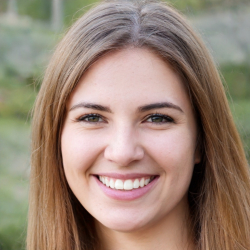 Latest posts by Maisie Park
(see all)