There is something about marble that just exudes class and luxury.  There is nowhere that marble looks better than in a bathroom. 
The natural patterns in the stone, the clean lines, and the polished finish make things feel clinically clean.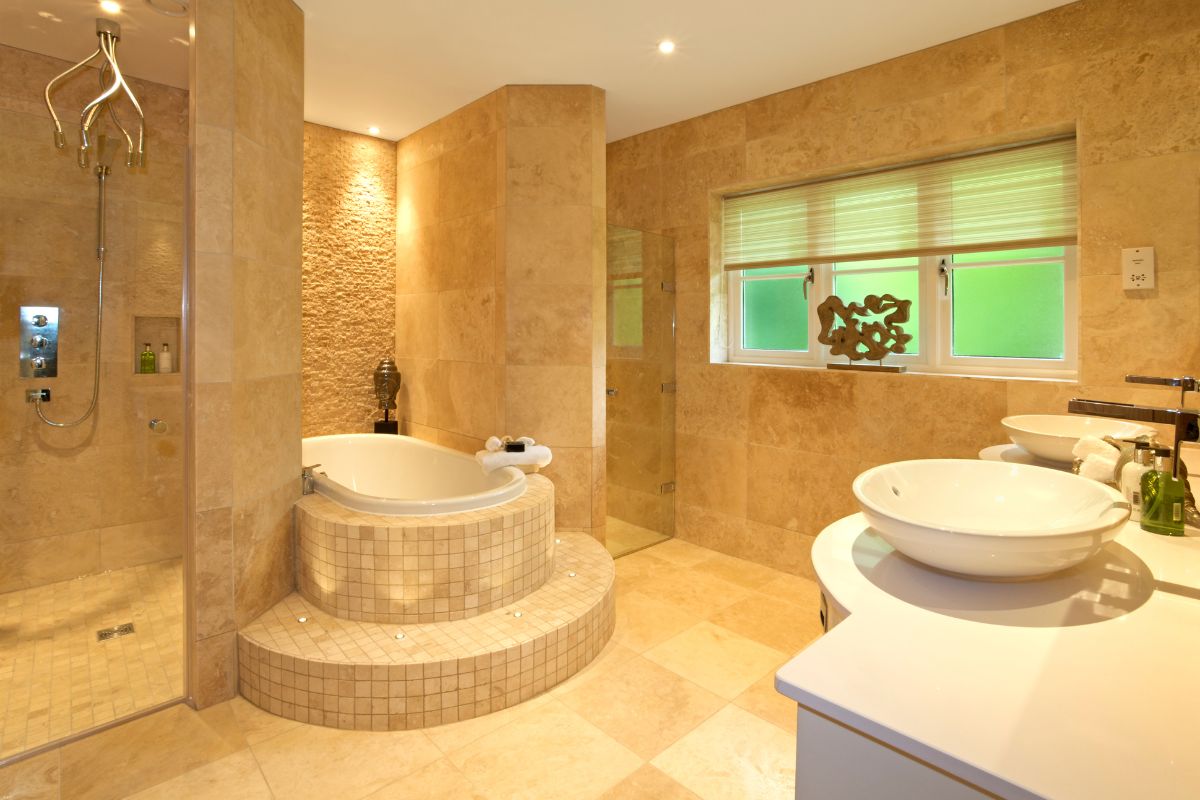 More often than not, the only time we get to sink into a luxurious feeling marble bathtub or shower surrounded by the stone is when we are visiting an upscale hotel or a spa.  However, that doesn't have to be the case. 
If you are thinking about decorating your bathroom, there are many ways that you can incorporate this stunning stone.  In this article, we have compiled a list of 15 marble bathroom ideas to help you curate your perfect home.
There is no escaping the fact that marble is an expensive material. 
However, there are some easy and less expensive ways to bring a touch of luxury into your bathroom.  One such way is through marble floor tiles.  
Simply redoing your bathroom flooring with some beautiful marble tiles can create a stunning effect that instantly makes the room feel more expensive and classy. 
There are some very affordable marble tiling options on the market. 
Covering your entire bathroom with marble like a hotel or spa is not financially or structurally feasible for many people. 
Not only is it very costly but marble is very heavy and most floors cannot handle the weight of a bathroom made of marble.  
This doesn't mean that you have to forgo your marble bathroom dreams, however.  Installing a few items in your bathroom that are marble can create a beautiful effect. 
Selecting a few items such as your washbasin or bathtub can bring an elegant style to the room. 
If you do have your heart set on a large amount of marble in your bathroom, there are some stunning ways to make the most of the natural beauty of the stone. 
Book matching is when a piece of marble is cut down the middle to produce a mirror image of the pattern running through it. 
This effect can be especially effective when you are making a feature wall with marble. 
Book matching your stone behind a freestanding bathtub can provide instant glamor and sophistication.
Investing in a solid marble bathtub is a great way to incorporate this beautiful, natural stone into your bathroom. 
Marble bathtubs come in many different shapes and sizes, but the main difference between each one is the pattern that is featured on it. 
You can either purchase a bathtub that has been made of different pieces of marble to form the tub, or you can get a tub that has been carved out of a single slab of marble. 
The latter will be more expensive but the result is the ultimate luxury.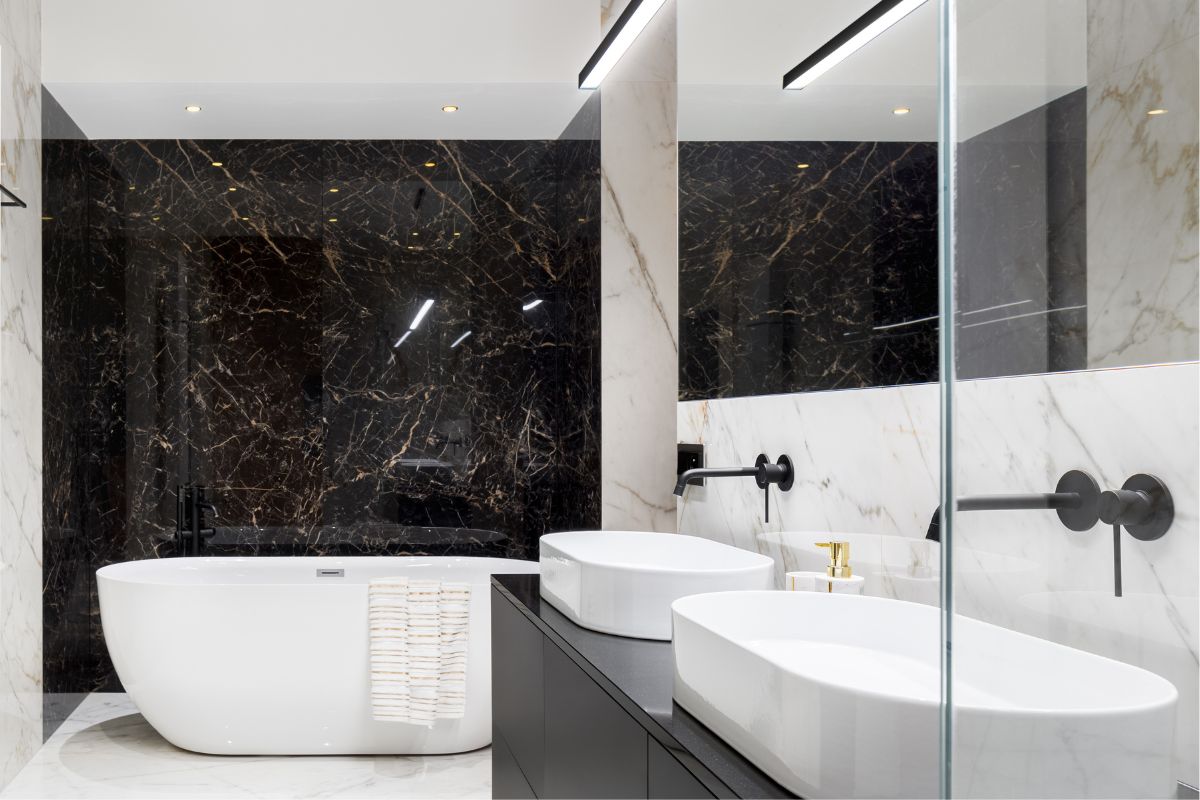 While white marble is a more common choice for bathrooms, black marble can be incredibly effective at helping to create a beautiful bathroom. 
Black marble can be a great choice for larger bathrooms as it helps to bring the scale down somewhat.  
Most black marble is swirled with white patterns, the opposite of the more common white marble. 
However, it is possible to get black marble that is swirled with gold detail instead of white.  This can add an extra layer of luxury. 
If you only want to incorporate a small amount of marble into your bathroom, the countertop of your vanity can be the best option. 
There are many reasons why having a marble countertop in your bathroom is a good idea. 
For starters, any beauty product, whether it is high-end or came from the dollar store looks luxurious when it is displayed on a marble surface. 
Another, more practical reason why a marble countertop is the ideal way to incorporate a little bit of marble is that it is hard wearing. 
Marble is a hard stone, therefore, it can withstand the daily wear and tear of family bathroom life.
Another way to incorporate a small amount of marble into your bathroom is to create a feature of your shower cubicle. 
There are so many different options for doing this and you can get really creative with it. 
Depending on the location of your shower within the bathroom and what type of shower it is, you can either make the back wall a feature by using marble tiles. 
Alternatively, you can cover all of the walls inside the shower with marble to make it feel like you are surrounded by it when you shower.  
There is no escaping the fact that genuine marble is incredibly expensive and quite heavy.  Therefore, it is not always an option for everyone. 
However, there are some alternative ways of incorporating the aesthetic of marble on a budget and without threatening the structural integrity of your bathroom. 
Marble effect wallpaper and tiles are a great and cost-effective way to bring some marble luxury into your bathroom.  The tiles will be durable and long-lasting, perfect for covering your walls and even the floor. 
Wallpaper can last just as long, provided that it is designed to be used in a bathroom.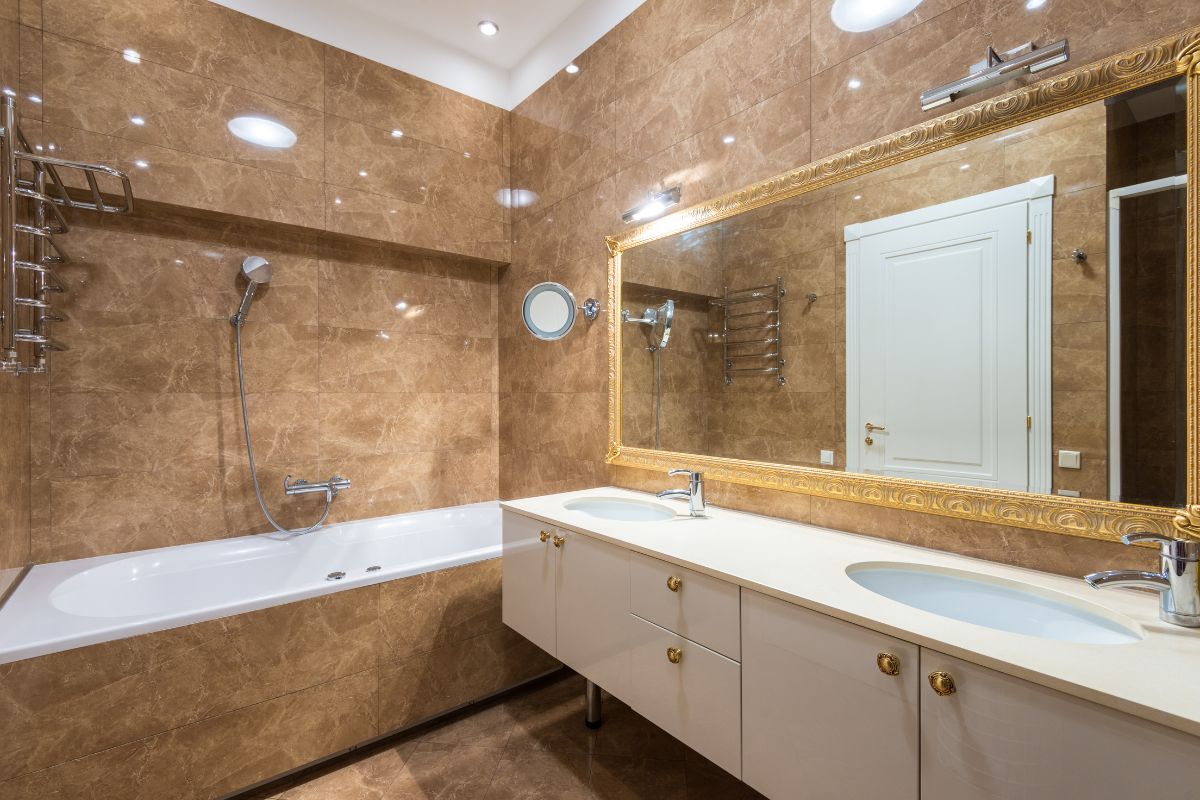 If you really want to go all out with marble in your bathroom, it is possible to do floor-to-ceiling marble using tiles. 
Using classic marble tones that are more cream-colored than pure white is a great way to add extra class to your bathroom.  
The more earthy and natural tones of the cream marble provide more of a classic, European look that can transport you to the Mediterranean every time you use your bathroom. 
It is also much less likely to cause glare when the sun shines on it than pure white marble. 
If floor-to-ceiling marble is a little bit out of your budget, you can add a smaller amount of marble to your bathroom in a really classy and elegant way. 
Backsplashes are very important in bathrooms to protect walls from becoming saturated with water and other bathroom products like toothpaste.
A marble backsplash can either be made out of marble tiles like a standard wash basin backsplash. 
Alternatively, you can have a backsplash made from a single piece of marble to increase the luxury of your bathroom.
A solid marble basin can be a really effective way of incorporating the class and luxury of marble without breaking the bank. A washbasin carved out of a single slab of marble creates a spa-like aesthetic that will make you look forward to your skincare routine.
These types of marble wash basins can be quite heavy, therefore, it is important to make sure that your vanity or counter can withstand the extra weight on top of it.
If you want to take things one step further than a marble washbasin, you can upgrade to a carved marble vanity or console. 
More than just a carved basin, these carved vanities and consoles incorporate the basin into the surrounding countertop to create a seamless place to wash your hands and face, and brush your teeth. 
These are more expensive than just a marble washbasin, but the resulting effect is beautiful and sleek. 
Using a single slab of marble also means that there is no change between the countertop markings and the basin markings. 
Creating a feature wall is a brilliant way to incorporate marble into your bathroom without going too over the top. 
Using a single, large slab of marble can be a really classy and luxurious way to do this.  
If you have a freestanding bathtub, placing a large slab of black marble on the wall directly behind it can create a beautiful effect. 
The effect is magnified if the tub and the rest of your bathroom are predominantly white or light-colored. 
There are many marble bathrooms that use classic, white, or black marble. 
However, if you want your marble bathroom to stand out and look different from anything you or your friends and family have seen, pink marble can be the way to go. 
Using pink marble to line your shower cubicle can add the same luxury and sophistication as more common marble colors, but with an added layer of fun and personality.
Using marble to create your shower is a really effective use of the stone in your bathroom. 
If using giant, floor-to-ceiling marble slabs is a little extravagant or expensive for you, you can use marble tiles to create a herringbone effect. 
Herringbone made with any type of tile can create a high-end look.  Using marble adds an additional dimension thanks to the natural patterns of the material. 
The herringbone pattern can be made with one color, or you could use multiple different colors of marble.
Final Thoughts
There are many different ways to create the beautiful bathroom of your dreams using marble. 
No matter what your budget is, there are options for you to incorporate beautiful marble stone into your bathroom.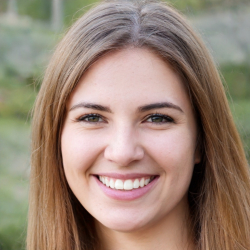 Latest posts by Maisie Park
(see all)