Urban jungles are the new norm, but if you want to bring a real taste of the exotic (or quaint) into your home, bring the great outdoors inside with these 15 bedroom ideas you'll fall in love with.
1: Opt For Minty Green Freshness 
If you've ever wondered how to strike a balance between relaxation and rejuvenation, let us introduce you to minty green.
Green is often cited as the best color for a bedroom, and with so many shades to choose from, it's no surprise that we love it so much. 
For example, Minty greens (think sage) offer a more diluted tone of green that's not as imposing and evokes a sense of calm and rejuvenation.
This color has connotations of the sea and nature, which can transport you to your outdoor happy place instantly. 
The best way to introduce this color is by contrasting it with light wood, white, and light gray.
You could use a minty green on your bedding and contrast it with a neutral throw, or paint your walls and contrast it with neutral furnishings. 
2: Go Bold With Multi Print Designs
If you want a more statement bedroom design, why not try introducing some multi-print designs? If minimalism isn't your thing, multi-print designs are our fast track to maximalist design – especially if 'more is more' is your thing.
Multi-print designs look great on bedding and furnishings, and floral green multiprints are the most popular choice. 
You'll usually find green multi-print designs contrasted with bold bursts of yellow and even navy for an incredibly unique, luxurious, authentic feel.
Talking of uniqueness, if you're looking for a multi-print design, don't limit yourself to known retailers.
Some of the most authentic, vintage designs can be found at garage sales and second-hand retailers, and if you're a DIYer, you may even find an old multi-print fabric that can be transformed into some stunning upholstery. 
3: Olive Green Walls
If you want to keep things classic, why not opt for olive green walls? Olive green has connotations with wealth and luxury, and it's able to introduce an element of darkness and drama without being overbearing.
Although you could easily paint each wall olive green, this color also pairs well with neutrals and brighter hues, so feel free to leave a wall or two white for a stunning contrast.
If you have plenty of wood features in your room, olive green can complement them perfectly while introducing a more vintage, shabby-chic element.
Don't forget the white accessories, such as bedding or cushions, to balance out the dark and keep things feeling natural and sophisticated.  
4: Use Paneling To Your Advantage
You'd be surprised how many people want to get rid of their paneling.
While some of us have a love-hate relationship with it, you can guarantee that most interior designers will be internally screaming if they find out you want to get shot of it. 
If you're unsure what to do with your bedroom paneling, simply use it to your advantage. The key to any great design, regardless of theme, is texture.
Your existing paneling can provide all the texture you need to make your bedroom look more interesting, and you won't need to do much to accentuate it. 
If you're up for painting your walls, go over your paneling with a darker shade of green or gray to create a modern, moody feel.
These colors pair beautifully with crisp whites and warm lighting, so it's easy to balance that gothic-esque feel with a lighter, more inviting feel. 
5: Houseplants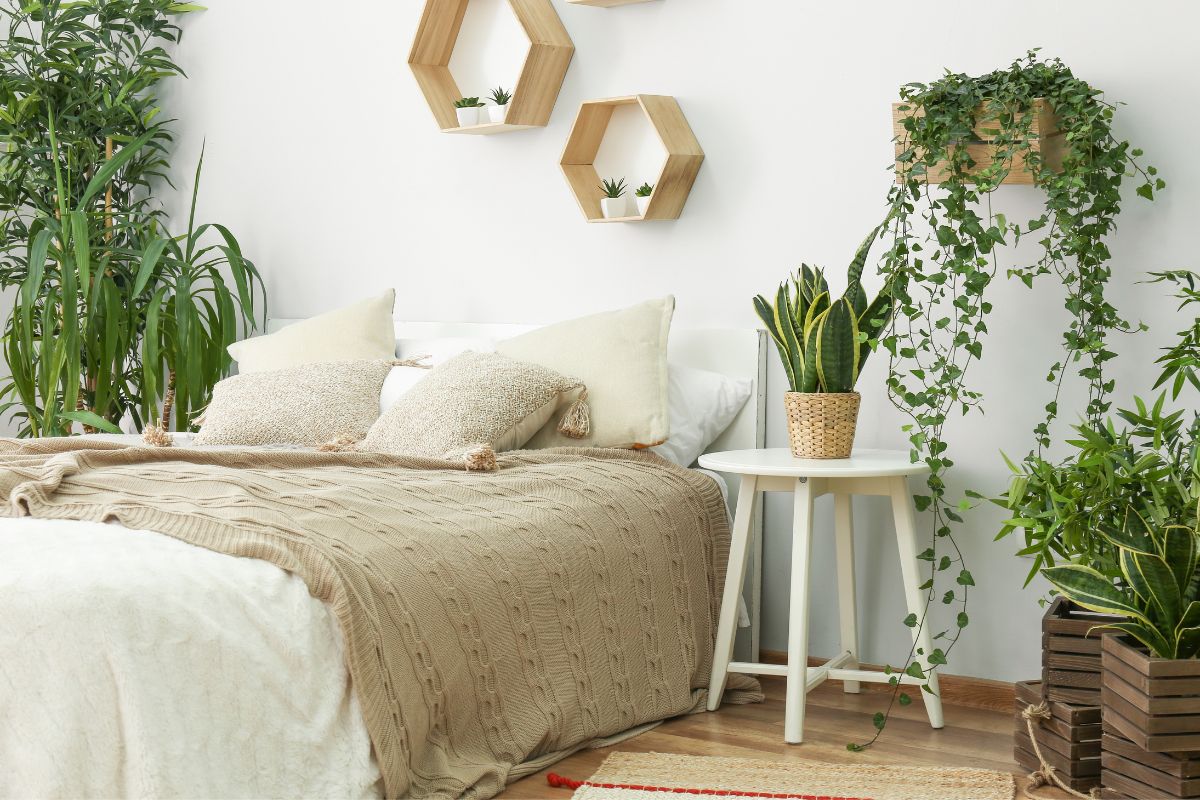 What's the easiest way to introduce more green into your bedroom on a budget? Houseplants.
If you're prepared to look after them, houseplants can be a simple (and with the right choice, low maintenance) way to inject some of the great outdoors into your own bedroom. 
If you're concerned about looking after a real plant, it's easy to find plenty of realistic fake plants. Houseplants look their best when they're suspended on floating shelves, perched on a bedside table, or taking pride of place on your windowsill.
If your bedroom is already beaming with neutral shades, a few houseplants can really make it pop. Simple and effective, it's a surefire way to make your space feel fresh and inviting. 
6: Go For Two Tone
Working with just two colors can be tricky, especially when you're trying to decide which tones work best.
However, opting for a two-tone design in your bedroom can make for a stylish and intriguing atmosphere. 
If you've never braved a two-tone design before, we recommend having the darker shade on the bottom and the lighter shade on top.
So, this could mean painting your walls light, having a darker carpet and bedding, and so on. 
If you're wondering why this is the preferred way to two-tone, it's because when the lighter shades are at the 'top' (especially when we're talking about walls), we can recreate the illusion of height because the eye is automatically drawn to the lighter shades.
It works well and is a great way to balance dark and light colors without one dominating your space. 
7: Leafy Prints
Green is rooted (pardon the pun) in connotations of nature, peace, and tranquillity. If you want to bring some of those vibes into your bedroom, opt for some leafy prints to take up your wall space.
This could be wallpaper or a few simple paintings, but you'll be left with that funky floral feeling either way. 
What we love about leafy prints is their diversity. You can find a leafy print to suit almost any vibe; whether you want a jungle feel or a quaint country manor vibe, leafy prints can complement almost any aesthetic.
If your walls are already painted green, we recommend choosing artwork with at least one dominating neutral color, such as white, to brighten up your space.
Remember: leafy prints aren't just limited to wall art. So if you want to be a little bolder, why not add some leafy print bedding or upholstery into the mix?
8: Introduce Pastels For A Modern Country Feel 
Not every green bedroom needs to be bold, dark, or moody (unless you want it to be). If you're after a modern country feel, introduce plenty of pastels into the mix to balance the palette.
Although you'd be forgiven for thinking pastels can only be used in kid's rooms, they're also great for adult spaces. Their accent colors can produce a more soft and subtle romantic aesthetic.
It feels immediately fresh and optimistic, without all of that super bright, in-your-face type design. 
However, using only pastels can make your bedroom feel washed out. To strike a balance, add in some darker accent colors, preferably in your furniture, to create a stylish and inviting bedroom you won't ever want to leave.
9: Use Environmentally Friendly Materials
If you want to bring more of those connotations with nature and tranquillity into your room, why not see if you can use more environmentally friendly materials?
Some of the most popular environmentally friendly materials include things like recycled plastic, bamboo, glass, and cork.
Bamboo and cork are a foolproof way to bring that great outdoors vibe straight into your bedroom, especially when combined with a few houseplants. 
Try sourcing some bamboo or wicker baskets or shelves for extra storage or shelving, and if you want to be even more environmentally (and financially) conscious, source as many accessories and furniture as you can from second-hand stores.
10: Add Rich Shades For Warmth
If you want your bedroom to have a warmer, cozier feel, try playing around with richer shades of green. Darker shades work best on walls; this way, they can be easily contrasted with more neutral furnishings. For even more warmth, combine your dark walls with dark wood.
11: Wind Down With Green Lighting 
Lighting can make or break any room. If you really want to take your green bedroom to the next level, why not try adding some green lighting?
We're not just talking about neon green LEDs (although they're definitely an option). If you want a classier and less imposing light, why not opt for some green pendant lighting for an instant injection of class and glamour?
12: Add A Splash Of Pink 
Although most of us head straight to the whites and browns to balance out our green bedrooms, don't be afraid to add a splash of pink. Pink, particularly pastel or dusty pink, can add a delicate touch to your green bedroom.
However, these lighter shades usually work best with more muted shades of green, so if you have a sage or mint wall, pink could be the perfect addition to your room. 
13: Contrast With Mahogany Furniture 
In the 19th and 20th centuries, mahogany furniture really started to make a name for itself, and it's still popular today.
Mahogany furniture is traditional, sleek, and sometimes moody, but when paired with green and white furnishings, it really makes a statement. 
14: Use Textured Fabrics
Like any good bedroom, the texture is key to creating a visually appealing design. If you don't have textured walls to play with, try introducing more textured fabrics into your room.
This could be as simple as a waffle-style through or a set of wired storage drawers. It doesn't have to break the bank, but it does need to break the streak of smooth and sleek designs. 
15: Pair Green And Sapphire 
Last but not least, try pairing your green designs with a bold sapphire. If you're more of a  maximalist, a sapphire blue is temptingly dark and rich, and with the velvet furnishings, it'll make you feel like you're hiding away in an exotic hotel by the sea.
Timeless and worldly, this pairing will set a unique theme in your bedroom. 
Final Thoughts
Whether you want to feel like you're in the middle of the jungle or a quaint country cottage, we hope these green bedroom ideas have given you the inspiration you need to bring your vision to life and make your bedroom the inspiring, inviting place you deserve.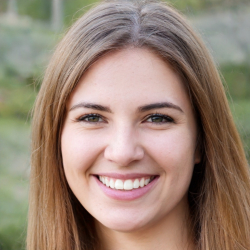 Latest posts by Maisie Park
(see all)